THE CONTEXT: India is facing a severe pandemic in its independence era. During the Second Wave of the covid-19 Pandemic, the situation has become more worsen. During this time many experts and other intellectuals claimed that India was completely failed to address the crisis that occurred by the Pandemic. Moreover, many experts believe that India is a failed state and it was totally failed to secure its citizen during that pandemic. In this article, we will analyse that Is India a failing state? Or Is India a really failed state?
HEALTH CRISIS DURING SECOND WAVE OF COVIS-19 PANDEMIC
The second wave in India was accelerated in March 2021 and in the last of April, it was on peak. During this time India saw the highest no. of cases in the World for many days.
At the starting of May India saw an average of more than 4,00,000 cases per day and more than 4000 deaths per day for a week.
The scenario created a deadly health crisis in India and there were many cases when people were struggling for basic health services even in Metro cities.
During the wave, India crosses 3 crores positive cases and 3 lakh deaths.
The positivity rate during the wave was more than 30 per cent at the starting of May 2021.
The crisis was more worsen in Rural areas.
There was news about floating dead bodies in Rivers and Buried on their Bank.
In conclusion, it can be said that it was the most deadly second wave in the world.
WHY DOES INDIA FAIL TO ADDRESS THE SECOND WAVE EFFECTIVELY?
There are mainly ten reasons for the dire situation:
WARNINGS BY EXPERTS WENT UNHEEDED: Genome sequencing was not prioritised even after concerns were articulated about mutants causing a second wave.
NOT AUGMENTING THE MEDICAL WORKFORCE: A dire shortage of health professionals has crippled India's fight against Covid.
THE VANISHING HOSPITAL BEDS: Across states, health infrastructure created during the first wave was dismantled under the delusion that the pandemic was over.
FAILING THE CRUCIAL TEST: After expanding testing labs on a war footing in the first wave, the momentum was lost even before the second hit.
GOING OFF TRACK: With states going lax on contact tracing and tracking of positive cases, the virus was left to spread unchecked
THE BOOM IN BLACK MARKET FOR KEY DRUGS: The government's failure to build up a stockpile of special drugs for covid treatment has left millions of Indians desperate
GRAVE ERRORS IN OXYGEN SUPPLY: One of the biggest lessons for medical institutions from the first wave of the Covid-19 pandemic was that more than ventilators and ICU beds, what was essential was an adequate supply of oxygen in hospitals to treat critically ill patients. Nonetheless, when the second wave of the pandemic arrived earlier this year, India's medical oxygen supply network collapsed.
THE VACCINE COMPLACENCY: India's vaccine rollout was abysmally slow, marred by official complacency and a lack of vision about its critical role in fighting return waves.
A WAR ROOM THAT WORKS: The fight against Covid has lacked a nationwide technology solution to route help to the needy but there was clearly a lack of this step.
THE ABSENT STATE: While the government failed to perform its duty and instead focused on political rewards. Despite the warning by the experts, govt. organized many events
The above explanation shows that the second wave in India was a total failure of health services, administration and in term of governance at the centre, state, district level.
IS INDIA A FAILED STATE? AN ANALYSIS
WHAT IS A FAILED STATE?
A failed state is one where the government is not in control. This is a simplistic explanation. In control of what? In control of the rule of law, the economy, security, stability and development.
India's history as a formal democracy and its generally benign image around the world has hidden our fragility elsewhere. Everyone knows that the State in India is weak, and the government is unable to control the nation meaningfully across a variety of subjects. This is not new, and this was always the case.
Fragile Index (Previously called the Failed States Index) shows India is headed into a scary future
It categorises nation-states are being one of 11 categories in terms of risk and vulnerability in social cohesion, the economy and in the political space.
The nations that are classified as being successful and most likely to sustain their success are the Nordic countries of Finland, Norway, Denmark, Finland and Iceland, along with some others like Canada, New Zealand and Australia.
India is not in this category or the next one or even the one after that, which are sustainable or even stable.
It is in a category fifth from the bottom, which is classified as "Elevated Warning". Our fellow category members are those like Colombia, Brazil, Israel, Algeria, Russia and Senegal.
There are 30 nations in this category, but only four of the 30 have declined since last year — Brazil, Colombia, Bolivia and India.
It says because of the current government's "poorly thought out and implemented reforms, India's economic growth has slowed, declining to its lowest nominal level since 1978.
Is India really failing?
India has improved steadily over the past 30 years. India's progress on these fronts has been, in general, superior to other large Emerging Markets (EMs) and to India's immediate neighbours. If we compare India with emerging markets (China, Russia, and Brazil) and neighbouring countries (Sri Lanka, Bangladesh, and Pakistan), we can easily assume that India has done very well in many fields..
Few comparisons are as follow (Source: United Nations Development Programme and World Bank database):
Life Expectancy
Life expectancy at birth is the number of years a person is expected to survive. Exhibit 1 shows progress on this metric for India, large EMs and India's neighbours.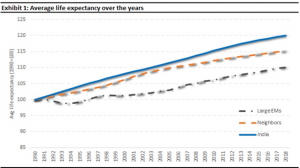 In the chart above, the rate of growth in life expectancy can be seen between 6 sets of countries on average and India. It is evident that India's rate of growth – in terms of the number of years lived – has been the highest – even above that of the EMs – over the last 30 years
Infant mortality
Infant mortality per 1000 live births is the measure of the number of deaths at birth for every 1000 live births. It has long been seen as a reliable measure of the ability of a state to provide basic health services to its people. Exhibit 2 shows progress on this metric for India in comparison to its neighbours and other large EMs. Whilst India has performed better than its neighbours, the other large EMs have performed significantly better than India on this front.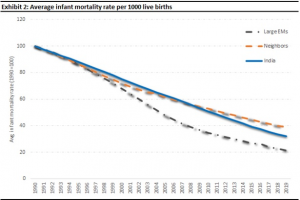 Average literacy rate
This metric measures the number of people who are literate (over 15 years of age) as a percentage of the total population. Exhibit 4 shows this metric over the years for India, its neighbours, and large EMs. India clearly surpassed its neighbours and large EMs in terms of the rate of growth in literacy rate over the past three decades.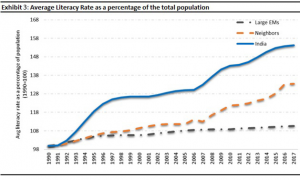 Average Human Development Index (HDI)
This metric is a mixture of three metrics – life expectancy, the standard of living at Gross National Income, and education in terms of expected and mean years of schooling. Exhibit 6 shows this composite index for India, India's neighbours, and large EMs. The exhibit makes it amply clear that in terms of the rate of growth in HDI, India has beat both, its neighbours and large EMs over the last 30 years.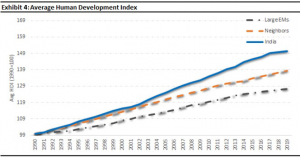 Average GDP per capita (constant $ 2017 PPP)
This metric measures GDP per capita that is converted to international dollars using purchasing power parity rates. It measures the overall income for countries on an equal footing. Exhibit 7 shows this data for India, its neighbours, and large EMs. The conclusion is self-evident from the chart.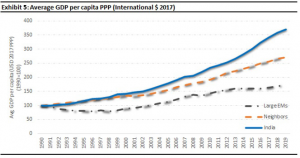 WHAT SHOULD BE DONE TO ADDRESS THE THIRD WAVE OR OTHER SECOND WAVE-LIKE SITUATIONS IN FUTURE?
There is an urgent need to rapidly act to prevent transmission and mount crisis response and state-wise estimates are provided. Using a multi-model approach, with the worst-case scenario being considered for planning and strategy development.
Adoption of a graded public health response for movement restriction and scaling it up guided by multi-indicator technical criteria.
A state-level dashboard that captures indicators guiding the graded public health response might be developed to ensure better decision making and build citizen trust in restriction measures.
A multi-component community-based intervention to remove barriers to access and promote mask usage consisting of the following components needs to be invested in and scaled up across India:

Engaging community-based organisations to ensure availability of free surgical masks (free door-to-door distribution of surgical mask would be an appropriate strategy after the surge is over),
Offering information on mask usage and disposal with videos on tab, brochure in local languages and other community-based platforms,
Endorsement and advocacy by local community leaders – healthcare, social, political and cultural,
Periodic in-person monitoring of mask usage including providing reminders and distribution in public spaces,
Development of protocols for disposal of masks in a safe and environmentally friendly manner.

Ensuring health system preparedness:
Urgent investments to ensure the scaling up of a crisis health system (for both COVID and non-COVID needs) is required.
Shortfalls in ventilator requirements, after purchase through routine supply chains and those received through aid, might be met by requesting support from organisations with the capacity to manufacture open source ventilators.
There is an urgent need to support people with COVID-19 who can undergo home care safely and scale-up telemedicine provided by registered medical practitioners.
Telemedicine facilities should be linked to transportation and hospital admission facilities such that severe patients can be optimally managed.
The government needs to urgently develop and implement a fair, just and transparent triaging criterion for rational allocation of beds, oxygen, and other critical care resources in consultation with bioethicists. Evidence on different triaging strategies is presented in the form of an inventory.
CONCLUSION: Looking at the above analysis shows that it will not be fair to say that India is a failed or failing state. While India has lost a lot to COVID 19 in 2020 and 2021, one must not forget that it has achieved a lot in the last 7 decades.
Spread the Word