THE CONTEXT: One of the biggest announcements in the Union Budget 2019–20 was to promote zero-budget natural farming (ZBNF) on a massive scale. Terming it as "going back to basics," the finance minister made a strong pitch for the implementation of ZBNF. However, there have been mixed results and responses ever since. The following article intends to analyse the efficacy of ZBNF in doubling farmers' income in India.
ZERO BUDGET NATURAL FARMING (ZNBF): KEY FACTS
Zero Budget Natural Farming (ZNBF) means raising crops without using any fertilizers and pesticides or any other external materials. The word Zero Budget refers to the zero cost of production of all crops.
ZBNF guides the farmers towards sustainable farming practices thus helps in retaining soil fertility, to ensure a chemical free agriculture and ensure low cost of production (zero cost) and thereby enhancing the farmers income.In short, ZBNF is a farming method that believes in growing crops in tune with nature.
The concept was promoted by agriculturist & Padma Shri awardee Subhash Palekar, in the mid-1990s as an alternative to the Green Revolution's methods driven by chemical fertilizers and pesticides and intensive irrigation.
Government has been promoting organic farming under the dedicated scheme of Paramparagat Krishi Vikas Yojana (PKVY) which encourages all kinds of chemical-free farming systems including Zero Budget Natural Farming.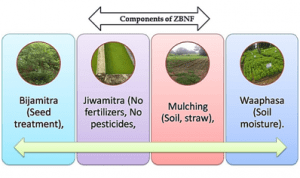 FOUR PRINCIPLES OF ZBNF
Jeevamrutha: A composition of cow dung and cow urine, jaggery, pulse flour, water and soil is applied on the farmland.
Bijamrita: It is a mixture of neem leaves and pulp, tobacco and green chillies prepared for insect and pest management, that can be used to treat seeds.
Acchadana (Mulching): It protects topsoil during cultivation and does not destroy it by tilling.
Whapasa: It is the condition where there are both air molecules and water molecules present in the soil. Thereby, providing water to maintain the required moisture-air balance.
NEED TO IMPLEMENT ZERO BUDGET NATURAL FARMING IN INDIA
Soil degradation: The excessive use of chemical fertilizers and pesticides has led to soil degradation, which has negatively impacted the soil's fertility and health. ZBNF promotes natural farming techniques that help to restore soil health and fertility.
Chemical contamination: The use of chemical fertilizers and pesticides has led to contamination of the soil and water sources, posing a threat to public health. ZBNF avoids the use of chemicals, thus reducing contamination of the environment.
High input costs: Traditional farming methods require a high input of resources such as water, seeds, and chemical fertilizers, which can be expensive for small-scale farmers.

National Sample Survey Office (NSSO) data indicates more than 50 per cent of all farmers are in debt due to increased cost of farm inputs like fertilizers and chemical pesticides.

Climate change: Agriculture is a significant contributor to greenhouse gas emissions, which are the primary cause of climate change. ZBNF promotes carbon sequestration in the soil and reduces greenhouse gas emissions by minimizing the use of chemical fertilizers and pesticides.
Biodiversity loss: Modern farming practices have led to a loss of biodiversity, as they often involve the use of monoculture crops and the destruction of natural habitats. ZBNF promotes crop diversity and the preservation of natural habitats, which can help to conserve biodiversity.
Farmer distress: Farmers in India face several challenges, including low income, debt, and crop failure. ZBNF can help to reduce farmers' expenses and increase their income by promoting natural farming techniques that are cost-effective and yield better results.

The National Sample Survey Office (NSSO) data shows that almost 70% of agricultural households spend more than they earn and more than half of all farmers are in debt.
In States such as Andhra Pradesh and Telangana, levels of indebtedness are around 90%, where each household bears an average debt of ₹1 lakh.

Food security: India is facing a challenge of providing food security to its growing population. ZBNF can help to increase crop yields, thus improving food security in the country.
Doubling Farm income: To achieve the Central government's promise to double farmers' income by 2022, one aspect being considered is natural farming methods such as the ZBNF which reduce farmers' dependence on loans to purchase inputs they cannot afford.
CASE STUDY
Andhra Pradesh launched ZBNF in September 2015 under the Rashtriya Krishi Vikas Yojana. Rythu Sadhikara Samstha (RySS), Govt. of Andhra Pradesh is conducting experiments to generate the scientific evidence of the ZBNF in collaboration with University of Reading, UK World Agro forestry Centre, Nairobi, FAO & resource NGOs/Civil Society Organizations like Centre for Sustainable Agriculture, Hyderabad.
In June 2018, Andhra Pradesh rolled out an ambitious plan to become India's first State to practice 100% natural farming by 2024.
A study – "Life Cycle Assessment of ZBNF and Non-ZBNF in Andhra Pradesh" – reports the following benefits:
        o   ZBNF processes require 50–60 per cent less water and less electricity (than non-ZBNF) for all the selected crops.
      o   ZBNF reduces methane emissions significantly through multiple aeration. It also has the potential to avoid residue burning by practicing mulching.
GOVERNMENT STEPS FOR PROMOTING ZBNF
Bharatiya Prakritik Krishi Paddhati (BPKP): It is a sub-mission under the Paramparagat Krishi Vikas Yojana (PKVY). BPKP aims at promoting traditional indigenous practices, which give freedom to farmers from externally purchased inputs. It focuses on on-farm biomass recycling with major stress on biomass mulching, use of cow dung–urine formulations; and exclusion of all synthetic chemical inputs either directly or indirectly.
Paramparagat Krishi Vikas Yojana (PKVY):Under the PKVY scheme, several organic farming methods like zero budget natural farming (ZBNF), natural farming, vedic farming, rishi farming, cow farming, homa farming, etc. are included wherein states adopt any model of organic farming including ZBNF depending on the farmer's choice.
Rashtriya Krishi Vikas Yojana (RKVY): According to the RKVY scheme, organic farming or natural farming model components are considered by the respective State Level Sanctioning Committee (SLSC). Under this scheme, the government provides financial assistance to states to promote organic farming, including ZBNF.
National Mission for Sustainable Agriculture (NMSA): The NMSA is a scheme that aims to promote sustainable agriculture practices in India. Under this scheme, the government provides financial assistance to farmers to adopt sustainable agriculture practices, including ZBNF.
ICAR through its Plan Scheme 'Network Project on Organic Farming (NPOF)' is undertaking research in 20 centers covering 16 states to develop location-specific organic farming package of practices for crops and cropping systems. Organic farming package of practices for 51 crops/cropping systems have been developed to provide technical backstopping to the line departments' schemes implemented in the country.
The Mission Organic Value Chain Development for North Eastern Region (MOVCD-NER), promotes 3rd party certified organic farming of niche crops of north east region through Farmer Producer Organisations(FPOs) with a focus on exports. Farmers are given assistance of Rs. 25000/ha for three years for organic inputs including organic manure and bio-fertilizers etc. Support for formation of FPOs, capacity building, post-harvest infrastructure up to Rs. 2 Crores is also provided under the scheme.
100 percent assistance is provided to State Governments/ Government agencies through Capital Investment Subsidy Scheme (CISS) under Soil Health Management Scheme for setting up of mechanized fruit/ vegetable market place, waste/ agro-waste compost production unit to the extent of Rs.190.00 Lakh/unit (capacity of 3000 tonne/annum of finished compost). Similarly, for individuals/private agencies, assistance up to 33 percent of cost, limited to Rs. 63 lakh/unit as capital investment is provided for the purpose.
The farmers are encouraged to use organic inputs by providing financial assistance through a number of other schemes. For example, under the National Mission on Oilseeds and Oil Palm (NMOOP) and National Food Security Mission (NFSM), financial assistance at 50 per cent subsidy to the tune of Rs. 300/- per ha is provided for the use of organic inputs.
ISSUES WITH IMPLEMENTING ZERO BUDGET NATURAL FARMING IN INDIA
Lack of awareness: Many farmers in India are not aware of ZBNF techniques, and there is a need for widespread education and awareness campaigns to promote the practice. This is particularly true for small and marginal farmers, who may lack access to information and resources.
Lack of infrastructure: ZBNF requires infrastructure such as seed banks, compost pits, and cow sheds, which may be lacking in many rural areas in India. Building this infrastructure can be a significant challenge, particularly in remote and marginalized communities.
Limited government support: While the Indian government has launched several initiatives to promote ZBNF, there is a need for more financial and technical support to help farmers adopt the practice. This includes the provision of subsidies, training programs, and access to credit.

The Paramparagat Krishi Vikas Yojana, which was meant to promote organic farming and soil health has been allocated Rs 325 crore only, whereas Rashtriya Krishi Vikas Yojana, a flagship Green Revolution scheme had an allocation of Rs 3,745 crore for the financial year 2019-20.

Resistance from farmers: Some farmers may be resistant to change, particularly if they have been using traditional fertilizer-intensive farming methods for generations which gives good volumes of produce.
Market barriers: There are market barriers to the adoption of ZBNF, particularly if the demand for organic produce is low. Farmers may need to be assured of a market for their produce before they are willing to adopt ZBNF.
Question of sustainability: Though limited studies in Andhra Pradesh and Maharashtra have shown a decline in the input costs and improvement in yields, the long terms returns were seen dropping in a few years.

At a time when the estimates of the World Bank suggest that the percentage of agriculture workers of total workforce would drop to 25.7% by 2050 from 58.2% in 2001 (MoF 2018), these labor-intensive tasks in ZBNF will definitely pose a challenge to farmers.
BOTTOMLINE:
Zero Budget Natural Farming (ZBNF) has been promoted in India as a sustainable option for doubling farm incomes. However, its effectiveness in achieving this goal depends on several factors, including the scale of implementation, the availability of resources and infrastructure, and the market demand for organic produce.
ZBNF reduces the cost of inputs, which can increase farmers' incomes, especially for small and marginal farmers who may not have access to expensive inputs.
Furthermore, ZBNF can also improve soil health and fertility, increase crop yields, and reduce the risk of crop failure, which can lead to higher incomes. ZBNF can also promote the use of indigenous seeds, which can be more resilient to local conditions, and promote crop diversity, which can help to reduce the risk of crop failure.
However, there are also some challenges in scaling up ZBNF to achieve the goal of doubling farm incomes. For example, there may be a lack of awareness among farmers, a lack of infrastructure and resources, and a lack of market demand for organic produce. Additionally, ZBNF may require a shift in mindset from farmers who have been using chemical-intensive farming methods for many years.
THE WAY FORWARD
Promoting Awareness: One of the most crucial steps for the future of ZBNF in India is to create awareness among farmers about its benefits. This can be done through training programs, workshops, and field demonstrations. It is essential to educate farmers about the principles of ZBNF, the advantages of natural farming, and the techniques involved in implementing ZBNF.
Scaling up ZBNF: To make ZBNF more effective, it is necessary to scale it up to a larger area. It can be done through government schemes and initiatives that provide financial assistance to farmers. The government can also collaborate with non-governmental organizations (NGOs) and other stakeholders to promote the adoption of ZBNF practices.
Infrastructure and Resource Availability: Availability of resources such as water, seeds, and fertilizers are essential for the successful implementation of ZBNF. The government needs to provide the necessary infrastructure to enable farmers to access resources and inputs. This includes the development of irrigation facilities, seed banks, and the provision of organic inputs.
Market Linkages: Another critical aspect of the future of ZBNF in India is to establish market linkages for the sale of organic produce. The government can set up a robust supply chain network that connects farmers directly with consumers or through intermediaries. This will help farmers to get better prices for their produce, which will motivate them to continue with natural farming.
Research and Development: Research and development are essential for the future of ZBNF in India. The government should promote research in ZBNF to develop new techniques and technologies that can improve the productivity and profitability of natural farming. The development of appropriate technologies and farm machinery for ZBNF can help farmers to reduce the drudgery of manual labor and increase productivity.
Holistic approach for agriculture: In addition to improvising cropping patterns through ZBNF, the GOI also need to bring reforms in policies like MSP, which have brought about a trend of monocropping and fertilizer intensive cropping in India.
THE CONCLUSION: ZBNF can be a sustainable option for doubling farm incomes in India if implemented effectively and at scale. It has the potential to improve soil health, reduce input costs, increase crop yields, and promote sustainable agriculture. However, achieving this goal will require concerted efforts from policymakers, farmers, and other stakeholders to promote the adoption of ZBNF and address the challenges associated with its implementation.
Questions
Discuss in detail how can the implementation of Zero Budget Natural Farming (ZBNF) in India help in reducing the dependence on chemical fertilizers and pesticides, and promote the use of natural inputs.
In the face of multi-dimensional issues like climate change and food security, the concept of Zero Budget Natural Farming (ZBNF) provides a lasting solution for reviving Indian agriculture. Examine critically.
Spread the Word