THE CONTEXT: The fifth summit of the now 25-year-old Bay of Bengal Initiative for Multi-Sectoral Technical and Economic Cooperation (BIMSTEC) hosted by Sri Lanka, was held in March 2022 in a hybrid fashion. India's Prime Minister, who attended the summit virtually, called for unity and cooperation in the region as it faces economic and health challenges. PM also announced the adoption of the organisation's institutional architecture- the BIMSTEC charter. This article analyses this development in detail.
DETAIL OF THE SUMMIT
The summit's theme "Towards a Resilient Region, Prosperous Economies, Healthy People" captures the main current priorities of member states and the efforts by BIMSTEC to develop cooperation activities that support member states' programmes to deal with the economic and development consequences of the Covid-19 pandemic.
The main outcome of the summit was the adoption and signing of the BIMSTEC Charter, which formalizes the grouping into an organization made up of member states that are littoral to and dependent upon the Bay of Bengal.
The summit saw considerable progress being achieved in the BIMSTEC connectivity agenda with adopting the 'Master Plan for Transport Connectivity' by Leaders, which lays out a guidance framework for connectivity-related activities in the region in the future.
The Prime Minister underscored the importance of enhanced BIMSTEC regional connectivity, cooperation, and security, made several suggestions, and called upon fellow leaders to strive to transform the Bay of Bengal into a Bridge of Connectivity, Prosperity, and Security among the BIMSTEC-member countries.
Three BIMSTEC agreements were signed during the summit
BIMSTEC Convention on Mutual Legal Assistance in Criminal Matters.
BIMSTEC Memorandum of Understanding on Mutual Cooperation in the field of Diplomatic Training.
Memorandum of Association on Establishment of BIMSTEC Technology Transfer Facility.
BIMSTEC: ALL YOU NEED TO KNOW
THE GROUPING:
The Bay of Bengal Initiative for Multi-Sectoral Technical and Economic Cooperation (BIMSTEC) is a multilateral regional organisation established to accelerate shared growth and cooperation between littoral and adjacent countries in the Bay Bengal region.
It has a total of seven member countries- five from South Asia, including Bangladesh, Bhutan, India, Nepal, and Sri Lanka, and two from Southeast Asia, including Myanmar and Thailand.
It was founded as BIST-EC, in June 1997, with the adoption of the Bangkok Declaration, with Bangladesh, India, Sri Lanka, and Thailand as members. It became BIMST-EC (Bangladesh, India, Myanmar, Sri Lanka, and Thailand Economic Cooperation) with the entry of Myanmar in late 1997, And eventually, it was named in its current form when Nepal and Bhutan became members in 2004.
THE AIM:
The aim of setting up the regional grouping was not to create a new region for cooperation but to revive the connectivity and common interests of the Bay of Bengal region members.
According to the official website of BIMSTEC, "the regional group constitutes a bridge between South and Southeast Asia and represents a reinforcement of relations among these countries."
BIMSTEC is different from other regional groupings such as SAARC or ASEAN because it is a sector-driven organisation.
WHAT IS THE WORKING MECHANISM OF BIMSTEC?:
Until the current summit, BIMSTEC did not have a formal document or organisational architecture, which was adopted this time in the form of the BIMSTEC Charter.
It did have a working mechanism for policy-making and operational goals. Policymaking would be done through two types of meetings: Summits, which are supposed to be held every two years; and ministerial meetings of Foreign and Commerce Ministers of member countries for deciding on trade and economic affairs, to be held once every year. An operational meeting of senior officials to monitor the activities of the grouping is also supposed to be held twice a year.
Since its inception, BIMSTEC's policymaking meetings have not been held as per plan. Just five summits, including the current one, have been held in 25 years.
WHAT IS THE SIGNIFICANCE OF BIMSTEC?:
The BIMSTEC region hosts 22% of the world population or 1.68 billion people; the member states have a combined GDP of US$3.697 trillion/per year.
IMPORATNCE OF BIMSTEC FOR INDIA
LOOK EAST POLICY:
It should be seen in the context of India's heightened interest and commitment to its "Act East" policy.
Without a strong outreach to BIMSTEC member states, India's attempts at achieving its Act East policy goals will lack momentum.
SECURITY:
It could also be seen as aligning with India's larger goal to gain trade and security prominence in the Indian Ocean region and to cater to the concept of the 'Indo-Pacific' region, a major focus of Quad countries.
AN ALTERNATIVE TO SAARC:
The idea of BIMSTEC also gained prominence after the 2016 Uri attack when India was able to get SAARC (South Asian Association for Regional Cooperation) nations on its side to boycott the organisations' summit, which was to be held in Islamabad, Pakistan.
The progress of SAARC has stalled over the years due to Indo-Pak relations and what experts call Pakistan's obstructionist approach to the organisation.
BIMSTEC emerged as an alternative platform for cooperation.
CHINA'S INFLUENCE IN THE REGION:
China's influence and presence in India's neighbourhood have grown enormously on account of BRI initiatives.
Debt burdens have forced India's neighbours to hand over assets to China.
India will be hoping that its economic engagement with the Bay of Bengal littoral states will restrict Chinese influence in these countries.
REGIONAL COOPERATION:
BIMSTEC has gained popularity among South Asian countries as a platform for regional cooperation.
The organisation is a bridge between South Asia and Southeast Asia.
BIMSTEC's major strength is that it includes two influential regional powers: Thailand and India.
The region has countries with the fastest-growing economies in the world.
FUTURE PERSPECTIVEs:
India is likely to find that focusing its diplomatic energies on BIMSTEC member states could be rewarding.
Relationships among BIMSTEC members are generally cordial, unlike the strained India-Pakistan relationship.
BIMSTEC is not without its share of problems. India will need to convince other BIMSTEC members that its new outreach to them is not a "rebound relationship," a short-term one to thumb its nose at Pakistan.
BIMSTEC suffers from a lack of human and financial resources. India needs to allocate more resources to its BIMSTEC budget and should take an informal leadership role to provide BIMSTEC with momentum.
STRATEGIC SHIFT FROM SAARC TO BIMSTEC
THE URI ATTACK AND BOYCOTT OF THE SAARC SUMMIT:
In September 2016 India saw a deadly attack on the army camp in Uri.
After that attack, India expressed its inability to participate in the Islamabad SAARC summit due to "prevailing circumstances" and stepped up diplomatic pressure on Pakistan.
Bangladesh, Bhutan, and Afghanistan followed India's decision to stay away from the November summit to be held in Islamabad.
India and other countries cited "cross-border terrorist attacks in the region" as a reason for boycotting the summit.
SHIFT FROM SAARC TO BIMSTEC:
India invited the BIMSTEC leaders to the BRICS summit at Goa in 2016.
In doing so it sent out the message that if SAARC wasn't ready to deliver, India had BIMSTEC to turn to. After that, The Indian prime minister engaged BIMSTEC leaders in bilateral meetings.
Since 2016 there has been no movement forward on resuming the SAARC summit.
India is regularly attending the BIMSTEC summit and it had emerged as an alternative regional platform where five SAARC (Bangladesh, Bhutan, India, Nepal, and Sri Lanka) countries could gather and discuss sub-regional cooperation.
India chose BIMSTEC over any other regional grouping indicative of India's importance to the Bay of Bengal region.
BIMSTEC=SAARC- (Pakistan, Maldives, and Afghanistan) +(Thailand and Myanmar)
WHY IS INDIA'S STRATEGIC FOCUS SHIFTING FROM SAARC TO BIMSTEC?
Apart from the terror issue, there are many other issues which are responsible for India's strategic shift from SAARC to BIMSTEC. These are
FAILURE OF SAARC:
SAARC has come under serious scrutiny in the last few years.
From its very inception, member countries treated it with suspicion and mistrust.
Even after three decades of its existence, SAARC's performance has been less than satisfactory, and its role in strengthening regional cooperation is being questioned.
In the 30 years of its history, annual SAARC summits have been postponed 11 times for political reasons, either bilateral or internal.
Numerous agreements and institutional mechanisms established under SAARC have not been adequately implemented.
PAKISTAN'S NON-COOPERATION:
Pakistan's non-cooperation has stalled some major initiatives under SAARC.
At the 18th SAARC summit in Kathmandu in 2014, initiatives such as the SAARC–Motor Vehicle Agreement (MVA), could not be signed.
The SAARC satellite project that India proposed was abandoned following an objection from Pakistan in 2016.
19th summit scheduled to be held in Pakistan in 2016 was suspended for an indefinite period, as member countries declined to participate.
While cross-border terrorism emanating from Pakistan is a major concern for India, Pakistan has failed to address these concerns.
OPPORTUNITIES FOR INDIA IN BIMSTEC
BRIDGE BETWEEN SOUTH ASIA AND SOUTH-EAST ASIA:
Nearly 1.5 billion people live along its coastline.
25% of the world's traded goods across the Bay of Bengal every year.
80% of Chinese, 90% of South Korea's, and Japan's energy imports pass through the Bay of Bengal.
MARKET:
The seven countries (apart from India) have a combined GDP of approximately US$ 2.7 trillion with 5.5% economic growth.
RESOURCES:
the Bay of Bengal is the world's largest bay, it is also rich in untapped natural resources, with some of the world's largest fishing stocks, reserves of gas, and other sea bed minerals.
GEOSTRATEGIC:
BIMSTEC community gives tacit recognition to India as a major power in Indo-Pacific by facilitating India to take a leading position.
ROLE IN INDO-PACIFIC:
the Bay of Bengal acts as a funnel to the Strait of Malacca linking the Indian and Pacific oceans. It is a major maritime choke-up point for China, Japan, and most East and Southeast Asian states.
DEVELOPMENT OF COASTAL STATES:
One-quarter of its population lives in states bordering the Bay of Bengal. Their growth and development are increasingly seen to hinge on the degree of connectivity with the Southeast Asian markets.
WHAT ARE THE CHALLENGES FOR INDIA IN BIMSTEC?
LACK OF HUMAN AND FINANCIAL RESOURCES:
BIMSTEC suffers from a lack of human and financial resources.
India needs to allocate more resources to its BIMSTEC budget and should take an informal leadership role to provide BIMSTEC with momentum.
India is currently the largest contributor to the BIMSTEC secretariat budget.
SUPREMACY:
India would have to counter the impression that BIMSTEC is an India-dominated bloc; in that context, India can follow the Gujral doctrine that intends to chalk out the effect of transactionary motive in bilateral relations.
CONNECTIVITY:
Connectivity is a major issue among BIMSTEC nations.
North-Eastern states are important in deepening connectivity among BIMSTEC nations, but the Siliguri corridor (chicken neck) provides a very narrow passage for movement and obstructs connectivity.
The underdevelopment of North Eastern states in terms of infrastructure and connectivity will also be a major hurdle.
REGIONAL INSTABILITY:
Regional instability in the form of the Rohingya crisis and other intra and interstate issues can hamper the efficient and effective functioning of the grouping.
THE LACK OF CRITICAL SUPPORT:
Strong and clear political commitment, adequate financial resources, full engagement of business and industry, and optimal involvement of civil society has been the principal constraint in BIMSTEC.
BCIM:
The formation of another sub-regional initiative, the Bangladesh-China-India-Myanmar (BCIM) Forum, with the proactive membership of China, has created more doubts about the exclusive potential of BIMSTEC.
BIMSTEC VS SAARC: WHICH IS MORE SUITABLE FOR INDIA?
If India wants to prove itself as a regional power, as the largest country in South Asia, India cannot escape its responsibilities under SAARC. The following points explain the differences between SAARC and BIMSTEC. In the end, it can be seen that none of them can substitute for each other. Rather they can complement each other's roles.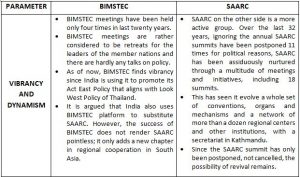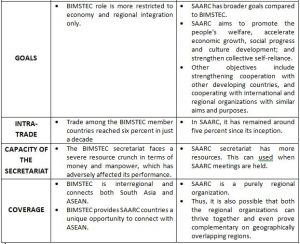 THE WAY FORWARD
India can't afford to remain isolated in the light of recent forays by China in South Asia that India exerts as its own sphere of influence. By facilitating trade and economy through BIMSTEC, India can integrate the economies of surrounding countries. For e.g., India can integrate the BIG-B initiative of Bangladesh with its own SAGARMALA project
To build this as a sustainable platform, India should also focus on maintaining consistency in the frequency of the summits to ensure regularity in decision making;
It should also fund it more to improve the capacity of the secretariat, both in terms of manpower and funding. In the short term, since India lacks the resources, India should use its clout to derive funds from JICA, World Bank, or ADB.
Ensuring tangible results/benefits, which will add to the motivation of the countries to concentrate on BIMSTEC
To prevent this platform fall apart like SAARC, India needs to give teeth to it. This can be done by empowering BIMSTEC to be a platform for dispute resolution among member 24 countries. This will require debates and discussions among the BIMSTEC countries to reach a consensus. India should also go ahead of its reservations on certain issues that neighboring countries opine as big brotherly nature to improve their confidence.
THE Conclusion: Recent summit is a good opportunity for India and other BIMSTEC countries to develop a strong regional group to promote peace, stability, and trade. For India, it is an important platform to counter China in the South Asia region. Apart from it, with the help of BIMSTEC countries, India can develop an effective regional group for trade like ASEAN.
Questions:
Discuss the opportunities and challenges for India in the BIMSTEC grouping.
How far do you agree with this view that as being the largest country in the South Asia region, India should lead the region in world politics, and for that India should try for the revival of SAARC? Analyse your view.
'BIMSTEC is an opportunity for India for its Act East Policy, but it cannot be an alternative of SAARC'. Critically Examine.
Spread the Word