THE INTERNATIONAL RELATIONS
1. INDIA-CENTRAL ASIA DIALOGUE
THE CONTEXT: The 3rd meeting of the India-Central Asia Dialogue was held under the chairmanship of the External Affairs Minister of India. Ministers of Foreign Affairs of the Republic of Kazakhstan, Kyrgyz Republic, Republic of Tajikistan, Turkmenistan, and the Republic of Uzbekistan took part in the meeting.
IMPORTANT OUTCOMES OF THE MEETING
During Pandemic: 
The Ministers expressed satisfaction at the ongoing Central Asia-India cooperation in the fight against Covid-19 pandemic. The Foreign Ministers of Central Asian countries appreciated India's assistance in supply of vaccines and essential medicines during their early stage of fight against Covid-19.
INSTC Corridor: 
The Ministers emphasized on optimum usage of the International North-South Transport Corridor (INSTC) as well as Ashgabat Agreement on International Transport and Transit Corridor to enhance connectivity between India and the Central Asian countries. They stress that connectivity initiatives should be based on the principles of transparency, broad participation, local priorities, financial sustainability and respect for sovereignty and territorial integrity of all countries.
They welcomed the proposal to include Chabahar Port within the framework of INSTC and expressed interest in cooperation on issues related to the development and strengthening of regional connectivity in Central and South Asia. In this regard, the Ministers noted the outcomes of the High-Level International Conference "Central and South Asia: Regional Connectivity; Challenges and Opportunities". 
INSTC CORRIDOR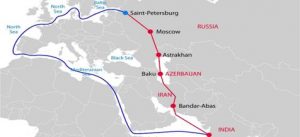 Defence and Security:
The Ministers emphasized that interaction in the fields of defence and security constitutes an important element of India- Central Asia cooperation. In this regard, they noted the importance of holding regular consultations among the National Security Councils of India and the Central Asian countries in the fight against terrorism and other emerging challenges in the region.
The Ministers condemned terrorism in all its forms and manifestations and reiterated that providing safe haven, using terrorist proxies for cross-border terrorism, terror financing, arms and drugs trafficking, dissemination of a radical ideology and abuse of cyber space to spread disinformation and incite violence, goes against the basic principles of humanity and international relations. They stressed that perpetrators, organizers, financiers and sponsors of terrorist acts must be held accountable and brought to justice in accordance with principle of "extradite or prosecute". In this context, they called for early adoption of the UN Comprehensive Convention on International Terrorism. They called on the international community to strengthen UN-led global counter-terrorism cooperation and fully implement the relevant UNSC resolutions, Global Counter-Terrorism Strategy and FATF standards.
Afghan Crisis: 
The sides discussed the current situation in Afghanistan and its impact on the region. The Ministers reiterated strong support for a peaceful, secure and stable Afghanistan while emphasizing the respect for sovereignty, unity and territorial integrity and non-interference in its internal affairs. They also discussed the current humanitarian situation and decided to continue to provide immediate humanitarian assistance to the Afghan people. The Ministers reaffirmed the importance of UNSC Resolution 2593 (2021) which unequivocally demands that Afghan territory not be used for sheltering, training, planning or financing terrorist acts and called for concerted action against all terrorist groups.
Climate Change: 
The Ministers expressed appreciation for support to each other in the UN and other multilateral fora including SCO, CICA etc. India highlighted the role of "International Solar Alliance (ISA)" initiative in collective, rapid and massive deployment of solar energy for effective implementation of the Paris Agreement. India also underlined the role of "Coalition for Disaster Resilient Infrastructure (CDRI)" in promoting disaster resilient infrastructure for reducing economic losses and improving the well-being of communities in the face of calamities. India looked forward to Central Asian countries joining the ISA and CDRI.
The Ministers of Foreign Affairs of Central Asian countries reiterated support of their countries for permanent membership of India in an expanded and reformed UN Security Council. They welcomed the ongoing non-permanent tenure of India in the UNSC and its priorities.
The Minister of Foreign Affairs of Tajikistan informed about their proposal to convene the Second High-Level International Conference on the International Decade for Action "Water for Sustainable Development", 2018-2028 from 6-9 June 2022 in Dushanbe that will be part of the preparatory process for the UN Conference on the Midterm Comprehensive Review of the Implementation of the Objectives of the Water Decade in 2023 in New York.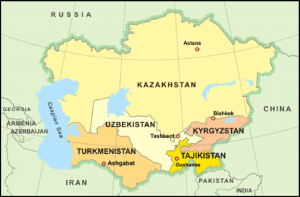 THE ENVIRONMENT AND ECOLOGY
2. INDIA DOESN'T HAVE ENOUGH AIR QUALITY MONITORS
THE CONTEXT: According to researchers, with its size, population and aggravating air pollution, India needs 1,600 to 4,000 air quality monitors but has only 804 as of September 2021, most of which are concentrated in urban areas.
THE EXPLANATION: 
India has nine of the 10 most polluted cities in the world, but with 200 particulate matter 2.5 monitoring sites in operation during the 2010-2016 period, India's air quality monitor density – about 0.14 monitors per million people – is below China (1.2), the United States of America (3.4), Japan (0.5) and Brazil (1.8), according to research from 2019.
As a consequence, India does not accurately know the spread of pollutants, including sulphur dioxide, nitrous dioxide, respirable PM 10, the finer particulate matter or PM 2.5, lead, carbon monoxide and ammonia. Chronic exposure to these pollutants contributes to the risk of developing ailments such as cardiovascular, respiratory diseases, as well as of lung cancer, according to the World Health Organization.
Further, since existing air quality monitors are concentrated in urban areas, health and environmental authorities cannot assess the extent of air pollution in rural areas due to biomass, fuelwood, stubble burning and spraying of pesticides.
Real-time monitoring 
Ambient air quality is monitored by observing pollutants, including sulfur dioxide, nitrogen dioxide, PM 10, PM 2.5, lead, carbon monoxide and ammonia, present in the air. Currently, the country's clean air programme has set a tentative national target of 20%-30% reduction of air pollution in132 non-attainment cities by 2024, taking 2017 as the base year. The "non-attainment cities", called so because they did not meet the national ambient air quality standards at the time, are required to formulate city-specific action plans in order to reduce air pollution. So, while the thrust is on the most-polluted cities, rural and semi-urban areas are not being fully monitored for want of monitors and protocols.
In India, air quality has been traditionally monitored using manual readings. Data from 804 monitoring stations are used for monitoring ambient air quality. Even after the introduction of real-time monitors, the Central Pollution Control Board continues the practice of using data only from manual monitors to report compliance with air quality standards, according to a Centre for Science and Environment report from 2020.
There are 261 real-time monitors whose data are updated on the central database. This network is technically part of the National Air Quality Monitoring Programme but its data are stored and treated separately because Central Pollution Control Board has not established a method of equivalence between the two monitoring techniques, the 2020 Centre for Science and Environment report pointed out.
Monitoring stations needed 
The minimum number of stations to monitor suspended particulate matter where the area's population is less than 1,00,000 is four. The minimum number is three for sulphur dioxide, four for nitrous dioxide, one for carbon monoxide, according to Central Pollution Control Board guidelines for ambient air quality monitoring released in 2003. The number of monitors required increases with the population.
India's six megacities (Mumbai, Kolkata, Bengaluru, Chennai, Hyderabad, Delhi) need at least 23 to 44 air quality monitoring stations each, while the existing number of stations range between nine and 12 [excluding Delhi], according to the Centre for Science and Environment report from 2020.
Measuring pollutants 
To address the data gaps in monitoring pollutants, India will require 1,600 monitors-4,000 monitors (1.2 monitors-3 monitors per million people), the Elsevier paper said, and warned that even at these densities, only relatively basic information on common air pollutants would be available more frequently, and would cover a relatively limited area.
India has set aside a budget of Rs 470 crore for control of pollution in the financial year 2021-'22, which includes funding for its ambitious National Clean Air Programme. 
Value Addition:
National Air Quality Index (AQI)
The AQI is an index for reporting daily air quality. It tells how clean or polluted the air is.
The higher the AQI value, the greater the level of air pollution and the greater the health concern.
Research studies have attributed the key sources of PM2.5 in summer to be: dust and construction activities (35%), transport sector (20%) and industry (20%).
Would measure
Particulate Matter 2.5
Ozone
Carbon monoxide
Ammonia
Lead
Nitrogen oxide
Sulpher dioxide
PM 10
Six AQI categories
AQI

 Associated Health Impacts

Good
(0–50)

 Minimal Impact

Satisfactory
(51–100)

 May cause minor breathing discomfort to sensitive people.

Moderately polluted
(101–200)

 May cause breathing discomfort to people with lung disease such as asthma, and discomfort to people with heart disease, children and older adults.

Poor
(201–300)

 May cause breathing discomfort to people on prolonged exposure, and discomfort to people with heart disease

Very Poor
(301–400)

 May cause respiratory illness to the people on prolonged exposure. The effect may be more pronounced in people with lung and heart diseases.

Severe
(401-500)

 May cause respiratory impact even on healthy people, and serious health impacts on people with lung/heart disease. The health impacts may be experienced even during light physical activity.
Centre-run System of Air Quality and Weather Forecasting and Research (SAFAR) 
It was indigenously developed by Indian Institute of Tropical Meteorology, Pune.
It is run by India Meteorological Department (IMD).
The objective is to provide Real-time air quality index on 24×7 basis with colour coding along with 72-hour advance weather forecast.
Another goal is to issue health advisory to prepare citizens well in advance.
Government Measurements: 
Introduction of cleaner gaseous fuels like CNG, LPG etc, and ethanol blending.
Banning the burning of biomass.
Promotion of public transport network.
Pollution Under Control Certificate.
Issuance of directions under Air (Prevention and Control of Pollution) Act, 1981.
Installation of on-line continuous (24×7) monitoring devices by 17 highly polluting industrial sectors.
Regulating the bursting of pollution-emitting crackers.
Notification of graded response action plan for Delhi identifying source wise actions for various levels of air pollution, etc.
Leapfrogging from BS-IV to BS-VI standards for vehicles by 1st April 2020.
3. REINTRODUCTION OF GHARIALS
THE CONTEXT: After successfully reintroducing the critically endangered Gharial (Gavialis Gangeticus) in the rivers of Punjab where it had become extinct half a century ago, the State's wildlife preservation wing is now keeping its fingers crossed, expecting the breeding of the crocodilians to start in the new few years as the released gharials are healthy and have adapted to the Beas Conservation Reserve as their home.
THE EXPLANATION: 
The gharial reintroduction in the Beas Conservation Reserve is an ambitious programme of the Punjab government. The reptiles were commonly sighted in the Beas River till the 1960s but later became extinct. The gharial can be found in north Indian rivers like the Ganga, Yamuna, Chambal and their tributaries.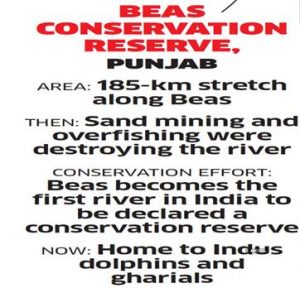 Since 2017, 94 gharials released in the Beas Conservation Reserve and there have been only two causalities. These gharials have been dispersed both upstream and downstream of the release sites in the reserve and they can be spotted any time depending on the water levels and season, indicating that the first step of their rehabilitation has been successful. 

According to Punjab wildlife officials, the next big challenge is their breeding. Once natural breeding of gharials starts it would then be a real success. Normally, expect the breeding to start after 10 years. The eldest of the reintroduced ghairals is seven years old now and we are hopeful that breeding could start in the coming three-four years. The habitat is conducive for egg-laying and hatching and we are taking all necessary steps to provide a safe environment predator. 

In the first phase of the reintroduction project, 47 gharials were released in 2017-2018 in the river in Amritsar and Tarn Taran districts. Later, 23 gharials were released in February 2021 on an island near Saleempur and Tahli Forest in district Hoshiarpur. Most recently, in December 2021, another set of 24 gharials was released near the KullaFatta forests in the reserve in Hoshiarpur district.
Value Addition: 
Gharials (or gavials) are a type of Asian crocodilian distinguished by their long, thin snouts.
Crocodilians are a group of reptiles that includes crocodiles, alligators, caimans, and more.
India has three species of Crocodilians namely:
          Gharial: IUCN Red List- Critically Endangered
          Mugger crocodile: IUCN- Vulnerable.
          Saltwater crocodile: IUCN- Least Concern. 
All the three are listed on Appendix I of CITES and Schedule I of the Wildlife (Protection) Act, 1972. 
However, Saltwater Crocodile populations of Australia, Indonesia and Papua New Guinea are included in Appendix II of CITES.
Habitats include: Fresh waters of the northern India – Chambal river, Ghagra, Gandak river and the Sone river (Bihar).
Population of Gharials is a good indicator of clean river water.
Habitat and Distribution 
Primary habitat Chambal river and its prefers to live in riverine habitats with deep, clear, fast-moving water and steep, sandy banks.
Deep pools, formed at sharp river bends are another preferred spot.
They use sandy banks (at river's edge or mid-river) and rocky outcrops for basking.
SECURITY
4. NEW GENERATION BALLISTIC MISSILE 'AGNI P' SUCCESSFULLY TESTED
THE CONTEXT: Defence Research and Development Organisation (DRDO) successfully tested the new generation nuclear capable ballistic missile 'Agni P' from Dr APJ Abdul Kalam island off the coast of Odisha.
THE EXPLANATION:
The Agni P is a two-stage canisterised solid propellant ballistic missile with dual redundant navigation and guidance system. This second flight-test has proven the reliable performance of all the advanced technologies integrated into the system.
Various telemetry, radar, electro-optical stations and down range ships positioned along the eastern coast tracked and monitored the missile trajectory and parameters. The missile followed text book trajectory meeting all mission objectives with high level of accuracy.
About Agni-V
Agni-V is an Indian nuclear-capable intercontinental ballistic missile (ICBM). It has been developed by the Defence Research and Development Organisation. Missile is having a range of around 5000 to 8000 km. It is a three-stage, solid-fuelled and road-mobile intercontinental ballistic missile. It is transported by a truck and launched using a canister.
Significance of Agni V
Agni V is used to enhance India's nuclear deterrence against China. Earlier, the longest-range missile in India was Agni-III, which had the range of 3000–3500 km. This range was not sufficient to reach targets eastern and north-eastern region of China. Thus, DRDO was working on the upgraded version of this missile called Agni-V.
What is Ballistic Missile? 
A ballistic missile follows a ballistic trajectory to deliver one or more warheads on a predetermined target.
A ballistic trajectory is the path of an object that is launched but has no active propulsion during its actual flight (these weapons are guided only during relatively brief periods of flight).
Consequently, the trajectory is fully determined by a given initial velocity, effects of gravity, air resistance, and motion of the earth (Coriolis Force).
Types of ballistic missiles based on the range 
Short-range (tactical) ballistic missile (SRBM): Range between 300 km and 1,000 km.
Medium-range (theatre) ballistic missile (MRBM): 1,000 km to 3,500 km.
Intermediate-range (Long-Range) ballistic missile (IRBM or LRBM): 3,500 km and 5,500 km.
Intercontinental ballistic missile (ICBM): 5,500 km +.
What is the difference between ballistic and cruise missiles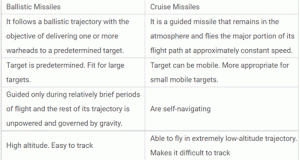 THE PRELIM PRACTICE QUESTION
Q1. 'Nord Stream' sometimes seen in the news is a natural gas pipeline between which of the following countries?
                        A) Russia and Germany
B) Germany and U.K.
C) K. and France
D) Germany and Sweden
FOR 18TH DECEMBER 2021 PRELIMS PRACTICE QUESTIONS
Answer: B
Explanation:
Statement 1 is incorrect: Competition Commission of India is a statutory body established under Competition Act, 2002.
Statement 2 is correct: It consists of a chairperson and 6 Members.
Spread the Word