INDIAN POLITY, GOVERNANCE AND SOCIAL JUSTICE
1. COVAXIN GETS WHO'S EMERGENCY USE NOD
THE CONTEXT: India's first indigenous COVID-19 vaccine, Bharat Biotech's Covaxin, was granted Emergency Use Listing (EUL) by the World Health Organization (WHO).
THE EXPLANATION:
Covaxin is a whole virion-inactivated vaccine against SARS-CoV-2, developed in partnership with the Indian Council of Medical Research and the National Institute of Virology, Pune.
It has been granted EUL for use in persons 18 years and above, over two doses spaced four weeks apart.
No recommendation has been made for use in children, and available data for use on pregnant women is insufficient to assess safety or efficacy.
The EUL is a prerequisite for the COVAX initiative in vaccine supply and allows countries to expedite their own regulatory approval to import and administer COVID-19 vaccines.
The move is expected to ease international travel for Indians who have opted for the vaccine.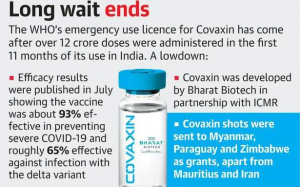 SOURCE: TH
2. DRAFT MEDIATION BILL
THE CONTEXT: Draft Mediation Bill issued for Public Consultation.
THE MAIN FEATURES OF THE BILL
The draft Bill proposes for pre-litigation mediation and at the same time safeguards the interest of the litigants to approach the competent adjudicatory forums/courts in case an urgent relief is sought.
The successful outcome of mediation in the form of a Mediation Settlement Agreement (MSA) has been made enforceable by law. Since the Mediation Settlement Agreement is out of the consensual agreement between the parties, the challenge to the same has been permitted on limited grounds.
The mediation process protects the confidentiality of the mediation undertaken and provides for immunity in certain cases against its disclosure.
The registration of the Mediation Settlement Agreement has also been provided with State/District/Taluk Legal Authorities within 90 days to ensure maintenance of authenticated records of the settlement so arrived.
Provides for the establishment of the Mediation Council of India.
Provides for community mediation.
SOURCE: PIB
ENVIRONMENT, GEOGRAPHY AND AGRICULTURE
3. DELHI'S AIR QUALITY ENTERED THE SEVERE CATEGORY
THE CONTEXT: As per Central Pollution Control Board's (CPCB), the air quality of the city deteriorated to the "severe" category on November 5, a day after Deepavali.
THE EXPLANATION:
The Capital registered its worst post-Deepavali air quality in five years.
The current air pollution levels affect healthy people and seriously impact those with existing diseases.
Government-run monitoring agency SAFAR said that local winds have picked up since morning and now the fast dispersion is expected.
SAFAR
The System of Air Quality and Weather Forecasting And Research (SAFAR) is a national initiative introduced by the Ministry of Earth Sciences (MoES) to measure the air quality of a metropolitan city.
The system is indigenously developed by the Indian Institute of Tropical Meteorology (IITM), Pune and is operationalized by the India Meteorological Department (IMD).
Pollutants monitored are PM2.5, PM10, Ozone, Carbon Monoxide (CO), Nitrogen Oxides (NOx), Sulfur Dioxide (SO2), Benzene, Toluene, Xylene, and Mercury.
AIR QUALITY INDEX
It is a tool for effective communication of air quality status to people in terms, which are easy to understand.
It transforms complex air quality data of various pollutants into a single number (index value), nomenclature and colour.
There are six AQI categories, namely Good, Satisfactory, Moderately polluted, Poor, Very Poor, and Severe.
Each of these categories is decided based on ambient concentration values of air pollutants and their likely health impacts (known as health breakpoints).
AQ sub-index and health breakpoints are evolved for eight pollutants (PM10, PM2.5, NO2, SO2, CO, O3, NH3, and Pb) for which short-term (up to 24-hours) National Ambient Air Quality Standards are prescribed.
SOURCE: TH
4. WORLD FOOD PRICES HIT A 10-YEAR-HIGH
THE CONTEXT: According to the United Nations' food agency, world food prices are the highest since July 2011, reflecting in part reduced wheat harvests by major exporters and higher palm oil prices.
THE EXPLANATION:
The Rome-based Food and Agriculture Organization (FAO) said international prices of its basket of food commodities rose by 3% in October, for a third straight month of increases.
Reduced harvests by big exporters like Canada, Russia and the United States helped drive up wheat prices by 5%, while the Vegetable Oil Price Index soared by 9.6% in October, hitting an all-time high. Migrant worker shortages in Malaysia were a factor in that increase.
Italy, a major exporter as well as consumer of pasta, fears that product's prices could soar in time for year-end holidays. Italy imports about 40% of its durum wheat, with Canada its principle supplier, to help produce its pasta.
Experts have said the price of a package of pasta could jump by some 20 euro cents (almost 24 U.S. cents), which, for many popular brands, could translate into a 15-to-20% increase in a product many Italians consume daily.
The FAO said global cereal inventories are seen heading for a contraction in 2021/22, according to the agency's forecast. That forecast reflects cuts to the estimates of wheat production in Iran and Turkey as well as the U.S.
Higher costs of energy and supply chain prices have also been cited for the rising food prices consumers are facing.
 SOURCE: TH
5. GLOBAL CARBON EMISSIONS GOING REBOUND PRE-PANDEMIC LEVEL
THE CONTEXT:  The recent report produced by the Global Carbon Project (GCP) suggests that the decreased levels of emissions during the pandemic would be soon reversed.
THE EXPLANATION:
A report suggests that carbon dioxide emission this year is likely to rise by 4.9%, thereby reversing what was achieved during the peak of the pandemic period.
In 2020, carbon dioxide emissions fell drastically, by a record 1.9 billion tons, amounting to a decrease of about 5.4%.
The report said that China and India would have higher emissions in 2021 than in 2019, while Europe and the United States are expected to have slightly lower emissions.
China was reported to have increased its coal usage, which is among the most dangerous contributors to global warming, while emissions in some other countries were found to be decreased.
The GCP report projected that global emissions would surpass 36.4 billion tons of carbon dioxide this year.
SOURCE: NewsClick
INDIAN ECONOMY
6. EDIBLE OIL PRICES SHOW A DECLINING TREND
THE CONTEXT: Edible Oil prices show a declining trend across the country.
THE EXPLANATION:
The Government has cut the basic duty on Crude Palm Oil, Crude Soybean Oil and Crude Sunflower Oil from 2.5% to nil in a bid to reign in a continuous rise in the cooking oil prices since the past year.
The Agri-cess on these Oils has been brought down from 20% to 7.5% for Crude Palm Oil and 5% for Crude Soyabean Oil and Crude Sunflower Oil.
Consequent to the above reduction, the total duty is 7.5% for Crude Palm Oil and 5% for Crude Soyabean Oil and Crude Sunflower Oil.
The basic duty on RBD Palmolein Oil, Refined Soyabean and Refined Sunflower Oil has been slashed to 17.5% from the current 32.5%.
To control prices of edible oils the government has rationalised import duties on palm oil, sunflower oil and soyabean oil, futures trading in mustard oil on NCDEX has been suspended and stock limits have been imposed.
Despite international commodity prices being high, interventions have been taken by Central Government along with State Governments' proactive involvement have led to a reduction in prices of edible oils.
Edible prices are higher than the year-ago period but from October onwards there was a declining trend.
The government is taking steps to improve the production of secondary edible oils, especially rice bran oil to reduce the import dependence.
 SOURCE: PIB
SCIENCE AND TECHNOLOGY
7. MOLNUPIRAVIR
THE CONTEXT: Researchers have engineered enzymes to enable faster manufacture of molnupiravir, an investigational oral antiviral being developed for the treatment of Covid-19. The study appears in ACS Central Science.
THE EXPLANATION:
Molnupiravir works by causing viruses to make errors when copying their own RNA, introducing mutations that inhibit replication.
Manufactured by Merck, the drug was originally developed to treat influenza. It has been submitted to the US FDA for review as a Covid-19 treatment.
In India, the Optimus Group recently announced the results of phase 3 clinical trials, which found 91.5% of patients given the drug tested RT-PCR negative compared to 43% in the placebo group.
In the new study, researchers developed a three-step synthesis route, which was 70% shorter and had a seven-fold higher overall yield than the original route, the American Chemical Society said in a press release.
SOURCE: IE
INTERNATIONAL RELATIONS
8. INDIA -SENEGAL SIGN MOU ON HEALTH
THE CONTEXT: India and Senegal signed a memorandum of understanding (MoU) on Health and Medicine in Dakar and both sides celebrated the 60th anniversary of their diplomatic ties.
THE EXPLANATION:
The two sides reviewed bilateral ties and explored possibilities of increasing engagement.
The MoU entails collaboration including in Disease Surveillance, Medical Research, Drugs and Pharma, medical equipment & Traditional Medicine.
To mark the 60th anniversary of the diplomatic ties a commemorative postal stamp was released.
SOURCE:  ANI
9. CHINA, RUSSIA URGE UNSC TO END SANCTIONS ON NORTH KOREA
THE CONTEXT: China and Russia are urging the U.N. Security Council to end a host of sanctions against North Korea including a ban on exports of seafood and textiles, a cap on imports of refined petroleum products, and a prohibition on its citizens working overseas and sending home their earning.
THE EXPLANATION:
The Security Council initially imposed sanctions on North Korea after its first nuclear test in 2006 and made them tougher in response to further nuclear tests and an increasingly sophisticated ballistic missile program.
A draft resolution circulated to council members stresses the economic difficulties in North Korea and says sanctions should be lifted with the intent of enhancing the livelihood of the civilian population.
The China-Russia draft resolution makes no mention of the missile tests. Instead, it notes that North Korea has refrained from conducting nuclear tests since September 2017.
The China-Russia draft calls on all U.N. member nations to intensify their efforts to provide humanitarian assistance, including but not limited to food, fertilizer and medical supplies and to provide goods, materials, technology and financial services needed by North Korea to combat COVID-19, improve livelihoods, and develop the economy.
The draft resolution would lift a ban on North Korea from importing some industrial machinery and transport vehicles used to build infrastructure that can't be diverted to the country's nuclear and ballistic missile programs
SOURCE: THE DIPLOMAT
PRELIMS PRACTICE QUESTIONS
Q.1  "Zero click", the term sometimes seen in the news, is related to
a) Cyberattacks
b) Climate change
c) E-waste management
d) Eco-friendly farming
ANSWER FOR NOVEMBER 2nd, 2021 PRELIMS PRACTICE QUESTIONS
Answer: A
Explanation:
'The Adaptation Gap Report 2021: The Gathering Storm' was released by the United Nations Environment Programme (UNEP) during the ongoing COP26 at Glasgow.
The report found that the costs of adaptation are likely in the higher end of an estimated $140-300 billion per year by 2030 and $280-500 billion per year by 2050 for developing countries only.
Even if the world limits warming to 1.5°C, many climate risks remain and will be irreversible, while warning that the gap between costs of adaptation and the current financial flow is widening.
Spread the Word