TAG: GS 3: SCIENCE AND TECHNOLOGY
THE CONTEXT: Scientists used the James Webb Space Telescope to discover the second and fourth-most distant galaxies in a part of space known as Pandora's cluster.
EXPLANATION:
According to researchers, galaxies at this distance appear in images as red dots, these new galaxies appear larger and look like a "peanut and a fluffy ball".
The researchers estimate that the light detected by Webb telescope was emitted by the galaxies about 13.4 billion light-years
The galaxies are currently 33 billion light-years away from us because of the expansion of the universe over time.
The researchers also used computational models to reveal the properties of these early galaxies.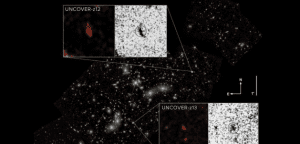 JAMES WEBB SPACE TELESCOPE:
The James Webb Space Telescope is the largest, most powerful space telescope ever built.
The telescope will be able to capture images of some of the first galaxies ever formed.
It will also be able to observe objects in our solar system from Mars outward, look inside dust clouds to see where new stars and planets are forming and examine the atmospheres of planets orbiting other stars.
The Webb telescope's cameras are sensitive to heat from the Sun. Webb has a sunshield to protect its instruments and mirrors.
The James Webb Space Telescope sees the universe in light that is invisible to human eyes. This light is called infrared radiation. The James Webb Space Telescope will use its infrared cameras to see through dust in the universe.
It took deep field images of Pandora's cluster in 2022.
SOURCE: James Webb Space Telescope help find 2 of the most distant galaxies (indianexpress.com)
Spread the Word