1. SPECIAL LEAVE PETITION AGAINST KERALA'S GOVERNOR
TAG: GS 2: POLITY AND GOVERNANCE
THE CONTEXT: The Kerala Government has filed a special leave petition before the Supreme Court of India against Kerala's Governor.
EXPLANATION:
The government is seeking a declaration from the Supreme Court that the Governor has failed to exercise his constitutional powers and duties.
WHAT ARE THE CONCERNS?
Pending Bills Dispute:

The central issue at hand is the delay in the Governor's disposal of bills passed by the State Legislature.
The Kerala Government argues that the Governor has acted in a manifestly arbitrary manner by keeping these bills pending for an extended period.
Constitutional Powers and Duties:

The Kerala Government claims that the Governor's inaction subverted the Constitution and threatened democratic principles.
It alleges that the Governor failed to exercise his constitutional powers and duties, as outlined in Article 200 of the Indian Constitution, which specifies the Governor's role in granting assent to bills.
The Kerala Government accuses the Governor of gross disregard and violation of constitutional provisions and argues that such actions are not in line with the Governor's duties.
Number of Pending Bills:

Out of the eight bills passed by the Legislature, three had been pending with the Governor for more than two years, and three others for more than one year.
This extended delay in dealing with legislative matters is a significant point of contention.
Previous Disposal of a Bill:

The Kerala Private Forest (Vesting and Assignment) Bill, 2023, was presented to the Governor on April 6, 2023, and was disposed of by him on September 18.
It suggests that the Governor's non-disposal of earlier bills may have been a conscious act.
Parties to the Petition:

The secretary to the Governor and the Union of India have also been made parties to the petition, indicating that the legal action is directed not only at the Governor but also at others involved in the matter.
Special Leave Petitions in Indian Judicial System:
This is special power bestowed upon the Supreme Court of India which is the Apex Court of the country to grant leave to appeal against any judgment in case any substantial constitutional question of law is involved or gross injustice has been done.
CONSTITUTIONAL PROVISIONS RELATED TO THE GOVERNOR
Article 153 says that there shall be a Governor for each State. One person can be appointed as Governor for two or more States.
A Governor is appointed by the President and is a nominee of the Central Government.

It is stated that the Governor has a dual role.
He is the constitutional head of the state, bound by the advice of his Council of Ministers (CoM).

He functions as a vital link between the Union Government and the State Government.
Articles 157 and 158 specify eligibility requirements for the post of governor. A governor must:

Be a citizen of India.
Be at least 35 years of age.
Not be a member of the either house of the parliament or house of the state legislature.
Not hold any office of profit.

Governor has the power to grant pardons, reprieves, etc. (Article 161).
There is a CoM with the CM at the head to aid and advise the Governor in the exercise of his functions, except some conditions for discretion. (Article 163).
The Governor appoints the Chief Minister and other Ministers (Article 164).
Governor assents, withholds assent, or reserves the bill for the consideration of the President passed by the Legislative Assembly (Article 200).
Governors may promulgate the Ordinances under certain circumstances (Article 213).
Governor's role:

The Governor holds a constitutional position and is expected to perform specific functions, including granting assent to bills passed by the state legislature and ensuring the proper functioning of state administration.
The Governor's actions are perceived as a hindrance to these responsibilities.
SOURCE: https://www.thehindu.com/news/national/kerala/kerala-government-moves-supreme-court-against-governor-arif-mohammed-khan-over-pending-bills/article67488446.ece/amp/
2. EU'S PROPOSED CARBON TAX ON IMPORTS THROUGH CBAM
TAG: GS 3: ECOLOGY AND ENVIRONMENT
THE CONTEXT: The European Union's proposed Carbon Tax on imports is an 'ill-conceived' move that would become the "death knell" for its manufacturing sector.
EXPLANATION:
The European Union is planning to implement a carbon tax on imports through the Carbon Border Adjustment Mechanism (CBAM).
This mechanism is designed to address carbon leakage, ensuring that imported goods meet similar environmental standards as those produced within the EU.
CONCERNS RAISED:
India's Commerce and Industry Minister criticized the EU's CBAM, calling it "ill-conceived" and warning that it could be detrimental to Europe's manufacturing sector.
He argued that carbon pricing cannot be the same in India and Europe due to different economic and environmental circumstances.
IMPACT ON EUROPEAN MANUFACTURING:
It is asserted that the CBAM could have a negative impact on European manufacturing, particularly in sectors like autos, where steel and aluminium are essential components.
EU should consider different carbon pricing values for less developed and developing countries to create a more equitable system.
The CBAM might lead European producers to move their production to India, as it becomes costlier to manufacture in Europe.
INDIA'S RESPONSE:
It is believed that India may counter the CBAM by imposing its own carbon tax.
This would help level the playing field and ensure that carbon pricing aligns with India's specific needs.
The Indian government is in ongoing discussions with its European counterparts regarding the CBAM.
The government is negotiating with the EU to address concerns about the fairness of carbon pricing and its impact on Indian exports.
SUPPORTING GREEN ENERGY TRANSITION:
If India collects its own carbon tax and uses it for its green energy transition, this would indirectly help exporters reduce their carbon footprint.
It potentially will negate the need for additional CBAM taxes at the European border.
CARBON BORDER ADJUSTMENT MECHANISM (CBAM):
It is a policy instrument that aims to level the playing field between EU and non-EU producers of carbon-intensive goods.
It does this by imposing a carbon charge on imports of certain goods from countries that do not have a carbon price comparable to the EU Emissions Trading System (ETS).
The charge is calculated based on the embedded carbon content of the imported goods, and is intended to equalize the cost of carbon emissions between EU and non-EU producers.
WHY CBAM?
CBAM is an EU regulation and part of the 'Fit for 55' package.
The goal of this package is to reduce greenhouse gas emissions in the EU by at least 55% by 2030.
Currently, the EU operates a system where producers within the EU have to purchase emission allowances for the CO2 emissions of their products (EU Emissions Trading System, EU ETS).
The CBAM price adjustment ensures that these producers no longer face a competitive disadvantage when importing from third countries with lower climate standards.
It is currently in a transitional phase, with full implementation expected in 2026. The following goods are currently covered by the CBAM:

Iron and steel
Cement
Aluminium
Fertilisers
Electricity
Hydrogen
SOURCE: https://www.thehindu.com/business/Economy/cbam-will-kill-eu-manufacturing-india-will-have-its-own-carbon-taxes-goyal/article67490421.ece/amp/
3. LAND BRIDGE ACROSS THE KRA ISTHMUS
TAG: GS 2: INTERNATIONAL RELATIONS
THE CONTEXT: The revival of a centuries-old idea in Thailand, the creation of a "land bridge" or economic corridor across the Kra Isthmus, could potentially reduce the need for ships to take the longer route through the Strait of Malacca.
EXPLANATION:
THE KRA ISTHMUS AND ITS GEOGRAPHIC SIGNIFICANCE:
Thailand's Kra Isthmus is a narrow strip of land between the Andaman Sea and the Gulf of Thailand.
It forces ships traveling between the Indian Ocean Region and East Asia to sail south through the Strait of Malacca, which adds approximately 1,200 kilometers to their journey.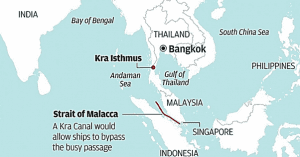 HISTORICAL PERSPECTIVE:

The idea of reducing the distance between these two bodies of water by cutting through the Kra Isthmus dates back to Thai monarch Narai the Great in 1677.
Various attempts and studies have been made throughout history to connect the Gulf of Thailand and the Andaman Sea, primarily for economic and strategic reasons.
CURRENT PROPOSAL:

Thailand's Prime Minister is proposing a "land bridge" instead of a canal, which would involve road and rail networks connecting deep-sea ports on both coasts of the isthmus.
This project aims to provide an alternative route that is

shorter,
saves transportation costs,
reduces the risk of piracy, and
alleviates pressure on the congested Strait of Malacca.
ECONOMIC BENEFITS:

The proposed land bridge could reduce transport time significantly, potentially creating economic benefits for Thailand, which has seen slow economic growth and increasing household debt.
It could create jobs and boost economic growth in the southern provinces, enhancing Thailand's position in Southeast Asia.
GEOPOLITICAL CONSIDERATIONS:

China's interest in the project is driven by potential trade cost savings, improved control over waterways, and enhanced naval and surveillance capabilities.
However, deepening ties with China may affect Thailand's relations with other nations.
CHALLENGES AND FINANCING:
The project faces financial challenges, with an estimated cost of around $27.44 billion.
The Thai government is looking to China for investments, although this could have implications for Thailand's relationships with other countries, including the United States, Japan, and India.
The viability and environmental impact of such a project have also been subjects of debate.
CONCLUSION:
Thailand's renewed interest in creating a land bridge across the Kra Isthmus, could have significant economic and geopolitical implications.
While the project could offer benefits in terms of reduced shipping distances and economic growth.
It also faces challenges related to financing, environmental impact, and its potential impact on international relations.
The revival of this idea reflects the ongoing debate about the future of global trade routes and the strategic interests of various countries.
SOURCE: https://indianexpress.com/article/explained/explained-global/land-bridge-thailand-kra-isthmus-9009594/lite/
4. LEGAL IDENTITY OF MIGRANTS
TAG: GS 2: INTERNATIONAL RELATIONS
THE CONTEXT: According to the United Nations' International Organization for Migration (IOM), approximately one billion people worldwide lack legal identity.
EXPLANATION:
It is a significant global issue related to legal identity and the challenges faced by approximately one billion people who lack legal identification.
They do not possess official documentation that identifies them as legal residents or citizens of a particular country creating a legal identity gap.
CONSEQUENCES OF THE LEGAL IDENTITY GAP:
The lack of legal identity has serious implications for individuals.
It limits their ability to access various essential services, such as education, healthcare, and social welfare.
It also restricts their mobility and can lead to longer, more dangerous, and irregular migration routes.
Challenges in Readmission:

Readmission processes for migrants often face obstacles.
These challenges can be addressed by strengthening a state's legal identity capacity, providing consular support, and improving collaboration among government agencies.
INITIATIVES TO TACKLE THESE ISSUES:
UN Conference:

The IOM organized a Legal Identity and Rights-Based Return Management Conference at the UN City in Copenhagen, Denmark, to address the issue.
The conference aimed to facilitate dialogue between countries of origin and destination for people without legal identities.
International Cooperation:

The conference emphasized the importance of cooperation between countries of origin and countries of destination to exchange best practices, digitize legal identity systems, and promote a rights-based approach to return management.
Strengthening coordination mechanisms and collaboration among relevant government agencies was also highlighted.
Whole of Government Approach:

Jens Godtfredsen, Ambassador for Migration, Return, and Readmission at the Ministry of Foreign Affairs of Denmark stressed the need for a "whole of government approach" to tackle the global identity gap.
This approach involves government agencies working together to find concrete solutions to migration challenges.
IOM's Global Programme:

The initiative was organized within the framework of the IOM's Global Programme Enhancing Readmission and Legal Identity Capacities (RELICA), launched in 2022.
This program aims to enhance legal identity systems and facilitate return management.
Regional and International Cooperation:

Representatives from various countries, including Somalia, Lebanon, Iraq etc highlighted the importance of regional and international cooperation in addressing the legal identity gap.
This cooperation can help countries digitize their identity systems and enhance rights-based return management.
SOURCE: https://www.downtoearth.org.in/news/governance/no-legal-identity-for-a-billion-people-globally-says-un-body-92607
5. STAGE-III OF THE GRADED RESPONSE ACTION PLAN (GRAP)
TAG: GS 3: ECOLOGY AND ENVIRONMENT
THE CONTEXT: Recently, the Sub-Committee for operationalization of the Graded Response Action Plan (GRAP) has taken the call to invoke all actions as envisaged under Stage-III of GRAP – 'Severe' Air Quality (AQI ranging between 401-450), with immediate effect in the entire NCR.
EXPLANATION:
Stage-III of the Graded Response Action Plan (GRAP) in the National Capital Region (NCR) has been implemented, particularly Delhi, due to a severe deterioration in air quality with an AQI exceeding 401.
The action plan includes eight key measures to address the issue.
KEY MEASURES:
Mechanized Road Sweeping:

Intensifying the frequency of mechanized or vacuum-based sweeping of roads to reduce dust and particulate matter on road surfaces.
Water Sprinkling:

Ensuring daily water sprinkling with dust suppressants on roads and high-traffic areas before peak traffic hours to control dust pollution.
Enhanced Public Transport:

Increasing the availability of public transport services and possibly introducing differential rates to encourage off-peak travel, thereby reducing the number of private vehicles on the road.
Construction and Demolition Activities:

Enforcing strict bans on most construction and demolition activities in the entire NCR, with specific exemptions for essential projects like railways, metro, airports, defense-related activities, hospitals, public infrastructure, sanitation projects, and ancillary activities.
Stone Crushers Shutdown:

Temporarily closing down the operations of stone crushers to reduce air pollution caused by dust and particulate matter.
Mining Activities Shutdown:

Halting all mining and associated activities in the NCR to control dust and pollutant emissions.
Restrictions on BS III and BS IV Vehicles:

Imposing strict restrictions on the operation of Bharat Stage (BS) III petrol and BS IV diesel Light Motor Vehicles (LMVs) in specific districts within the NCR, aiming to curb vehicular emissions.
Online Education:

State governments in the NCR are given the option to discontinue physical classes in schools for children up to Class V and conduct classes online to reduce outdoor activities and exposure to poor air quality.
REASONS FOR IMPLEMENTATION OF STAGE-III OF GRAP:
These measures are implemented to mitigate the severe air quality issues in the NCR, particularly in Delhi.
The trigger for invoking Stage-III of GRAP is when the Air Quality Index (AQI) crosses 401, indicating a severe pollution level.
The combination of unfavorable meteorological conditions, an increase in farm fires, and wind patterns pushing pollutants towards Delhi has contributed to the spike in air pollution.
The call for citizen cooperation and suggestions for using cleaner commuting options, working from home when possible, and avoiding coal and wood for heating purposes are part of a broader effort to engage the public in the fight against air pollution.
The aim is to address the immediate crisis by reducing the sources of air pollution, restricting certain activities, and promoting cleaner alternatives, with a focus on mitigating the adverse health effects of poor air quality in the NCR.
GRADED RESPONSE ACTION PLAN (GRAP):
In pursuant to the Supreme Court's order in the matter of M. C. Mehta vs. Union of India (2016) regarding air quality in the National Capital Region of Delhi, a Graded Response Action Plan has been prepared for implementation under different Air Quality Index (AQI) categories namely, Moderate & Poor, Very Poor, and Severe.
A new category of "Severe+ or Emergency" has been added.
The Plan was notified by the Ministry of Environment, Forests & Climate Change in 2017.
It institutionalised measures to be taken when air quality deteriorates.
The plan is incremental in nature – therefore, when the air quality moves from 'Poor' to 'Very Poor', the measures listed under both sections have to be followed.
It prevents PM10 and PM2.5 levels from going beyond the 'moderate' national AQI category.
SOURCE: https://pib.gov.in/PressReleasePage.aspx?PRID=1974270
Spread the Word