1. CLOUD SEEDING
TAG: GS 1: GEOGRAPHY
THE CONTEXT: Recently, IITM Pune demonstrated that cloud seeding can produce rainfall.
HIGHLIGHTS OF THE STUDY:
IITM Pune conducted a cloud seeding experiment in Solapur city, which typically receives low rainfall due to its location on the leeward side of the Western Ghats.
The experiment resulted in an 18% relative enhancement in rainfall, equivalent to approximately 8.67mm more rainfall over a two-hour period.
The experiment, called Cloud Aerosol Interaction and Precipitation Enhancement Experiment (CAIPEEX phase-4), used hygroscopic seeding in convective clouds and involved two aircraft for cloud parameter study and seeding.
A total of 276 convective clouds were selected, with 150 seeded and 122 left unseeded.
Seeded clouds produced more rainfall than unseeded ones, indicating the effectiveness of cloud seeding under suitable conditions.
Calcium chloride flares were used for cloud seeding, targeting the base of warm convective clouds during their growing stage.
Cloud seeding alone cannot mitigate droughts but can increase rainfall by 18%, partially addressing water requirements.
The approximate cost of producing water through cloud seeding was 18 paisa per liter, which could decrease by over 50% if indigenous seeding aircraft were used.
The study aims to provide protocols and technical guidance for cloud seeding in India, including the identification of target locations, suitable clouds for seeding, and effective strategies to enhance rainfall.
Not all cumulus clouds produce rainfall when seeded, and the actual increase in rainfall was 18% over a 100 sq.km area.
WHAT IS CLOUD SEEDING?
Cloud seeding is a weather modification technique that aims to change the amount or type of precipitation that falls from clouds.
It does so by dispersing substances into the air that serve as cloud condensation or ice nuclei, which alter the microphysical processes within the cloud.
Its effectiveness is debated; some studies have suggested that it is "difficult to show clearly that cloud seeding has a very large effect."
The usual objective is to increase precipitation (rain or snow), either for its own sake or to prevent precipitation from occurring in days afterward.
TYPES OF CLOUD SEEDING:
Static seeding:

This involves introducing condensation nuclei into clouds that are already producing precipitation.
The condensation nuclei help water droplets to grow larger, which increases the likelihood of precipitation falling.
Dynamic seeding:

This involves introducing ice nuclei into supercooled clouds.
Supercooled clouds are clouds that contain water droplets that are below freezing temperature but have not yet frozen.
The ice nuclei provide a surface for the water droplets to freeze on, which initiates the precipitation process.
METHODS OF EXECUTION:
Cloud seeding can be done from the ground or from the air.
Ground-based cloud seeding typically involves using generators to release silver iodide particles into the air.
Air-based cloud seeding typically involves using aircraft to drop flares or generators into clouds.
Cloud seeding is used in a variety of countries around the world, including the United States, China, Russia, and Australia.
It is used for a variety of purposes, including:

Increasing precipitation in areas that are experiencing drought
Reducing the risk of hail damage
Suppressing fog
Increasing snowpack in mountain areas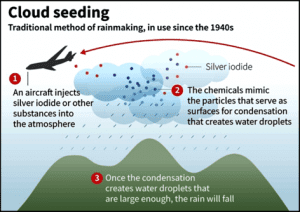 SOURCE: https://www.thehindu.com/sci-tech/iitm-pune-demonstrates-cloud-seeding-can-produce-rainfall/article67466334.ece
2. COP28 PRESIDENCY
TAG: GS 3: ECOLOGY AND ENVIRONMENT
THE CONTEXT: A new report from the 28th session of the Conference of the Parties (COP28) Presidency, the International Renewable Energy Agency (IRENA), and the Global Renewables Alliance was launched on the sidelines of a pre-COP event in Abu Dhabi.
EXPLANATION:
It emphasized the need to triple renewable energy capacity for power generation and double energy efficiency by 2030 to limit global temperature increases to 1.5 degrees Celsius above pre-industrial levels.
HIGHLIGHTS OF THE REPORT:
Emissions Reduction Goals:

The report stresses that in the next seven years, 22 gigatonnes of greenhouse gases must be cut to keep the 1.5°C target within reach.
It emphasized the necessity of phasing down fossil fuels responsibly.
Renewable Energy Expansion:

The report calls for a significant increase in renewable energy capacity.
By 2030, installed renewable power generation capacity should grow more than threefold from 3,382 GW in 2022 to 11,174 GW.
Solar and Wind Growth:

The report highlights the need for substantial increases in solar photovoltaic capacity to over 5,400 GW from 1,055 GW in 2022.
Increase in wind installations to exceed 3,500 GW (3,040 GW onshore and 500 GW offshore) from 899 GW in 2022.
Hydropower Expansion:

Global installed hydropower capacity (excluding pumped hydro) must grow by nearly 17% from the 2022 level, reaching 1,465 GW by 2030.
Variable Renewable Energy:

To meet the 2030 target, the share of variable renewable energy (solar PV and wind power) needs to increase from 10% of total electricity generated in 2021 to 46% by 2030.
Energy Efficiency:

The report also underscores the need to double the global annual rate of energy intensity improvement by 2030 compared to current levels.
It focused on technical energy efficiency improvements and smart electrification strategies.
Carbon Emission Reduction:

While Nationally Determined Contributions and low greenhouse gas emission development strategies may be implemented, they are projected to reduce carbon dioxide emissions by only 6% in 2030 compared to 2022 levels.
Grid Modernization and Investment:

Grid modernization and expansion, as well as investment in renewable power generation, are crucial.
Annual average investment in renewable power generation must increase from $486 billion in 2022 to $1,300 billion by 2030.
Global Financial Support:

The report suggests reforming the global financial architecture to support the energy transition in the Global South.
It also suggests to increase funding from multilateral development banks and a redirection of public capital from fossil fuels to renewable energy.
Infrastructure and Cooperation:

The report calls for cross-sector infrastructure planning, increased cross-border cooperation, and the development of regional power grids to meet energy efficiency and emissions reduction goals.
THE INTERNATIONAL RENEWABLE ENERGY AGENCY (IRENA):
It is an intergovernmental organization that supports countries in their transition to renewable energy.
It is the global hub for renewable energy cooperation and information exchange, and it provides state-of-the-art data and analyses on technology, innovation, policy, finance, and investment.
IRENA was founded in 2009 and is headquartered in Abu Dhabi, United Arab Emirates.
It has 168 member countries and the European Union.
India is the 77th Founding Member of IRENA.
IRENA's mission is to promote the widespread adoption and sustainable use of all forms of renewable energy, including bioenergy, geothermal, hydropower, ocean, solar, and wind energy.
SOURCE: https://www.downtoearth.org.in/news/renewable-energy/cop28-presidency-triple-renewable-energy-capacity-double-energy-efficiency-by-2030-to-limit-global-warming-92548
3. WORLD ENERGY OUTLOOK
TAG: GS 3: ECOLOGY AND ENVIRONMENT
THE CONTEXT: As per the latest World Energy Outlook report from the International Energy Agency (IEA), Global emissions are on track to raise temperatures by around 2.4 degrees Celsius under existing policy settings.
EXPLANATION:
The report highlights the urgency of accelerating the transition to clean energy and the need for balanced investments in various sectors.
It also metions the impact of this transition on fossil fuels and the complex geopolitical and supply chain implications.
Additionally, it addresses specific energy challenges faced by India.
HIGHLIGHTS OF THE REPORT:
Global Emission and Temperature Projections:

The report indicates that current policies and those under development could lead to a temperature increase of approximately 2.4°C.
This is concerning as it exceeds the 1.5°C target set by the Paris Agreement.
The Intergovernmental Panel on Climate Change (IPCC) also noted a likely increase of 3.2°C by 2100 under existing policies.
Peak in Fossil Fuel Demand:

The most striking revelation is the prediction of a peak in fossil fuel demand by the end of the decade.
This includes coal, oil, and natural gas, with factors such as the rise of electric vehicles contributing to the shift.
Investment Requirements:

The report emphasizes the need for increased energy investments, with estimates ranging from $3.2 trillion to $4.7 trillion by 2030.
Most of these investments are currently favoring clean energy and infrastructure, with significant funds diverted from fossil fuels.
Balanced Mix of Investments:

The report recommends a balanced mix of investments that goes beyond solar, wind, and electric vehicles.
It highlights the importance of investing in infrastructure, grid expansion, low-emission fuels, and carbon capture technologies.
Clean Energy Investment Challenges:

Scaling up clean energy investments in emerging markets and developing economies outside of China is a challenge, with financial constraints and high project costs being obstacles.
The report suggests stronger domestic policies and global assistance to reduce investment risks.
Energy and Mineral Security Concerns:

As the energy sector transforms, there may be concerns regarding supply concentration and mineral shortages for clean energy technologies.
The IEA suggests increasing investment in mining and extractive processes but acknowledges the associated risks.
Geopolitical Implications:

The report highlights the importance of political and commercial ties in managing energy supply and demand.
It notes that the shift towards cleaner energy sources reduces reliance on fossil fuel-producing states and can destabilize economies that fail to diversify away from fossil fuels.
INDIA'S ENERGY OUTLOOK:
India's energy landscape has undergone significant changes, with progress in power generation and clean cooking access.
However, rising energy demand, especially for cooling due to increasing air conditioner ownership, presents challenges.
India's energy consumption is expected to lead to higher emissions, and there are concerns about the nation's solar module manufacturing capacity.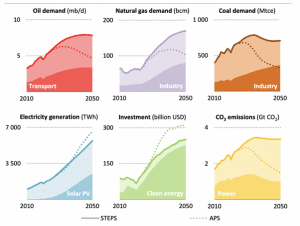 INDIA'S ENERGY OUTLOOK
IEA'S PROPOSED ENERGY AMBITIONS:
As the world heads to COP28, the IEA proposes five key energy ambitions:

tripling renewable capacity,
doubling energy efficiency progress,
reducing methane emissions from fossil fuels by 75%,
increasing clean energy investment in emerging economies, and
ensuring an orderly decline in fossil fuel use.
THE INTERNATIONAL ENERGY AGENCY (IEA)
It is an intergovernmental organization that works to ensure reliable, affordable, and clean energy.
It was founded in 1974 to ensure the security of oil supplies.
It was created in response to the 1973-1974 oil crisis when an oil embargo by major producers pushed prices to historic levels and exposed the vulnerability of industrialised countries to dependency on oil imports.
It consists of 31 member countries and eleven association countries.
In March 2017, India joined the IEA as an Association country and deepened its ties with the Agency.
A candidate country to the IEA must be a member country of the Organisation for Economic Co-operation and Development (OECD).
The IEA's work is focused on the following key areas:
Energy security:

The IEA works to help countries mitigate risks to their energy supplies and ensure that they have access to reliable and affordable energy.
Energy efficiency:

The IEA works to help countries reduce their energy consumption and improve energy efficiency.
Clean energy transition:

The IEA works to help countries transition to a clean energy future by supporting the deployment of renewable energy technologies and reducing greenhouse gas emissions from the energy sector.
International cooperation:

The IEA works to promote international cooperation on energy issues and to build consensus on energy policies.
SOURCE: https://www.downtoearth.org.in/blog/climate-change/iea-world-energy-outlook-2023-fossil-fuel-demand-to-peak-by-2030-urgent-investment-shift-needed-92538
4. AKHAURA-AGARTALA INTERNATIONAL RAIL LINK
TAG: GS 2: INTERNATIONAL RELATIONS, GS 3: ECONOMY
THE CONTEXT: The successful completion of the first trial run of a goods train between Bangladesh and Tripura marks a significant development in the Indo-Bangla international railway project between Akhaura in Bangladesh and Agartala in India.
EXPLANATION:
Historical Significance:

Akhaura used to be the railway link for Agartala during the colonial era.
The revival of this rail link has historical significance and will enhance connectivity between the two regions.
International Cooperation:

This project represents the collaboration and cooperation between India and Bangladesh.
It will help in improving transportation and trade links.
It's a tangible example of regional cooperation.
Economic Benefits:

The railway link will have economic implications, facilitating the movement of goods and passengers.
Reducing travel time between Agartala and Kolkata via Dhaka from 31 hours to 10 hours can significantly boost trade and connectivity.
Challenges Overcome:

The project faced delays due to land acquisition issues and the COVID-19 pandemic, but its successful trial run is a positive sign that these challenges are being addressed.
Border Connectivity:

The railway link is crucial for Tripura, which shares a long international border with Bangladesh.
This connection provides an alternative route for travel and trade, reducing dependence on Assam and West Bengal for road connectivity.
Potential for Passenger Trains:

While goods trains are expected to start soon, the introduction of passenger trains will require formalities to be observed by both Indian and Bangladeshi railway authorities.
Regional Integration:

Improved rail connectivity contributes to regional integration and fosters people-to-people contact.
It has the potential to enhance tourism and cultural exchanges.
Cost and Investment:

The project's estimated cost is significant, but it represents a long-term investment in infrastructure that can have far-reaching economic and social benefits.

Overall, the successful trial run of the goods train is a positive step toward improving cross-border rail connectivity and fostering regional cooperation between India and Bangladesh.
It holds promise for trade, travel, and economic development in the region.
SOURCE: https://indianexpress.com/article/north-east-india/tripura/akhaura-agartala-international-rail-link-trial-run-goods-train-bangladesh-tripura-9006052/
5. INFORMATION COMMISSIONS
TAG: GS 2: POLITY AND GOVERNANCE
THE CONTEXT: The Supreme Court expressed its dissatisfaction with the failure of states and the Union government to fill the vacancies in Information Commissions across the country.
EXPLANATION:
The bench comprising Chief Justice DY Chandrachud, Justice JB Pardiwala, and Justice Manoj Misra was hearing a petition concerning the large number of vacancies in the information commissions set up under the Right to Information (RTI) Act.
The petitioners highlighted the commission-wise status of vacancies which is as follows:
Central Information Commission (CIC) is currently functioning without a Chief and has 7 vacancies with only 4 commissioners working. All the 4 commissioners are set to retire their by November 6, 2023 following which the CIC will become defunct.
Maharashtra SIC is without a Chief and functioning with only 4 commissioners even though more than 1,15,000 appeals/complaints are pending.
Jharkhand SIC has been completely defunct since May 2020 and no appeals/complaints are being registered or disposed for the last three years.
Tripura SIC has been defunct for more than 2 years since July 2021.
Telangana SIC has been defunct since February 2023 even though more than 10,000 appeals/complaints are pending.
There are many examples like this that has been presented by the petitioners.
JUDGEMENT BY THE SUPREME COURT:
The Supreme Court emphasized that the failure to fill these positions defeats the purpose of the RTI Act.
This Act is a crucial tool for citizens to access government information, and vacancies in the Information Commissions can lead to delays and hinder the right to information.
The Supreme Court directed the Department of Personnel and Training (DoPT) to prepare a chart detailing the number of vacancies and pending appeals/complaints in all the commissions.
It also ordered the central and state governments to take immediate action to fill these vacancies.
It also highlighted issues such as commissions operating without a Chief, significant backlogs of appeals and complaints, and some commissions being entirely defunct for extended periods.
The matter is scheduled to be heard by the Supreme Court after three weeks, indicating that the Court is taking the issue seriously and expects prompt action.
The Supreme Court's directive addressed the critical role of Information Commissions in upholding the right to information and the need for timely appointments to ensure their effective functioning.
PREVIOUS SUPREME COURT JUDGMENT:
A 2019 judgment by the Supreme Court in Anjali Bhardwaj and Ors v. Union of India:

It called for the timely filling of vacancies in the Central Information Commission (CIC) and State Information Commissions (SICs).
Despite this judgment, the vacancies had not been filled, resulting in a backlog of cases and delays.
CENTRAL INFORMATION COMMISSION (CIC):
It was established by the Central Government in 2005, under the provisions of the Right to Information Act (2005). It is not a constitutional body.
The Commission consists of a Chief Information Commissioner and not more than ten Information Commissioners.
They are appointed by the President on the recommendation of a committee consisting of the Prime Minister as Chairperson, the Leader of Opposition in the Lok Sabha and a Union Cabinet Minister nominated by the Prime Minister.
The Chief Information Commissioner and an Information Commissioner shall hold office for such term as prescribed by the Central Government or until they attain the age of 65 years, whichever is earlier.
They are not eligible for reappointment (as per the amendments made in RTI Act, 2005 in 2019).
POWER AND FUNCTIONS OF CIC:
It is the duty of the Commission to receive and inquire into a complaint from any person regarding information requested under RTI, 2005.
The Commission can order an inquiry into any matter if there are reasonable grounds (suo-moto power).
While inquiring, the Commission has the powers of a civil court in respect of summoning, requiring documents etc.
STATE INFORMATION COMMISSION:
It is constituted by the State Government.
It has one State Chief Information Commissioner (SCIC) and not more than 10 State Information Commissioners (SIC).
SIC has to be appointed by the Governor on the recommendation of the Appointments Committee headed by the Chief Minister.
SOURCE: https://www.livelaw.in/top-stories/rti-act-will-become-dead-letter-supreme-court-directs-states-union-to-fill-vacancies-in-information-commissions-241201
Spread the Word