1. NASA-ISRO SYNTHETIC APERTURE RADAR (NISAR)
TAG: GS 3: SCIENCE AND TECHNOLOGY
THE CONTEXT: The 'NASA-ISRO Synthetic Aperture Radar' (NISAR), an Earth observation satellite, is ready to facilitate the exploration of how shifts in Earth's forest and wetland ecosystems impact the global carbon cycle and influence climate change.
EXPLANATION:
It will measure Earth's changing ecosystems, dynamic surfaces, and ice masses, providing information about biomass, natural hazards, sea level rise, and groundwater.
NISAR will observe Earth's land and ice-covered surfaces globally with 12-day regularity on ascending and descending passes.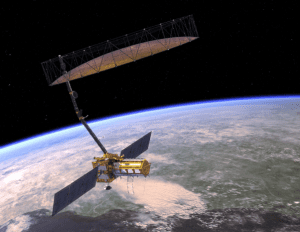 ABOUT NISAR:
The NISAR Observatory will be launched from Satish Dhawan Space Centre (SDSC) SHAR, Sriharikota on the southeast coast of the Indian peninsula.
It will be launched on the GSLV expendable launch vehicle contributed by ISRO.
The target launch readiness date is January 2024.
NISAR is a Low Earth Orbit (LEO) observatory jointly developed by NASA and ISRO.
It is an SUV-size satellite weighing 2,800 kilograms.
It consists of both L-band and S-band synthetic aperture radar (SAR) instruments, which makes it a dual-frequency imaging radar satellite.
NISAR will be the first satellite mission to use two different radar frequencies (L-band and S-band) to measure changes in our planet's surface.
NASA has provided the L-band radar, GPS, a high-capacity solid-state recorder to store data, and a payload data subsystem. ISRO has provided the S-band radar, the GSLV launch system, and spacecraft.
It also consists of a large 39-foot stationary antenna reflector made of a gold-plated wire mesh which will be used to focus "the radar signals emitted and received by the upward-facing feed on the instrument structure.
Key facts:
Altitude
747km
Inclination
98°
Origination
NASA, ISRO
Instruments
L-band (24-centimeter wavelength) Polarimetric Synthetic   Aperture Radar

S-band (9-centimeter wavelength) Polarimetric Synthetic Aperture Radar
SOURCE: https://www.businesstoday.in/technology/news/story/nasa-isro-radar-satellite-to-offer-detailed-insights-into-forests-and-wetlands-know-all-about-nisar-403665-2023-10-28
2. KOYNA DAM
TAG: GS 1: GEOGRAPHY
THE CONTEXT: An earthquake of 2.9 magnitude on the Richter Scale was recorded on 28th October, 2023 around 9.6 kilometres from the Koyna dam in Satara district.
EXPLANATION:
The epicentre was seven kilometres deep near Goptewadi village, making it the nearest to the dam so far in recent months.
This earthquake is a reminder of the seismic hazard posed to the Koyna dam, which is one of the largest dams in India.
The dam has been affected by earthquakes in the past, including a 6.5 magnitude earthquake in 1967 that caused significant damage to the dam and the surrounding area.
The Koyna dam is equipped with earthquake measuring devices, which recorded the 2.9 magnitude earthquake on October 28.
These devices are used to monitor the dam's structural integrity and to provide early warning of any potential damage.
KOYNA DAM:
Situated in the Satara district of Koyna Nagar, this rubble-concrete dam is one of the biggest in the state of Maharashtra.
It was built on the Koyna River.
One of the most important civil engineering projects in India after the country's independence, the Koyna Hydroelectric Project was completed in 1963.
It serves primarily as a source of hydroelectricity with some irrigation in surrounding areas.
With a total installed capacity of 1,920 MW, it is the largest hydroelectric power plant in the country.
The dam's catchment area blocks the Koyna River, creating the roughly 50 km-long Shivsagar Lake.
It is located in a seismically active region.
The Koyna Seismic Zone (KSZ) is a region of high seismic activity that is located around the Koyna dam. The KSZ has been the site of several earthquakes in the past, including the 6.5 magnitude earthquake in 1967.
Finally, the dam is essential for controlling flooding during the monsoon season.
WAY FORWARD:
The 2.9 magnitude earthquake on October 28 is a reminder of the importance of monitoring the Koyna dam for seismic activity.
Steps must be taken to mitigate the risk of earthquake damage.
The Koyna dam is a critical infrastructure asset, and its failure would have devastating consequences for the surrounding region.
The Koyna dam must be monitored closely for seismic activity.
The Koyna Earthquake Monitoring Center (KEMC) is a dedicated facility that monitors the dam and the surrounding area for earthquakes.
So, the KEMC can provide early warning of any potential damage to the dam from seismic activity.
SOURCE: https://timesofindia.indiatimes.com/city/kolhapur/tremors-felt-near-koyna-dam-in-satara/articleshow/104811312.cms
3. INSTALLATION OF DNA SYSTEMS IN POLICE STATIONS
TAG: GS 3: INTERNAL SECURITY, GS 2: GOVERNANCE
THE CONTEXT: The installation of DNA systems in police stations is part of the broader effort to modernize and enhance the capabilities of law enforcement agencies in India.
EXPLANATION:
The Criminal Procedure (Identification) Act (CrPI), passed in April 2022, repealed the British-era Identification of Prisoners Act, 1920.
It introduced provisions for using modern techniques to capture and record appropriate body measurements, including DNA samples and facial recognition.
THE KEY ASPECTS RELATED TO DNA SYSTEMS DEVELOPMENT:
Modernization and Improved Crime Solving:

The introduction of DNA systems allows law enforcement agencies to employ advanced forensic techniques for crime-solving.
DNA analysis can be crucial in identifying suspects, confirming or excluding individuals as potential perpetrators, and linking evidence to unsolved cases.
Repealing Outdated Legislation:

The CrPI Act replaced an archaic law from the colonial era, which was limited in scope and didn't account for modern forensic technology.
The new Act seeks to align with contemporary crime investigation practices.
Centralized Database and Common Standards:

The National Crime Records Bureau (NCRB) plays a crucial role in maintaining a centralized database of measurements.
It ensures common standards for collecting, storing, and handling measurements.
This can streamline data sharing and access among authorized police and prison officials across the country.
WHAT ARE THE CONCERNS AND CHALLENGES?
Privacy and Data Protection:

The legislation has raised concerns about individual privacy and data protection, particularly with the inclusion of DNA samples and facial recognition technology.
Safeguards need to be in place to prevent misuse of this sensitive data.
Awareness and Implementation:

There appears to be a gap in awareness and implementation of the rules among police officers.
Ensuring that measurements are only recorded for specific cases and that records are destroyed when necessary as it is crucial to protect individual rights.
Destruction of Data:

The provision that individuals are responsible for requesting the destruction of their data after 75 years has raised concerns, especially for those who may not have easy access to the legal system.
Training and Infrastructure:

Proper training is required for handling DNA samples, and adequate storage infrastructure must be in place to ensure the integrity of the samples.
Scope and Application:

Clarity is needed regarding the scope of DNA sample collection.
Currently, it is compulsory in cases registered under the Protection of Children from Sexual Offences (POCSO) Act, but its application in other types of crimes is yet to be defined.
Connectivity Issues:

In some smaller states, limited connectivity and inadequate internet infrastructure may hinder the secure transfer of data and access to the centralized database.
SAFEGUARDS AND ACCOUNTABILITY:
To address these concerns, it is essential to implement robust safeguards, including strict access controls, encryption, and audit trails to prevent unauthorized access to the database.
Accountability mechanisms should be in place for data handling, storage, and disposal.
CONCLUSION:
The introduction of DNA systems in police stations is a significant step in modernizing law enforcement and improving crime-solving capabilities.
However, it is essential to balance these benefits with privacy protections, awareness and training for law enforcement personnel, and the establishment of safeguards to prevent misuse and maintain data integrity.
Additionally, addressing infrastructure and connectivity challenges is critical for the successful implementation of the system.
EXPLANATION:
SOURCE: https://www.thehindu.com/news/national/why-will-police-stations-install-dna-systems-explained/article67470936.ece/amp/
4. THE GRAVITATIONAL CONSTANT
TAG: GS 3: SCIENCE AND TECHNOLOGY
THE CONTEXT: Stephan Schlamminger, a prominent expert in gravity experiments, intentionally introduced an undisclosed error into his experiment to obscure his measurement of Newton's gravitational constant. The code is not disclosed yet.
EXPLANATION:
It pertains to the gravitational constant (often denoted as 'G') and its significance in the realm of physics, particularly in the context of gravitational theories proposed by Isaac Newton and Albert Einstein.
GRAVITATIONAL CONSTANT:
G is a fundamental physical constant that plays a pivotal role in both classical Newtonian mechanics and Einstein's theory of general relativity.
It quantifies the strength of the gravitational force between two objects.
NEWTON'S THEORY:
In Newton's theory, the gravitational force between two objects is directly proportional to the product of their masses and inversely proportional to the square of the distance between them.
G is the proportionality constant that makes this law precise.
This law was revolutionary in explaining how celestial bodies are attracted to each other due to gravity.
EINSTEIN'S THEORY:
In Einstein's theory, G appears in the equations that describe the curvature of spacetime caused by the presence of mass and energy.
This theory supersedes Newton's law of gravitation and provides a more accurate description of gravitation, especially in the vicinity of massive celestial objects like black holes or neutron stars.
HOW DOES THE VALUE OF G IS DETERMINED?
The value of G was first accurately determined by Henry Cavendish in 1797 through a famous experiment known as the Cavendish experiment.
However, despite its historical significance, the precise value of G is still not known with absolute certainty.
The value of G has been determined with an uncertainty of about 22 parts per million, which means there is still some degree of uncertainty associated with this fundamental constant.
Ongoing research in the field of experimental physics aims to further refine the measurement of G.
As it is crucial for understanding celestial mechanics, determining the mass of celestial bodies, and conducting experiments related to gravity.
WHAT IS THE SIGNIFICANCE OF PRECISE G VALUE?
A more accurate determination of G is essential for various applications in physics, astronomy, and cosmology.
It affects our understanding of the behaviour of celestial objects, the orbits of planets, and the study of astrophysical phenomena.
Furthermore, it is significant in the context of high-precision experiments, such as those seeking to detect gravitational waves, as well as in testing the predictions of general relativity.
It is a fundamental constant that underpins our understanding of gravity in both classical and modern physics.
Its accurate determination is crucial for advancing our knowledge of the universe, and ongoing research continues to refine its value to improve the precision of gravitational theories and their application in various scientific disciplines.
SOURCE: https://www.thehindu.com/todays-paper/2023-10-30/th_chennai/articleGFGBUN3UT-4707782.ece
5. BAN ON THE EXPORT OF THE RICE
TAG: GS 3: AGRICULTURE
THE CONTEXT: Recently, India has banned the export of non-basmati white rice amid depleting public stock in the Central pool, elevated cereal prices, and looming threat of the uneven monsoon.
EXPLANATION:
India is the biggest exporter of rice in the world.
As per the United States Department of Agriculture (USDA), India accounted for about 40 per cent of the total rice exports (56 million tonnes) in the world during calendar year 2022.
EFFECT OF INDIA'S RESTRICTIONS ACROSS THE GLOBE?
Soon after India banned the export of non-basmati white rice, there was a sharp jump in the price of rice across markets.
In the following months, prices have come down, but are still higher than the pre-ban period.
As per the Rice Outlook of the Economic Research Service, US Department of Agriculture:

Over the past month, quotes for trading prices for most grades of regular (neither parboiled nor aromatic) whole-grain milled rice from Thailand decreased 5−6 percent, mostly due to a weaker baht.
Thailand's price rose rapidly from late July through mid-August, primarily in response to India's July export ban on regular-milled white rice."
IMPACT ON THE DOMESTIC PRICES OF RICE:
There has been no respite from the increase in the prices of rice despite the export ban.
As per the data available on the Agriculture Ministry's portal, the daily average wholesale price of rice was recorded at 18.42 per cent higher compared with the price (Rs 4,731.32 per quintal) when the government announced the Open Market Sale Scheme (OMSS) in January 2023.
The retail prices are also higher than last year.
For instance, the daily average retail price of rice was recorded at Rs 42.80 per kg on October 24, which is 12.59 per cent higher than a year ago.
On July 20, the day India banned the export of non-basmati white rice, the all-India daily average retail price of rice was recorded 11.42 per cent higher than a year ago.
HOW DOES INDIA EXPORT RICE? WHAT IS BANNED AND WHAT IS NOT?
India's rice exports are broadly categorised into basmati and non-basmati rice.
The non-basmati rice category includes 6 sub-categories— rice in husk of seed quality; other rice in husk; husked (brown) rice; rice parboiled; non-basmati white rice; and broken rice.
While the government has banned export of two sub-categories of broken rice and non-basmati white rice, there is no ban on the remaining four sub-categories.
BASMATI RICE:
Iran, Saudi Arabia, Iraq, UAE, and Yemen were the top 5 destinations of Indian basmati during 2022-23.
In all, India exported basmati to 149 countries during the last financial year.
During the first five months (April-August) of the current financial year (2023-24), the basmati rice export has reached 20 lakh metric tonnes.
NON-BASMATI RICE:
The non-basmati rice includes varieties like Sona Masuri and Jeera rice.
In financial year 2022-23 (April-March), India exported 177.91 lakh metric tonnes of non-basmati rice.
The other three categories accounted for a lower quantity: other rice in husk; rice in husk of seed quality; and husked (brown) rice.
NON-BASMATI WHITE RICE:
Benin, Madagascar, Kenya, Cote D' Ivoire, Mozambique, Togo and Nepal were among the top 10 buyers of India's non-basmati white rice.
In all, India exported the non-basmati white rice to 142 countries during 2022-23. Most of these countries were poor, and were located in Africa.
When exports got banned exports, the quantity of grain shipped out marginally declined.
The number of countries importing Indian non-basmati white rice declined to 25.
BROKEN RICE:
Before India banned export of broken rice, every month 40 countries imported over 4 lakh tonnes of broken rice from India.
After New Delhi banned the export of broken rice, the number of countries declined to 21 in September, and to 6 in October.
In the financial year 2022-23, India's broken export stood at 30.49 lakh metric tonnes, of which a maximum 12.80 lakh metric tonnes was exported to China, followed by Senegal (10.26 lakh metric tonnes), and Indonesia (1.94 lakh metric tonnes).
PAR-BOILED RICE:
There is no ban on export of this category of rice from India.
In the current financial year, Benin, Guinea, Togo, Somalia and Vietnam are the top five buyers of Indian par-boiled rice.
HUSKED (BROWN) RICE:
The husked (brown) rice is the type of rice from which only the husk has been removed, while the brown rice is unpolished rice.
Netherlands, UK, USA, Saudi Arabia, and Canada were top 5 buyers of this category of rice during the last financial year.
In the first five months of the current financial year, only 7,146 metric tonnes of husked (brown) rice have been exported.
RICE IN HUSK OF SEED QUALITY:
In the financial year 2022-23, a quantity of 19,681 metric tonnes of 'rice in husk of seed quality' was exported.
In the first five months of the current financial year, the export of this category of rice stood at 10,697 metric tonnes.
OTHER RICE IN HUSK:
India exported a quantity of 4.61 lakh metric tonnes of 'Other Rice in Husk' during 2022-23, of which almost 99 per cent went to Nepal.
In the current financial year, a quantity of 2.02 lakh metric tonnes of this category of rice during the first five months.
Of this, almost the entire quantity has been exported to Nepal.
RICE PROCUREMENT, REQUIREMENT:
Total production of rice during 2022-23 is estimated to be at a record 1357.55 lakh tonnes.
It is higher by 62.84 lakh tonnes than previous year's Rice production of 1294.71 lakh tonnes and by 153.65 lakh tonnes than the last five years' average production of 1203.90 lakh tonnes.
Procurement is on for the kharif marketing season (KMS) 2023-24.
A quantity of 56.04 lakh metric tonnes of paddy has been procured from 8 states—Chhattisgarh, Haryana, Himachal Pradesh, Punjab, Tamil Nadu, Uttar Pradesh, Uttarakhand, and West Bengal.
Under the National Food Security Act, 2013, the monthly requirement (allocation) of rice is about 32 lakh tonnes.
Taking into consideration other welfare schemes including ICDS, PM-Poshan, the monthly requirement is 35 lakh metric tonnes.
SOURCE: https://indianexpress.com/article/explained/explained-economics/india-bans-exports-of-some-rice-explained-9004685/lite/
Spread the Word