1. SURROGACY LAWS IN INDIA
TAGS: GS 2: SOCIETY
CONTEXT: The government in the Supreme Court has said that same sex couples and live-in partners are not included in surrogacy and assisted reproduction laws to avoid 'misuse' and provide children a 'complete family'. The Union's Department of Health Research and the Indian Council of Medical Research, in a 131-page affidavit, said the welfare of the child "trumps any notions of equality amongst prospective/intending parents/couples".
EXPLANATION:
Types of Surrogacy:
Surrogacy is considered altruistic when the surrogate offers to carry the child of the commissioning couple in her womb purely out of love for them and empathy for their need to have a child.
Surrogacy is considered commercial when money is paid to the surrogate for her services. Surrogacy law bans commercial surrogacy and makes it a non-bailable and non-compoundable offence to undertake commercial surrogacy. The commission of such an offence invites imprisonment for a term which may extend to ten years and with fine which may extend to ten lakh rupees.
Background:
Indian Council of Medical Research in 2005 come up with a set of guidelines for the conduct of surrogacy. Later in 2010, the government put more curbs on the Assisted Reproductive Technology (Regulation) Bill.
The Surrogacy (Regulation)Act, 2021:
Some of the key features of the Act include the following-
All the clinics providing the surrogacy treatment and facilities need to be registered under this Act and people practicing in those clinics need to qualify as per the criteria given in this bill.
Every facility that performs surrogacy treatments must apply for registration within sixty days after the competent authority's appointment. Every three years, registration must be renewed.
Commercial surrogacy is prohibited in any form by any surrogacy clinic, gynaecologist, embryologist, or other medical practitioner. Only altruistic surrogacy is permissible under the 2021 Act.
Eligibility: The Act is restricted to only two categories of people i.e., the intending couple who are legally married and according to the laws of India, and that have a certificate of infertility can use this facility. The intending couple i.e., the couple wanting to have the baby must be legally married in line with the laws of India. The age of the female should be between 25-50 years and that of the male should be 26-55 years. Also, another important condition is that they shouldn't be having any other adopted or conceived child through surrogacy or naturally.
As required by the law, the surrogate has to be eligible too. She has to be between 25 and 35 years of age; be married with a child of her own. She should also be a first-time surrogate. Furthermore, a psychiatrist has to certify her as being mentally fit. Any woman cannot be a surrogate mother more than once in her entire lifetime.
Furthermore, the couple should have an insurance policy for the surrogate mother to cover her medical needs for 36 months from the date of embryo transfer. Once the board validates the couple's submission, an essentiality certificate is issued to them
The National/State Assisted Reproductive Technology and Surrogacy Board must provide a 'Certificate of Essentiality/Infertility' to an intended couple who has a medical need for surrogacy.
LGBTQIA+ community exclusion:
In line with the gender bias that still exists in our society, this Act only allows a legally married man and woman in India to get a baby through this method, and thus the non-binary and the same-sex couple are not able to enjoy the parenthood even if they wish to.
Though in the case ofNavtej Singh v. Union of India, 2018, the Supreme court decriminalized homosexuality, same-sex marriage is still not legal in India hence homosexual couples do not come under the purview of this Act.
The Assisted Reproductive Technology (Regulation) Act, 2021:
The Act aims at the regulation and supervision of ART clinics and assisted reproductive technology banks, prevention of misuse, and safe and ethical practice of ART service.
Every ART clinic and bank is required by the Act to be listed in the National Registry of Banks and Clinics of India. This Registry, which consists of scientific and technical personnel, will serve as a central database for all facilities in India that offer ART treatments.
2. PETERSBERG CLIMATE DIALOGUE (PCD)
TAGS: GS3: ENVIRONMENT
CONTEXT: The Petersberg Climate Dialogue (PCD) is an annual high-level political and international forum that took place from 2 -3 May 2023 ahead of the annual United Nations Climate Change Conferences (Conference of the Parties or COP). The PCD series was co-hosted in Berlin by the German Federal Foreign Office and the United Arab Emirates, which is hosting the 28th Conference of Parties (COP28) to the United Nations Framework Convention on Climate Change. Delegates from 40 countries attended this year's high-level dialogue series, the 14th such event.
EXPLANATION:
Background:
The first Petersberg Climate Dialogue, aimed at improving communication between leaders and environmental ministers following the nearly unsuccessful negotiations at the 2009 United Nations Climate Change Conference in Copenhagen (COP15), was initiated by German politician and former German Chancellor Angela Merkel.
The meeting took place on April 2–4, 2010 at Hotel Petersberg, located on the hill named "Petersberg" near the German city of Bonn, where the UNFCCC is headquartered.
In subsequent years, the Petersberg Climate Dialogue conference was held in Berlin.
PCD aims at strengthening strategic dialogue on just energy transition, global transformation and responses to climate impacts.
Highlights from the summit are as follows:
The 14th Petersberg Climate Dialogue will bring together high-level representatives from around 40 countries to discuss concrete steps towards overcoming the climate crisis and strengthen confidence both in multilateral climate negotiations and between countries.
The Dialogue will focus on cross-cutting themes related to the availability and affordability of and access to finance. In particular, participants will discuss implementation of the UNFCCC COP 27 decision on financial support for overcoming loss and damage caused by climate change.
The focus this year included topics such as climate adaptation, climate finance and dealing with loss and damage, but in particular the first-ever global stocktake.
Global renewables target: In order to limit global warming to 1.5°C, the world needs to make sharp cuts in their greenhouse gas emissions. Discussions inititated around a potential global target for renewables at the next climate conference.
Fossil fuels: Phaseout production or reduce emissions?: COP28 President called on meeting participants to ramp up renewable energy capacity building and phasing out fossil fuel emissions, while phasing up viable, affordable zero-carbon alternatives. He called for a tripling of renewable energy capacity by 2030 followed by a doubling in 2040.
On track for $100 billion climate finance: It is found that developed countries are "on good track" to deliver the $100 billion per year they had promised to mobilise by 2020 during the COP15 in 2009.
Global Stocktake: 2023 is the year for the Global Stocktake, which is essentially a periodic review of global climate action which aims to assess whether current efforts will enable us to reach the objectives set out in the Paris Agreement. This is the first Global Stocktake year since the Paris Agreement was signed in 2015 and the report has been underway for the past two years. It is set to be released in September of 2023.
India's stand:
Union Minister for Environment, Forest and Climate Change and Labour and Employment said that there was a broader consensus over the need for stronger mitigation and adaptation efforts and for expansion of renewables.
At the event it was reiterated that recognising the need for support towards Just, Affordable & Inclusive Energy Transition is crucial in the spirit of leaving no one behind.
While following the clean energy pathway, to protect livelihood of local population and local economy, which depend on the existing energy system, focus on diversifying the economy and creation of new livelihood opportunities are required.
3. CARBON BORDER ADJUSTMENT MECHANISM (CBAM)
TAGS: GS 3: ENVIRONMENT
CONTEXT: European Union (EU) proposes to introduce a framework for levying a carbon tax on imports of products that rely on non-green or sub-optimally sustainable processes and where carbon emissions are deemed to have not been adequately priced.
EXPLANATION:
It is also known as Carbon Border Tax which imposes importers and non-EU manufacturers to pay for the carbon emission linked to the goods they sell within EU limits.
Importers will be required to purchase carbon import certificates/ permits for each metric ton of CO2 brought into the EU through specified goods. The price of certificates could depend on carbon intensity of goods being impo . and carbon price per metric ton which will be the same as domestic carbon price being paid by EU producers.
The CBAM plans to impose a tariff on a set of carbon-intensive imports, which will have to be paid by EU importers and companies who export such goods to EU countries.
This Carbon Border Adjustment Mechanism (CBAM) will begin with an import monitoring mechanism and culminate in the levy of duties as determined from January 2026.
The EU argues that the CBAM will ensure its climate objectives are not undermined by carbon-intensive imports and spur cleaner production in the rest of the world.
How will the CBAM work?
The European Union's Carbon Border Adjustment Mechanism (CBAM) plans to impose a tariff on a set of carbon-intensive imports from countries having weaker climate policies.
The CBAM initially plans to impose a carbon border tax on the most carbon-intensive imports—iron and steel, cement, fertilisers, aluminium and electricity.

The CBAM will start phasing in from October 2023, if all approvals go through, first requiring importers in the EU to collect data about the number of metric tons of carbon dioxide released during the manufacture of the goods they import.
The CBAM will be implemented in a phased manner with importers in the EU submitting data about the embedded emissions of their imports in 2023 and start buying certificates for such imports by 2026.
After that, importers will need to buy a new type of pollution certificate to reflect that discharge at prices aligned with the bloc's Emissions Trading System. The fee could be partially waived if a carbon tax has already been paid in the country where the goods were the goods were originally manufactured.

Why are developing countries including India opposing it?
While the EU believes the mechanism is a global solution to the global problem of climate change, trading partners such the United States, China, Russia and developing countries including India, have opposed the measure, describing it as unilateral, "protectionist" and even a trade weapon.
India has invoked climate justice on the global fora and contends that it places a carbon charge on companies from countries that did not primarily or historically cause climate change.
According to the Global Trade Research Initiative, the tax will translate into a 20-35% tariff on India's exports of steel, aluminium and cement, which now attract an MFN duty of less than 3%. As much as 27% of India's exports of steel, iron and aluminium products, or $8.2 billion, head to the EU.
It is critical that the Centre reacts with greater alacrity to what may be considered by some as a sophisticated trade barrier doused in 'greenwashing' optics, proposed by the EU. Last year, about a third of India's iron, steel and aluminium exports, for instance, were shipped to EU members. Engineering products, the largest export growth driver in recent years, would be impacted too.
4. ECUADOR SEALED DEBT FOR NATURE SWAPS FOR CONSERVATION OF GALAPAGOS ISLANDS
TAGS: GS 3: ENVIRONMENT; GS 1: GEOGRAPHY; PRELIMS: PLACES IN NEWS
CONTEXT: Ecuador sealed the world's largest "debt-for-nature" swap on record on Tuesday, selling a new "blue bond" that will funnel at least $12 million a year into conservation of the Galapagos Islands, one of the world's most precious ecosystems.
EXPLANATION:
Background:
With Ecuador in severe financial peril, the bonds were trading well below face value as investors considered non-repayment to be likely.
Effectively, Ecuador has now bought its own debt back at a knock-down price via a fresh loan from Credit Suisse.
And in return, Ecuador's government had pledged to spend about $18 million annually for two decades on conservation in the Galapagos Islands.
Galapagos islands:
The Galapagos archipelago is located about 1,000 km from continental Ecuador and is composed of 127 islands, islets and rocks, of which 19 are large and 4are inhabited. 97% of the total emerged surface (7,665,100 ha) was declared National Park in 1959. Human settlements are restricted to the remaining 3% in specifically zoned rural and urban areas on four islands (a fifth island only has an airport, tourism dock, fuel containment, and military facilities).
The islands are surrounded by the Galapagos Marine Reserve which was created in 1986 (70,000 km2) and extended to its current area (133,000 km2) in 1998, making it one of the largest marine reserves in the world.
These islands and the surrounding marine reserve have been called a unique 'living museum and showcase of evolution' that inspired Charles Darwin's theory of evolution by natural selection following his visit in 1835.
It is located at the confluence of three ocean currents as a 'melting pot' of marine species. Ongoing seismic and volcanic activity reflects the processes that formed the islands. These processes, together with the extreme isolation of the islands, led to the development of unusual animal life such as the land iguana, the giant tortoise and the many types of finch.
The remote islands home to some of the most unspoiled nature in the world are a UNESCO world nature heritage site.
The main threats to the Galapagos are the introduction of invasive species, increased tourism, demographic growth, illegal fishing and governance issues.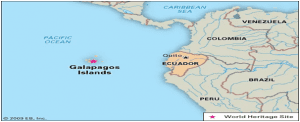 Debt for nature swaps:
It is an initiative of World Wide Fund for Nature implemented through trust funds or foundations specifically set up to channel funding to local biodiversity.
They are typically a voluntary transaction in which an amount of debt owed by a developing country government is cancelled or reduced by a creditor, in exchange for the debtor making financial commitments to conservation.
Swaps typically involve countries that are financially distressed and experiencing difficulties in repaying foreign debts. The earnings generated through swaps are often administered by local conservation or environmental trust funds.
Debt-for-nature swaps have proved successful in Belize, Barbados and the Seychelles in recent years, but Ecuador's deal is by far the largest to date, cutting the country's debt by over $1 billion once the $450 million of total conservation spending is taken into account.
5. NATIONAL PROGRAMME FOR PREVENTION & CONTROL OF NON-COMMUNICABLE DISEASES (NP-NCD)
TAGS: GS 2: HEALTH ISSUES
CONTEXT: The existing National Programme for Prevention and Control of Cancer, Diabetes, Cardiovascular Diseases and Stroke (NPCDCS) programme has been renamed National Programme for Prevention & Control of Non-Communicable Diseases (NP-NCD) amid widening coverage and expansion.
EXPLANATION:
Ministry of Health and Family Welfare (MoHFW) has decided to rename the portal which enables population enumeration, risk assessment, and screening for five common NCDs, including hypertension, diabetes, and oral, breast and cervical cancers of the population aged above 30 years.
Now Schemes subsume all types of NCDs with an addition of diseases to the National Programme for Prevention and Control of Cancer, Diabetes, Cardiovascular Diseases and Stroke (NPCDCS), such as non-alcoholic fatty liver disease, chronic kidney disease etc.
Status of Non communicable disease:
India is experiencing a rapid health transition with a rising burden of Non-Communicable Diseases (NCD) surpassing the burden of Communicable diseases like water-borne or vector borne diseases, TB, HIV, etc.
The four major NCDs are cardiovascular diseases (CVDs), cancers, chronic respiratory diseases (CRDs) and diabetes which share four behavioural risk factors – unhealthy diet, lack of physical activity, and use of tobacco and alcohol.
Meanwhile, a study 'India: Health of the Nation's States – The India State-Level Disease Burden Initiative in 2017' by Indian Council of Medical Research (ICMR) estimated that the proportion of deaths due to NCDs in India have increased from 37.9% in 1990 to 61.8% in 2016.
Non-Communicable Diseases like Cardiovascular diseases, Cancer, Chronic Respiratory Diseases, Diabetes, etc. are estimated to account for around 60% of all deaths. NCDs cause considerable loss in potentially productive years of life. Losses due to premature deaths related to heart diseases, stroke and Diabetes are also projected to increase over the years.
Objectives of NP-NCD
Health promotion through behaviour change with involvement of community, civil society, community based organizations, media etc.
Opportunistic screening at all levels in the health care delivery system from subcentre and above for early detection of diabetes, hypertension and common cancers.
Outreach camps are also envisaged.
To prevent and control chronic non-Communicable diseases, especially Cancer, Diabetes, CVDs and Stroke.
To build capacity at various levels of health care for prevention, early diagnosis, treatment, IEC/BCC, operational research and rehabilitation.
To support for diagnosis and cost-effective treatment at primary, secondary and tertiary levels of health care.
To support for development of database of NCDs through Surveillance System and to monitor NCD morbidity and mortality and risk factors.
The strategies for prevention, control and treatment of NCDs would have following components: 
Health promotion awareness generation and promotion of healthy lifestyle
Screening and early detection
Timely affordable and accurate diagnosis
Access to affordable treatment
Rehabilitation
Mechanism of the scheme:
NP-NCD is being implemented under the National Health Mission (NHM) across the country.
Under NP-NCD, NCD Cells are being established at National, State and District levels for programme management, and NCD Clinics are being set up at District and CHC levels, to provide services for early diagnosis, treatment and follow-up for common NCDs.
Provision has been made under the programme to provide free diagnostic facilities and drugs for patients attending the NCD clinics. Cardiac Care Units (CCU) are also being set up in identified districts for providing facilities for emergency Cardiac Care. Day Care Centres at the identified districts are setup to provide facilities for Cancer care.
Spread the Word