1. LITHIUM RESERVE IN RAJASTHAN
TAGS: GS-3: SCIENCE AND TECHNOLOGY
CONTEXT:  Months after India found its first ever lithium reserve in Jammu and Kashmir, another reserve of the crucial mineral has been found in Rajasthan's Degana (Nagaur) by India's Geological Survey. The new lithium reserve is much bigger than the one found in Jammu and Kashmir.
EXPLANATION:
Findings: GSI and mining officials have claimed that the amount of Lithium present in these reserves can satisfy 80 percent of India's total demand. The discovery of these reserves may help in reducing the dependency of India on imports.
A World Bank study suggests that the demand for critical metals such as lithium (Li) and cobalt is expected to rise by nearly 500% by 2050. While "the global electric vehicle market is projected to reach $823.75 billion by 2030, registering a Compounded Annual Growth Rate (CAGR) of 18.2% from 2021 to 2030,"
India's market is projected to register a CAGR of 23.76% by 2028. India is seeking to secure its critical mineral supplies and build self-sufficiency in this sector.
Lithium is a non-ferrous metal, which is also the softest and lightest metal in the world. Soft enough to be cut with a vegetable knife and light enough to float when put in water. It stores chemical energy and converts it into electrical energy.
Use of Lithium: Lithium is present in every chargeable electronic and battery-powered gadget in the house today. For this reason, there is a tremendous demand for Lithium around the world. Due to the global demand, it is also called White Gold. Lithium-ion batteries are used in wind turbines, solar panels, and electric vehicles, all of which are crucial in a green economy.
Lithium Reserve in World: Lithium reserves are concentrated in the lithium triangle in South America i.e Argentina, Bolivia & Chile, with 50% of the deposits concentrated in these regions. Bolivia has highest lithium reserves. China, meanwhile, has the lead over other countries and China controls 75% of Lithium refining.
India currently imports all of its Li from Australia and Argentina and 70% of its Li-ion cell requirement from China and Hong Kong, the lithium reserves in J&K could boost the domestic battery-manufacturing industry.
Environmental impacts of Lithium mining: Open-pit-mining, refining, and waste disposal from these processes substantially degrades the environment, including depletes and contaminates waterways and groundwater, diminishes biodiversity, and releases considerable air pollution.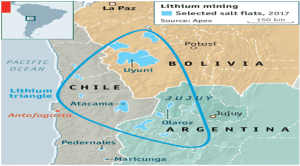 2. ARAB LEAGUE REINSTATED THE MEMBERSHIP OF SYRIA
TAGS: GS-2: INTERNATIONAL RELATIONS; PRELIMS PERSPECTIVE
CONTEXT: The Arab League voted to reinstate Syria's membership after its suspension more than 10 years ago, underlining the thawing relations between Damascus and other Arab countries. The decision was taken at a closed-door meeting, attended by foreign ministers from 13 out of 22 member states of the organisation, held in Cairo, Egypt.
EXPLANATION:
Background: Syria was ousted from the Arab League in 2011 following President Bashar al-Assad's brutal crackdown on pro-democracy protests, which led to the ongoing civil war in the country. The conflict has since killed around half of a million people and displaced about 23 million.
Reasons for reinstatement: Experts believe these countries have realised they need to end Damascus' isolation for the stability of West Asia. Moreover, they want some sort of repatriation of refugees back into Syria and a curb on the trade of captagon, a highly addictive amphetamine produced in the country. Another catalyst in Syria's rehabilitation is the China-brokered re-establishment of diplomatic relations between regional powerhouse Saudi Arabia and its archenemy, Iran.
About Arab League:
The Arab League, formally known as the League of Arab States, was established in 1945 with initially just six nations: Egypt, Iraq, Jordan, Lebanon, Saudi Arabia, and Syria. Currently, it has 22 member states in Northern Africa and on the Arabian Peninsula, which belongs geographically to Asia, who have pledged to cooperate on economic and military affairs, among other issues.
22 member states are: Algeria, Bahrain, Comoros, Djibouti, Egypt, Iraq, Jordon, Kuwait, Lebanon, Libya, Mauritania, Morocco, Oman, Palestinian Authority, Qatar, Saudi Arabia, Somalia, Sudan, Syria, Tunisia, United Arab Emirates and Yemen.
All member countries together cover an area of 13.15 million km² (8.7% of the world's inhabitable area). Significant parts are desert regions such as the Sahara and the Rub al-Chali sand desert. With about 456.52 million inhabitants, the area is home to about 5.8 percent of the world population.
All member states are also members of the OIC, the Organisation for Islamic Cooperation.
Foundation: The origins of the Arab League go back to the Second World War. Large parts of the founding members belonged to the Ottoman Empire. At the end of the war, the region was to be stabilized and its independence secured. On October 7, 1944, a "Protocol of Alexandria" was signed as a loose union. After elaborating on the ideas, the Arab League was founded the following year on 11 May 1945. The first member states were the kingdoms of Egypt, Iraq, Saudi Arabia and Yemen, as well as Lebanon, Syria and the then Emirate of Transjordan.
Aim: The aims of the Arab League were very similar to those of NATO and the Warsaw Pact. The aims of the league in 1945 were to strengthen and coordinate the political, cultural, economic, and social programs of its members and to mediate disputes among them or between them and third parties.
Administration: The chairmanship is elected every five years, but the seat of the Arab League has been in Cairo (Egypt) since the beginning. Other sub-organizations are:
the Arab Monetary Fund (AMF)
Arab Fund for Economic and Social Development (AFESD)
Arab Economic Development Bank (BADEA)
Arab Air Carriers Organization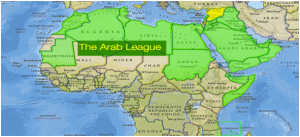 3. FIVE MORE CHEETAH TO BE INTRODUCED IN KUNO NATIONAL PARK
TAGS: GS 3: ENVIRONMENT; PRELIMS PERSPECTIVE
CONTEXT: Five more cheetahs, three females and two males will be released from acclimatisation camps into free-ranging conditions at Madhya Pradesh's Kuno National Park (KNP) before the onset of the monsoon in June 2023.
EXPLANATION:
Background: Eight cheetahs from Namibia and 12 from South Africa were transported to India between September 2022 and February 2023 as part of an initiative to reintroduce the species to India, where it had gone extinct in the early 1950s. eight African cheetahs were brought to India today from Namibia as a part of Project Cheetah, the world's first inter-continental large wild carnivore translocation project
About Cheetah:
Being a top carnivore, the cheetahis a major evolutionary force that shapes ecosystem functions and enhances species diversity. Their prey base includes ungulates like chital, Sambar deer, nilgai, four-horned antelope, chinkara, blackbuck and wild boar.
Cheetah is found only in arid region of eastern Iran in Asia and in Africa. It is found in isolated population in grassland and open forest areas.
African Cheetah and Asiatic Cheetah:
African Cheetah
African Cheetahs are much larger in population and listed as Vulnerable in the (IUCN) Red List of Threatened Species
The African cheetah is spread out across Africa from Northwest Africa, East Africa, and Southern Africa. With a bigger territory, the African cheetahs have the highest populations compared to their Asiatic counterparts
African cheetahs, on the other hand, have a slightly bigger build with sturdier legs and necks. Their heads are also bigger compared side by side with the Asiatic cheetahs. An adult African cheetah can reach 84 inches in length and can weigh up to 159 pounds
Asiatic Cheetah
Asiatic Cheetahs have a very small population base and are listed as critically endangered species in the (IUCN) Red List of Threatened Species.
On the other hand, Asiatic Cheetahs are only found in a small region between Iran and Pakistan. Asiatic cheetahs once roamed the whole expanse of the central Asian continent from India to Afghanistan and Pakistan, but with their numbers reduced, it is hard for them to be sighted outside Iran
The Asiatic cheetah is slightly smaller and slender than the African cheetah. The neck is much smaller and longer. Their legs are also slender, which has led many to believe that they could be much faster than their African cousins. However, no data is available to confirm. An Asiatic cheetah adult grows to about 53 inches in length with a 33-inch tail and can weigh up to 119 pounds
Why Cheetahs Got Extinct in India?
The species was declared extinct in India in 1952 primarily due to hunting and habitat loss. In 1947, the last three recorded cheetahs in India were killed by Maharaja Ramanuj Pratap Singh Deo of Korea in Madhya Pradesh.
Cheetahs were frequently used by the hunters to course blackbuck. They were relatively easy to tame and trained for sport-hunting.
Under British rule, to develop settlements and agricultural fields, forests were cleared and it resulted in losing the habitats for the species. Moreover, there is evidence to prove that Britishers considered the animals 'vermins' (harmful to crops, farm animals, or game, or which carry disease) and they started distributing monetary rewards for killing them from 1871 onwards.
Project Cheetah:
India then committed to returning cheetahs in several locations including Madhya Pradesh's Kuno National Park where the staff have been trained, several dogs have been made specialised, facilities have been upgraded and large predators have been moved away.
In July 2020, India and Namibia signed an MoU (Memorandum of Understanding) stating Namibia's agreement to donate eight individuals to India as an initial part to launch the programme.
Kuno-Palpur National Park:
Kuno Palpur National Park is located in Madhya Pradesh, Sheopur and Morena Districts, first established in 1981 as a wildlife sanctuary, and later in 2018 as a national park, is a part of the Khathiar-Gir dry deciduous forests ecoregion.
Kuno's geography consists of vast grasslands, open forest patches and hills, perfect for the big cat.
Some of the main fauna of the park are the Indian leopard, sloth bear, jungle cat, Indian wolf, striped hyena, Bengal fox and many more. Some of the birds found here are Honey badger, ruddy mongoose, Indian grey mongoose, Indian hare etc.
In 2009, it became a possible site to reintroduce cheetah in Madhya Pradesh. Kuno National Park is selected for the new home for the eight cheetahs as geographically it is located very close to the Sal forests of Koriya, where the native cheetahs were last spotted about seven decades ago.
4. RIVER CITIES ALLIANCE
TAGS: GS 3: ENVIRONMENT
CONTEXT: National Mission for Clean Ganga (NMCG) in association with the National Institute of Urban Affairs (NIUA) organized the 'River-Cities Alliance (RCA) Global Seminar: Partnership for Building International River-Sensitive Cities'. The purpose of the RCA Global Seminar was to provide a platform for officials of member cities and international stakeholders to discuss and learn good practices for managing urban rivers.
EXPLANATION:
Background: The Government of India is working extensively to rejuvenate the twenty river basins in the country. In 2014-15, the Namami Gange Mission was launched as a Flagship Initiative for the protection, conservation and rejuvenation of the Ganga River Basin. Guided by a holistic river basin centric approach, the focus is on the riverine ecosystem, including components such as pollution abatement, solid and liquid waste management, biodiversity, afforestation, wetland conservation, groundwater management, etc.
Namami Gange Mission recognizes that integrated river basin management needs to be interwoven with economic growth and urban transformations. Efforts are being made to engage city governments in this collective responsibility of river rejuvenation and economical gains with the stretch of river flowing through or near their boundaries. This is in alignment with the Hon'ble Prime Minister of India's clarion call for "need for new thinking for river cities. Cities should be responsible for rejuvenating their rivers. It has to be done not just with the regulatory mind set but also with developmental and faciliatory outlook."
The River Cities Alliance (RCA):
It is a joint initiative of the Department of Water Resources, River Development & Ganga Rejuvenation under the Ministry of Jal Shakti (MoJS) & the Ministry of Housing and Urban Affairs (MoHUA), with a vision to connect river cities and focus on sustainable river centric development.
Beginning with 30 member cities in November 2021, the Alliance has expanded to 109 river cities across India and one international member city from Denmark.
River Cities Alliance (RCA) was launched as a dedicated platform for river cities in India to ideate, discuss and exchange information for sustainable management of urban rivers.
NMCG, National Institute of Urban Affairs (NIUA) and key partners provide dedicated technical and handholding support to the 107 member cities of the RCA, as they implement interventions for river-sensitive development.
Mechanism of RCA: The Governance Mechanism of the RCA has been envisaged as a city-led movement for promulgating river-sensitive planning and development. Hence, the agenda and operations for RCA are determined by the member cities. The activities being undertaken are in three broad areas:
Networking: Organizing annual river summit; facilitating exchange of official visits for member cities; and publishing a bi-monthly newsletter
B. Capacity Building: Conducting certification training programmes for officials of member cities; annual calendar of events; and organizing webinars and expert talk.
C. Technical Support: River-sensitive urban planning and interventions; Innovations in urban river management; river linked economy and rejuvenation of urban water bodies.
RCA- DHARA 2023(Driving Holistic Action for Urban Rivers)
DHARA 2023 featured key sessions on international best practices and examples for urban river management.
DHARA 2023 was aimed to inspire members of the RCA to engage in progressive actions for urban river management in their cities.
It will help helped in developing a compendium of technological solutions that cities may adopt for enhancing the management of their local rivers.
5. ISSUE OF DRUG RECALL
TAGS: GS 2: HEALTH ISSUE
CONTEXT: In a rare occurrence, Abbot, a multinational pharmaceutical company, published a public notice in newspapers alerting people about a mislabelled batch of medicine that it had inadvertently shipped to the market. While such recalls take place regularly in the U.S., including by Indian companies, it has never been witnessed that domestic or foreign pharmaceutical companies recall substandard or mislabelled drugs in India.
EXPLANATION:
A drug recall occurs when a prescription or over-the-counter medicine is removed from the market because it is found to be either defective or potentially harmful.
Background:
In 2012, after a scathing report by the Department Related Parliamentary Standing Committee on Health & Family Welfare raised the issue of recalls, among other issues, the CDSCO proposed a set of draft recall guidelines except the national regulator lacks the power to convert guidelines into a binding law.
Only the Ministry of Health or, more importantly, the Drug Regulation Section of the Ministry, can initiate the process to make binding rules or legislation. The then Drug Controller General of India (DCGI) had announced that the guidelines would become binding law in a few months, but that never happened. In any event, the guidelines were not very thorough.
The issue of recalls resurfaced in 2016 at meetings of the DCC and at another committee, called the Drugs Technical Advisory Board (DTAB). Nothing changed on the ground. The same issue came up again in 2018 and 2019 at the meetings of the DCC, but India still lacks a recall law, 46 years on.
Reasons for lack of effective recall mechanism:
Drug Regulation Section of the Union health ministry is simply not up to the task of tackling complex drug regulatory issues due to a combination of different factors including apathy, lack of expertise in the area, and a greater interest in enabling the growth of the pharmaceutical industry than protecting public health.
The second possible factor is India's highly fragmented regulatory structure, with each state having its own drug regulator. But despite the fragmentation, drugs manufactured in one state can seamlessly cross borders to be sold in all states around the country.
The third possible factor is that India's drug regulators are aware of the fact that a mandatory drug recall system, which necessarily has to be centred on a system of wide publicity, will bring to public attention to the rotten state of affairs in India's pharmaceutical industry.
Drug Regulation in India:
The Central Drugs Standard Control Organisation (CDSCO)under Directorate General of Health Services, Ministry of Health & Family Welfare, Government of India is the National Regulatory Authority (NRA) of India.
Its headquarter is located at New Delhi and also has six zonal offices,four sub zonal offices, thirteen Port offices and seven laboratories spread across the country.
The Drugs & Cosmetics Act,1940 and rules 1945 have entrusted various responsibilities to central & state regulators for regulation of drugs & cosmetics. It envisages uniform implementation of the provisions of the Act & Rules made there under for ensuring the safety, rights and well being of the patients by regulating the drugs and cosmetics.
CDSCO is constantly thriving upon to bring out transparency, accountability and uniformity in its services in order to ensure safety, efficacy and quality of the medical product manufactured, imported and distributed in the country.
Under the Drugs and Cosmetics Act, CDSCO is responsible for approval of Drugs, Conduct of Clinical Trials, laying down the standards for Drugs, control over the quality of imported Drugs in the country and coordination of the activities of State Drug Control Organizations by providing expert advice with a view of bring about the uniformity in the enforcement of the Drugs and Cosmetics Act.
The government has notified the DPCO 2013 under the Essential Commodities Act, 1955, which gives power to the NPPA (National Pharmaceutical Pricing Authority (NPPA )to regulate prices of 348 essential drugs along with their specified strengths and dosages under National List of Essential Medicines . As per the DPCO 2013, "Scheduled formulation" means any formulation, included in the First Schedule whether referred to by generic versions or brand name. "Nonscheduled formulation" has been defined as a formulation, the dosage and strengths of which are not specified in the First Schedule.
Spread the Word