HEALTH ISSUES
1. WORLD MALARIA DAY 2023
TAGS: GS-II-HEALTH ISSUES- PRELIMS
THE CONTEXT:World Malaria Day is observed every year on April 25 to raise awareness of the global effort to control, prevent and eventually eradicate malaria.
About World Malaria Day:
The day was first recognized in 2007 by the World Health Organization (WHO) as a way to shine a light on the devastating impact of malaria and to encourage governments, health organizations, and individuals to take action against this deadly disease.
Theme: The theme for World Malaria Day 2023 is "Time to deliver zero malaria: invest, innovate, implement", emphasizing the urgency to invest resources, innovate strategies and implement actions towards achieving the goal of zero malaria.
World Malaria Day is an important opportunity to raise awareness of the ongoing fight against malaria and to mobilize support for malaria control and prevention efforts around the world.
The day also provides an opportunity to celebrate the progress that has been made in the fight against malaria and to renew our commitment to achieving the ultimate goal of malaria eradication.
VALUE ADDITION
About Malaria: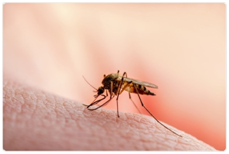 Malaria is a life-threatening disease caused by Plasmodium parasites. Malaria is not contagious and cannot spread from one person to another. The parasites are spread to people through the bites of infected female Anopheles mosquitoes, called "malaria vectors." There are 5 parasite species that cause malaria in humans, and 2 of these species – P. falciparum and P. vivax – pose the greatest threat.
Malaria continues to be a major global health challenge, with an estimated 229 million cases and 409,000 deaths worldwide in 2019. Most of these cases and deaths occur in sub-Saharan Africa, where the disease disproportionately affects children under the age of five and pregnant women.
Symptoms
Malaria is an acute febrile illness. In a non-immune individual, symptoms usually appear 10–15 days after the infective mosquito bite. The first symptoms – fever, headache, and chills – may be mild and difficult to recognize as malaria. If not treated within 24 hours, P. falciparum malaria can progress to severe illness, often leading to death.
Children with severe malaria frequently develop one or more of the following symptoms: severe anemia, respiratory distress in relation to metabolic acidosis, or cerebral malaria.
Treatment
Early diagnosis and treatment of malaria reduces disease and prevents deaths. It also contributes to reducing malaria transmission. The best available treatment, particularly for P. falciparum malaria, is artemisinin-based combination therapy (ACT).
INTERNATIONAL RELATIONS
2. WHAT IS CARICOM?
TAGS:GS-II-INTERNATIONAL RELATIONS
THE CONTEXT: Recently, the External Affairs Minister S Jaishankar co-chaired the 4th India-CARICOM ministerial meeting with his Jamaican counterpart Kaminaj Smith in Guyana's capital and discussed a range of issues, including trade, climate change and counterterrorism.
About CARICOM: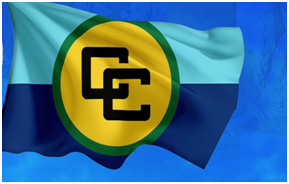 The Caribbean Community (CARICOM or CC) is an intergovernmental organisation that is a political and economic union of 15 member states (14 nation-states and one dependency) throughout the Americas and Atlantic Ocean.
The primary objectives is to promote economic integration and cooperation among its members, ensure that the benefits of integration are equitably shared, and coordinate foreign policy.
The organisation was established in 1973, with its four founding members (Barbados, Jamaica, Guyana and Trinidad & Tobago) signing the Treaty of Chaguaramas.
The Chairmanship of the Community is rotated every six months among the member countries Heads.
The Secretariat headquarters is in Georgetown, Guyana. CARICOM is an official United Nations Observer beneficiary.
Members & Associate Members:
CARICOM has 15 members: Antigua and Barbuda, Bahamas, Barbados, Belize, Dominica, Grenada, Guyana, Haiti, Jamaica, Montserrat, St. Kitts and Nevis, St Lucia, St. Vincent and the Grenadines, Suriname and Trinidad & Tobago. Of the 15, all are nation States except Montserrat.
Associate Members: Anguilla, Bermuda, British Virgin Islands, Cayman Islands and Turks & Caicos Islands are Associate Members of the Community.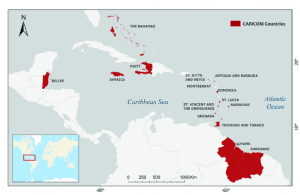 3. THE AZERBAIJAN-ARMENIA BORDER CLASHES
TAGS:GS-II- INTERNATIONAL RELATIONS
THE CONTEXT: Recently, Azerbaijan had established a checkpoint at the start of the Lachin corridor, the only land route linking Armenia to Nagorno-Karabakh, a step that was followed by claims of border shootings by both Azeri and Armenian forces.
THE EXPLANATION:
What is Nagorno-Karabakh?
Nagorno-Karabakh, known as Artsakh by Armenians, is a landlocked mountainous area in the South Caucasus. It was claimed by both Azerbaijan and Armenia after the fall of the Russian Empire in 1917 and has remained a point of tension ever since.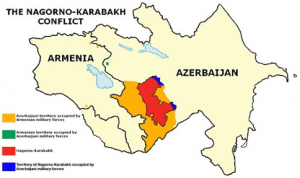 Latest developments:
Armenia has been witnessing domestic unrest since April this year related to Pashniyan's handling of the Nagorno-Karabakh conflict.
There have been plans to oust their government or at least increase street pressure to prevent the PM from providing further concessions to Azerbaijan and Turkey when it comes to the security and right of self-determination of Armenians of Nagorno-Karabakh (called Artsakh) and the recognition of Armenian Genocide.
Criticism against Armenian PM:
In Armenia, Pashinyan's handling of the Nagorno-Karabakh conflict received criticism after he agreed to hand over Armenian control of several territories to Azerbaijan.
Pashinyan increased the salaries of the country's security forces, in an attempt to win their loyalty.
The ongoing protests in Armenia have been marked by police brutality and the detaining of protestors, activists as well as Parliament members.
Pashinyan's stance on Nagorno-Karabakh: There has been a clear shift in Pashinyan's views on Nagorno-Karabakh post May 2018, when he was elected leader of Armenia. Much of Pashinyan's rhetoric was aimed at winning nationalist support.
Challenges of Nagorno-Karabakh conflict
In this disputed region, there are hundreds of civilian settlements, residents of which would be directly impacted and potentially displaced if any large-scale war were to break out between the two countries.
Any military escalation would draw regional powers like Turkey and Russia more deeply into the conflict.
The energy-rich Azerbaijan has built several gas and oil pipelines across the Caucasus (the region between the Black Sea and the Caspian Sea) to Turkey and Europe.
This includes the Baku-Tblisi-Ceyhan oil pipeline (with a capacity of transporting 1.2 billion barrels a day), the Western Route Export oil pipeline, the Trans-Anatolian gas pipeline and the South Caucasus gas pipeline.
Some of these pipelines pass close to the conflict zone (within 16 km of the border) and in an open war between the two countries, the pipelines could be targeted, which would impact energy supplies.
For both nations, these would create immediate challenges and war would not be in the interest of both countries.
SCIENCE AND TECHNOLOGY
4. LOCKBIT RANSOMWARE
TAGS: GS-III-SCIENCE AND TECHNOLOGY
THE CONTEXT:Recently, the LockBit ransomware was found to be targeting Mac devices.
THE EXPLANATION:
It was first reported in September 2019 and dubbed the "abcd" virus, due to the file extension used when encrypting victims' files.
The LockBit ransomware is designed to infiltrate victims' systems and encrypt important files.
The virus is categorized as a "cryptovirus" due to its requests for payment in cryptocurrency to decrypt files on the victim's device.
The ransomware is therefore typically deployed against victims who feel hindered enough by the disruption to pay heavy sums in exchange for access to the files and can afford to do so.
The gang behind the LockBit ransomware reportedly maintains a dark web portal to recruit members and release data of victims who refuse to meet their demands, as part of their business model.
In the past, LockBit ransomware has been used to target enterprises and organizations in the U.S., China, India, Ukraine, and Indonesia.
Attacks have also been recorded throughout Europe, including France, Germany, and the U.K.
PRELIMS PERSPECTIVE
5. WHAT IS ZERO SHADOW DAY?
TAGS: PT PERSPECTIVE
THE CONTEXT: On 25th April Karnataka's Bengaluru city briefly witnessed a rare celestial phenomenon called 'Zero Shadow Day', wherein the sun was directly over the head at around 12:17 pm. As part of this rare phenomenon, there was no shadow of all vertically placed objects.
About Zero Shadow Day: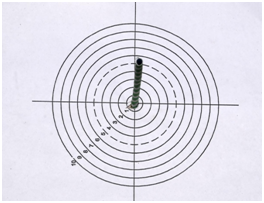 Zero Shadow Day is a celestial phenomenon that takes place twice a year, where the position of the sun is directly overhead because of which no shadow gets cast on the surface of the Earth.
On Zero Shadow Day, the sun moves to its highest point in the sky which results in the reduction of the shadow's length. When a person stands on this shadow, their own shadow becomes invisible, hence it's called "Zero Shadow".
'For people living between +23.5 and -23.5 degrees latitude, the Sun's declination will be equal to their latitude twice – once during Uttarayan and once during Dakshinayan. On these two days, the Sun will be exactly overhead at noon and will not cast a shadow of an object on the ground'.
In 2022, Kolkata & Kolhapur witnessed the Zero Shadow day.
However, Bengaluru will observe the next Shadow Day on August 18, 2023. The dates when Zero Shadow Day will occur keep changing on the basis of the location and time zone.
Spread the Word