POLITY AND GOVERNANCE
1. NATIONAL CIVIL SERVICES DAY 2023
TAGS: GS-II-POLITY AND GOVERNANCE
THE CONTEXT:The National Civil Services Day is celebrated annually in India on April 21 to recognize the contributions and achievements of civil servants in the country. On this day, the Prime Minister of India awards officers from the central and state governments for their outstanding contributions to public administration.
THE EXPLANATION:
The theme of this year's Civil Service Day is – Viksit Bharat (विकसितभारत) aimed at 'Empowering Citizens and Reaching the Last Mile'.
The theme underscores the Government's resolve and firm commitment to achieving a more equitable and prosperous India for all its citizens by engaging in inclusive growth.
History and Significance:
The first National Civil Services Day was celebrated at a function held in Vigyan Bhawan, New Delhi, on April 21, 2006.
The date April 21, is chosen for the celebration of National Civil Service Day, commemorates the day when Sardar Vallabhbhai Patel, Independent India's first Home Minister, addressed the probationers of the Administrative Services Officers in 1947.
In his inspirational speech, Sardar Vallabhbhai Patel acknowledged the civil servants of the country as the "steel frame of India." National Civil Services Day recognises the exemplary services of the government workers in the country.
The civil servants in India play a vital role in shaping the policies and programs that drive the country's development. They work tirelessly to ensure that the government's vision is translated into action on the ground. The day is a reminder of the importance of public service and the critical role that civil servants play in the development of the country.
PRIME MINISTER'S AWARDS FOR EXCELLENCE IN PUBLIC ADMINISTRATION
On the occasion of Civil Services Day,Prime Minister will address civil servants on April 21, 2023 in honour of National Civil Services Day.
During the event, PM will confer the Prime Minister's Awards for Excellence in Public Administration. These have been instituted with a view to recognize the extraordinary and innovative work done by districts and organizations of the central and State governments for the welfare of common citizens.
Exemplary work done in four identified priority programmes will be given awards and they are:
Har Ghar Jal Yojana
Samagra Shiksha Abhiyan
Ayushman Bharat – Health and Wellness Center
Aspirational Districts Programme
Eight awards for these four identified programmes will be given while seven awards shall be for innovations.
HEALTH ISSUES
2. N-NITROSODIMETHYLAMINE (NDMA)
TAGS:GS-II-HEALTH ISSUES-PRELIMS
THE CONTEXT: The Gujarat High Court recently issued a notice to the Drug Controller General of India (DCGI), under the Union Health Ministry, and the Gujarat Food and Drugs Control Administration (FDCA), in a public interest litigation (PIL) seeking immediate removal of drugs and medicines containing "cancerous impurities" such as NDMA from the Indian market.
THE EXPLANATION:
N-Nitrosodimethylamine is a volatile, combustible, yellow, oily liquid nitrosamine with a faint characteristic odor that decomposes when exposed to light and emits toxic fumes of nitrogen oxides when heated to decomposition.
N-Nitrosodimethylamine is primarily used in laboratory research to induce tumors in experimental animals.
This substance may be formed during the cooking of foods, especially cured meats and fish, that contain sodium nitrite as a preservative, but is also found in several vegetables, cheeses, alcoholic beverages and fruits, and as a contaminant in rubber products.
Exposure to Nitrosodimethylamine irritates the skin and eyes and damages the liver. This substance is reasonably anticipated to be a human carcinogen.
Applications:
n-Nitrosodimethylamine is produced by industry only in small amounts for research. At room temperature, it is a yellow liquid with no distinct odor. It was used to make rocket fuel, but this use was stopped after unusually high levels of this chemical were found in air, water, and soil samples collected near a rocket fuel manufacturing plant. It is used in some cosmetic and toiletry products and in cleansers.n-Nitrosodimethylamine is unintentionally formed during various manufacturing processes and in air, water, and soil from reactions involving other chemicals called alkylamines. It is also found in some foods and may be formed in the body.
AGRICULTURE
3. TEA MOSQUITO BUG INFESTATION
TAGS: GS-III-AGRICULTURE-PRELIMS
THE CONTEXT:The United Planters Association of South India (UPASI) has urged the government to immediately intervene and take appropriate steps to control the Tea Mosquito Bug (Helopeltis theivora) (TMB) problem in the tea plantations in India.
THE EXPLANATION: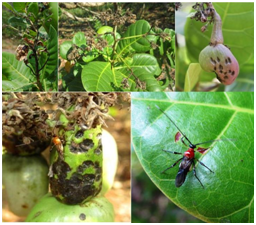 Tea Mosquito Bug (Helopeltis theivora):
Tea mosquito bugs (TMB) (Helopeltis spp.)are serious pests of cashew during cropping season in India and other cashew growing countries.
Pest damage begins during flushing stage of cashew and continues during flowering and fruiting. As such, TMB is a low-density pest, but causes reduction in nut yields ranging between 20 and 80 percent depending on the intensity of pest population.
Distribution and status: Serious pest of tea and widely distributed in Karnataka, Goa, Maharashtra and Tamil Nadu.
Host range: Cashew, neem, moringa and guava are other host plants.
Symptoms of damage:
Adults and nymphs suck the sap from buds, young leaves and tender stems
Puncturing the plant tissues with their needle like rostrum and inject toxic saliva.
Punctures appear as reddish brown spots.
Leaves curl up, badly deformed and shoots dry up.
Identification of the pest:
Adult – black colour with red thorax, black and white abdomen and greenish brown wings.
4. BIOMASS PELLETS
TAGS: GS-III-AGRICULTURE-PRELIMS
THE CONTEXT:The Central Pollution Control Board (CPCB) revised the financial grants for biomass pellet manufacturing units in March 2023.
THE EXPLANATION:
Biomass pellet is one kind of biofuel resources.
Biomass pellets are of two kinds — torrefied and non-torrefied. Biomass, if processed at 250-350°C in the absence of oxygen, leads to the formation of torrefied biomass. Whereas, in the case of non-torrefied pellets, biomass is shredded, grinded and sent to a pellet reactor, where it is compressed into pellet form with the help of binders such as sawdust, bagasse, molasses, starch and others.
Biomass Pellets Application
Building heating: Biomass pellets can be used in a pellet stove or furnace to heating room at school, hospital, marketplace, company, etc. Cooking with biomass pellets is also available.
Industrial boiler: Bio-pellets can partly(or entirely) replace coal or fossil fuel in co-firing heating for large-scale industrial operation to reduce the energy cost.
power plants :Biomass pellets can be used in power plants to solve the problem of insufficient power supply.
Animal bedding:Bio-pellets made of softwood is a kind of slap-up animal bedding to raising animal experience.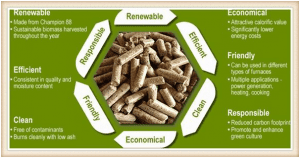 GOVERNMENT SCHEMES AND INTERVENTIONS
5. SATHI PORTAL
TAGS:GS-III-GOVERNMENT SCHEMES
THE CONTEXT: The Union Agriculture and Farmers Welfare Minister launched the Sathi (Seed Traceability, Authentication and Holistic Inventory) portal and mobile app, a centralized online system designed to address seed production challenges, seed quality identification, and certification.
THE EXPLANATION:
The Seed Traceability, Authentication and Holistic Inventory (SATHI) portal is a Centralized Online System designed to deal with the challenges of seed production, quality seed identification and seed certification.
Developed by the NIC in collaboration with the Union Ministry of Agriculture and Farmers Welfare, the portal aims to curb the sale of spurious seeds and ensure quality seeds reach farmers.
It will ensure a quality assurance system, and identify the source of seed in the seed production chain.
The system will consist of integrated 7 verticals of the seed chain – Research Organisation, Seed Certification, Seed Licensing, Seed Catalogue, Dealer to Farmer Sales, Farmer Registration and Seed DBT.
Seeds with valid certification can only be sold by valid licensed dealers to centrally registered farmers who will receive a subsidy through DBT directly into their pre-validated bank accounts.
About NIC:
The National Informatics Centre (NIC) was initially established in 1976 by Late N Seshagiri under the Electronics Commission of India. It was subsequently transferred under the then Planning Commission of India and eventually came under the jurisdiction of the Ministry of Electronics and Information Technology.
Spread the Word