INTERNATIONAL RELATIONS
1. EXERCISE "AJEYA WARRIOR – 2023"
TAGS: GS-II-INTERNATIONAL RELATIONS
THE CONTEXT: The 7th edition of the joint military exercise "AJEYA WARRIOR-23" between India and the United Kingdom is being conducted at Salisbury Plains, United Kingdom, from 27 April to 11 May 2023.
About the Exercise: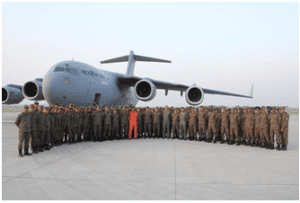 Exercise AJEYA WARRIOR is a biennial training event with the United Kingdom, which is conducted alternatively in the United Kingdom and India; the last edition was held at Chaubatia, Uttarakhand, in October 2021.
Aim: The exercise aims to build positive military relations, imbibe each other's best practices and promote the ability to operate together while undertaking company-level sub-conventional operations in urban and semi-urban environments under UN mandate, in addition to developing inter-operability, bonhomie, camaraderie, and friendship between the two armies.
During the exercise, participants will engage in a variety of missions testing their operational acumen in various simulated situations, showcasing and refining their tactical drills, and learning from each other's operational experience.
"Exercise AJEYA WARRIOR" is yet another significant milestone in defence cooperation between the Indian Army and British Army which will further foster the bilateral relations between the two nations.
Other defence Exercises with United Kingdom:

Navy :  Exercise Konkan.
Airforce: Exercise Indradhanush.
HEALTH ISSUES
2. PRET INITIATIVE
TAGS: GS-II- HEALTH ISSUES
THE CONTEXT: To help countries better prepare for future pandemics, WHO launched a new initiative that provides guidance on integrated planning for responding to any respiratory pathogen such as influenza or coronaviruses.
THE EXPLANATION:
The new Preparedness and Resilience for Emerging Threats Initiative, or PRET, incorporates the latest tools and approaches for shared learning and collective action established during the COVID-19 pandemic and other recent public health emergencies.
Through the initiative, WHO will use a mode of transmission approach to guide countries in pandemic planning, given that many capacities and capabilities are common among groups of pathogens. PRET answers the call for technical guidance and support for promoting and strengthening integrated preparedness and response, as outlined in World Health Assembly resolutions.
The COVID-19 pandemic and other health emergencies have shown that countries need to be operationally ready to respond to infectious disease threats, with tailored preparedness plans in hand and better coordination and collaboration with other sectors such as agriculture.
RET is an evolution in WHO's approach to pandemic preparedness through the application of a mode of transmission lens, rather than a focus on specific diseases. WHO will continue to develop and disseminate guidance on specific diseases as needed.
The launch of the initiative is taking place on the last day of meetings with over 120 individuals representing Member States, partners, and the WHO secretariat, to define the path forward for PRET, including the development of a global implementation roadmap for respiratory pathogen pandemic preparedness.
The PRET Initiative's first module focuses on respiratory pathogens, including influenza, coronaviruses, and respiratory syncytial virus. Given the ongoing COVID-19 pandemic and the possible threat of avian influenza, this module will enable countries to critically review, test, and update their respiratory pandemic planning efforts to ensure they have the functional capacities and capabilities in place.
PRELIMS PERSPECTIVE
3. SUPREME INITIATIVE
TAGS: PRELIMS PERSPECTIVE
THE CONTEXT: Recently, Ministry of  Science and Technology has launched an initiative to provide financial support for the upgradation and maintenance of analytical instrumentation facilities (AIFs).
About the Initiative:
The Support for Up-gradation Preventive Repair and Maintenance of Equipment (SUPREME), is a pioneering initiative launched by the Government of India. The program aims to provide financial assistance to analytical instrumentation facilities for their repair, maintenance, up-gradation, retrofitting, or acquiring additional attachments to increase functional capabilities.
Eligibility: To be eligible for funding support, the analytical instrumentation facilities must have been created under the projects supported by DST, and the institutions where they are located should be recognized by the University Grants Commission (UGC).
Duration: The duration of support will not exceed 3 years.
Funding: The funding pattern for private and government-owned institutions will be 75:25, while state-funded institutions will receive 100 % funding.
Selection Criteria: In selecting proposals for funding support, the academic and research facility will provide to the scientific community, MSMEs, and start-ups. The selection process will be carried out through a peer-review mechanism and the Expert Committee will evaluate the proposals and assist DST in making the final selection.
Nodal Ministry: Ministry of Science & Technology
PLACES IN NEWS
4. KALESAR NATIONAL PARK
TAGS: PRELIMS- PLACES IN NEWS
THE CONTEXT: Recently, a tiger has been spotted in a camera trap at Kalesar National Park in Yamuna nagar district.
THE EXPLANATION:
Kalesar National Park (spread over 11,570 acres in Yamuna nagar district), Kalesar Wildlife Sanctuary (having an area of 13,209 acres) and Sher Jung National Park, Simbalwada in Sirmour district of Himachal Pradesh are connected to Rajaji National Park through a dense forest area.
According to information, leopards, elephants, barking deer, wild boars, sambars and several other species of wild animals and birds are found in Kalesar National Park and Kalesar National Sanctuary.
Afghan invader Ahmad Shah Abdali camped at Pinjore Gardens in 1765 and British Raj soldier Rollo Gillespie camped in these hills in 1807 for tiger hunting in these hills. By 1892-93, the count of tigers and panthers had dwindled due to excessive hunting. Consequently, by 1913 Sirmur State had banned the hunting.
5. THIRUNELLY TEMPLE
TAGS: PRELIMS PERSPECTIVE
THE CONTEXT: The Indian National Trust for Art and Cultural Heritage (INTACH) has urged the government to conserve the historically significant structures, including the 600-year-old 'Vilakkumadom', an exquisite granite structure, at the Sree Mahavishnu Temple at Thirunelly in Wayanad district during the on-going renovation of the temple.
THE EXPLANATION: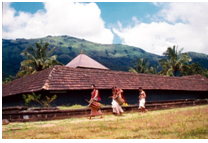 Thirunelli Temple (also Tirunelli) is an ancient temple dedicated to Lord Maha Vishnu on the side of Brahmagiri hill in Kerala, India, near the border with Karnataka state. The temple is at an altitude of about 900m in north Wayanad in a valley surrounded by mountains and beautiful forests.
Also, known as the "Kashi of South", Thirunelli temple is one of the ancient temples in Kerala. It is believed that here the prathishta of Lord Vishnu was performed by Lord Brahma. Thirunelli is also the only temple in the world where devotees can perform all the rituals related to one's life, starting from birth to death and life after death.
Papanasini means "extinguisher of sins." According to puranas, the immersing ashes of the dead here is equivalent to that of doing rituals in Gaya in Bihar. It is believed that River Ganga and River Saraswathi join in Papanasini and that a dip in this river will wash away all sins of mortals. There is also a sacred rock near the river called Pinnappara where ritual offerings to the spirits of the departed are made (known as bali).
Spread the Word