ENVIRONMENT AND ECOLOGY
1. SEA CUCUMBER
TAGS: GS-III-ENVIRONMENT- PRELIMS
THE CONTEXT:Recently, 105 kilograms of sea cucumber was seized by the Indian Coast Guard (ICG) near Attangarai in the Ramanathapuram district of Tamil Nadu.
About Sea Cucumber: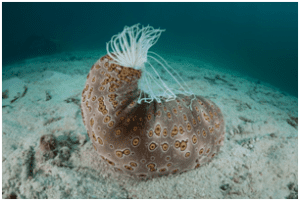 Sea cucumbers are echinoderms—like starfish and sea urchins. And they are marine invertebrates that live on the seafloor found generally in tropical regions. They're named for their unusual oblong shape that resembles a fat cucumber.
There are some 1,250 known species, and many of these animals are indeed shaped like soft-bodied cucumbers.
They act like garbage collectors of the ocean world, and they recycle nutrients, thus playing an important role in keeping coral reefs in good condition.
They are an important constituent of the marine ecosystem as they play a significant role in maintaining the health of the ecosystem.
It has no limbs or eyes, or blood.
Demand:
Sea cucumbers are in high demand in China and Southeast Asia, where they are consumed as food and used in medicine.
This endangered species is primarily smuggled from Tamil Nadu to Sri Lanka.
Protection Status:

As per IUCN Red List, Brown Sea Cucumber has been listed as an
In India, it is listed under schedule I of the Wildlife Protection Act of 1972.
In 2022, COP19 of CITES listed sea cucumbers as 'threatened'.
Recently, Lakshadweep administration unveils world's first sea cucumber conservation reserve.
2. ANIMAL BIRTH CONTROL RULES, 2023
TAGS: GS-III-ENVIRONMENT- PRELIMS
THE CONTEXT:The Central Government has notified the Animal Birth Control Rules, 2023 under Prevention of Cruelty to Animal Act, 1960 and after superseding the Animal Birth Control (Dog) Rules, 2001.
THE EXPLANATION:
As per the extant Rules, Animal Birth Control programme for the sterilization and immunization of the stray dogs are to be carried out by the respective local bodies/municipalities/Municipal Corporations and Panchayats.
Also, the Cruelty involved for carrying out of ABC programme need to be addressed. By effective implementation of these Rules, the Animal Birth Control programme can be conducted by the local bodies which will help in reducing the stray dog population addressing the animal welfare issues.
The Municipal Corporations need to implement the ABC and Anti Rabies Program jointly. The Rules also provides the guidelines how to deal with the human and stray dog conflicts without relocating the dogs in an area.
One of the requirements under the Rule is that the Animal Birth Control Programme needs to be carried out by Animal Welfare Board of India (AWBI) recognized organization specifically recognised for Animal Birth Control programme.
The list of such Organizations will be made available on the website of the Board which will also be updated time to time. The Central Government has already issued letters to all the State Chief Secretaries, Principal Secretaries of Animal Husbandry Department and Urban Development Department.
Therefore, the local bodies are requested to implement the Rules in letter and spirit and not to permit any Organizations to carry out ABC programme which are not recognized by AWBI and approved for ABC programme or otherwise elaborated in the Rules.
Connect the dots:
Animal Welfare Board of India (AWBI)
Prevention of Cruelty to Animals Act, 1960 (PCA), 1960
3. TRIPEDALIA MALIPOENSIS
TAGS: GS-III-ENVIRONMENT- PRELIMS
THE CONTEXT: Recently, Hong Kong scientists have discovered a new species of box jellyfish in Mai Po Nature Reserve in northern Hong Kong, Hong Kong Baptist University (HKBU).
THE EXPLANATION: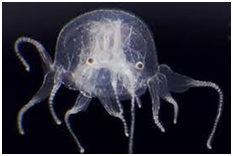 It was the first discovery of a new box jellyfish species from the waters of China. A paper describing the new species was published in the international academic journal Zoological Studies in March 2023.
The new jellyfish species was named Tripedaliamaipoensis, or Mai Po Tripedalia, by the research team.
Box jellyfish are a small group with only 49 species reported worldwide, and are even poorly known in Chinese marine waters.
The new species, as most other species of box jellyfish, has a transparent, colorless body and three tentacles at each of its four corners. A flat pedal-shaped structure at the base of each tentacle that looks like a boat paddle, allows box jellyfish to produce strong thrusts when contracting bodies, thus making them swim faster than other kinds of jellyfish.
Named for its cube-shaped body, the box jellyfish, or scientifically known as class Cubozoa, includes some of the highly venomous marine animals that are widely known in the tropical waters.
The newly discovered Tripedalia malipoensis belongs to the family Tripedaliidae of the class Cubozoa and is the fourth described species of Tripedaliidae around the world.
SCIENCE AND TECHNOLOGY
4. NATIONAL QUANTUM MISSION (NQM)
TAGS: GS-III-SCIENCE AND TECHNOLOGY
THE CONTEXT:The Union Cabinet, chaired by the  Prime Minister recently approved the National Quantum Mission (NQM) at a total cost of Rs.6003.65 crore from 2023-24 to 2030-31, aiming to seed, nurture and scale up scientific and industrial R&D and create a vibrant & innovative ecosystem in Quantum Technology (QT).
THE EXPLANATION:
Objectives:
The new mission targets developing intermediate scale quantum computers with 50-1000 physical qubits in 8 years in various platforms like superconducting and photonic technology.
Satellite based secure quantum communications between ground stations over a range of 2000 kilometres within India, long distance secure quantum communications with other countries, inter-city quantum key distribution over 2000 km as well as multi-node Quantum network with quantum memories are also some of the deliverables of the Mission.
The mission will help develop magnetometers with high sensitivity in atomic systems and Atomic Clocks for precision timing, communications and navigation. It will also support design and synthesis of quantum materials such as superconductors, novel semiconductor structures and topological materials for fabrication of quantum devices.
Single photon sources/detectors, entangled photon sources will also be developed for quantum communications, sensing and metrological applications.
Four Thematic Hubs (T-Hubs) will be set up in top academic and National R&D institutes on the domains – Quantum Computing, Quantum Communication, Quantum Sensing & Metrology and Quantum Materials & Devices.
The hubs which will focus on generation of new knowledge through basic and applied research as well as promote R&D in areas that are mandated to them.
NQM can take the technology development eco-system in the country to a globally competitive level. The mission would greatly benefit communication, health, financial and energy sectors as well as drug design, and space applications.
It will provide a huge boost to National priorities like digital India, Make in India, Skill India and Stand-up India, Start-up India, Self-reliant India and Sustainable Development Goals (SDG).
ECONOMIC DEVELOPMENTS
5. LIMITED PURPOSE CLEARING CORPORATION (LPCC)
TAGS: GS-III- ECONOMIC DEVELOPMENTS
THE CONTEXT: Recently, Securities Exchange Board of India (SEBI) released a circular announcing a dispute resolution mechanism for Limited Purpose Clearing Corporation (LPCC). The mechanism will be placed for the settlement of disputes or claims arising out of transactions cleared and settled by the regulator, in the manner specified by SEBI in consultation with the Reserve Bank of India (RBI).
THE EXPLANATION:
LPCC is an organization that has been created to manage the process of clearing and settling repo transactions. An efficient repo market enhances the growth of the debt securities market by increasing the liquidity of the underlying debt securities.
Additionally, it enables market players to obtain funds temporarily by monetizing their debt holdings without disposing of the underlying assets.
According to the circular, an LPCC shall adopt the dispute resolution mechanism prescribed by the market regulator.
If there are any disagreements that arise among the clearing members of LPCC, they will be resolved through the process of conciliation or by an arbitration panel made up of three clearing members who are not involved in the dispute. The ruling of the arbitration panel would be considered final and binding for the parties involved.
Moreover, SEBI has announced that any disputes between a clearing member and the LPCC will be settled following the prescribed dispute resolution mechanism.
If either the LPCC or a clearing member is not content with the decision made through SEBI's mechanism, then any disputes between them will be resolved using the procedure outlined in the Payment and Settlement Systems Act of 2007, along with the corresponding rules and directions that have been notified.
Connect the Dots:
SEBI
Payment and Settlement Systems Act of 2007
Spread the Word