THE CONTEXT: In the January 2023, PM flagged off World's Longest River Cruise-MV Ganga Vilas at Varanasi via video conferencing. To promote Inland Water Transport in the country 111 waterways (including 5 existing and 106 new) have been declared as National Waterways (NWs) under the National Waterways Act, 2016 which came into effect from 12th April, 2016.In this write up we will analyse in detail about the opportunities and challenges in the inland waterways in india.
WHAT ARE INLAND WATERWAYS?
Inland water transportation is the system of transport through all navigable man-made canals, lakes and rivers. Several large rivers in various parts of the world are used by barges and ships for transportation. Every countries major rivers were utilized for inland transportation. The major rivers used for inland water transport worldwide are the Nile of Africa, Ganga of India, and Thames of Europe etc.
Inland waterways have been accorded a central role in maritime development in India. A well-coordinated inland waterways network could bring a fundamental alteration in the logistics scenario of the country. Inland waterways have vast potential to act as an alternate and supplementary mode of transportation for handling certain bulk commodities in India. Underutilization of (IWT) sector in India is a great opportunity loss for the country. Although it continues to be the cheapest mode, it had lost its importance because of poor maintenance of waterways.
 INLAND WATERWAYS IN INDIA:AN OVERVIEW
India has approximately 14,500 km of navigable waterways (out of which about 5,200 km of the river and 4,000 km of canals can be used by mechanized crafts) with significant potential to be developed as a mode of transportation. Still, these inland waterways are un-utilized in India as compared to other countries in the world.
The Road Transport Sector accounts for about 87% of passenger traffic and 60% of freight traffic movement in the country.
The Railways: The National Rail Plan envisages that the share of freight traffic by rail should go up from the current share of 27% to 45% by 2030.
Inland Waterways: Modal share of Inland Water Transport (IWT) in freight movement is 2%.
At present  13 National waterways is in operation: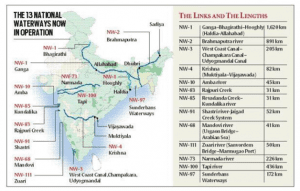 Gujarat Waterways and Maharashtra Waterways constituted more than 75% of the overall IWT traffic in 2019-20.

INLAND WATERWAYS IN INDIA-OPPORTUNITIES
IMPROVEMENT IN LOGISTIC SECTOR
A well-coordinated inland waterways network could bring a fundamental alteration in the logistics scenario of the country. It represents a ready built infrastructure network, which can be utilised without any further capital investment.
REDUCE DEPENDENCY ON OTHER MODES OF TRANSPORTATION
Waterways can decongest roads, including highways by moving cargo away. Waterways do not involve challenges associated with land acquisition, which has always been a sensitive issue, causing time and cost overruns of numerous projects.
COST EFFICIENCY
Movement of goods and passengers through inland waterways would necessitate setting up a large number of landing and loading/unloading points. This has the potential to open up large and accessible hinterland for supply of goods which can be transported at a lower cost. The accessible hinterland can also open up new markets.
INTEGRATED SUPPLY CHAIN DEVELOPMENT
Carriers are increasingly eying growth prospects associated with a wider range of services, including landside operations. Ports and shipping interests are focusing attention on inland logistics with additional revenue-generation potential. Also, ease of restrictions on river-sea movement, by utilizing a single vessel for both inland and coastal waters, would further lower transport costs as well as reduce handling charges.
GROWTH OF TOURISM INDUSTRY
Development of inland waterways in India offers a huge potential for the growth of Tourism sector in the country. Planning of the coastal tourism industry should be integrated with the development of NWs for the economic benefits of both the sectors.
INLAND WATERWAYS IN INDIA-CHALLENGES
India's inland water transport sector is relatively under-developed, compared to other large economies due to following reasons:
TECHNICAL CHALLENGES
INADEQUATE DEPTH: Large parts of Indian waterways have inadequate depth for commercial movement of cargo.  Sufficient depth or least available depth is required to enable the navigability of larger vessels. Moreover indian rivers (especially in the northern plains) face severe problems of siltation round the year. The river bed rises, impeding the movement of cargo during non-monsoon months.
INADEQUATE AIR DRAFT: Multiple bridges with low vertical clearance obstruct the passage of bigger inland water transport vessels on waterways such as National waterways No-3.
LACK OF NIGHT NAVIGATION INFRASTRUCTURES: Lack of Night navigation facilities such as Differential Global Positioning Systems ( DGPS) and River information System (RIS )are the major impediments in the successful operations in waterways.
REGULATORY CHALLENGES
MODAL INTEGRATION: Lack of potential multimodal corridors and detailed mapping of waterways and industrial clusters, multimodal transport hubs in inland water transport corridor.
LEGAL AND ADMINISTRATIVE ISSUES: Since the navigable inland waterways invariably run through more than one state, it is important to have uniformity in the realm of various operational aspects of inland water transport throughout the country. The model inland vessels rules also needs to have the uniformity for followed up by adoption of various states.
GEOPOLITICAL CHALLENGES
INTERNATIONAL PROTOCOLS : An international protocols route are providing the direct linkage of Haldia and Kolkata ports with landlocked northeastern states and has potential to be utilized as main mode for transportation of cargo from north eastern region to Kolkata and Haldia besides enhancing trade with Bangladesh. Energy efficiency of waterway gets negated by the higher turnaround time of the barges due to the administrative and operational delays along the protocol route.
INTER LINKING OF RIVERS: The river inter-linking projects are ensuring to use as waterways for navigation. The Inland water transport has a strategic importance for connectivity of north eastern regions which do not have very efficient connectivity due to its geographical position and rail/road transport passing through the "chicken neck".
FINANCIAL CHALLENGES
INVESTMENTS BY GOVERNMENTS : There has been under investment in inland water transport sector infrastructure vis-a-vis road and rail. While considerable emphasis has been laid on the development of road and rail infrastructure in successive five years plans, inland water transport sector has been neglected. Consequently, public investments in inland water transport mode have been far below the levels attained by other modes.
INVESTMENTS BY PRIVATE: As a policy measure, the possibility of private sector participation for the development, maintenance and regulation of some stretches of the inland waterways can be explored similar to another transport sector like road and metro rail.
CAPACITY BUILDING: There is huge demand for trained manpower for vessel operations as well as for development and management of inland water transport infrastructure since the limited resource in training and research & development for inland water transport there is need of potential investment in training and research
OTHER CHALLENGES
ENVIRONMENTAL IMPACT: Dredging operations will damage river bed, and can lead to change in habitats for various aquatic flora and fauna. Dredging also impact aquifers along the river, damaging the ability of water to percolate underground.
OPERATION AND MAINTENANCE: Operation and maintenance of fairways and related infrastructure for private participation to achieve accelerated development. Needs to implement the river information systems on waterways
 LEGAL AND POLICY REGIME FOR INLAND WATERWAYS IN INDIA
THE INLAND WATERWAYS AUTHORITY OF INDIA ACT, 1985
The Act provides for the constitution of an Authority for the regulation and development of inland waterways for purposes of shipping and navigation and for matters related to it
The Inland Waterways Authority of India was formed in 1986. It undertakes projects for development and maintenance of IWT infrastructure on national waterways through grant received from Ministry of Shipping
INDIAN VESSELS ACT OF 1917 (AMENDED IN 2007)
It deals with the survey and registration of inland vessels, removal of obstructions in navigation, carriage of goods and passengers, prevention and control of pollution etc.
INLAND WATER TRANSPORT POLICY 2001
Policy talks about IWT being economic, fuel-efficient and environment friendly mode of transport. It advocates large-scale private sector participation both for creation of infrastructure and for fleet operations.
NATIONAL WATERWAYS ACT 2016
The Act declared 111 rivers or river stretches, creeks, estuaries as National (inland) Waterways.
It enables the Central Government to regulate these waterways for development with regard to shipping, navigation and transport through mechanically propelled vessels.
LAWS RELATED TO ENVIRONMENTAL AND OTHER IMPACTS
Forest Act 1980,
Environmental Protection Act 1986 and various notifications under it like EIA Notification 2006, CRZ Notification 2011
GOVERNMENT INITIATIVES
JAL MARG VIKAS PROJECT (JMVP)  
JMVP was announced by the government in the 2014-15 budget to allow commercial navigation of vessels weighing at least 1500 tonnes on the Ganga river.
The project calls for the construction of a 1620-kilometre-long waterway on the Ganga River between Allahabad and Haldia.
The project spans the states of Uttar Pradesh, Bihar, Jharkhand, and West Bengal.
The project intends to build a three-metre-deep fairway to allow commercial navigation of at least 1500-tonne vessels on the river.
It also includes the construction of a fairway, multimodal terminals, the improvement of open river navigation techniques, conservation efforts, a modern River Information System (RIS), and other projects.
The World Bank is funding the project.
The Jal Marg Vikas Project is expected to cost $800 million and is scheduled to be completed in December 2023.
THE SAGARMALA PROJECT
The Sagarmala Project has been initiated by the Government of India after Cabinet approved it in 2015 to promote port-led development in India. The project aims to harness the 7500 km long coastline of the country to unleash its economic potential. The project also seeks to boost infrastructure for transporting goods to and from ports quickly, efficiently, and cost-effectively.
Components of Sagarmala Programme are:
Port Modernization & New Port Development: De-bottlenecking and capacity expansion of existing ports and development of new greenfield ports
Port Connectivity Enhancement: Enhancing the connectivity of the ports to the hinterland, optimizing cost and time of cargo movement through multi-modal logistics solutions including domestic waterways (inland water transport and coastal shipping)
Port-linked Industrialization: Developing port-proximate industrial clusters and Coastal Economic Zones to reduce logistics cost and time of EXIM and domestic cargo
Coastal Community Development: Promoting sustainable development of coastal communities through skill development & livelihood generation activities, fisheries development, coastal tourism etc.
Coastal Shipping & Inland Waterways Transport: Impetus to move cargo through the sustainable and environment-friendly coastal and inland waterways mode.
INTERNATIONAL BEST PRACTICES 
1. WATERWAYS THROUGH RIVER DANUBE IN EUROPE-
The Danube River that is the second longest river in Europe flows through ten European countries he Danube flows through ten European countries (Germany, Austria, Slovakia, Hungary, Croatia,Serbia, Romania, Bulgaria, Moldova and the Ukraine) and four capital cities (Vienna, Bratislava, Budapest and Belgrade). With this number the Danube can be included among the waterways that flow with the largest number of countries in the world.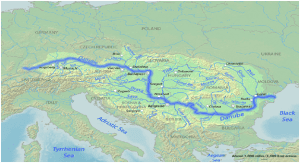 2.WATERWAYS IN THE NETHERLANDS
IWT accounts for 46.6% of the total freight traffic in the Netherlands, with around 40% of container traffic along national inland waterways.
Availability of efficient infrastructure, including handling facilities for large vessels and barges, and container storage facilities, has resulted in increased competitiveness and has attracted several private investments.
The ongoing barge transports in the Belgian and Dutch areas are mainly line network operations, where the seaport terminals are connected to terminals along the river Rhine.
Port of Rotterdam in the Netherlands and port of Antwerp in Belgium are two of the largest ports in Europe for both bulk and container cargo.
The regions close to these seaports have a strong network of waterways; largely because of the geography of the river Rhine.
 Port of Amsterdam is also connected to Rhine, and due to the network between the three large seaports, the river and surrounding waterways have become important barge corridors.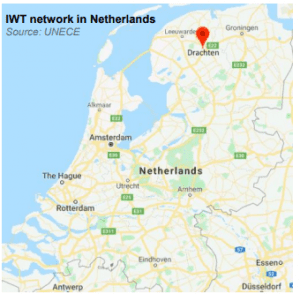 THE WAY FORWARD
NITI AAYOG RECOMMENDATIONS (ACTION AGENDA, THREE-YEAR2017-2020)
NITI Aayog recommends streamlining the regulatory structure and bringing an overarching body to oversee Inland Water Transport such as the IWAI to more consistency in the rules and strategy of the sector.
Efforts should be made to develop deeper stretches of the river, i.e., at least 2.5 m to 3 m to achieve year-around navigation
Adequate maintenance of rivers, including continuous dredging to maintain adequate water depth for servicing shipping lines should be ensured.
Ease restrictions on river-sea movement by Utilizing a single vessel for both inland and coastal waters, lowers transport costs and minimizes handling.
p POLICY MEASURES
Cargo transport through inland waterways should be incentivised. Following measures can be taken:
The Government can mandate/incentivise industries in the proximity of national waterways to use this mode for a portion of their shipments.
The government can promote industrial corridors along riverbanks and foster waterways-based industrialisation.
Higher road taxes can be levied on transportation of coal and inflammable material over longer distances
INTERLINKING WATERWAYS AND PORTS
Interlinking waterways and ports with coastal shipping. For instance, Ganga-Brahmaputra-Sunderbans river system can be integrated with Haldia and Kolkata ports. This will have a domino effect of the development of that area and also relieve pressure on the land-based modes.
STRENGTHENING PUBLIC-PRIVATE PARTNERSHIP
Strengthening public-private partnership has the key role to play in developing the inland waterways sector. Private players can undertake terminal development, cargo and passenger handling, and building low-draft vessels and related repair facilities.
THE CONCLUSION: Inland waterways have numerous benefits. Many of these benefits are related to freight transportation. The major advantage is that it will save us money. It also helps us reduce traffic levels and climate change throughout the globe. Since it does not produce any pollution, it is considered a better option than the other modes of transportation available. They can also transport passengers, and this is commonly known as canal boat cruises. In the end, we can say that the transport system is becoming more efficient by using inland waterways for a safer and faster journey.
QUESTIONS FOR MAINS EXAMINATION:
Q1. Analyse the potential of inland water transportation in India. How can it help in improving logistic sector?
Q2.Discuss the challenges faced by the inland waterways in india? Also suggest some policy measures  that need to be taken to overcome the challenges.
ADD TO YOUR KNOWLEDGE
THE INLAND WATERWAYS AUTHORITY OF INDIA (IWAI)
The Inland Waterways Authority of India (IWAI) came into existence on 27th October 1986 for the development and regulation of inland waterways for shipping and navigation.
The Authority primarily undertakes projects for the development and maintenance of IWT infrastructure on national waterways through grants received from the Ministry of Shipping.
The head office of the Authority is at Noida.
The Authority also has its regional offices at Patna, Kolkata, Guwahati and Kochi and sub-offices at Allahabad, Varanasi, Farakka, Sahibganj, Haldia, Swroopganj, Hemnagar, Dibrugarh, Dhubri, Silchar, Kollam, Bhubaneshwar  and Vijayawada.
It does the function of building the necessary infrastructure in these waterways, surveying the economic feasibility of new projects and also administration and regulation
Spread the Word