THE CONTEXT: All India Conference of Director Generals/ Inspector Generals of Police  2022 was organised at the National Agricultural Science Complex, PUSA, New Delhi on 21-22 January 2023. The three-day Conference was held from January 20 to 22, 2023, in a hybrid format. The conference discussed a wide range of issues including Cyber Crime, Technology in Policing, Counter Terrorism challenges, Left Wing Extremism, capacity building, Prison Reforms, among others. The broad consensus was arrived to reform the police system in India.
POLICE IN FEDERAL POLITY IN INDIA
As per Seventh Schedule, 'Police' and 'Public Order' are State subjects under the Constitution, and as such the primary responsibility of prevention, detection, registration, investigation and prosecution of crimes, including crimes against SC/ST lies with the State Governments and Union Territory Administrations.
WHAT IS POLICE REFORM IN INDIA?
Police reform aims to transform the old cultures, policies and practices of police organizations so that Police can perform their duties with respect to democratic values, human rights and the rule of law. Police reform mainly aims to maintain law and order in the state with more accountability and transparency in the work.
However, before going into details about the need of the police reform , there is a need to discuss the issues in the police system in India.
ISSUES IN THE POLICE SYSTEM
COLONIAL POLICE SYSTEM:
Britishers formed the Indian Police Act in 1861 and our country still follows the same old laws which were made to favor the rulers and suppress the common Indians.
OVERBURDENED POLICE
Vacancies have been around 24%-25% in state police forces since 2009. The sanctioned police strength was 181 police per lakh persons in 2016, however, the actual strength was 137 police. It is to be noted that the United Nations recommended 222 police per lakh persons. Global average police population ratios 270/ 1 Lakh people.
24% vacancies in state forces; 7% in central forces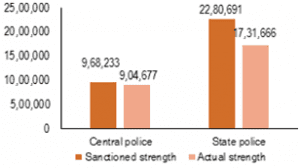 Sources: Bureau of Police Research and Development
86% of the state police comprises of the constabulary. Constables are typically promoted once during their service, and normally retire as head constables. This could weaken their incentive to perform well.
FUNDING TO THE POLICE
Expenditure on Police accounts for about 3% of the central and state government budgets.
POLICE ACCOUNTABILITY:
Police accountability involves holding both individual police officers, as well as law enforcement agencies responsible for effectively delivering basic services of crime control and maintaining order while treating individuals fairly and within the bounds of law.
However, there are many grievances against the Police such as unlawful arrests, unlawful search, custodial death, torture in custody, corruption issue and misuse of law for personal or political gain.
Transparency International ranked India at 85 among 180 countries in its Corruption Perception Index report
CUSTODIAL DEATH:
Custodial death is perhaps one of the worst crimes in a civilized society governed by the Rule of Law. It is a crime against humanity and a violation of human rights, so reforms are needed for much more accountability.
According to The National Crime Record Bureau (NCRB)  data shows India has in total recorded 88 custodial deaths in the year 2021., Over the last 20 years, 1,888 custodial deaths were reported across the country, 893 cases registered against police personnel and 358 personnel charge-sheeted. But only 26 policemen were convicted in this period, official records show.
E.g. There are custodial deaths of a father and son in Tamil Nadu who the Police tortured for more than seven hours.
NO LAW ON CUSTODIAL TORTURE
India is a signatory of the United Nations Convention against torture and other cruel activities since 1997, but it has not ratified it as India doe not have any comprehensive law on torture.
POLITICAL INTERFERENCE:
Police officers are not able to do their work due to the interference of political leader. Hence its necessary to break political nexuses with Police. We needed reform for fairness and transparency in the system this will help to gain public trust.
Vohra Committee gave recommendations to reform the criminal justice system By breaking the nexus between politicians and criminals
POOR QUALITY OF INVESTIGATION
Police are accountable for prevention control reporting and investigation of the crime, so there is a conflict of interest(in preventation and investigation). This decreases the quality of the investigation.
Crime per lakh population has increased by 28% over the last decade (2005-2015). However, convictions have been low. In 2015, convictions were secured in 47% of the cases registered under the Indian Penal Code, 1860. The Law Commission has observed that one of the reasons behind this is the poor quality of investigations.
The Police do not have the necessary training or expertise to undertake professional investigations. They also lack legal understanding (on issues such as the admission of evidence), and their forensic and cyberinfrastructure is both weak and antiquated.
Another reason for the lack of quality in the investigation is the transfer of officers during the investigation which causes delay and the newly appointed officer needs to study the case and restart the investigation process
IMPROPER POLICE INFRASTRUCTURE:
CAG audits have found shortages in weaponry with state police forces. For example, Rajasthan and West Bengal had shortages of 75% and 71% respectively in required weaponry with the state police.
Utilisation of funds for modernisation (%)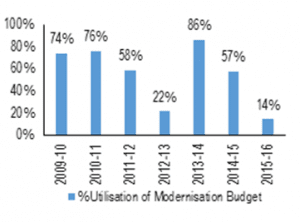 Sources: Bureau of Police Research and Development
RELATIONSHIP BETWEEN POLICE AND THE PUBLIC
There is insensitivity towards problems faced by people. There is a lack of trust between Police and people. People view the Police as inefficient, corrupt, and violent due to which the relationship between them has a severe lack of confidence. This leads to an automatic problem of less coordination due to which the Police find it improbable to perform their functions.
THESE ISSUES CALL FOR REFORM IN THE POLICE SYSTEM
Expert bodies that have examined police reforms

POLICE ACCOUNTABILITY
There is need to balance accountability and operational freedom of the Police. To allow the Police greater operational freedom while ensuring accountability, various experts have recommended that the political executive's power of superintendence over police forces be limited.
Second Administrative Reforms Commission has recommended that this power be limited to promoting professional efficiency and ensuring that Police is acting in accordance with law.
National Police Commission (1977-81) suggested that superintendence be defined in the law to exclude instructions that interfere with due process of law, or that influence operational decisions, or that unlawfully influence police personnel transfers, recruitments, etc
Second Administrative Reforms Commission and the Supreme Court have observed that there is a need to have an independent complaints authority to inquire into cases of police misconduct.
POLITICAL INTERFERENCE
In the Prakash Singh case, Supreme Court in its directive held that
It is to be ensured that the DGP is appointed through merit based transparent process and secure a minimum tenure of two years.
Also it said to constitute a State Security Commission (SSC) to
○        (i) Ensure that the state government does not exercise unwarranted influence or pressure on the Police
○        (ii) Lay down broad policy guidelines and
○        (iii) Evaluate the performance of the state police
Constitute a Police Establishment Board in every state that will decide postings, transfers and promotions for officers below the rank of Deputy Superintendent of Police, and make recommendations to the state government for officers of higher ranks.
Constitute a National Security Commission to shortlist the candidates for appointment as Chiefs of the central armed police forces.
Above all, there is a need for political will to bring reform in the police system.
VACANCIES AND AN OVERBURDENED FORCE
2nd Administrative Reforms Commission has recommended that one way to reduce the burden of the police forces could be to outsource or redistribute some non-core police functions (such as traffic management, disaster rescue and relief, and issuing of court summons) to government departments or private agencies.
CONSTABULARY-RELATED ISSUES
A constable's responsibilities are wide-ranging, and are not limited to basic tasks. For example, a constable is expected to exercise his judgment in tasks like intelligence gathering and surveillance work and report significant developments to his superior officers. Therefore, a constable is expected to have some analytical and decision-making capabilities.
The Padmanabhaiah Committee and the Second Administrative Reforms Commission recommendations:
raise the qualification for entry into the civil Police to class 12th or graduation.
expert bodies, such as the National Police Commission have also emphasised incentive to accept remote postings.
CRIME INVESTIGATION:
Recommendation:
States must have their own specialized investigation units within the police force that are responsible for crime investigation.
funds and qualified staffs need to be given to the forensic infrastructure
Supreme Court said that Separate the investigating Police from the law and order police to ensure speedier investigation, better expertise and improved rapport with the people.
POLICE INFRASTRUCTURE AND TRAINING
More funds need to be allocated to the modernisation of the Police also there is a need to increase the fund utilisation of the fund allocated.
There is a need for capacity building and technology to deal with cybercrime.
Training module of the Police should be improved.
CUSTODIAL DEATH AND TORTURE
In D.K. Basu case, the Supreme Court laid down elaborate procedures to be followed by the Police and other investigating agencies in cases of arrest, detention and interrogation.
○        The arrestee shall be made aware of his right to get a friend or relative informed about his arrest.
○        The diary entry of the arrest, the person informed of the arrest and particulars of the arrest shall be updated in the station diary.
Law Commission of India in 2017 has proposed anti-torture law still Government has not taken any action in this regard.
NEED TO STRENGTHEN CRIMINAL JUSTICE SYSTEM
The Malimath Committee submitted its report in April, 2003 which contained 158 recommendations. These pertain to strengthening of training infrastructure, forensic science laboratory and Finger Print Bureau, enactment of new Police Act, setting up of Central Law Enforcement agency to take care of federal crimes, separation of investigation wing from the law and order wing in the police stations, improvement in investigation by creating more posts, establishment of the State Security Commission, etc
POLICE-PUBLIC RELATIONS
Need to increase the gender sensitivity of the Police.
One way to improve  police-public relations is to have community policing. Community policing requires the Police to work with the community to prevent and detect crime, maintain public order, and resolve local conflicts, to provide a better quality of life and sense of security.
Various states have been experimenting with community policing including Kerala through 'Janamaithri Suraksha Project', Rajasthan through 'Joint Patrolling Committees', Assam through 'Meira Paibi', Tamil Nadu through 'Friends of Police', West Bengal through the 'Community Policing Project', Andhra Pradesh through 'Maithri and Maharashtra through 'Mohalla Committees'
THE CONCLUSION: Current dispensation of the government is to build SMART Police which stands for
S stood for strict and sensitive
M for modern and mobile
A for alert and accountable
R for reliable and responsive
T for tech-savvy and trained
Thus. there is a need to reform the Police system to make it more accountable, responsible and transparent to strengthen the Social control between Citizen and State.
Mains Question
The police system plays an important role in the criminal justice system, but it has issues. Critically examine.
Despite various committees and Supreme Court guidelines for the reform in the Police system, it has not been reformed. Analyse the reasons behind it.
Spread the Word