THE CONTEXT: Recently, on the occasion of the 74th Republic Day, the President of Egypt was invited as the chief guest at the parade, this is the first time that an Egyptian President has been accorded this honour.
INDIA-EGYPT RELATIONS
The Evolution
The history of contact between India and Egypt, two of the world's oldest civilizations, can be traced back to at least the time of Emperor Ashoka. Ashoka's edicts refer to his relations with Egypt under Ptolemy-II.
In modern times, Mahatma Gandhi and the Egyptian revolutionary Saad Zaghloul shared the common goal of independence from British colonial rule.
The joint announcement of establishment of diplomatic relations at Ambassadorial level was made on 18 August 1947.
The two countries have had diplomatic ties for over 70 years, with India opening its embassy in Cairo in 1951, and Egypt opening its embassy in New Delhi in 1955. The relationship between India and Egypt is built on mutual respect, shared cultural heritage, and a common desire for peace and prosperity.
India and Egypt signed a friendship treaty in 1955. In 1961, India and Egypt along with Yugoslavia, Indonesia and Ghana established the Non-Aligned Movement (NAM).
In 2016, the joint statement between India and Egypt identified political-security cooperation, economic engagement and scientific collaboration, and cultural and people-people ties as the basis of a new partnership for a new era.
INDIA-EGYPT RELATIONS: PERSPECTIVES
Cultural Relations:
India and Egypt share a rich cultural heritage dating back thousands of years. The two countries have had trade relations and cultural exchange since ancient times. Egyptian civilization has always held a fascination for Indians, with many Indians traveling to Egypt to see the ancient pyramids and temples. Similarly, Indian culture, music, and films have also gained popularity in Egypt. The two countries have also collaborated on archaeological excavations, with Indian archaeologists working on sites in Egypt. The Maulana Azad Centre for Indian Culture (MACIC) was established in Cairo in 1992. The centre has been promoting cultural cooperation between the two countries.
Political Relations:
India and Egypt have maintained close political relations over the years, with both countries working together to strengthen regional and global peace and security. The two countries have collaborated in various multilateral forums, including the United Nations, the Non-Aligned Movement, and the G-77 group of developing countries. India and Egypt have also been involved in joint military exercises, and India has been providing training to the Egyptian military.
Economic Relations:
India and Egypt have a strong economic partnership, with bilateral trade between the two countries crossing $3 billion in 2020. India is Egypt's 10th largest trading partner, and Egypt is India's 43rd largest trading partner. The main items of trade between the two countries include textiles, chemicals, pharmaceuticals, and engineering goods. In addition, there are significant investments from both countries in the other, with Indian companies investing in Egypt's oil and gas sector, and Egyptian companies investing in India's IT and real estate sectors.
Development Partnership:
India and Egypt have also collaborated on various development projects in Africa, which is a common area of interest for both countries. The two countries have been working together to promote infrastructure development and capacity building in African countries, especially in the areas of education, health, and information technology.
INDIA AND EGYPT: COLLABORATIVE APPROACH IN AFRICA
India and Egypt have a history of collaborating on development projects in Africa, leveraging their respective strengths in areas such as infrastructure, healthcare, education, and agriculture. Some of the major development projects that India and Egypt have worked on in Africa are:
Pan-African e-Network Project: India and Egypt jointly launched the Pan-African e-Network Project in 2007, which aims to provide tele-education and telemedicine services to African countries. The project uses satellite and fiber-optic networks to connect African countries with Indian experts in various fields, providing access to high-quality education and healthcare services.
Nile Basin Initiative: India and Egypt have been collaborating on the Nile Basin Initiative, which aims to promote sustainable development and management of the Nile River Basin, which is a critical resource for several African countries. The initiative focuses on areas such as water management, irrigation, and hydropower development, and has helped to strengthen regional cooperation among African countries.
Agriculture and Food Security: India and Egypt have been working together to enhance agricultural productivity and food security in African countries, through initiatives such as the India-Africa Agriculture and Dairy Development Program. Under this program, India has provided training and capacity-building support to African farmers and technicians, helping to improve crop yields and reduce post-harvest losses.
Healthcare Infrastructure: India and Egypt have also collaborated on building healthcare infrastructure in Africa, through initiatives such as the India-Africa Institute of Information Technology (IAIIT). The IAIIT is a joint initiative between India and Egypt that provides training and education in healthcare information technology, helping to improve healthcare delivery and management in African countries.
Solar Energy: India and Egypt have collaborated on solar energy projects in Africa, with the aim of promoting clean energy and reducing carbon emissions.
SIGNIFICANCE OF RECENT VISIT OF EGYPTIAN PRESIDENT TO INDIA
Key highlights of the recent visit
During this year's meeting, both India and Egypt agreed to elevate the bilateral relationship to a "strategic partnership".
The strategic partnership will have broadly four elements: political, defence, and security; economic engagement; scientific and academic collaboration; cultural and people-to-people contacts.
India and Egypt signed a Memorandum of Understanding (MoU) for three years to facilitate content exchange, capacity building, and co-productions between Prasar Bharati and the National Media Authority of Egypt.
Under the pact, both broadcasters will exchange their programmes of different genres like sports, news, culture, entertainment on bilateral basis.
The visit of the President of Egypt to India can expand India's strategic horizons in several ways:
Strengthening India-Egypt ties: The visit can help deepen India's partnership with Egypt, which is a key player in the African continent. India can leverage its close ties with Egypt to explore new opportunities for collaboration with other African countries.
Access to African markets: India can use Egypt as a gateway to access African markets. Egypt has strong economic ties with several African countries, and India can benefit from this by expanding its exports to these markets.
Infrastructure development: India and Egypt can explore joint initiatives to invest in infrastructure projects in Africa, such as roads, railways, and ports. This can not only enhance connectivity within Africa but also provide opportunities for Indian companies to participate in these projects.
Defense cooperation: India and Egypt can explore opportunities for defense cooperation in Africa, such as joint training programs, supply of defense equipment, and sharing of intelligence. This can help India expand its presence in the region and counter China's growing influence.
Human resource development: India can provide technical assistance and training to African countries through its partnerships with Egypt. This can help build human resource capacity in key sectors such as agriculture, health, and education.
A Partner within the OIC: India views Egypt as a moderate Islamic voice among Muslim-majority countries, and as a partner within the Organization for Islamic Cooperation (OIC).
Terrorism &Defence: During this Republic Day meeting, India and Egypt expressed concerns about the spread of terrorism around the world as it is the most serious security threat to humanity. Consequently, the two countries agreed that concerted action is necessary to end cross-border terrorism.
Egypt as a gateway for Africa and the Arab world to India
Egypt is one of the countries that has many free trade agreements with many countries, as it has FTA with the EU, Arab world and the whole of Africa.
 So, by coming to Egypt, India will be able to reach and get duty free access to all these markets in the region.
By virtue of its location, it is very important for India to secure a place in Egypt for the kind of opportunity India will have.
The many incentives provided for investors in the Suez Canal economic zone, has proven to be an attractive location for foreign investors.
Egypt is inviting foreign investors, who really have interest in trapping markets of EU, Africa, Middle east, to come to Egypt, enjoy access to these regions and strategic locations.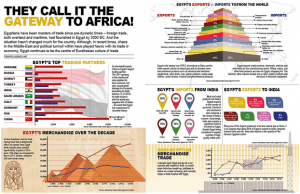 CHALLENGES FOR INDIA-EGYPT RELATIONS
Egypt's economy has been in chaos over the past few years due to the pandemic and the Russia-Ukraine war which impacted its supply of food as almost 80% of Egypt's grain imported from Rusia and Ukraine and impacted Egypt's foreign exchange reserves. In 2022, despite restrictions on the export of wheat, India allowed shipments of 61,500 metric tonnes to Egypt.
From India, Egypt is seeking investments in infrastructure including Metro projects, a Suez Canal economic zone, a second channel of the Suez Canal, and a new administrative capital in Egypt. More than 50 Indian companies have invested more than USD 3.15 billion in Egypt.
China's bilateral trade with Egypt is currently at USD 15 billion, double that of India's USD 7.26 billion in 2021-22. During the past eight years, the President of Egypt has traveled to China seven times to lure Chinese investments.
Egypt, the most populous country in West Asia, occupies a crucial geo-strategic location — 12% of global trade passes through the Suez Canal and is a key player in the region. It is a major market for India and can act as a gateway to both Europe and Africa. However, it also has bilateral trade pacts with important West Asian and African nations which is a cause of concern for India.
THE WAY FORWARD
Economic cooperation: India and Egypt should focus on enhancing their economic cooperation by exploring new avenues for trade and investment. Both countries can work towards identifying sectors where they can collaborate, such as agriculture, pharmaceuticals, and renewable energy. The two sides should also work towards a free trade agreement (FTA) to boost bilateral trade.
Security cooperation: India and Egypt should enhance their cooperation on counter-terrorism and security issues. Both countries have faced terrorist threats and can benefit from sharing intelligence and expertise in this area.
Diplomatic cooperation: India and Egypt should continue to strengthen their diplomatic cooperation by supporting each other in international forums. Both countries have shared interests in promoting peace and stability in the Middle East, Africa, and other regions of the world.
Multilateral engagement: India and Egypt should engage in multilateral forums like the United Nations, Non-Aligned Movement, and BRICS to advance their common interests and concerns. By working together, both countries can amplify their voices on global issues and contribute to the development of the international community.
THE CONCLUSION: India and Egypt have historically enjoyed a close and friendly relationship, with diplomatic ties dating back to the 1950s. India-Egypt relations are marked by a shared cultural heritage, political cooperation, economic ties, and a desire to work together for regional and global peace and security. The two countries have been working closely to strengthen their partnership in various fields, and there is a lot of potential for further cooperation in the years to come.
Questions
• "Over the last few years, Egypt has emerged as a central player in developments in West Asia, the Red Sea, the Horn of Africa, and African affairs in general." In the light of the statement, discuss how India can avail access to economic and strategic potential of these regions through Egypt.
• Egypt can be a gateway to Africa and the Arab world to Indian interests. Examine.
Spread the Word