THE CONTEXT: Recently, In a Year End Review in 2022 conducted by the Ministry of Electronics and Information Technology (MeitY) shown a exponential growth in e-transactions and the use of e-governance services across the country. The use of e-governance services in India will be examined in this article using a novel analysis based on a crucial statistic, an "e-transaction," monitored by the Electronic Transaction Aggregation & Analysis Layer (e-Taal) portal. The portal offers a real-time aggregated view of the quantity of end-to-end electronic transactions at all government levels.
WHAT IS eTAAL?
The Government of India created the e-Taal Project, an electronic dashboard, to provide a real-time aggregated view of the volume of eServices being provided by various agencies of the national, state, and local governments in India.
The number of "end-to-end electronic transactions" is the key performance indicator for G2C, G2B, and B2C e-Services, as seen on the e-Taal dashboard.
eTaal Project is based on the principle: "You can MANAGE effectively what you can MEASURE". The key objectives of the e-Taal portal are as follows:
Drill-down capabilities and performance comparison with other States should be used when analyzing the e-Transactions data that has been received from other applications.
e-Transactions from automatically integrated apps can be combined by utilizing Web Services technology.
e-Transactions data analysis in tabular and graphical form.
Provide a consolidated view of e-Transaction statistics and a visualization of their utilization status for the Ministry, Department, State, and UT.
YEAR END REVIEW 2022: MINISTRY OF ELECTRONICS AND INFORMATION TECHNOLOGY (MEITY)
UIDAI starts 88 Aadhaar Seva Kendras in 72 cities across the country
5.49 lakh Common Services Centres are functional out of which, 4.37 lakh CSCs are functional at the Gram Panchayat level
DigiLocker provides a dedicated cloud-based platform as a personal space to residents for the storage, sharing, and verification of documents & certificates.
Aarogya Setu App is now transformed into National Health App, bringing a whole plethora of digital health services powered by Ayushman Bharat Digital Mission.
Remarkable growth in digital transactions is seen for FY 2018-19, FY 2019-20 & FY20-21 where we have achieved 3134 crores, 4572 crores & 5554 Crore, respectively.
India has witnessed a big leap in Electronic Manufacturing with schemes like Production Linked Incentives, Promotion of Manufacturing of Electronic Components & Semiconductors.
Domestic production of Electronic Goods has increased substantially from ₹ 3,17,331 crore in 2016-17 to ₹ 6,40,810 crore in 2021-22 growing.
A NATIONAL-LEVEL ANALYSIS
Since its launch in 2013, eTaal has integrated over 4,000 e-services and supplied time-series data for around 416 billion e-transactions. Following shows that between 2013 and 2021, there were 43 times as many electronic transactions.
A number of factors have driven the growth of e-transactions in India. These include the Government's Digital India initiative, which has provided access to digital technologies to citizens; the growing number of mobile phone users and internet users; and the expansion of the e-commerce sector.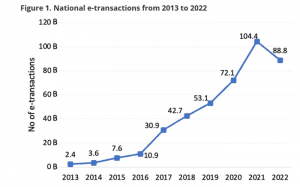 The growth in e-transactions has been most pronounced in the government sector, with transactions related to direct benefit transfers (DBT) and other public welfare schemes increasing significantly between 2013 and 2021. This is evidenced by the fact that e-transactions in the government sector accounted for nearly 88% of the total e-transactions in 2021
The development of e-payment infrastructure and the introduction of various digital payment systems has facilitated the growth of e-transactions. These include Unified Payment Interface (UPI), Immediate Payment Service (IMPS), and National Electronic Funds Transfer (NEFT). The Government has also launched several initiatives, such as the Digital India Financial Inclusion (DIFI) program, which has enabled.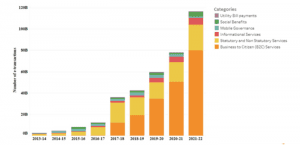 GROWTH OF e-TRANSACTIONS ACROSS STATES
In Kerala, the use of e-transactions for mobile services is incredibly widespread. This is largely attributable to the strong legacy of ICT-based reforms, starting with the Akshaya project, which was India's first e-governance project, and continuing with the governance project, which Kerala State IT Mission (KSITM) launched in early 2010 to cover over sixty state departments and provide mobile services using SMS and an integrated service delivery platform (Karunakaran 2011, Nissar 2014).
In comparison to other states, Andhra Pradesh, Gujarat, and Telangana have seen a rise in e-transactions for both statutory and non-statutory services. This is partly because of Andhra Pradesh and Telangana's exceptional adoption and implementation of "MeeSeva," a portal that offers smart and effective citizen-centric delivery of a full spectrum of G2B and G2C services through a one-stop platform.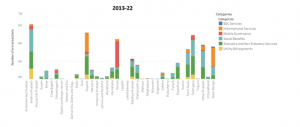 Gujarat initially saw a significant increase in e-transactions as a result of the issuance and receipt of public distribution system (PDS) food coupons, but over time, informational services like viewing exam results and property records online have also seen significant growth in usage. Gujarat has also been a pioneering state in e-governance implementation through initiatives, regulations, and infrastructure.
B2C SERVICE CATEGORY GROWTH
The B2C service category saw a 3823.8% increase in a number of e-transactions in FY2017-18, and since then the number has been growing at an exponential rate. Statutory and non-statutory services witnessed a 147.9% increase in e-transactions count in 2017-18, post which the growth has stagnated.
The Government has been pushing to increase the number of e-transactions in the B2C service category and has successfully implemented several initiatives that are encouraging customers to switch from physical transactions to digital ones. These initiatives include providing discounts, cashback, and loyalty points for digital payments, setting up digital kiosks for easy access to services, and introducing digital payment platforms such as UPI and e-wallets.
The implementation of Aadhaar-based authentication services has further facilitated the growth of e-transactions in the B2C service category. This has enabled customers to avail of services in a secure and convenient manner. The Government is also working towards the implementation of GST, which is expected to further boost the number of e-transactions in the B2C service category.

Overall, the growth of e-transactions in the B2C service category has been impressive and is expected to keep rising in the coming years. With the help of government initiatives, customers are increasingly switching towards digital transactions, and this trend is only going to increase further in the future.
eTAAL SERVICE OUTCOMES
1. Improved efficiency: Taal services provide an efficient way to manage and track payments across multiple sources. With Taal, customers can pay and receive money without having to worry about manual tracking and reconciliation.
2. Increased Security: Taal services employ advanced security measures to ensure that customers' data and payment information is kept safe and secure.
3. Faster Transactions: Taal services provide a fast and reliable way to make and receive payments. Customers can avoid the delays associated with traditional payment methods.
4. Increased Visibility: Taal services provide customers with a clear view of all their financial transactions, allowing them to better track their spending and manage their finances.
5. Lower Costs: Taal services are typically less expensive than traditional payment methods, making them a cost-effective option for customers.
6. Security: Taal services are secure, with data encryption and other security measures in place to ensure customer privacy and security.
7. Speed: eTaal services are fast, with payments typically processed in seconds or minutes.
8. Convenience: eTaal services are convenient, allowing customers to pay quickly and easily from any location.
9. Flexibility: eTaal services offer customers flexibility in how they pay, with support for multiple payment methods.
10. User Experience: eTaal services provide a good user experience, with a streamlined, intuitive interface.
MAXIMUM GOVERNANCE MINIMUM GOVERNMENT FOR DIGITAL EMPOWERMENT
Citizen centric e-Services aim to digitally empower the society and transform the economy.
They aim to restyle how citizens avail of services and participate in the economy using less cash, opting instead for UPI, internet banking, direct benefit transfer digital payment platform ete, using unique identification techniques, like Andhaar, so as to drive financial inclusion with minimum lapses and delays.
Government's push towards a Paperless. Presence less and Cashless model of e-governance and the launch of Aadhaar. UPI and BHIM have transformed the economy, Banking is fast moving from branch banking to a virtual world of banking called Digital Banking.
Various new citizen-centric and transformational digital platforms that have been developed include BHIM-UPI -NAM, GSTN, DigiLocker, Ge M. e-Hospital, MyGov, UMANG. SWAYAM, Jeevan Pramaan NSP etc.
These efforts are heavily dependent upon the efficient use of technology and as a result technology is increasingly being used to transform learning, economy and citizen services delivery mechanisms.
The reach mobile network, internet and electricity is expanding its reach to remote areas, thereby ensuring that the marginalized sections of the society are also brought into the mainstream.
Citizen centric e-Services focus on accessibility, quality, efficiency, affordability, delivery, mobility and user experience.
The Digital India programme and the tremendous focus of the Government on providing citizen centric e-Services are resulting in the Indian citizens witnessing not only a transformational shift in the delivery of services but also a better engagement of the Government with its citizens.
TOWARDS A NATIONAL DIGITAL HEALTH ECOSYSTEM
The National Health Policy 2017 approved by the Government had defined the vision of 'health and wellbeing for all at all ages'. Continuum of Care is a concept strongly advocated by the Policy. These lofty ideals are sought to be achieved by refactoring the existing schemes and introducing several new schemes including some digital.
Initiatives. Citizen centricity, quality of care, better access, universal health coverage, and inclusiveness are some of the key principles on which the Policy is founded. The realization of all these aspirations can be realized principally by leveraging the power of the digital technologies.
SEVEN YEARS OF DIGITAL INDIA MISSION: OUTCOMES
The Digital India Mission was launched in 2015 with the aim of transforming India into a digitally empowered country. The mission has achieved remarkable success in the past seven years and has enabled the country to reap many benefits, including:
Increased Access to Digital Services: The Digital India Mission has increased access to digital services in the country by providing internet connectivity to rural areas, setting up Common Service Centres (CSCs) and providing free Wi-Fi hotspots. This has enabled people to access essential services such as banking, health, education and employment opportunities more easily.
Digital Literacy: The mission has also focused on increasing the digital literacy of citizens. The Government has launched various initiatives to provide citizens training and awareness about using digital technologies and services. This has helped in improving the digital skills of citizens and enabled them to avail the benefits of the digital revolution.
Increased Transparency and Accountability: The mission has also improved transparency and accountability in the functioning of the Government.
This has been made possible through the implementation of various initiatives, such as e-procurement and e-bidding, which have made government processes more transparent and accountable.
Boosted Digital Economy: The Digital India Mission has helped in the growth of the digital economy by creating an enabling environment for businesses to use technology to enhance their operations and expand their customer base. This has resulted in an increase in the number of startups, innovations in digital payments, e-commerce, and digital financial services.
5. Improved Access to Government Services: One of the major achievements of the Digital India Mission is improved access to government services. The Government has developed a number of online portals and mobile applications to make it easier for citizens to access information, apply for services, and make payments. These portals have helped reduce the paperwork and waiting time associated with availing services.
CHALLENGES TO E-GOVERNANCE IN INDIA
1.INFRASTRUCTURE:
A lack of essential infrastructure, such as internet and electricity.
Steps in this direction have been taken through programmes like BharatNet and Saubhagya.
2. COSTLY
e-Government initiatives call for significant public spending.
One of the main barriers to the implementation of e-Governance initiatives in developing nations like India is the cost of projects.
3. SECURITY AND PRIVACY
The public's confidence in e-governance has been undermined by a recent spike in data breach instances.
Therefore, security standards and regulations for e-governance initiatives must be in place to protect the interests of all classes of the general populace.
4. INTERNET DIVIDE
Huge disparity between e-government service users and non-users.
Rich-poor, male-female, urban-rural, etc. sectors of the population are manifestations of the digital divide.
The gap must be closed before the advantages of e-governance can be fully realized.
THE WAY FORWARD:
Enhancing interoperability between e-governance systems requires the adoption of a hybrid strategy, which will include a centralized strategy for document management, knowledge management, file management, grievance management, etc.
The implementation of e-governance initiatives in rural areas needs to take into account the local conditions.
The Government should concentrate on creating methods for capacity building that are relevant, practical, distinct, and effective for a variety of stakeholders, including bureaucrats, citizens in rural and urban areas, elected officials, and others.
The delivery of services related to e-governance is being improved by the use of cloud computing, which is growing in importance. In addition to helping to save costs, cloud computing also helps to enable new services, enhance the educational system, and produce new employment and opportunities.
Meghraj- GI Cloud is a positive development. This programme aims to maximize government ICT spending while accelerating the delivery of e-services in the nation.
For countries like India, where participants come from many linguistic origins, e-Government through regional languages is appreciable.
THE CONCLUSION: Digital payments and UIDAI have been the key drivers of this growth, demonstrating the widespread success of two key elements of the Jan Dhan-Aadhaar-Mobile (JAM) trinity.Additionally, the transfer of social benefits (incorporating the third pillar of Jan Dhan accounts) has also seen 192% growth since 2015, which corroborates the widespread adoption of Direct Benefit Transfer (DBT) in almost all major developmental and social protection programmes of the Government of India. At a sub-national level, states and union territories with early adoption of e-government initiatives such as Andhra Pradesh, Telangana, Gujarat, and Kerala have led the way, with most other states catching up significantly post FY2017-2018.
MAINS EXAMINATION QUESTIONS:
Q1. What are the principles of effective public service delivery? Why is it an important component of governance? Explain in the context of Etaal service outcomes.
Q2. What are the most significant challenges to India's e-governance initiatives? Examine
ADDITIONAL INFORMATION:
DIGITAL SERVICES IN INDIA
Common Services Centres (CSCs): CSCs are the world's largest digital service delivery network, with wide reach in rural areas up to Gram Panchayat & Block level.
Meri Pehchaan, a National Single Sign-On (NSSO) was launched on July 4, 2022, by the Hon'ble Prime Minister, is a user authentication service wherein a single set of credentials can provide access to multiple online applications or services.
My Scheme was launched on July 4, 2022, by the Hon'ble Prime Minister, is a scheme eMarketplace, where citizens can discover eligible schemes based on his/her demography. More than 180 schemes of the 27 Central and State/UT Governments across 13 diverse categories have been hosted.
DigiLocker has provided a dedicated cloud-based platform as a personal space to residents for the storage, sharing, and verification of documents & certificates, thus it is helping in eliminating the use of physical documents. Over 13.5 crore users are registered with DigiLocker and over 562 crore documents are accessible via DigiLocker.
UMANG (Unified Mobile Application for New-age Governance) has been developed as a unified platform to deliver major Government services through Mobile. So far, 1,658 services from Central/State Govt. along with 20,197 Bharat Bill Payment Services (BBPS) have been on-boarded on UMANG.
India Stack Global has been initiated to showcase India Stack and its building blocks globally. At present, 12 key projects/platforms namely Aadhaar, UPI, Co-Win, API Setu, DigiLocker, AarogyaSetu, GeM, UMANG, Diksha, E-Sanjeevani, E-Hospital, and E-Office are made available at the portal of India Stack Global available in all UN languages.
API Setu: MeitY had notified the 'Policy on Open Application Programming Interfaces (APIs)' in 2015. The policy intended to promote efficient sharing of data among data owners and inter-and-intra Governmental agencies to achieve the objective of interoperable systems in order to deliver services in an integrated manner.
eSign provides easy, efficient, and secure signing of electronic documents by an Aadhaar holder. so far, 34.41 crore eSigns have been issued. Out of these, e-Sign issued by CDAC (i.e. under e-Hastakshar Project) is 8.22 crore.
National AI Portal has been developed to provide all information related to Artificial Intelligence to all stakeholders in a single place and promote awareness and communication on AI in the country.
Aarogya Setu: It is a mobile application launched by the Government of India on 2nd April 2020, to aid the COVID-19 efforts of the Government. The App works based on contact tracing methods and helps the Government identify, monitor and mitigate the spread of COVID-19 across the country.
GST Prime: GST-Prime is a product to help tax administrators to analyze and monitor tax collection and compliance within their jurisdiction. GST-Prime improves GST compliance, increases tax collection, increases the tax base, detects tax evasion and fraud and predict the effect of policy change.
 e-Taal 3.0 (Electronic Transaction Aggregation & Analysis Layer): et al provides a real-time aggregated view of the volume of eServices being delivered across different agencies of the Central, State and local Governments in India.
A vehicle Location Tracking System (VLTS) is designed to track and monitor public vehicles with the help of GPS-based tracking devices which gets fitted in Vehicles. The System also has a provision to send a panic alert which triggers an emergency response procedure to support passengers in distress with the help of effective monitoring using the Command Control Centre.
eChallan: A comprehensive traffic management solution using a mobile-based app and complementary web application which is Integrated with CCTV/ ANPR (Automatic Number Plate Reading) Cameras, RLVD/OSVD (Red Light/ Over Speed Violation) Devices, Later Guns etc for issuance of challan/ notices.
Electronic Human Resource Management System (eHRMS): eHRMS application is responsible for the maintenance of employee records in electronic form, from hiring to retirement. The Project includes scanning/digitization of the service book to capture the legacy data and provision of numerous online services through various modules; namely Service Book, Leave, LTC, Personal Information, Reimbursements, Advances, Tour, Helpdesk, etc
ServicePlus: It is a Meta Data Based e-Service Delivery Framework which helps in making all Government services accessible to the common man in his locality through common service delivery outlets. Presently, the framework is successfully running in 33 States/UTs facilitating more than 2,791 services of Central, State and Local Governments.
Open Government Data (OGD 2.0): The OGD Platform (https://data.gov.in) has been set up to provide proactive access to Government owned shareable data, along with its usage information.
Global Indices (E-Government Development Index): MeitY is the nodal ministry for the E-Government Development Index (EGDI) along with two-line Ministries/Departments viz. Department of Higher Education and Department of School Education and Literacy (DHE and DoSEL).
Spread the Word