HEALTH ISSUES
1. CHOLERA DISEASE
TAGS: PRELIMS- GS-II- HEALTH ISSUES
THE CONTEXT: According to the World Health Organization, the African continent is likely to see its worst cholera crisis this decade, driven by extreme weather events and poor water supply and sanitation infrastructure.
THE EXPLANATION:
About Cholera disease:
It is a life-threatening infectious disease and a public health hazard.
It is an acute, diarrheal illness caused by infection of the intestine with the bacterium Vibrio cholera.
Symptoms: Profuse watery diarrhoea, Vomiting,  Leg cramps etc
It is transmitted to humans through water or food which is contaminated with the cholera bacterium.
The disease can spread rapidly in areas with inadequate treatment of sewage and drinking water.
Currently, there are three WHO pre-qualified oral cholera vaccines (OCV), Dukoral, Shanchol, and Euvichol-Plus. All three vaccines require two doses for full protection.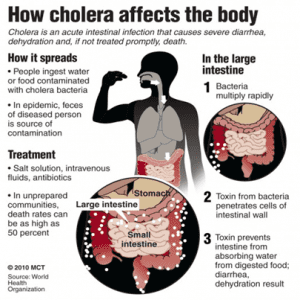 2. WHAT IS THE MARBURG VIRUS DISEASE?
TAGS: PRELIMS- GS-II- HEALTH ISSUES
THE CONTEXT: The World Health Organization recently said that Equatorial Guinea had confirmed its first-ever outbreak of Marburg disease.
THE EXPLANATION:
About Marburg virus disease (MVD):
MVD, earlier known as Marburg hemorrhagic fever, is a rare but severe hemorrhagic fever that affects both people and non-human primates.
Causative agent: MVD is caused by the Marburg virus, a genetically unique zoonotic (animal-borne) RNA virus. Marburg and Ebola viruses are both members of the Filoviridae family (filovirus).
Marburg virus was first recognized in 1967, when outbreaks of hemorrhagic fever occurred simultaneously in laboratories in Marburg and Frankfurt, Germany and in Belgrade, Yugoslavia (now Serbia).
The reservoir host of the Marburg virus is the African fruit bat, Rousettus aegyptiacus.
Transmission: The Marburg virus is transmitted to people from fruit bats and spreads among humans through human-to-human transmission.
Fatality: The average MVD case fatality rate is around 50%.
Treatment:
There is no specific treatment for Marburg virus disease.
Supportive therapy, such as intravenous fluids, electrolyte replacement, supplemental oxygen, as well as blood and blood products replacement, improves survival.
What are Viral hemorrhagic fevers (VHFs)?
VHFs are a group of diseases that are caused by several distinct families of viruses.
The term "viral hemorrhagic fever" refers to a condition that affects many organ systems of the body, damages the overall cardiovascular system, and reduces the body's ability to function on its own.
Some VHFs cause mild illnesses, while others can cause severe, life-threatening diseases.
Most VHFs have no known cure or vaccine.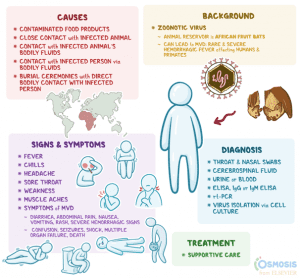 INDIAN AGRICULTURE
3. INFOCROP SIMULATION MODEL
THE CONTEXT: Recently, scientists at the Indian Agricultural Research Institute (IARI) in Delhi conducted a first-of-its-kind experiment to quantify the impact of the hot weather on crop yield in Punjab and Haryana by using InfoCrop version 2.1.
THE EXPLANATION:
About InfoCrop simulation Model:
In 2004, InfoCrop version 1 was launched by the IARI which is being updated regularly.
It is a dynamic simulation model for the assessment of crop yields, losses due to pests, and the environmental impact of agroecosystems in tropical environments.
It has the life cycle data for almost all the local varieties of 11 crops: paddy, wheat, maize, sorghum, pearl millet, pigeon pea, chickpea, soybean, groundnut, potato and cotton.
It provides daily and summary outputs on various growth and yield parameters, nitrogen uptake, greenhouse gas emissions, soil water and nitrogen balance.
InfoCrop version 2.1, India's only dynamic crop simulation model developed and released by the IARI in 2015 to study the long-term impact of climate change and crop management practices on yield.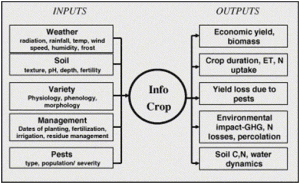 SCIENCE AND TECHNOLOGY
4. WHAT IS TAPAS UAV?
TAGS: PRELIMS- GS-III-SCIENCE & TECHNOLOGY
THE CONTEXT: Recently, the Prime Minister of India has shared aerial coverage of Ground and Air displays captured from an indigenously developed Medium Altitude Long Endurance TAPAS UAV during rehearsal from a height of 12000 feet.
THE EXPLANATION:
About TAPAS UAV: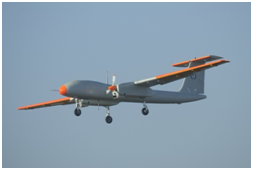 It is known as Tapas-BH (Tactical Airborne Platform for Aerial Surveillance-Beyond Horizon 201), formerly referred to as Rustom-II.
The UAV is named after Rustom Damania, a former professor at the Indian Institute of Science (IISc), Bengaluru.
It is designed and developed by the Aeronautical Development Establishment (ADE), Bengaluru with production partners being Hindustan Aeronautics Ltd and Bharat Electronics Limited.
It is being developed to carry out surveillance and reconnaissance (ISR) roles and is capable of carrying different combinations of advanced payloads and capable of auto-landing among others.
It is being designed to acquire real-time, high-quality pictures and signal intelligence from fields of concern at medium to long ranges.
Technologically it matches contemporary UAVs available and is also cheaper than the imported ones.
PRELIMS PERSPECTIVE
5. ALL INDIA DOMESTIC WORKERS SURVEY
TAGS: PRELIMS PERSPECTIVE
THE CONTEXT: The Minister of State for Labour and Employment recently informed Lok Sabha that the Labour Bureau has undertaken an All India Domestic Workers Survey.
THE EXPLANATION:
About All India Domestic Workers Survey:
This is the first-ever such survey in independent India which was initiated in 2021.
The survey would cover all States and Union Territories, covering 1.5 lakh households in 742 districts.
The main objectives of the survey are:

Estimate the number/proportion of domestic workers at the National and State level.
Household Estimates of Live-in/Live-out DWs.
The average number of DWs engaged by different types of households.
VALUE ADDITION:
About Labour bureau:
Labour Bureau is an attached office under the Ministry of Labour and Employment, which was set up on 1st October 1946.
It is entrusted with the work of compilation, collection, analysis and dissemination of statistics on different aspects of labour.
It releases Consumer Price Index Numbers for Industrial Workers, Agricultural/Rural Labourers, Retail Price Index of Selected Essential Commodities in Urban Areas etc.
Quick Employment Survey and Employment-Unemployment survey are also being conducted by Labour Bureau.
Spread the Word