INDIAN HISTORY
1. DAYANAND SARASWATI
TAGS: PRELIMS PERSPECTIVE-GS-I- HISTORY
THE CONTEXT: Recently, Prime Minister (February 12) paid tribute to Dayanand Saraswati on the 200th birth anniversary of the social reformer, hailing his contributions towards the fight against social discrimination and untouchability.
THE EXPLANATION: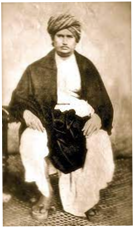 Dayanand Saraswati (1824-1883) was one of the most influential figures of 19th century India. A believer in the supreme authority of the vedas, he established the Arya Samaj in 1875, leading a reform movement within orthodox Hinduism. Among his various beliefs included a rejection of idolatry and the overly ritualistic traditions of Hinduism, support for women's education, denunciation of child marriage and an opposition to untouchability.
His magnum opus, Satyarth Prakash (1875), emphasised upon the "return to Vedic principles" that Dayanand Saraswati believed "had been lost" over time. The book uses the language of religious revivalism – hearkening back to a 'better' ancient past – in order to fashion a modern religious philosophy and organisation, capable of competing against the increasingly proselytising Christian missionaries.
Founding the Arya Samaj and Vedic Schools
By preaching the supremacy of the Vedas, Dayanand Saraswati harkened to a "better time" where true Sanatan Dharma was prevalent. While his teachings were very much in tune with the prevailing social conditions of his day, his message was formulated in the language of revivalism rather than progressive reform. This only added to his influence, especially among more conservative sections of society.
A major part of his mission was to address the fragmented nature of Hindu society. According to Dayanand Saraswati, the brahmans were primarily to blame for this – they had corrupted the Sanatan Dharma in order to maintain and grow their own status and influence in society. By depriving the laity of Vedic knowledge, they were successful in warping Hindu religion into something it was not, without the kind of theological backlash that they should have received.
POLITY
2. WHO ARE THE DAWOODI BOHRAS, AND WHAT IS THE EXCOMMUNICATION PETITION BEFORE SUPREME COURT?
TAGS: PRELIMS- GS-II- POLITY AND GOVERNANCE
THE CONTEXT: A five-judge Constitution Bench of the Supreme Court (February 10) referred the challenge to the constitutional validity of the practice of excommunication in the Dawoodi Bohra community to the nine-judge Bench constituted to review the September 28, 2018 Sabarimala judgment.
THE EXPLANATION:
The petition (Central Board of Dawoodi Bohra Community &Anr. v. State of Maharashtra &Anr) has been pending since 1986.
In October 2022, a Bench comprising Justices Sanjay Kishan Kaul, Sanjiv Khanna, A S Oka, Vikram Nath, and J K Maheshwari had reserved its order on whether to refer the matter to the nine-judge Bench in the Sabarimala review case, which is considering larger issues of essential religious practice.
Who are the Dawoodi Bohras?
The Dawoodi Bohras are Shia Muslims whose leader is known as the Al-Dai-Al-Mutlaq. According to members of the community, there are around 1 million Dawoodi Bohras spread around the world.
For over 400 years, the leader of the community has been based in India, including the current and the 53rd leader, His Holiness Dr Syedna Mufaddal Saifuddin.
The leader of the community is recognised by the members as having the right to excommunicate its members. In practical terms, excommunication means not being allowed to access a mosque belonging to the community or a burial dedicated to the community.
Among the members of the community who have faced excommunication in the past are those who contested the headship of the leaders.
How did challenge to the practice of excommunication begin?
On November 1, 1949, the Bombay Prevention of Excommunication Act (now repealed) was enacted, which sought to prevent the practice of excommunication prevalent in certain communities, as it led to the deprivation of legitimate rights and privileges of its members and in "keeping with the spirit of changing times and in public interest".
The law defined excommunication as the "expulsion of a person from any community of which he is a member, depriving him of rights and privileges which are legally enforceable by a suit of civil nature". It invalidated excommunication of any member, "notwithstanding anything contained in law, custom, usage" for the time being in force.
ECONOMIC DEVELOPMENTS- INDIAN AGRICULTURE
3. INDIA'S LATEST FARM EXPORTS DATA
TAGS: PRELIMS PERSPECTIVE-GS-III-ECONOMY
THE CONTEXT: India's agricultural exports are poised to scale a new peak in the financial year ending March 31, 2023. But so are imports, bringing down the overall farm trade surplus.
THE EXPLANATION:
Government data show the value of farm exports in April-December 2022, at $39 billion, was 7.9% higher than the $36.2 bn for the corresponding period of the previous year. At the present rate, the record $50.2 bn exports achieved in 2021-22 look set to be surpassed.
However, equally significant are the imports of agri produce that, at $27.8 bn in Apr-Dec 2022, have grown 15.4% over the $24.1 bn for Apr-Dec 2021. As a result, there has been a further shrinking of the surplus on the farm trade account. The accompanying table shows that the surpluses even in 2020-21 ($20.2 bn) and 2021-22 ($17.8 bn) were lower than the $22.7 bn and $27.7 bn of 2012-13 and 2013-14 respectively.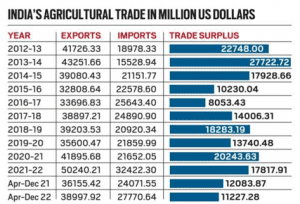 The two big contributors to India's agri-export growth have been rice and sugar.
India in 2021-22 shipped out an all-time-high 21.21 million tonnes (mt) of rice valued at $9.66 billion. That included 17.26 mt of non-basmati (worth $6.12 billion) and 3.95 mt ($3.54 billion) of basmati rice.
In the current fiscal, the growth has been primarily led by basmati rice. Its exports have gone up by 40.3% in value (from $2.38 billion in April-December 2021 to $3.34 billion in April-December 2022) and 16.6% in quantity (2.74 mt to 3.20 mt) terms. The corresponding increases have been less for non-basmati exports: 3.3% in value ($4.51 billion to $4.66 billion) and 4.6% in quantity (12.60 mt to 13.17 mt).
More spectacular perhaps is sugar. Sugar exports hit a record value of $4.60 billion in 2021-22, as against $2.79 billion, $1.97 billion, $1.36 billion, and $810.90 million in the preceding four fiscals. This fiscal has seen a further surge of 43.6%, from $2.78 billion in April-December 2021 to $3.99 billion in April-December 2022.

PRELIMS PERSPECTIVE
4. WHAT ARE QUASICRYSTALS?
TAGS: PRELIMS PERSPECTIVE
THE CONTEXT: Scientists have discovered a new type of quasicrystal, one with 12-fold symmetry, in the Sand Hills of north central Nebraska, USA, according to a recent study. It said that this quasicrystal was formed during an accidental electrical discharge, possibly by a lightning strike or a downed power line in a dune.
THE EXPLANATION:
Quasicrystal is essentially a crystal-like substance. However, unlike a crystal, in which atoms are arranged in a repeating pattern, a quasicrystal consists of atoms that are arranged in a pattern that doesn't repeat itself regularly.
According to the study, it's also the first time that researchers have found a quasicrystal somewhere other than meteorites or the debris from nuclear blasts. Notably, scientists have been producing them in laboratories for years now, but it's quite rare to discover naturally occurring quasicrystals.
"The dodecagonal quasicrystal is an example of a quasicrystal of any kind formed by electrical discharge, suggesting other places to search for quasicrystals on Earth or in space and for synthesising them in the laboratory".
What is a quasicrystal and where are they used?
For the longest time, physicists believed every crystalline arrangement of atoms must have a pattern that repeats itself perfectly over and over again. However, this changed in 1982, when material scientist Dan Shechtman discovered crystal structures that are mathematically regular, but that do not repeat themselves.
While studying diffraction patterns, which occur when X-rays are passed through the crystals, Shechtman noted "a regular diffraction pattern that did not match any periodically repeated structure", and concluded that he has come across what are now known as quasicrystals, according to the Nobel Prize website. For his discovery, he was awarded a Nobel Prize in Chemistry in 2011.
5. TARKASH JOINT EXERCISE
TAGS: PRELIMS PERSPECTIVE
THE CONTEXT: First time, India-US exercise includes response to nuke & bio terror attacks, Named TARKASH, the exercise by the National Security Guard (NSG) and US Special Operations Forces (SOF) is currently underway in Chennai (January 16 & February 14, 2023).
THE EXPLANATION:
The exercise comes in the backdrop of Russian allegations against Ukraine in May 2022 that Kyiv had orchestrated a chemical attack in Kharkiv to blame Russia and get military aid from the West.
According to sources, the various counter-terror drills carried out during the Chennai exercise, a drill to counter chemical and biological attacks by terrorists was also included.
"The Joint Exercise, for the first time, simulated a validation exercise for Chemical, Biological, Radiological and Nuclear (CBRN) terror response mission. During the mock validation exercise, a terrorist organisation armed with chemical agents threatened to attack a convention hall during an international summit. The objective of the joint exercise by NSG and US (SOF) teams was to rapidly neutralise the terrorists, rescue the hostages safely and deactivate the chemical weapons being carried by the terrorists".
During the course of joint exercise, both forces also conducted joint mock counter-terrorism drills at multiple locations in Chennai to enhance interoperability and coordination between the two special forces.
"The joint exercise between the two forces also involved sharing of best practices and tactics over a wide spectrum of anti-terror operations in urban environment, including close quarter battle, building intervention drills, hostage rescue operations, surveillance, long range sniping and planning complex operations involving multiple targets in multiple locations".
VALUE ADDITION:
Chemical, Biological, Radiological and Nuclear (CBRN):
CBRN weapons, which are also classified as weapons of mass destruction, have been used by States and terror elements in the past. The most recent use of CBRN in the form of a sarin gas attack was witnessed in Syria in 2017 when more than 100 people died.
According to the UN, the prospect of non-state actors, including terrorists and their supporters, gaining access to and using WMDs or CBRNs is a "serious threat to international peace and security".
Spread the Word