THE INDIAN POLITY AND GOVERNANCE
1.KERALA ASSEMBLY HOLDS 61 SITTINGS IN 2021, THE HIGHEST IN THE COUNTRY
THE CONTEXT:Kerala, which slipped to the eighth slot in holding the sittings of the State Assembly during the first wave of the COVID-19 pandemic in 2020, got back to the first place in 2021, with its House sitting for 61 days, the highest for any State.
THE EXPLANATION:
The southern State's showing in 2021 was impressive as the year saw the more virulent second wave of the COVID-19 pandemic. In fact, between 2016 and 2019, it had the distinction of remaining at the top with an average of 53 days.
Despite enjoying the record of having the highest number of sittings during 2021 for any State legislature, Kerala had promulgated 144 ordinances, also the highest in the country in 2021.
Ordinances are promulgated by governments, which are required to take immediate action on any matter, during the intervening period of two sessions of the legislature.
Odisha followed Kerala with 43 sitting days; Karnataka – 40 and Tamil Nadu – 34 days.
Of the 28 State Assemblies and one Union Territory's legislature, 17 met for less than 20 days. Of them, five — Andhra Pradesh, Nagaland, Sikkim, Tripura and Delhi — met for less than 10 days.
The National Commission to Review the Working of the Constitution (2000-02) had prescribed that the Houses of State (/Union Territory) legislatures with less than 70 members — for example, Puducherry — should meet for at least 50 days a year and other Houses (Tamil Nadu), at least 90 days. (Ten fall under the first category and 20 under the second).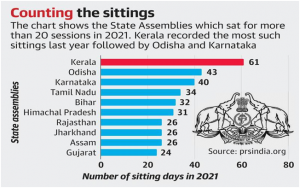 INTERNATIONAL ISSUES
2.JAISHANKAR PUSHES FOR CHABAHAR PORT AT SCO MEET
THE CONTEXT: India welcomed the expansion of the Shanghai Cooperation Organisation (SCO) to include Iran in 2023 year, as External Affairs Minister S. Jaishankar shared a table with Foreign Ministers of China Wang Yi, Pakistan Bilawal Bhutto, Russia Sergey Lavrov and central Asian countries at the ministerial meeting in Tashkent on 29 July 2022.
THE EXPLANATION:
Jaishankar held bilateral talks with his counterparts from Kazakhstan, Kyrgyzstan, Tajikistan and Uzbekistan, but no meetings with Mr. Bhutto, Mr. Wang or Mr. Muttaqi, who was also in Tashkent for a special SCO reach out, were announced.
Although the MEA release made no mention of it, the Russian embassy in Delhi tweeted that Mr. Jaishankar also held talks with Russian Foreign Minister Mr. Lavrov while in Tashkent, where it said they discussed bilateral ties and regional and international problems.
Jaishankar highlighted India's assistance to Afghanistan at the meeting.
ABOUT SCO
Prior to creation of SCO in 2001, Kazakhstan, China, Kyrgyzstan, Russia and Tajikistan were members of the Shanghai Five.
Shanghai Five (1996) emerged from a series of border demarcation and demilitarization talks which the four former Soviet republics held with China to ensure stability along the borders.
Following the accession of Uzbekistan to the organisation in 2001, the Shanghai Five was renamed the SCO.
Eurasian political, economic and military organisation aims to maintain peace, security and stability in region.
India and Pakistan became members in 2017.
8 members: Kazakhstan, China, Kyrgyzstan, Russia, Tajikistan, Uzbekistan, India, Pakistan
Secretariat: Beijing
Official languages: Russian and Chinese.
The Regional Anti-Terrorist Structure (RATS) is a permanent organ of the Shanghai Cooperation Organisation (SCO) which serves to promote cooperation of member states against the three evils of terrorism, separatism and extremism. Its headquarters are located in Tashkent, Uzbekistan.
THE ENVIRONMENT, ECOLOGY AND CLIMATE CHANGE
3.ASSAM'S MANAS RESERVE HAS MORE TIGRESSES THAN TIGERS
THE CONTEXT: The Manas Tiger Reserve in Assam has 2.4 tigresses for every tiger, the annual wildlife monitoring results of the trans-boundary wildlife preserve has revealed.
THE EXPLANATION:
According to the latest camera trapping assessment stipulated by the National Tiger Conservation Authority (NTCA), the 2,837.31 sq. km reserve with a critical tiger habitat area of 536.22 sq. km has 52 adult tigers along with eight cubs.
This is an increase of eight adults and four cubs over 2021, as per the results released on Global Tiger Day.
The assessment said 29 tigers were "repeated" from 2021 while 23 new tigers were reported. The gender of 27 tigers could be properly ascertained – eight of them males and 19 females, giving a sex ratio of 1:2.4, which is "positively skewed towards females from the ecological point of view", a statement from NTCA said.
This analysis, which will form a baseline for all future assessments, showed Manas has an estimated 3,220 hog deer, 2,613 elephants, 1,656 wild buffaloes, 1,174 gaurs or Indian bison and 804 sambhars.
Manas National Park
Manas National Park or Manas Wildlife Sanctuary located in Assam is a UNESCO World Heritage Site, a Project Tiger Reserve, An Elephant Reserve as well as Biosphere Reserve.
Unique in all respects, this legendry park is an abode of numerous species of fauna like An Asiatic Elephant, Tiger, Indian One Horned Rhinoceros, Leopards, Barking Deers, Hoolock Gibbons and many more to list.
Manas National Park have an unique identity that makes it very different from the other wildlife sanctuaries of the world that it is a home to some of highly rare and endangered wildlife species such as Red Panda, Pygmy Hog, Golden Langur, the Hispid Hare and the Assam Roofed Top Turtle.
Indian tigers and Asiatic Water Buffalo are also found here.
4.WET REGIONS MAY BEHAVE LIKE DRYLANDS
THE CONTEXT: Heatwaves and droughts can change the rules of wet regions, causing them to adopt the processes prevalent in the dry areas of the world, a new study has suggested.These findings suggest that desert-like changes could emerge in Europe and the United States, regions currently swept by heatwaves.
THE EXPLANATION:
Dryland mechanisms are processes that predominately occur in drylands, including arid and semi-arid ecosystems.
The researchers combed through previous studies to find clues on dryland mechanisms in wetter and temperate regions.
They also analysed published data from remote sensing and climate models to understand how these mechanisms operate in regions with no water limitations.
Dryland mechanisms are expected to strike when soil water content drops below roughly 25-35 per cent and soil temperature above approximately 25-50°C, the study observed.
Their analysis outlined 12 dryland mechanisms operating in wetter regions after a drought or a heatwave.
One mechanism is the passive movement of soil water from moist to dry soil layers via the plant roots, traversing wet and dry areas.
Another mechanism restricted mostly to drylands are degradation of plant litter.
In wet systems, microbes decompose dead matter, whereas, in arid regions, intense solar irradiance does the job.
 THE ECONOMIC DEVELOPMENTS
5.PM MODI INAUGURATES INDIA'S FIRST BULLION EXCHANGE AT GIFT CITY, GANDHINAGAR
THE CONTEXT: On 29th July, Prime Minister Narendra Modi launched the India International Bullion Exchange (IIBX) at Gujarat International Finance Tec-City (GIFT City) as well as laid the foundation stone of the unified regulator International Financial Services Centres Authority's headquarters building.
 THE EXPLANATION:
GIFT City is India's maiden International Financial Services Centre (IFSC).
As per the International Financial Services Centres Authority (IFSCA), the India International Bullion Exchange will facilitate efficient price discovery with the assurance of responsible sourcing and quality, apart from giving impetus to the financialisation of gold in India.
India is the world's second biggest consumer of gold and the move to set up the IIBX is seen as India's effort to bring transparency to the market for the precious metal.
Moreover, setting up of IIBX could lead to standard gold pricing in the country and make it easier for small bullion dealers and jewellers to trade in the precious metal.
What is an international bullion exchange?
Bullion refers to physical gold and silver of high purity often kept in the form of bars, ingots, or coins. It can be considered legal tender and is often held as reserves by central banks or held by institutional investors.
Though there are several bullion markets around the world, the London Bullion Market, which allows trading 24 hours a day and facilitates futures and options trading, is the primary global market trading platform for gold and silver.
These bullion markets are typically over-the-counter (OTC) markets, that is to say, they deal in physical gold and silver.
India, a leading importer of bullion
India is a leading importer of the metal and imported 1,069 tonnes of gold in 2021, up from 430 tonnes a year ago. The yellow metal is tightly regulated in the country and currently only nominated banks and agencies approved by the Reserve Bank Of India can import gold and sell to dealers and jewellers across the country.
While launching the new exchange and laying foundation stone for new projects in GIFT city, his pet project, the PM said that India is among the biggest economies in the world and is now joining the league of global financial centres like the United States, the United Kingdom and Singapore.
What about the IIBX?
The National Stock Exchange, Multi Commodity Exchange, India INX International Exchange, National Securities Depository and Central Depository Services Ltd have joined hands to establish the holding company India International Bullion Holding IFSC, which will operate the International Bullion Exchange.
The IIBX, announced in the 2020 Union Budget, has enrolled jewellers to trade on the exchange and set up the infrastructure to store physical gold and silver.
56 qualified jewellers have been approved by the IFSC regulator IFSCA to import bullion and transact on the exchange.
To become a qualified jeweller, one must has a minimum net worth of Rs 25 crore and 90 per cent of the average annual turnover in the last three financial years through deals in goods categorised as precious metals, as per Indian Express.
The exchange will have three vaults – one operated by Sequel Global (ready and approved), the second one to be operated by Brinks India is ready and awaiting final approval and the third under construction.
How will it work?
Once gold is imported, it will be stored at the IFSC Authority-approved vault.
Being a spot exchange, all the open positions will be marked for delivery at the end of the day.
The initial pilot trading at the exchange with small transactions in last few months has been successful.
 6.CORE SECTOR OUTPUT EXPANDS BY 12.7% IN JUNE
THE CONTEXT: India's eight core sectors' output growth moderated to 12.7% in June from 18.1% in May, with all sectors except crude oil registering an uptick in production.
THE EXPLANATION:
Coal, Cement, Electricity and refinery products rose 15% or more, compared to June 2021 output levels, while natural gas (1.2%), steel (3.3%) and fertilisers (8.2%) grew at a milder pace. Crude oil output dropped 1.7% from a year ago, returning to contractionary territory after recording the first uptick in several months this May.
The Commerce and Industry Ministry also revised the index of eight core industries for the months of March and May. March core sectors' growth was pared to 4.8% from 4.9% estimated earlier, while May's output growth from these sectors was revised higher at 19.3% from the previous estimate of 18.1%.
While June marks the second successive month of double-digit growth in core sectors, which constitute about 40% of the Index of Industrial Production (IIP), overall core output shrank 4.08% compared to the previous month.
Cement and fertilisers were the only sectors to record a sequential month-on-month growth in output in June of 6.9% and 0.32%, respectively.
Compared to pre-COVID levels, the core sectors reported an 8% growth in June with a healthy performance of all the sectors except steel and crude oil, said Aditi Nayar, chief economist at ICRA.
The disaggregated trends are exceedingly mixed, she said, ranging from a contraction in crude oil to a robust expansion of 31% in coal. The broad-based moderation in the growth rate to 12.7% from 19.3% in May, she attributed to the 'normalising base' effects from 2021 amid the second COVID-19 wave.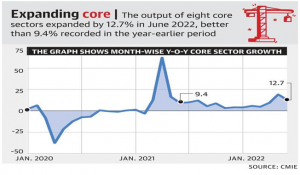 THE PRELIMS PRACTICE QUESTIONS
QUESTIONS OF THE DAY
Q1. Regional Anti-Terror Structure (RATS), sometimes seen in news, is relate to which of the following organization?
a) NATO
b) CENTO
c) SCO
d) EU
Q2. Which of the following is not a member of Shanghai Cooperation Organisation (SCO)?
a) Kazakhstan
b) Afghanistan
c) Tajikistan
d) Uzbekistan
ANSWER FOR THE PRACTICE QUESTION
Answer: D
Explanation:
Kuchipudi is one of the classical styles of Indian dance.
In 17th century Kuchipudi style of Yakshagaana was conceived by Siddhendra Yogi a talented Vaishnava poet and visionary who had the capacity to give concrete shape to some of his visions.
It is said that Siddhendra Yogi had a dream in which Lord Krishna asked him to compose a dance-drama based on the myth of the bringing of paarijaata flower for Sathyabhaama, the most beloved queen of Krishna. In compliance with this command Siddhendra Yogi composed the Bhaamaakalaapam which is till now considered the piece-deresistance of the Kuchipudi repertoire. Siddhendra Yogi initiated young Brahmin boys of Kuchipudi village (Andhra Pradesh) to practice and perform his compositions particularly Bhaamaakalaapam.
It was Lakshminarayan Shastry (1886-1956) who introduced many new elements including solo dancing and training of female dancers in this dance style.
To show the dexterity of the dancers in footwork and their control and balance over their bodies, techniques like dancing on the rim of a brass plate and with a pitcher full of water on the head was introduced.
The music that accompanies the dance is according to the classical school of Carnatic music. The accompanying musicians, besides the vocalist are: a mridangam player to provide percussion music, a violin or veena player or both for providing instrumental melodic music, and a cymbal player who usually conducts the orchestra.
Spread the Word