THE INDIAN POLITY AND GOVERNANCE
1. SOYA MEAL AS AN ESSENTIAL COMMODITY
THE CONTEXT: In a bid to cool down the domestic prices of Soya Meal, Government has notified an Order under the Essential Commodities Act to declare 'Soya Meal' as an Essential Commodities up to 30th June 2022 by amending the Schedule of the Essential Commodities Act, 1955.
THE EXPLANATION:
The decision would empower the Union Government and all States/UTs to regulate production, distribution etc. of Soya Meal and to smoothen the sale and availability of this item in the market. It will stop unfair market practices and enhance the availability for consumers like Poultry farm and Cattle feed manufacturers.
According to the ministry, the following stock limits have been promulgated of all Soya meal for a period upto 30 June 2022 with following stock limits for all States and Union Territories:
Plant/Miller/Processor: Maximum stock of 90 days production, as per daily input production capacity of Plant/Miller/Processor, defined in its IEM. The storage location should be declared.
Trading company/Trader/Private Chaupals: Only Government registered enterprise, maximum stock of 160 MT with a defined and declared storage location.
These measures are expected to stop any unfair practices (like hoarding, black marketing, etc.) in the market having the potential to hike the prices of Soya Meal. Consequently, the market price of Soyabean Oil will cool down.
What is meant by the Essential Commodity Act?
The Act gives powers to the central government to add or remove a commodity in the "Schedule." The Centre, if it is satisfied that it is necessary to do so in public interest, can notify an item as essential, in consultation with state governments.
At present, the "Schedule" contains 9 commodities — drugs; fertilisers, whether inorganic, organic or mixed; foodstuffs, including edible oils; hank yarn made wholly from cotton; petroleum and petroleum products; raw jute and jute textiles; seeds of food-crops and seeds of fruits and vegetables, seeds of cattle fodder, jute seed, cotton seed; face masks; and hand sanitisers.
How and under what circumstances can the government impose stock limits?
Under the amended EC Act, agri-food stuffs can only be regulated under extraordinary circumstances such as war, famine, extraordinary price rise, and natural calamity.
However, any action on imposing stock limits will be based on the price trigger.
Thus, in case of horticultural produce, a 100 per cent increase in the retail price of the commodity over the immediately preceding 12 months or the average retail price of the last five years, whichever is lower, will be the trigger for invoking the stock limit for such commodities.
For non-perishable agricultural foodstuffs, the price trigger will be a 50 per cent increase in the retail price of the commodity over the immediately preceding 12 months or the average retail price of the last five years, whichever is lower.
THE SOCIAL ISSUES AND SOCIAL JUSTICE
2. LIFE EXPECTANCY REDUCED IN 2020
THE CONTEXT: According to the report published in the British Medical Journal November 2021 Observed that life expectancy in 2020 reduced in 29 of the 37 countries surveyed compared to the expected figures, decreased by 1.1-2.3 years for men and 1.1-2.1 years for women.
THE EXPLANATION:
The reduction of life expectancy across the globe during the first year of the novel coronavirus disease (COVID-19) pandemic was alarming, reversing progress made in past years, "more than 28 million excess years of life were lost in 2020 in 31 countries, with a higher rate in men than women.
Also, the study noted, the excess years of life lost associated with the COVID-19 pandemic in 2020 were more than five times higher than those associated with the seasonal influenza epidemic in 2015".
Russia recorded the largest drop in life expectancy — for men it fell by 2.33 years and for women by 2.14 years. This was followed by the United States, where the figure for men reduced by 2.27 years and by 1.61 for women.
New Zealand, Taiwan and Norway recorded increases while the figures remained unchanged for Denmark, Iceland, and South Korea.
Prior to the COVID-19 pandemic, all 37 countries recorded an increase in life expectancy between 2005 and 2019. Only in 2015 was there an anomaly, where life expectancy dropped during the influenza outbreak.
According to the report "the overall, the excess years of life lost (YLL) in the 37 countries was 5 times higher during the COVID-19 pandemic in 2020 than the excess YLL associated with the seasonal influenza epidemic in 2015. The absolute difference was of 2,050 years of life lost per 100,000.
 INDIAN ECONOMY
3. MONETARY POLICY IS FINANCIALLY INCLUSIVE'
THE CONTEXT: According to the RBI deputy Governor, India's monetary policy is by design financially inclusive, the evidence of which is still coalescing, and increased inclusion will over time enhance policy effectiveness by fostering societal intolerance to inflation.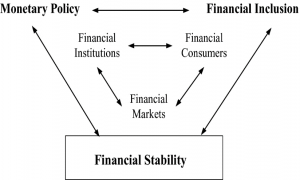 THE EXPLANATION:
"Although it is empirically observed that there is a two-way relationship between monetary policy and financial inclusion, it is unambiguous that financial inclusion is able to dampen inflation and output volatility".
"This is achieved by smoothing consumption by enabling people to draw down financial savings in difficult times for everyday needs. In the process, it makes people interest sensitive. Moreover, inflation targeting monetary policy ensures that even those at the fringe of financial inclusion are secured from adverse income shocks that hit them when prices rise unconscionably".
Observing that financial inclusion appeared to have increased, with the level of the RBI's financial inclusion index rising from 9 in March 2019, to 53.1 in March 2020, and further to 53.9 in March 2021: "The evidence is still forming and strong conclusions from its analysis may be premature, but India's monetary policy is by design" inclusive.
Financial inclusion appeared to be the lowest in rural, agriculture-dependent areas where food was the main source of income.
Price stability target
In this kind of a situation, the efficacy of monetary policy in achieving its stabilisation objective increases by targeting a measure of prices that includes food prices rather than one that excludes them such as core inflation.
In India, food accounts for 46% of the CPI, among the highest shares globally.
"The lower the level of financial inclusion, therefore, the stronger is the case for price stability being defined in terms of headline inflation rather than any measure of core inflation that strips out food and fuel".
How to measure Financial Inclusion?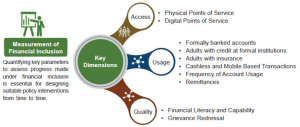 THE ENVIRONMENT AND ECOLOGY
4. RECORD DEMAND FOR COAL POWER IN 2021
THE CONTEXT: According to International Energy Agency (IEA), Carbon emissions from coal will be 3 gigatonnes higher in 2024 than required to achieve Net Zero emissions by 2050.
THE EXPLANATION:
The Global demand for coal-fired electricity has grown 6 per cent in 2021 to 7,906 million tonnes (Mt) and generation 9 per cent to 10,350 terawatt-hours (TWh), according to a new report. Generation has increased 12 per cent in India and 9 per cent in China, a record for both.
On the supply side, coal production did not keep pace with demand, Shortages occurred due to supply chain issues and adverse weather conditions leading to "power outages and idled factories.
IEA projected, major coal producing countries such as China, India, Indonesia and Russia are expected to boost production. As a result, coal production will hit its highest level in 2022 and then plateau as demand flattens.
Coal was in focus at the 26th Conference of Parties (COP 26) to the United Nations Framework Convention on Climate Change in Glasgow November 2021. "Cash, coal, cars and trees" was the marketing term used by United Kingdom Prime Minister to capture the UK's strategy at the summit.
Net Zero Commitment:
Several countries made commitments to phase out coal power or stop financing coal abroad through announcements like the Global Coal to Clean Power Transition Statement and the Powering Past Coal Alliance. Despite this, the new IEA report finds that the 2021 rebound in coal consumption and future trends will result in three gigatons higher CO2 emissions from coal in 2024 than its Net Zero Emissions by 2050 Scenario (NZE). The NZE outlines a roadmap for the energy sector to achieve net-zero carbon emissions by 2050.
China dominates coal use globally; "it is the largest consumer, producer and importer – has no parallel with any other country", said IEA in the report. The country's coal consumption is more than half of the global total, despite efforts to expand hydro, wind, solar and nuclear power.
India's Picture:
In India, coal comprised 74 per cent of the power mix in 2021, up from 72 per cent in 2020. As electricity access expands, coal demand is expected to increase by 3.9 per cent on average till 2024.EFENCE AND SECURITY
The country plans to boost domestic coal production following the 2021 shortages, rising to an expected 955 Mt by 2024 from 793 Mt in 2021, according to IEA. This is a far cry from India's support of a coal "phase-down" in the final text of the COP 26 pact – a thorny issue, that attracted a fair amount of backlash from Western media outlets, despite receiving support from countries like China and US.
India's ground reality is complex. Keeping its multiple developmental goals of energy access, livelihoods and poverty reduction in mind, the transition away from coal must be done with clear strategic intent and deliberate planning.
At the same time, the co-benefits of transitioning to a zero-carbon energy system as soon as possible are undeniable. And the Union government's domestic efforts do not echo its global statements.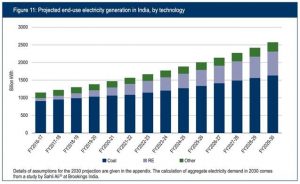 5. PRALAY QUASI-BALLISTIC MISSILE
THE CONTEXT: The Defense Research and Development Organization (DRDO) successfully carried out the maiden test of 'Pralay', a new surface-to-surface conventional quasi-ballistic missile, in a boost for India's tactical battlefield strategy.
THE EXPLANATION:
A quasi-ballistic missile has a low trajectory, and while it is largely ballistic, it can manoeuvre in flight. The missile has a range of 150-500 kilometers and has been developed according to specifications given by eventual user, the Army.
According to the Defense Ministry, new missile reached the designated target with a high degree of accuracy, validating the control, guidance and mission algorithms.
Significance:
The missile is powered with a solid propellant rocket motor and multiple new technologies. Sources in the defense establishment underlined that accuracy is a highlight of this missile.
Capable of being launched from a mobile launcher, it has the latest navigation system and integrated avionics, and will be part of the Artillery Corps of the Army.
Pralay will be the longest-range surface-to-surface missile in the inventory of the Army, which sources said will give a fillip to their operational plans.
The Army also has the BrahMos supersonic cruise missile in its arsenal, with a stated range of 290-plus kilometers.
'Change tactical battlefield dynamics'
According to the Scientist, "It will completely change the tactical battlefield dynamics and India will have two conventional missiles with long range. The BrahMos will be a cruise option and this one will be the ballistic option. Cruise missiles and ballistic missiles have their own distinct advantages.
While cruise missiles have high agility, stealth and even loitering capability, ballistic missiles have the advantage of speed and countering them is a very difficult task even for modern air defence systems.
6. INS SUDARSHINI DEPLOYMENT TO GULF COUNTRIES
THE CONTEXT: INS Sudarshini is presently on its culmination phase of deployment to Gulf region as part of Indian Navy's efforts towards familiarising friendly foreign navies on various facets of operations and training on board sail training platforms and extending 'Bridges of Friendship'.
THE EXPLANATION: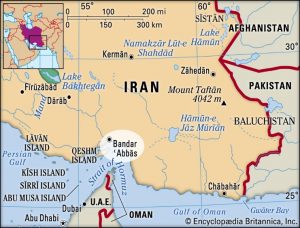 IRI Navy Trainee officers (Sea Riders) designated to undergo sail training visited the ship for a familiarisation tour of the ship. Practical knowledge on subjects of seamanship, sail arrangement, rope work and the technicalities of sail training were shared. Hands-on practical knowledge and experience on sail rigging of both sides was also imparted during this visit.
The ship would be staying at Bandar Abbas for three days which includes a visit to Naval Base (Bandar Abbas) and embarkation of Sea Riders from the IRI Navy to provide sail training experience over a day's sortie.
PLACES IN NEWS:
IMPORTANCE OF BANDAR ABBAS
The Port of Bandar Abbas is over 575 nautical miles (775 kilometers or 482 miles direct) southeast of Iran's Imam Khomeini Port.
The International North-South Transport Corridor (INSTC) is a 7,200-km-long network of moving freight by ships, railways, and roads. The corridor aims to connect India, Iran, Afghanistan, Azerbaijan, Russia, Central Asia and Europe via Bandar Abbas. The cities that would be interlinked by this corridor include Mumbai, Moscow, Tehran, Baku, Bandar Abbas, Astrakhan, and Bandar Anzali.
This will also synchronize with the Ashgabat agreement, a Multimodal transport agreement signed by India, Oman, Iran, Turkmenistan, Uzbekistan and Kazakhstan, for creating an international transport and transit corridor facilitating transportation of goods between Central Asia and the Persian Gulf.
THE PRELIMS PRACTICE QUESTION
1. Consider the following statements about Election Commission:
Indian Constitution provides for establishment of Election Commission as multi-member
CEC and ECs have equal powers and equal salary, allowances which are similar to a judge of a High Court.
Constitution has debarred CEC and ECs from any further appointment by government after their retirement.
Which of the statements given above is/are incorrect?
      a) 1 only                             b) 1 and 2 only
      c) 2 and 3 only                 d) All of them
ANSWER FOR 24TH DECEMBER 2021
Answer: a)
Explanation:
Eligibility criteria:
Adult woman (attained 18 years of age) belonging to any of the following categories.
SC Households
ST Households
Pradhan Mantri Awas Yojana (Gramin)
Most Backward Classes
Antyodaya Anna Yojana (AAY)
Tea and Ex- Tea Garden tribes
Forest Dwellers
People residing in Islands and River Islands
SECC Households (AHL TIN)
Poor Household as per 14-point declaration
Spread the Word