INDIAN HISTORY AND ART & CULTURE
1. NIZAMUDDIN BASTI CONSERVATION PROJECT WINS TWO UNESCO AWARDS
THE CONTEXT: Delhi's Nizamuddin Basti has received two awards at the UNESCO Asia-Pacific Awards for Cultural Heritage Conservation for the year 2021. The conservation initiative at Nizamuddin bagged the Award of Excellence and Special Recognition for Sustainable Development Award.
THE EXPLANATION:
The conservation efforts include the restoration of over 20 historic monuments clustered around the 14th century mausoleum of Sufi saint Hazrat Nizamuddin Auliya. Stakeholders are also working towards the revival of local crafts and job creation.
The Nizamuddin Urban Renewal Initiative was the only award-winning entry from India.
The Nizamuddin Area comprises the World Heritage Site of Humayun's Tomb, the centuries-old settlement of Hazrat Nizamuddin Basti and Sunder Nursery, in addition to the 16th Century Batashewala Tomb-Garden Complex, tomb of 16th Century courtier poet Khan I Khanan 'Rahim', and the Mughal-period caravanserai of Azimganj Serai.
In 2020, the Sunder Nursery Conservation (formerly called Azim Bagh or Bagh-e-Azeem, is a 16th-century heritage park complex adjacent to the Humayun's Tomb, )also received the twin UNESCO Awards — the Award of Excellence, 2020 & Special Recognition for Sustainable Development.
Since 2000, the UNESCO Asia-Pacific Awards for Cultural Heritage Conservation programme has been recognising the efforts of private individuals and organisations in restoring, conserving, and transforming structures and buildings of distinct heritage value in the region.
2. PAIKA REBELLION
THE CONTEXT: Recently the Odisha Chief Minister requesting the centre that the Paika rebellion be declared the first war of Independence. However,the union government said, the 1817 Paika rebellion of Odisha could not be called the first war of Independence, but considering it as a beginning of a popular uprising against the British, it would be included as a case study in the Class 8 National Council of Educational Research and Training (NCERT) history textbook.
BACKGROUND:
Who are Paikas?
Paikas were essentially the peasant militias of the Gajapati rulers of Odisha who rendered military service to the king during times of war while taking up cultivation during times of peace.
They were the traditional land-owning militia of Odisha and served as warriors.
How the rebellion began?
When armies of the East India Company overran most of Odisha in 1803, the Raja of Khurda lost his primacy and the power and prestige of the Paikas went on a decline. So, they rebelled back.
The British were not comfortable with these aggressive, warlike new subjects and set up a commission under Walter Ewer to look into the issue.
The commission recommended that the hereditary rent-free lands granted to the Paikas be taken over by the British administration and this recommendation was zealously adhered to. They revolted against the British.
Bakshi Jagabandhu Bidyadhar Mohapatra Bharamarbar Rai, the highest-ranking military general of King of Khorda Mukund Dev II, led the Paikas to join the uprising.
However, the rebellion also had several other underlying causes – like the rise in the price of salt, abolition of the cowrie currency for payment of taxes and an overtly extortionist land revenue policy.
Outcome:
Although initially the Company struggled to respond they managed to put down the rebellion by May 1817. Many of the Paik leaders were hung or deported. Jagabandhu surrendered in 1825.
Nationalist movement or a peasant rebellion?
The Paika Rebellion is one among the peasant rebellions that took place in India when the British East India Company was expanding its military enterprise. Because these uprisings violently clashed with European colonialists and missionaries on many occasions, their resistance is sometimes seen as the first expression of resistance against colonial rule — and therefore considered to be "nationalist" in nature.
In 2019 the Union Government released the commemorative coin and postage stamp in memory of Paika Rebellion.
WINTER PARLIAMENTARY PROCEEDING
3. THE DAM SAFETY BILL, 2019
THE CONTEXT: Winter Session of the Parliament 2021, both the houses of the parliament has passed the Dam Safety Bill 2019.
HIGHLIGHTS OF THE BILL:
The Bill provides for the surveillance, inspection, operation, and maintenance of all specified dams across the country. These are dams with height more than 15 metres, or height between 10 metres to 15 metres with certain design and structural conditions.
It constitutes two national bodies: the National Committee on Dam Safety, whose functions include evolving policies and recommending regulations regarding dam safety standards; and the National Dam Safety Authority, whose functions include implementing policies of the National Committee, providing technical assistance to State Dam Safety Organisations (SDSOs), and resolving matters between SDSOs of states or between a SDSO and any dam owner in that state.
It also constitutes two state bodies: State Committee on Dam Safety, and State Dam Safety Organisation. These bodies will be responsible for the surveillance, inspection, and monitoring the operation and maintenance of dams within their jurisdiction.
Functions of the national bodies and the State Committees on Dam Safety have been provided in Schedules to the Bill. These Schedules can be amended by a government notification.
An offence under the Bill can lead to imprisonment of up to two years, or a fine, or both.
Key Issues and Analysis
The Bill applies to all specified dams in the country. This includes dams built on both inter and intra state rivers. As per the Constitution, states can make laws on water including water storage and waterpower. However, Parliament may regulate and develop inter-state river valleys if it deems it necessary in public interest.  The question is whether Parliament has the jurisdiction to regulate dams on rivers flowing entirely within a state.
The functions of the National Committee on Dam Safety, the National Dam Safety Authority, and the State Committee on Dam Safety are listed in Schedules to the Bill. These Schedules can be amended by the government through a notification. The question is whether core functions of authorities should be amended through a notification or whether such amendments should be passed by Parliament.
BACKGROUND:
As of June 2019, India has 5,745 large dams (includes dams under construction).  Of these, 5,675 large dams are operated by states, 40 by central public sector undertakings, and five by private agencies. Over 75% of these dams are more than 20 years old and about 220 dams are more than 100 years old. Most of these large dams are in Maharashtra (2394), Madhya Pradesh (906), and Gujarat (632).
Importance:
As a large amount of water may be stored in a dam's reservoir, its failure can cause large scale damage to life and property. Therefore, monitoring dam safety is essential.
The Central Dam Safety Organisation, under the Central Water Commission (CWC), provides technical assistance to dam owners, and maintains data on dams.
The National Committee on Dam Safety devises dam safety policies and regulations. Currently, 18 states and four dam owning organisations have their own Dam Safety Organisations. CWC provides that each dam owner should carry out pre and post monsoon inspections (covering site conditions, dam operations) every year.
 Obligation of dam owners:
Dam owners will be responsible for the safe construction, operation, maintenance and supervision of a dam. They must provide a dam safety unit in each dam. This unit will inspect the dams: (i) before and after monsoon season, and (ii) during and after every earthquake, flood, calamity, or any sign of distress. Functions of dam owners include: (i) preparing an emergency action plan, (ii) carrying out risk assessment studies at specified regular intervals, and (iii) preparing a comprehensive dam safety evaluation through a panel of experts.
 POLITY, GOVERNANCE AND SOCIAL ISSUES
4. INDIA REPORTS FIRST CASES OF OMICRON
THE CONTEXT: Two men in the southern Indian state of Karnataka have tested positive for the Omicron coronavirus variant. One of them, a 66-year-old South African national, had travelled from there and has already left India. The second – a 46-year-old doctor in the southern Indian city of Bengaluru – has no travel history.
THE EXPLANATION:
These are the first cases of the new Omicron variant to be reported in India.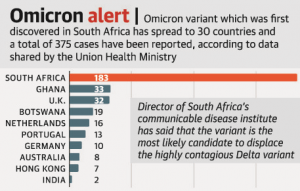 The World Health Organization (WHO) has warned that Omicron poses a "high infection risk".
South Africa alerted the world to the new variant on 24 November after it detected its first case of Omicron. Several countries have since announced travel restrictions.
Initial evidence suggests Omicron has a higher re-infection risk. But scientists say it will take another three weeks to know how the heavily mutated variant impacts the effectiveness of various vaccines.
WHO GUIDELINES: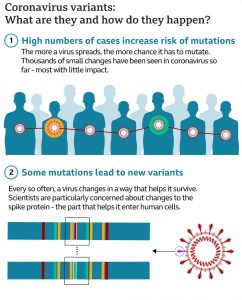 The WHO currently lists 5 variants of concern:
Omicron (B.1.1.529), identified in southern Africa in November 2021.
Delta (B.1.617.2), which emerged in India in late 2020 and spread around the world.
Gamma (P.1), which emerged in Brazil in late 2020.
Beta (B.1.351), which emerged in South Africa in early 2020.
Alpha (B.1.1.7), which merged in Britain in late 2020.
 What is a Variant of Concern?
According to the World Health Organisation, a variant of concern translates to a rise in transmissibility, an increase in fatality and a significant decrease in effectivenes
s of vaccines, therapy and other health measures.
What is a Variant of Interest?
According to WHO, a VOI is a SARS CoV-2 variant with a genetic capability that affects characteristics of the virus such as disease severity, immune escape, transmissibility and diagnostic escape. The world health body further confirmed that a VOI causes a consequential volume of community transmission. A global increase in cases poses a risk of large proportions to worldwide public health.
B.1.1.529 or the Omicron variant
The WHO on November 26, 2021  declared the recently-discovered B.1.1.529 strain of COVID-19, first detected in southern Africa, to be a variant of concern and renamed it Omicron.
5. THE BOOST FOR SCHOOL LEARNING
THE CONTEXT: The Asian Development Bank (ADB) has approved a $500-million loan to India to help improve the quality of school education and to mitigate the impact of the Covid-19 on students' learning.
THE EXPLANATION:
The loan supports the Integrated Scheme for School Education (Samagra Shiksha) and the new Exemplar School Initiative of the Ministry of Education (MOE) to improve education quality by focusing on inclusive and equitable learning outcomes.
About 1,800 government schools will be transformed into exemplar schools in the states of Assam, Gujarat, Jharkhand, Tamil Nadu, and Uttarakhand. Exemplar schools will demonstrate quality learning environments and effective learning, which will become a model for replication in other government schools across India.
"ADB's assistance will support the government's commitment to providing high-quality education to all by accelerating quality education initiatives across the participating states.
Value Addition:
Samagra Shiksha
It is an overarching programme for the school education sector extending from pre-school to class 12. The scheme has been prepared with the broader goal of improving school effectiveness measured in terms of equal opportunities for schooling and equitable learning outcomes. It subsumes the three Schemes of Sarva Shiksha Abhiyan (SSA), Rashtriya Madhyamik Shiksha Abhiyan (RMSA) and Teacher Education (TE) and was launched in 2018.
The scheme covers 1.16 million schools, over 156 million students and 5.7 million Teachers of Govt. and Aided schools (from pre-primary to senior secondary level).
Objectives
Provision of quality education and enhancing learning outcomes of students;
Bridging Social and Gender Gaps in School Education;
Ensuring equity and inclusion at all levels of school education;
Ensuring minimum standards in schooling provisions;
Promoting Vocationalisation of education;
Support States in implementation of Right of Children to Free and Compulsory Education (RTE) Act, 2009; and
Strengthening and up-gradation of SCERTs/State Institutes of Education and DIET as a nodal agencies for teacher training.
About ADB:
It is a regional development bank.
established on 19 December 1966.
headquartered — Manila, Philippines.
official United Nations Observer.
Who can be its members?
The bank admits the members of the United Nations Economic and Social Commission for Asia and the Pacific (UNESCAP, formerly the Economic Commission for Asia and the Far East or ECAFE) and non-regional developed countries.
ADB now has 68 members, 49 from within Asia.
Voting rights:
It is modeled closely on the World Bank, and has a similar weighted voting system where votes are distributed in proportion with members' capital subscriptions.
As of 31 December 2019, ADB's five largest shareholders are Japan and the United States (each with 15.6% of total shares), the People's Republic of China (6.4%), India (6.3%), and Australia (5.8%).
Roles and functions:
Dedicated to reducing poverty in Asia and the Pacific through inclusive economic growth, environmentally sustainable growth, and regional integration.
This is carried out through investments – in the form of loans, grants and information sharing – in infrastructure, health care services, financial and public administration systems, helping nations prepare for the impact of climate change or better manage their natural resources, as well as other areas.
THE INDIAN ECONOMY
6. THE GLOBAL CORPORATE TAXATION: THE NEW BARE MINIMUM
THE CONTEXT:  In October 2021, as many as 136 countries entered into an agreement earlier this month to redistribute taxing rights and impose a global minimum corporate tax on large multinational corporations. With the new agreement signed at a meeting of the Organization for Economic Cooperation and Development, countries want to put an end to tax competition that has over the years forced global corporate tax rates to drop.
THE EXPLANATION:
WHAT IS THE GLOBAL MINIMUM TAX?
A global deal to ensure big companies pay a minimum tax rate of 15% and make it harder for them to avoid taxation has been agreed by 136 countries, the Organisation for Economic Cooperation and Development
Major economies are aiming to discourage multinational companies from shifting profits – and tax revenues – to low-tax countries regardless of where their sales are made. Increasingly, income from intangible sources such as drug patents, software and royalties on intellectual property has migrated to low tax jurisdictions, allowing companies to avoid paying higher taxes in their traditional home countries
With an agreed global minimum, such tax based erosions can be reduced without causing a financial disadvantage to the firms.
How would a deal work?
The global minimum tax rate would apply to overseas profits of multinational firms with 750 million euros ($868 million) in sales globally. Governments could still set whatever local corporate tax rate they want, but if companies pay lower rates in a particular country, their home governments could "top up" their taxes to the 15% minimum, eliminating the advantage of shifting profits.
A second track of the overhaul would allow countries where revenues are earned to tax 25% of the largest multinationals' so-called excess profit – defined as profit in excess of 10% of revenue.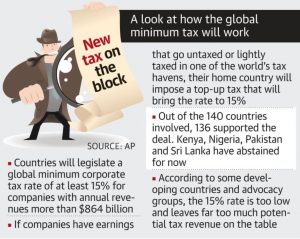 Global Minimum Corporate Tax – Impact on India
India is likely to benefit from the Global Minimum Corporate Tax rate of 15%, as the government has been willing to keep the corporate tax rate artificially lower to attract Foreign Direct Investment (FDI).
As of June 2021, the corporate tax rate for New manufacturing companies is 15% and for companies that do not want to claim any exemption or incentives, the corporate tax rate is 25.17%.
OECD estimates that with the new minimum rate, countries will have $150 billion annually in additional revenues.
Countries will get to tax $125 billion of profit due to the provision of taxing where ever companies earn the profits.
THE ENVIRONMENT AND ECOLOGY
7. PAT: CENTRE'S DECARBONISATION SCHEME NOT EFFECTIVE ENOUGH, SAYS REPORT
THE CONTEXT: According to a recent report by New Delhi-based non-profit Centre for Science and Environment (CSE) says, that the Indian government to improve energy efficiency in Indian industries and consequently reduce greenhouse gas emissions is not effective.
THE EXPLANATION:
The Government of India released the National Action Plan on Climate Change (NAPCC) in 2008 to check the increasing energy consumption of industries and related carbon emissions.
There were eight national missions under the NAPCC. One of them was the National Mission for Enhanced Energy Efficiency (NMEEE).
HIGHLIGHTS OF THE STUDY:
The CSE analysis found thermal power plants under this scheme in the last decade had reduced just 1-2 per cent of overall carbon dioxide emissions emitted by them.
The report attributed the inefficiency of the scheme to non-transparency, loose targets and overlooked deadlines.
The industrial sector consumes the most energy in India — accounting for 43 per cent of overall consumption — making it the major contributor to the country's energy and environmental footprint.
CSE analysed the efficacy of the PAT scheme for the thermal power plants. The analysis clearly shows that in both Cycles 1 and 2, TPPs had the most lenient target and underperformed in meeting the target among other sectors.
Carbon dioxide (CO2) emissions from the energy sector are about 2,064 million tonnes of CO2, highlighting the carbon emission reductions achieved in both cycles.
Electricity generation contributes to 40 per cent of this total emission, which is 825.6 million tonnes of CO2 in one year. The overall CO2 emission reduction achieved by thermal power plants in PAT cycle 1 and 2 is 13 and 11.9 million tonnes respectively.
The total emission reduction from TPPs is 24.85 million tonnes of oil equivalent, which is only 3 per cent of the total emission from the sector. This highlights the fact that the target given to TPPs is very less compared to the overall emission reduction from the sector.
The energy reduction target should be made stringent in order to meet up with the global climate commitments with respect to greenhouse gas emission mitigation. Targets must be interlinked to material CO2 reduction.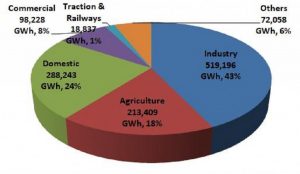 Value Addition:
Perform, Achieve, Trade (PAT) Scheme:
In line with the energy conservation and efficiency policies of the Bureau of Energy Efficiency (BEE) under the Ministry of Power, Perform, Achieve and Trade (PAT) scheme under the National Mission for Enhanced Energy Efficiency (NMEEE) as a part of the National Action Plan on Climate Change (NAPCC) was launched in 2012.
It is for reducing specific energy consumption in energy-intensive industries, with an associated market-based mechanism to enhance the cost-effectiveness through certification of excess energy saving which can be traded.
The first cycle of the PAT Scheme (2012-2015) managed to reduce the energy consumption of more than 400 energy-intensive enterprises (Known as Designated Consumers-DCs) by 5.3%, above the initial target 4.1%.
The targets were originally established based on annual specific energy consumption for each DC in 2010 (baseline) and adjusted to account for factors such as product mix, capacity utilisation, change in fuel quantity, import/export of power and other factors.
PAT scheme covered about 13 energy-intensive sectors. Sectors included are thermal power plants (TPP), cement, aluminium, iron and steel, pulp and paper, fertiliser, Chlor-alkali, petroleum refineries, petrochemicals, distribution companies, railways, textile and commercial buildings (hotels and airports).
Carbon dioxide (CO2)
Carbon Dioxide (CO2) is the well-known greenhouse gas on our planet Earth. The rapid increase in its concentration in the atmosphere is the major cause of global temperature rise which in turn leads to many environmental and healthcare problems.
The 'greenhouse effect' works in the case of CO2 when solar radiation hits the surface of the earth, part of the heat escapes the atmosphere while balance heat gets trapped which in turn, raises the earth's temperature.
This is a phenomenon popularly known as global warming. This primarily results in a severe impact on climate change, which has a ripple effect overall natural ecosystems, and by extension, all industries and people around the globe.
About Bureau of Energy Efficiency (BEE)
The Government of India has set up the Bureau of Energy Efficiency (BEE) on 1st March 2002 under the provision of the Energy Conservation Act, 2001.
The mission of the Bureau of Energy Efficiency is to assist in developing policies and strategies with a thrust on self-regulation and market principles.
The primary objective of reduce the energy intensity of the Indian economy within the overall framework of the Energy Conservation Act, 2001.
This will be achieved with active participation and collaboration of all stakeholders, resulting in accelerated and sustained adoption of energy efficiency in all sectors.
PAT Cycle VI (2020-21 to 2022-23)
This cycle has commenced in April 2020.
135 DCs are selected with a target of 1.277 MTOE.
The six sectors notified are cement, commercial buildings (hotels), iron and steel, petroleum refinery, pulp and paper and textiles.
PRELIMS PRACTICE QUESTIONS
Q1. Who among the following was associated as Secretary with Hindu Female School which later came to be known as Bethune Female School?
a) Annie Besant
b) Debendranath Tagore
c) Ishwar Chandra Vidyasagar
d) Sarojini Naidu
ANSWER FOR DECEMBER 2nd 2021 PRELIMS PRACTICE QUESTIONS
ANSWER: D
EXPLANATION:
Black money causes financial leakage, as unreported income that is not taxed causes the government to lose revenue.
Spread the Word