THE INDIAN SOCIETY AND SOCIAL ISSUE
1.    ALL INDIA SURVEY ON DOMESTIC WORKERS
THE CONTEXT: Union Minister for Labour and Employment, flagged off the first-ever All India Survey on Domestic workers being conducted by Labour Bureau.
THE EXPLANATION:
The All-India Survey on Domestic Workers is aimed to estimate the number and proportion of domestic workers at the National and State level, the percentage distribution of domestic workers with respect to Live-in/Live-out, formal/ Informal Employment, Migrant/Non-Migrant, their wages and other socio-economic characteristics.
The survey will also provide the Household Estimates of Live-in/Live-out domestic workers and the average number of domestic workers engaged by different types of households. the main objectives are:
Estimate the number/proportion of DWs at the National and State level.
Household Estimates of Live-in/ Live-out DWs.
The average number of DWs engaged by different types of households.
The Domestic Worker Survey collects information on the following broad   parameters:
Household Characteristics such as HH size, Religion, Social Group, Usual Monthly Consumption Expenditure, Nature of Dwelling unit.
Demographic Characteristics such as Name, Age, Relation to Head, Marital Status, General Education Level, Usual Principal Activity Status, Subsidiary Activity Status and Status of DWs.
In addition to this, it also collects information on DWs such as their Age of entry, Social Group, Migrant status, Vocational Training/Education, Number of HHs served by DW, activities performed by them, and the number of days worked, Duration of work, Type of remuneration and its frequency, Type of contract, Distance travelled, Engagement as DW before and after COVID-19 pandemic and its effect on wages and job, living conditions and social security benefits received.
Information on Employer HHs is also collected such as their preferences of DW regarding Gender and marital status, mode of payment of wages, the number of days worked, mode of engagement, whether DW services were availed during ii COVID-19 pandemics, medical support given to DWs.
2.    DISCRIMINATION IN ACCESSING HEALTHCARE: OXFAM
THE CONTEXT: Recently Oxfam India released its "Securing Rights of Patients in India", report, where it's stated 1 in 4 Indians faced discrimination while accessing health services due to their caste and religion.
HIGHLIGHTS OF THE REPORT:
Patient's Rights Survey: In the survey, 30% people said that they have been discriminated against due to an illness or health condition that they have, 12% people felt that they have been discriminated against on grounds of religion, 13% people felt that they have been discriminated against due to their caste. One-third of Muslim people said that they have been discriminated against on the grounds of their religion in a hospital or by a healthcare professional.
Right to Confidentiality, Human Dignity and Privacy: Over a third of women (35%) said that they had to undergo a physical examination by a male practitioner without another female present in the room.
Right to Non-Discrimination: A third of Muslim respondents and over 20% Dalit and Adivasi respondents reported feeling discriminated against on the grounds of their religion or caste in a hospital/by a healthcare professional.
Right to Information: 74% of people said that the doctor simply wrote the prescription or treatment or asked them to get tests/investigations done without explaining their disease, nature and/or cause of illness.
Right to Informed Consent: More than half of the respondents (57%) who were themselves/their relatives had been hospitalised did not receive any information about investigations and tests being done.
Right to Take Discharge of Patient or Receive Body of Deceased from the Hospital: 19% of respondents whose close relatives were hospitalized said that they were denied the release of the dead body by the hospital.
"The surveys show that the basic rights of patients in India are being routinely denied in healthcare facilities, for the poor and middle class alike. Skewed power dynamics with respect to class, caste, religion, and gender between the healthcare providers and patients deepen existing structural inequalities in the healthcare system,".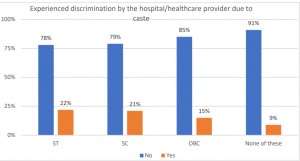 Underlining denial of patient's rights in the country, the report claimed that 74% of respondents said the doctor simply wrote the prescription or treatment or asked them to get tests/investigations done without explaining their disease, nature and/or cause of illness.
THE GEOGRAPHY
3.    LA NIÑA PHENOMENON HAS BEGUN
THE CONTEXT: Australia has said a La Niña event has developed for a second consecutive year, meaning there is a greater risk locally of floods and cyclones.
THE EXPLANATION:
The World Meteorological Organization (WMO) is yet to declare a La Niña but has warned one may re-emerge.
This year's event could be weaker, according to Australia's Bureau of Meteorology (BOM).
Climate models suggest this La Niña will be short-lived, persisting until the late southern hemisphere summer or early autumn 2022.
La Niña is described as one of the three phases of the weather occurrence known as the El Niño-Southern Oscillation (ENSO). This includes the warm phase called El Niño, the cooler La Niña and a neutral phase.
What is La Nina?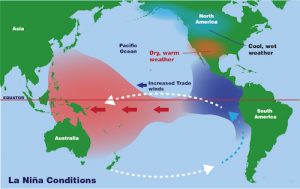 La Niña is a weather pattern that occurs in the Pacific Ocean. In this pattern, strong winds blow warm water at the ocean's surface from South America to Indonesia. As the warm water moves west, cold water from the deep rises to the surface near the coast of South America.
What happens during La Nina?
During the La Nina period, sea surface temperature across the eastern equatorial part of the central Pacific Ocean becomes lower than normal by 3–5 °C.
Impact of La Nina:
La Nina has an extensive effect on weather worldwide, especially in North America. It also impacts the Atlantic and Pacific hurricane seasons, in which the number of tropical cyclones increases in the Atlantic basin because of low wind shear and warmer sea surface temperatures. It also reduces tropical cyclogenesis in the Pacific Ocean.
THE INTERNATIONAL RELATIONS
4.    INDIA-US TRADE POLICY FORUM
THE CONTEXT: India and United States have agreed to look after ways of resolving differences on issues like market access and digital trade besides reviving the Trade Policy Forum after four years.
THE EXPLANATION:
The India-US Trade Policy Forum has five focus groups – agriculture, investment, innovation and creativity (intellectual property 


rights), services, and tariff and non-tariff barriers.

This agreement was made at the start of a two-day visit by U.S. Trade Representative Katherine Tai.
Negotiators from both countries struggled for more than a year to sign a trade package as India and US spar over different issues like tariffs.
During a two-day visit, the US Trade representative raised market access restrictions, unpredictable regulations, high tariffs, and restricted digital trade between both countries.
India-US Trade Relations
The United States is the second-largest trading partner of India, while India is its 9th largest trading partner.
Major items of import from India include information technology services, machinery, textiles, gems & diamonds, iron & steel products, chemicals, tea, coffee, and other edible food products.
American items imported by India are fertilisers, aircraft, hardware, computer medical equipment and scrap metal. The US is also India's largest investment partner.
Trade Policy Forum
Trade Policy Forum programme was created in July 2005 by US President Bush and then Indian Prime Minister Manmohan Singh. It is run by a representative from both nations.
This programme was created with the goal of increasing bilateral trade and investment flow.
5.    PAKISTAN TO ALLOW INDIA TO SEND WHEAT TO AFGHANISTAN THROUGH ITS TERRITORY
THE CONTEXT:  Pakistan Prime Minister announced his government will allow India to send a humanitarian shipment of 50,000 metric tonnes of wheat to neighbouring Afghanistan through its territory after the finalisation of the transit modalities.
THE EXPLANATION:
Currently, Pakistan only allows Afghanistan to export goods to India but doesn't allow any other two-way trade through the border crossing.
India has contributed to the humanitarian requirements of the Afghan people. This included providing more than 1 million metric tonnes of wheat to Afghanistan over the past decade.
In 2020, India assisted Afghanistan with 75,000 metric tonnes of wheat, the external affairs ministry had said at the United Nations high-level meeting on the humanitarian situation in Afghanistan in September 2021.
However, there were reports that Pakistan has blocked India's efforts to provide wheat to the Afghan people, amidst the chill in relations between New Delhi and Islamabad over the Kashmir issue.
Pakistan PM ordered that the facility of free COVID vaccination for all Afghans entering Pakistan from land borders be continued.
Afghan Food Crisis:
The World Food Programme (WFP) has warned that, tens of millions of Afghans, including children, could die of starvation if urgent action is not taken
WEP is calling to release the frozen funds without delay to provide humanitarian aid.
Around 22.8 million people, accounting for half of entire population of Afghanistan, are facing an acute food crisis.
This figure is greater than 14 million, which was reported in August 2021, before Taliban took over.
As per WEP, around 220 million U.S. dollars would be required as winter nears, to meet the food demand.
THE ECONOMY
6.    INDIA TO RELEASE 5 MN BARRELS FROM RESERVES
THE CONTEXT: The stocks will be sold to Mangalore Refinery and Petrochemicals Ltd (MRPL) and Hindustan Petroleum Corp Ltd (HPCL) which are connected by pipeline to the strategic reserves.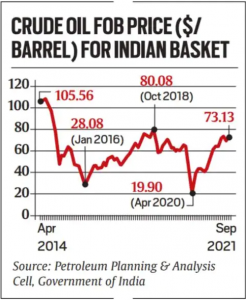 THE EXPLANATION:
India is set to release 5 million barrels of crude oil from its strategic reserves as part of a coordinated move along with the US, China, Japan, and South Korea aimed at lower international prices. The US will release 50 million barrels of crude oil from its reserves as part of the effort.
The move is being seen as a strategic step to rein in spiralling global crude oil prices and to keep them under check. In response, the OPEC+ group of oil-exporting countries, which accounts for about 50 per cent of global crude supply, has indicated that it may reconsider plans to restore production over the coming months.
The supply of oil was "being artificially adjusted below demand levels by oil-producing countries, leading to rising prices and negative attendant consequences".
A release of 5 million barrels of crude oil would equate to about 12. 8 per cent of India's strategic oil reserves of 5.33 million tonnes of crude oil, which is estimated to be equivalent to 9.5 days of its crude oil requirement.
Despite an increase in crude oil supply of 400,000 barrels per day in December, OPEC+ figures are still lower than the reference level of production for them by nearly 5.4 million barrels per day. Since hitting a low of $16 per barrel on April 22 last year, the price of Brent crude oil has been rising steadily, touching a high of $86.67 per barrel on October 25 this year. Prices have since retreated below $80 per barrel on the US announcement of releasing oil from reserves.
Value Addition:
Crude Oil: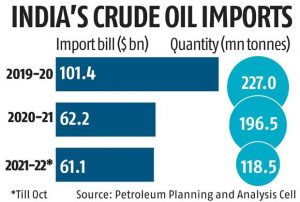 Crude oil is a type of fossil fuel that occurs naturally. It is an unrefined petroleum product composed of hydrocarbon deposits and other organic materials.
Factors affecting Crude Oil Pricing:
Its specific gravity or API
Its sulphur contents
Its location—for example, its proximity to tidewater and/or refineries. Heavier, sour crude oils lacking in tidewater access—such as Western Canadian Select— are less expensive than lighter, sweeter oil—such as WTI (West Texas Intermediate).
Crude Oil Pricing in India
India's domestic crude oil production in July 2019 was 2,769 thousand tonnes (TMT), and in 2017, India had 600 million metric tonnes (MMT) of proven oil reserves.
In 2020, crude oil pricing nosedived from an average of about $55 per barrel to $20 by the end of March due to the slumped demand during the COVID-19 pandemic
What is OPEC?
The Organization of the Petroleum Exporting Countries (OPEC) was founded in Baghdad, Iraq, with the signing of an agreement in September 1960 by five countries namely Islamic Republic of Iran, Iraq, Kuwait, Saudi Arabia and Venezuela. They were to become the Founder Members of the Organization.
It is a permanent, intergovernmental organization.
Currently, the Organization has a total of 14 Member Countries.
OPEC's objective is to co-ordinate and unify petroleum policies among Member Countries, in order to secure fair and stable prices for petroleum producers; an efficient, economic and regular supply of petroleum to consuming nations; and a fair return on capital to those investing in the industry. It is headquartered in Vienna, Austria.
OPEC membership is open to any country that is a substantial exporter of oil, and which shares the ideals of the organization.
What is the OPEC+?
OPEC+ refers to the alliance of crude producers, who have been undertaking corrections in supply in the oil markets since 2017.
OPEC plus countries include Azerbaijan, Bahrain, Brunei, Kazakhstan, Malaysia, Mexico, Oman, Russia, South Sudan and Sudan.
THE ENVIRONMENT AND ECOLOGY
7.    GLOBAL WARMING TO HIT INDIA THE WORST IN ASIA BY 2070
THE CONTEXT: A study by a group of researchers — called Future of the Human Climate Niche — projected that over 9 billion across the world likely to be exposed to annual average temperatures experienced only in the hottest deserts
THE EXPLANATION:
Over 3 billion people, currently living in 0.8 per cent of the Earth's surface that experiences average annual temperature of more than 29°C, would have to move to migrate to more places with suitable conditions.
For over 6,000 years, humans restricted their settlements to a climate niche or set of temperatures between 11 degrees Celsius and 15 degrees Celsius mean annual temperature. But global warming could trigger the next wave of migration — and at least 3 billion people would be affected by it by 2070. India would be among the worst-hit in Asia.
According to the Lancet report, over 150 billion work hours were lost in 2018 due to extreme temperatures, As the world experiences global warming, work hours lost to extreme temperatures could double and quadruple depending on how many people would be involved in rural agriculture, affecting productivity and food security.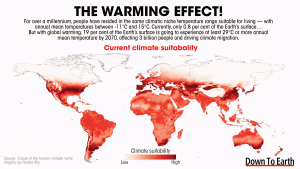 KEY FINDINGS:
Asia
The largest continent is going to see a massive population boom. India would be the most affected, with over half of the 1.6 billion people (projected population by 2070) exposed to extreme heat.
Other countries like the United Arab Emirates, Cambodia, and parts of South Vietnam and eastern Pakistan will become unlivable, according to the projections.
Africa
The most vulnerable of all the continents in terms of low human development, Africa is going to witness a population of 1.2 billion people and Lagos, the capital of Nigeria, is on course to become the most populous city by 2075. The study states that 81 per cent of the projected 477 million people in Nigeria would be exposed to extreme temperatures.
Europe
Europe would be the only continent that would not witness annual mean temperatures of more than 29°C but parts of Scandinavia, eastern Russia and countries along the Mediterranean will experience a rise in temperatures.
Already under scrutiny because of refugees flocking from war-torn countries, it remains to be seen how global warming would affect Europe in terms of migration.
North and South America
Large parts of Brazil, currently inhabited by the indigenous tribes of the Amazon, could become inhospitable under the worst climatic scenario. Southern states in the United States will experience a rise in temperatures.
Up to 20 million people would live in regions with an annual average temperature of at least 29°C.
While the fallouts from global warming can be many, such as rising temperatures and migration, another case in point the study observes is food security.
Climate change has already created a scenario where heat and humidity have become too severe for humans to tolerate.
8. HUMAN-ELEPHANT CONFLICT
THE CONTEXT:  Assam's forest department is planning to collar at least five elephants in high-conflict habitats in collaboration with NGO World Wildlife Fund (WWF)-India. The joint initiative is being described as a step to study and mitigate human-elephant conflict in the state
THE EXPLANATION: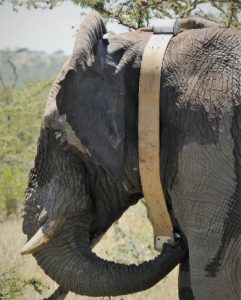 What is radio collars?
Radio collars are GPS-enabled collars that can relay information about an elephants' whereabouts. They weigh roughly 8 kg and are fitted around the elephant's neck. According to a WWF blog, collaring includes identifying a suitable candidate (generally an adult elephant), darting it with a sedative, and fitting a collar around the elephant's neck, before the animal is revived.
Additionally, it also attaches an accelerometer to the collar to "understand what exactly an elephant is doing at any given time (running, walking, eating, drinking, etc)".
How does radio-collaring help?
First, the "Information from the GPS would help us track and study the movement patterns of the herd,
The second objective is incidental, the collars would serve as an early warning system, and if people know which direction an elephant is moving, they can prepare accordingly. "Villagers and forest officials will know about approaching elephants… very much how weather forecasting works. And this would help mitigate conflict incidents".
What is the plan in Assam?
In March 2020, the Ministry of Environment of Forest & Climate Change, gave approval to collar five elephants in Sonitpur and Biswanath districts in Assam, stating a number of conditions, among them being "minimum trauma" to the elephants during the operation and submission of regular periodic reports.
The department aimed at collaring eleven elephants across the landscape in the future. "Dept have eleven elephant herds to be tracked in high human elephant-conflict areas. These include areas in Sonitpur, Golaghat, Nagaon, Goalpara, Udalguri, among others,".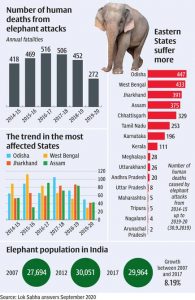 How bad is human-elephant conflict in Assam?
From 2010-2019, 761 people and 249 elephants were killed in Assam as a direct consequence of human-elephant conflict, stated the WWF blog.
"More than 65 per cent of the habitat north of the river has been lost in the past few decades to agriculture and settlements, and conflict between humans and elephants has been steadily increasing ever since.
As per the forest department, there are currently about 6,000 wild elephants in Assam.
PRELIMS PRACTICE QUESTIONS
The 'Common Carbon Metric' supported by UNEP, has been developed for:
a) assessing the carbon footprint of building operations around the world.
b) enabling commercial farming entities around the world to enter carbon emission trading.
c) enabling governments to assess the overall carbon footprint caused by their countries.
d) assessing the overall carbon footprint caused by the use of fossil fuels by the world in a unit of time.
ANSWER FOR NOVEMBER 23rd, 2021 PRELIMS PRACTICE QUESTIONS
Answer: D
Answer: C
Spread the Word