INDIAN POLITY, GOVERNANCE AND SOCIAL JUSTICE
1. NATIONAL ACHIEVEMENT SURVEY 2021
THE CONTEXT: The National Achievement Survey 2021, was successfully conducted today across all 36 states and UTs of the country.
THE EXPLANATION:
The National Achievement Survey (NAS) is a process of gathering information in order to develop a deep understanding of what students know, understand and can do with their knowledge as a result of their educational experiences.
This process will ultimately culminate to improve the subsequent students' learning and development, through systemic interventions.
The Achievement Survey was conducted in different mediums of instruction as available in the sampled schools.
NAS 2021 is the first achievement survey after the release of the National Education Policy 2020 (NEP). The assessment would be used to benchmark students' learning against criteria such as process skills and learning outcomes.
NAS 2021 will infuse the competency-based assessment system over the content and memory-based assessment as envisaged by NEP 2020.
The results of NAS 2021 will be prepared in the form of District Report Cards, State/UT reports and National reports.
NAS will enable States and the Union Territories to identify gaps in learning outcomes and take remedial steps.
It will also help in the capacity building for teachers and officials involved in the delivery of education in the country.
The result from the assessment would also provide a rich repository of evidence and data points furthering the scope of research and development.
SOURCE: PIB
2. SCHOOL DROPOUT WAS HIGH DUE TO COVID-19
THE CONTEXT: According to a new national sample survey by ICRIER and LIRNEAsia, a think tank focusing on digital policy, only 20% of school-age children in India had access to remote education during the pandemic, of whom only half participated in live online lessons,
THE EXPLANATION:
In fact, 38% of households said at least one child had dropped out of school completely due to COVID-19.
The survey found that although digital connectivity shot up 40% during the pandemic, low access to devices, poor signal and high costs prevented most children from reaping the benefits.
Among children aged 5-18 years, it was found that 80% of those who were enrolled in schools prior to the pandemic did not receive any educational services at all during school closure.
The situation was significantly worse among those from lower socio-economic classes, where the head of the household had lower education levels, and among rural households.
Among the 20% who received an education, only 55% had access to live online classes, while 68% had access to recorded audio or video lessons. Three-fourths of the students had work sent to them over a smartphone, usually via Whatsapp, and 61% via text messages.
Almost 70% had contact with their teachers via phone calls, while 58% had work delivered to their homes. About half the students were also instructed to listen to educational TV and radio programmes.
Of households with school-aged children, 64% had internet connections, but only 31% of those received remote education, often because of a lack of access to devices or a lack of larger screen devices. However, among those without internet connections, the situation was worse, with only 8% receiving remote education.
Respondents listed an insufficient number of devices, poor 3G/4G signal and high data cost as among the biggest hurdles. Even among those receiving remote education, a third of the households said that schools were not prepared to deliver online education.
Such challenges continued despite increasing digital connectivity. Over 13 crore people came online in 2020-21, pushing up the country's total internet users to more than 47 crores. Of the 8 crores who came online in 2020, 43% said they were motivated by COVID-19 related reasons. Overall, internet usage has spiked from 19% of the population above 15 years in 2017 to 47% this year.
However, only 5% of households had laptops, while 4% had desktop computers. The vast majority relied on smartphones, which were available in 68% of households.
SOURCE:  TH
3. NOROVIRUS CASES SURFACE IN KERALA
THE CONTEXT: A Day after Norovirus cases were confirmed in Wayanad district, the Kerala Government has said people need to be vigilant about the very contagious virus that causes vomiting and diarrhoea.
ABOUT NOROVIRUS
An animal-borne disease, Norovirus is a group of viruses that leads to gastrointestinal illness among people causing inflammation in the lining of the stomach and intestines.
The virus is contagious and can be spread through direct contact with infected people and it can significantly affect people from every age group including youngsters, adults, and the elderly.
The major symptoms of Norovirus include diarrhoea, vomiting, nausea, stomach pain followed by fever, headache, and body aches among others. Apart from this, frequent vomiting and diarrhoea can also lead to dehydration and other complications in people.
There is no specific medicine to treat people with norovirus illness. If you have norovirus illness, you should drink plenty of liquids to replace fluid lost from vomiting and diarrhoea.
Alcohol-based hand sanitizers are not effective against the Norovirus.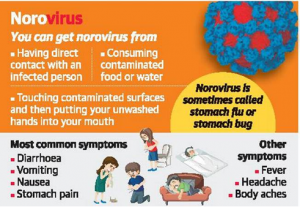 SOURCE: TH
INDIAN ECONOMY
4. THE TWO INITIATIVES OF THE RBI
THE CONTEXT: PM launched two customer-centric initiatives of the Reserve Bank of India (RBI) — the RBI Retail Direct Scheme and the Integrated Ombudsman Scheme. With this, India has opened the government bond market for retail investors.
RBI RETAIL DIRECT SCHEME
The scheme allows retail investors to buy and sell government securities (G-Sec) online, both in the primary and secondary markets. These small investors can now invest in G-Secs by opening a gilt securities account with the RBI. The account opened will be called Retail Direct Gilt (RDG) Account.
A retail investor can open the RDG account if they have the following — a Rupee savings bank account maintained in India, PAN card, any officially valid document such as Aadhaar, Voter ID for KYC purpose, a valid email ID and a registered mobile number.
Participation and allotment of securities will be as per the non-competitive scheme. Only one bid per security is permitted. On submission of the bid, the total amount payable will be displayed. Payment to the aggregator/receiving office can be made through using the net-banking or UPI facility from the linked bank account, whereby funds will be debited at the time of submission of bids on the portal.
Registered investors can access the secondary market transaction link on the online portal to buy or sell government securities through NDS-OM.
RBI INTEGRATED OMBUDSMAN SCHEME
This will help in improving the grievance redress mechanism for resolving customer complaints against RBI's regulated entities.
The scheme is based on "One Nation-One Ombudsman" with one portal, one email, and one address for the customers to lodge their complaints.
There will be a single point of reference for customers to file their complaints, submit the documents, track status, and provide feedback.
There will be a multilingual toll-free number that will provide all relevant information on grievance redress and assistance for filing complaints. The redressal will continue to be cost-free for customers of banks and members of the public.
IMPORTANCE OF THE SCHEMES
The move comes at a time when rising inflation adds pressure on the RBI to lift rates.
Tighter monetary policy is likely to weaken the demand for bonds, making it challenging for the government to execute its near-record borrowing program.
Other emerging-market nations in Asia, like the Philippines, have also sought to raise funds from citizens to battle the pandemic.
Yields on India's benchmark 10-year government bonds have risen in the past five months amid surging crude oil prices.
SOURCE: IE                                                                                                                                                                      
SCIENCE AND TECHNOLOGY
NATIONAL INTERNET EXCHANGE OF INDIA 
THE CONTEXT:  National Internet Exchange of India (NIXI) has taken a new initiative by establishing out a customer-focused unit – "Customer-Care Unit," which will facilitate the interaction of customers with all its business units. This team will support the customer queries (24×7) for all the operations.
THE EXPLANATION:
NIXI has three businesses, viz. — Internet Exchange, Dot IN Registry, and IRINN and all three units deal with their respective customers, supporting and managing their queries.
At times the same customer might be consuming services from two different units of NIXI and interact with two different teams.
To overcome this and make the experience seamless, NIXI has created this Customer-Care Unit — for an efficient response towards their customers.
ABOUT NIXI
National Internet Exchange of India (NIXI) is a not-for-profit organization (section 8 of the Companies Act 2013) working since 2003 for spreading the internet infrastructure to the citizens of India through the following activities:
Internet Exchanges through which the internet data is exchanged amongst ISP's, Data Centers, and CDNs.
IN Registry, managing, and operation of .IN country-code domain and .भारत IDN domain for India.
IRINN, managing and operating Internet protocol (IPv4/IPv6).
SOURCE: PIB
6. THE CRITICAL NOISE TREATMENT ALGORITHM
THE CONTEXT:  Indian astronomers have developed the critical noise treatment algorithm that can increase the accuracy of data from exoplanets by reducing the contamination by the Earth's atmosphere and the disturbances due to instrumental effects and other factors.
THE EXPLANATION:
The understanding of the physical properties of exoplanets with extreme accuracy can help to explore the ones that could be like planet Earth and hence might be habitable.
For this purpose, a group of astronomers at the Indian Institute of Astrophysics, Bangalore has been using the ground-based optical telescopes available in India and the data obtained by the space telescope "Transiting Exoplanet Survey Satellite" or TESS.
SOURCE: PIB
INTERNATIONAL RELATIONS
7. INDO-THAI CORPAT
THE CONTEXT:  The 32nd edition of the India-Thailand Coordinated Patrol (Indo-Thai CORPAT) between the Indian Navy and the Royal Thai Navy is being conducted from 12 – 14 November 2021. 
THE EXPLANATION:
Indian Naval Ship (INS) Karmuk, an indigenously built Missile Corvette and His Majesty's Thailand Ship (HTMS) Tayanchon, a Khamrosin Class Anti-submarine Patrol Craft, along with Maritime Patrol Aircraft from both navies are participating in the CORPAT.
Towards reinforcing maritime links between the two countries and with an aim of keeping this vital part of the Indian Ocean safe and secure for international trade, the two navies have been undertaking CORPAT bi-annually since 2005 along their International Maritime Boundary Line (IMBL).
CORPAT builds up understanding and interoperability between navies and facilitates the institution of measures to prevent and suppress unlawful activities like Illegal Unreported Unregulated (IUU) fishing, drug trafficking, maritime terrorism, armed robbery and piracy.
It further helps enhance the operational synergy by exchange of information for the prevention of smuggling, illegal immigration and for conduct of search and rescue (SAR) operations at sea.
As part of the Government of India's vision of SAGAR (Security And Growth for All in the Region), the Indian Navy has been proactively engaging with the countries in the Indian Ocean Region towards enhancing regional maritime security. This has been through bilateral and multilateral exercises, Coordinated Patrols, Joint EEZ Surveillance, and Humanitarian Assistance and Disaster Relief (HADR) operations. The Indian Navy and Royal Thai Navy have especially enjoyed a close and friendly relationship covering a wide spectrum of activities and interactions, which have strengthened over the years.
The 32nd Indo-Thai CORPAT will contribute towards the Indian Navy's efforts to consolidate inter-operability and forge strong bonds of friendship between India and Thailand.
SOURCE: PIB
MISCELLANEOUS
8. U.S. CLEARS WAY FOR SPOUSES OF H-1B VISA HOLDERS TO WORK
THE CONTEXT:  The Biden administration has agreed to provide automatic work authorisation permits to the spouses of H-1B visa holders, most of whom are Indian IT professionals.
THE EXPLANATION:
An H-4 visa is issued by the U.S. Citizenship and Immigration Services (USCIS) to immediate family members (spouse and children under 21 years of age) of the H-1B visa holders.
The H-1B visa is a non-immigrant visa that allows U.S. companies to employ foreign workers in speciality occupations that require theoretical or technical expertise.
Types of Visa issued by the U.S. Citizenship and Immigration Services
| | |
| --- | --- |
| TYPE OF VISA | FOR WHOM? |
| H-1B visas | For skilled workers, who are often used by the tech industry |
| L visas | For executives, managers and specialized workers being transferred within a company |
| H-2B | For seasonal workers |
| H-4 visas | Family members who would accompany workers on H-1B visas |
| J visas | For cultural exchange, including interns, trainees, teachers, camp counsellors and people participating in a summer work travel program |
SOURCE: TH
PRELIMS PRACTICE QUESTIONS
Q1.  Which of the following pairs of visa types and their purpose is/are correctly matched?
H-1B Visa – for skilled workers
H-2B Visa – for seasonal workers
J-1 Visa – for family members dependent on skilled workers
Select the correct answer using the code given below:
a) 1 only
b) 1 and 2
c) 1 and 3
d) All of the above
ANSWER FOR NOVEMBER 12th, 2021 PRELIMS PRACTICE QUESTIONS
Q1. Answer: B
Explanation:
From this year, the Karnataka government has decided to celebrate 'Onake Obavva Jayanti' on November 11 throughout the state.
Onake Obavva died fighting the troops of Hyder Ali, a ruler of the Mysore Kingdom and father of Tipu Sultan when he invaded the Chitradurga Fort, which was ruled by Madakari Nayaka in the 18th century. Chitradurga Fort, locally known as Elusuttina Kote, (the fort of seven circles in Kannada), is situated in Chitradurga, 200 km northwest of Bengaluru.
Obavva is considered to be the epitome of Kannada pride and celebrated along with other women warriors of Karnataka state like Abbakka Rani (first Tuluva Queen of Ullal in coastal Karnataka who fought the Portuguese), Keladi Chennamma (the queen of the Keladi Kingdom who is known for fighting against Mughal emperor Aurangzeb), and Kittur Chennamma (Queen of Kittur known for the 1824 revolt against the British East India Company).
Spread the Word