ART AND CULTURE
1. ONAKE OBAVVA
THE CONTEXT: From this year, the Karnataka government has decided to celebrate 'Onake Obavva Jayanti' on November 11 throughout the state. 
THE EXPLANATION:
Onake Obavva died fighting the troops of Hyder Ali, a ruler of the Mysore Kingdom and father of Tipu Sultan when he invaded the Chitradurga Fort, which was ruled by Madakari Nayaka in the 18th century. Chitradurga Fort, locally known as Elusuttina Kote, (the fort of seven circles in Kannada), is situated in Chitradurga, 200 km northwest of Bengaluru.
Obavva is considered to be the epitome of Kannada pride and celebrated along with other women warriors of Karnataka state like Abbakka Rani (first Tuluva Queen of Ullal in coastal Karnataka who fought the Portuguese), Keladi Chennamma (the queen of the Keladi Kingdom who is known for fighting against Mughal emperor Aurangzeb), and Kittur Chennamma (Queen of Kittur known for the 1824 revolt against the British East India Company).
Inspired by Onake Obavva, in 2018, the Chitradurga police started 'Obavva Pade', a squad of women police constables to protect and educate women in the district.
SOURCE: IE
INDIAN POLITY, GOVERNANCE AND SOCIAL JUSTICE
2. ADR REPORT ON DONATIONS TO REGIONAL PARTIES
THE CONTEXT: the Association for Democratic Reforms (ADR) said in a report that over 55% of the donations received by regional parties in FY 2019-20 came from "unknown" sources. Electoral bonds accounted for nearly 95% of the donations from "unknown" sources.
THE EXPLANATION:
While the total donations received by 25 regional parties in FY 2019-20 added up to Rs 803.24 crore, Rs 445.7 crore was attributed to "unknown" sources. Of the donations from "unknown" sources, Rs 426.233 crore (95.616%) came from electoral bonds, and Rs 4.976 crore from voluntary contributions.
The report noted that donations received by national parties from "unknown" sources added up to 70.98% of their income.
Interestingly, parties in the south — TRS, TDP, YSR Congress Party, DMK and JD(S) — topped the list of regional parties with the highest incomes from "unknown" sources.
The donations received by regional parties from "known" donors (details of donors as available from contribution report submitted to Election Commission) added up to Rs 184.623 crore, which is 22.98% of their total income; they received another Rs 172.843 crore (21.52% of total income) from other known sources like membership fees, bank interest, sale of publications, party levy etc.
In its report for FY 2018-19, analysed 23 regional parties which filed their annual audit and contribution reports.
SOURCE: IE
 3. THE CHAR DHAM ROAD DEBATE
THE CONTEXT: The Supreme Court reserved its judgment on an appeal by the Ministry of Defence (MoD) for relaxing its September 2021 order that specified the road width under the Char Dham Mahamarg Vikas Pariyojana (Char Dham Highway Development Project) of the Ministry of Road Transport and Highways (MoRTH).
THE EXPLANATION:
A flagship initiative of the Centre, the Rs 12,000-crore highway expansion project was envisaged in 2016 to widen 889 km of hill roads to provide all-weather connectivity in the Char Dham circuit, covering Uttarakhand's four major shrines — Badrinath, Kedarnath, Gangotri and Yamunotri — in the upper Himalayas.
In 2018, the road-expansion project was challenged by an NGO for its potential impact on the Himalayan ecology due to felling trees, cutting hills and dumping muck (excavated material). The Supreme Court formed a high-powered committee (HPC) under environmentalist Ravi Chopra to examine the issues.
In July 2020, the HPC submitted two reports after members disagreed on the ideal width for hill roads. In September, the Supreme Court upheld the recommendation of four HPC members, including Chopra, to limit the carriageway width to 5.5 m (along with 1.5 m raised footpath), based on a March 2018 guideline issued by MoRTH for mountain highways.
The majority report by 21 HPC members, 14 of them government officials, favoured a width of 12m as envisaged in the project following national highway double-lane with paved shoulder standards: 7 m carriageway, 1.5 m paved shoulders on both sides, and 1 m earthen shoulders on either side for drains and utilities (hillside) and crash barrier (valley side).
A wider road requires additional slope cutting, blasting, tunnelling, dumping and deforestation – all of which will further destabilise the Himalayan terrain, and increase vulnerability to landslides and flash floods.
HPC chairman Chopra wrote to the Environment Ministry in August 2020, underlining how the project was being implemented in brazen violation of statutory norms "as if the Rule of Law does not exist". These include:
Work Without Valid Permission:
Misusing Old Clearances
False Declaration:
Work Without Seeking Clearance
Violation Of Sc Directive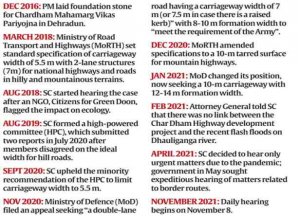 SOURCE: IE
ENVIRONMENT, GEOGRAPHY AND AGRICULTURE
4. CARBON COLONIALISM
THE CONTEXT: Group of developing countries that includes India and China has rejected the first draft of the expected agreement from the Glasgow climate conference and asked for changing the entire section on enhancing mitigation actions.
THE EXPLANATION:
With less than two days left for the official end of the conference, this group, which calls itself Like-Minded Developing Countries (LMDCs) and also includes Bangladesh, Sri Lanka, Iran, Indonesia, Malaysia among several others, accused the developed countries of attempting to transfer their responsibilities on the rest of the world and trying to impose new rules.
LMDC group called it "new carbon colonialism" and said the 2050 net-zero targets being "forced" on the developing countries ignored historical responsibilities of the developed nations and the principles of equity and common but differentiated responsibilities (CBDR) enshrined in the UN Framework Convention on Climate Change (UNFCCC).
SOURCE: IE
5. INDIA DEMANDS $1 TRILLION AS CLIMATE FINANCE
THE CONTEXT:  India has demanded a trillion dollars over the next decade from developed countries to adapt to, and mitigate, the challenges arising from global warming, and has kept this as a condition for delivering on climate commitments made by PM.
THE EXPLANATION:
India's five-fold plan is as follows — India's non-fossil energy capacity would reach 500 GW by 2030; it will meet 50% of its electricity requirements with renewable energy by 2030; reducing its total projected carbon emissions by a billion tonnes by 2030; it will reduce the carbon intensity of its economy to less than 45% and achieve net-zero by 2070.
Net-zero is when a country's carbon emissions are offset by taking out equivalent carbon from the atmosphere so that emissions in balance are zero.
Nationally Determined Contributions are voluntary targets that countries set for themselves, which describe the quantum and kind of emission cuts they will undertake over a fixed period to contribute to preventing runaway global warming.
India's last NDC was submitted following the Paris Agreement of 2015. Before COP26 began countries were expected to provide updated NDCs. India, however, did not furnish one.
SOURCE: TH
INDIAN ECONOMY
6. EGCA
THE CONTEXT: Civil Aviation Minister launched eGCA (e-Governance in Directorate General of Civil Aviation). The project aimed at automation of the processes and functions of DGCA.
THE EXPLANATION:
The project has been aimed at automation of the processes and functions of DGCA, with 99 services covering about 70% of the DGCA work being implemented in the initial phases, and 198 services to be covered in other phases.
Single window platform will bring in monumental change- eliminating operational inefficiencies, minimizing personal interaction, improving regulatory reporting, enhancing transparency and increasing productivity.
The project will provide a strong base for IT infrastructure and service delivery framework.
The e-platform provides an end-to-end solution including various software applications, connectivity with all the regional offices, a 'portal' for dissemination of information and for providing online and speedy service delivery in a secure environment.
The project would enhance the efficiency of the various services provided by the DGCA and would ensure transparency and accountability in all DGCA functions.
The project has been implemented with TCS as Service Provider and PWC as Project Management Consultant.
SOURCE: PIB                                                                                                                                                                        
SCIENCE AND TECHNOLOGY
7. SOLAR IRONING CART
THE CONTEXT:  A 15-year-old girl from Tamil Nadu, who was recognized Earth Day Network Rising Star 2021 (USA) for her idea of 'Solar Ironing Cart', has exhorted the world to move towards clean energy during the recently concluded COP 26.
THE EXPLANATION:
Miss Vinisha Umashankar, a class 10 student from Tiruvannamalai district of Tamil Nadu who received the Dr APJ Abdul Kalam IGNITE Awards instituted by the National Innovation Foundation (NIF) for her mobile ironing cart, which uses solar panels to power a steam iron box.
A key benefit of the solar ironing cart is that it eliminates the need for coal for ironing bringing about a welcome shift towards clean energy. End-users can move around and offer services at the doorstep for increasing their daily earning.
The ironing cart can also be fitted with a coin-operated GSM PCO, USB charging points and mobile recharging which can fetch extra income.
It is an ingenious solar-powered alternative for the millions of charcoal burning ironing carts for pressing clothes and can benefit the workers and their families.
The device can also be powered by pre-charged batteries, electricity or a diesel-powered generator in the absence of sunlight.
SOURCE: PIB
8. NASA'S DART MISSION
THE CONTEXT:  On November 24, NASA will launch the agency's first planetary defence test mission named the Double Asteroid Redirection Test (DART). The main aim of the mission is to test the newly developed technology that would allow a spacecraft to crash into an asteroid and change its course.
THE EXPLANATION:
The spacecraft will be launched on a SpaceX Falcon 9 rocket from Vandenberg Space Force Base in California.
The target of the spacecraft is a small moonlet called Dimorphous.
Dimorphous orbits a larger asteroid named Didymos (Greek for "twin") which has a diameter of 780 metres.
The asteroid and the moonlet do not pose any threat to Earth and the mission is to test the new technology to be prepared in case an asteroid heads towards Earth in the future.
Didymos is a perfect system for the test mission because it is an eclipsing binary which means it has a moonlet that regularly orbits the asteroid and we can see it when it passes in front of the main asteroid.
Earth-based telescopes can study this variation in brightness to understand how long it takes Dimorphos to orbit Didymos.
NASA states that DART is a low-cost spacecraft, weighing around 610 kg at launch and 550 kg at impact. The main structure is a box (1.2 × 1.3 × 1.3 metres). It has two solar arrays and uses hydrazine propellant for manoeuvring the spacecraft.
It also carries about 10 kg of xenon which will be used to demonstrate the agency's new thrusters called NASA Evolutionary Xenon Thruster–Commercial (NEXT-C) in space.
The spacecraft carries a high-resolution imager called Didymos Reconnaissance and Asteroid Camera for Optical Navigation (DRACO). Images from DRACO will be sent to Earth in real-time and will help study the impact site and surface of Dimorphous.
DART will also carry a small satellite or CubeSat named LICIA Cube (Light Italian CubeSat for Imaging of Asteroids). It will be deployed ten days before the impact on Dimorphous.
LICIACube is expected to capture images of the impact and the impact crater formed because of the collision. It can also capture images of any dust cloud formed during the impact.
SOURCE: IE
9. EARTH'S FIRST LANDMASS EMERGED IN SINGHBHUM
THE CONTEXT:  A new study has challenged the widely accepted view that the continents rose from the oceans about 2.5 billion years ago. It suggests this happened 700 million years earlier — about 3.2 billion years ago — and that the earliest continental landmass to emerge may have been Jharkhand's Singhbhum region. The study, by researchers from India, Australia and the US, has been published in the journal PNAS.
THE EXPLANATION:
Scientists have found sandstones in Singhbhumwith geological signatures of ancient river channels, tidal plains and beaches over 3.2 billion years old, representing the earliest crust exposed to air.
The researchers studied the granites that form the continental crust of the Singhbhum region.
These granites are 3.5 to 3.1 billion years old and formed through extensive volcanism that happened about 35-45 km deep inside the Earth and continued on and off for hundreds of millions of years until all the magma solidified to form a thick continental crust in the area. Due to the thickness and less density, the continental crust emerged above the surrounding oceanic crust owing to buoyancy.
The researchers believe the earliest emergence of continents would have contributed to a proliferation of photosynthetic organisms, which would have increased oxygen levels in the atmosphere.
SOURCE: IE
PRELIMS PRACTICE QUESTIONS
Q1.  Famous women warrior of the 18th century, Onake Obavva, is related to which region of India?
a) Jharkhand
b) Karnataka
c) Tripura
d) Kashmir
ANSWER FOR NOVEMBER 11th, 2021 PRELIMS PRACTICE QUESTIONS
Q1. Answer: B
Explanation:
Mass nesting phenomenon of  Olive Ridley Sea Turtles is called arribadas (Spanish term for mass nesting)
Q2. Answer: D
Explanation:
Statement 1 is incorrect: It is an initiative of the Indian Coastguard
Statement 2 is incorrect: It was initiated in the early 1980s, to protect Olive Ridley turtles as they congregate along the Odisha coast for breeding and nesting from November to December.
Spread the Word