INDIAN POLITY, GOVERNANCE AND SOCIAL JUSTICE
1. CONSCIOUS POSSESSION OF DRUGS
THE CONTEXT:  A special court in Mumbai denied bail to Aryan Khan, even though the Narcotics Control Bureau (NCB) did not find any drugs on him during his arrest on October 3 after a raid on a cruise ship off Mumbai. The court rejected his bail application on the ground that he had "conscious possession" of drugs.
THE EXPLANATION:
Section 35 of the Act recognises the 'presumption of culpable mental state'. Possession need not be physical and could be 'constructive.
The Supreme Court defines the word 'conscious' as "awareness about a particular fact" — a state of mind which is deliberate or intended. That is, a person can still have power and control over the article in question, while another to whom physical possession is given holds it, subject to that power or control.
An illustration of 'conscious possession' is if a person keeps his gun in his mother's flat, which is safer than his own home, he must be considered to be in possession of the firearm.
The liability is on the accused to dispel the court's presumption of his culpable mental state.
Section 54 of the Act also allows for a similar presumption in the possession of illicit articles.
ABOUT NCB
The government constituted the NCB on March 17, 1986, to coordinate with other departments and ministries to fight illicit traffic in drugs and drug abuse.
One of the Directive Principles in the Constitution (Article 47) directs the state to act against narcotic activities injurious to health.
The NDPS Act mandates the formation of a central authority to exercise its powers and functions under the statute.
SOURCE:  PIB
ENVIRONMENT, GEOGRAPHY AND AGRICULTURE
2. DATA ON EXPORT OF RICE FROM INDIA
THE CONTEXT: About 500 tonnes of broken rice imported from India were claimed to be genetically modified (GM) by a French manufacturer. This has drawn sharp reactions from the European countries as the European Union (EU) does not permit GM rice. An American company recalled four of its product lines fearing GM contamination. Data show that rice exports form the fifth-highest share in terms of India's total exports. India is also the biggest exporter of rice globally, forming over 30% of the world's exports. However, less than 5% of the rice exported from India is destined for the European countries. But for many European countries, India is their primary source for rice imports.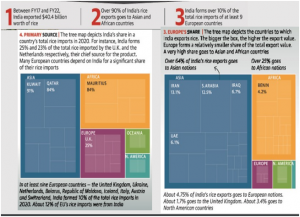 SOURCE:TH
3. INDIA'S FIRST BANNI BUFFALO IVF CALF BORN
THE CONTEXT: At a farmer's house in Gujarat's Gir Somnath district, India's first in-vitro fertilisation (IVF) calf of the Banni breed of buffaloes was born.
THE EXPLANATION:
The Banni buffalo breed is mostly found in Gujarat's Kutch region.
The IVC procedure was used to increase the number of genetically superior buffaloes in order to increase milk output.
A dairy farmer's Banni buffalo from Dhanej village gave birth to an IVF male calf.
Using IVF technology, Banni donors' embryos were implanted in 18 recipient buffaloes.
At the farmer's farm, the Banni breed had produced six pregnancies, one of which was a calf. In a few days, more will be born.
JKBovagenix of NGO JK Trust, a social project of Raymond Group, carried out this technique.
ABOUT BUFFALO BANNI
Buffaloes from Banni are also called "Kutchi" or "Kundi." The Kutch area of Gujarat is home to this kind of buffalo.
The term 'Banni' refers not just to buffaloes, but also to pasture grass species native to this region.
The 'Maldharis,' a Kutch-based community, is dedicated to preserving this breed of buffalo.
A typical Banni buffalo produces 12 to 18 litres of milk each day. They're noted for their better milk production capacity as well as their ability to withstand arid conditions.
They have a different genetic makeup than other breeds, which allows them to have longer lactation periods and higher milk production capacity.
SOURCE: PIB
4. ONE IN THREE SPECIES OF SHARKS AND RAYS IS NEARING EXTINCTION 
THE CONTEXT: Sharks, rays and chimaeras are now the second-most threatened vertebrate group, after amphibians. In a recent study, we found that over one-third of sharks and rays are threatened with extinction.
THE EXPLANATION:
The IUCN Shark Specialist Group reassessed the extinction risk of all species of sharks and rays. This eight-year project took hundreds of experts from all over the world to compile the data we needed to shed light on the status of sharks and rays.
Of the 1,199 species of sharks and rays, 391 (32.5%) are classified in one of the three threatened categories: "critically endangered", "endangered" and "vulnerable." Additionally, 123 (10.4%) are "near threatened," 529 (44.1%) are of "least concern", and 156 (12.9%) are "data deficient". Overall, as many as 450 species (37.5%) of sharks and rays may be "threatened" if the "data deficient" species are as threatened as the species for which we have sufficient data.
Nearly all species of sharks and rays (99.6%) are captured in fishing operations and all threatened species are imperiled by overfishing.
Shark and ray populations are in free fall, with little effective management to halt or even slow down their decline.
Whether the capture of sharks and rays is intentional or not, most species end up being retained at some level to be eaten or processed into animal feed. The skins of sharks and rays are made into leather for apparel and accessories (wallets and belts) and the liver oil is used for pharmaceuticals, cosmetics and even as a form of biodiesel.
SOURCE: Scroll
5. INDIA FACING BOUTS OF EXTREME WEATHER
THE CONTEXT: Even as the southwest monsoon began to retreat from the subcontinent, Kerala and Uttrakhand received record rainfall in October. In both these States over the last few years, there have been variations in the pattern and intensity of rainfall.
THE EXPLANATION:
There are different factors at play in Kerala and Uttrakhand. There have been two rain-bearing 'low-pressure systems' that are active in the Arabian Sea as well as the Bay of Bengal.
The low-pressure system in the Arabian Sea contributed to the heavy rain in Kerala, whereas western disturbances, which are periodic influxes of moisture-laden clouds from the Mediterranean, and common during winter, are what caused the rain in northern India.
The Bay of Bengal is still warm and strong winds from there are reaching as far as Uttrakhand and will contribute to rainfall in several parts of north-eastern India.
October is the month when the southwest monsoon entirely retreats from India and the northeast monsoon sets in, bringing rain over Tamil Nadu, Puducherry, coastal Andhra Pradesh and Kerala. Both low pressures, as well as western disturbances, are tangentially connected to the larger pattern of global warming.
The Bay of Bengal is historically the warmer ocean that seeds low pressures and cyclones that bring rain to India. In recent years, however, the Arabian Sea, too, has been warmer than normal, and leading to significant cyclonic activity.
Overall elevated temperatures are also contributing to warmer waters in the Arctic Ocean and drawing colder air from the poles with greater intensity. This added to the increased moisture, thereby seeding more intense western disturbance activity over north India.
The monsoon cycle is prone to large variations, and every year regional factors get accentuated — it's hard to predict which in advance — that then lead to extreme climate events.
SOURCE : TH
6. LEOPARD RELEASED IN WILD
THE CONTEXT: A female leopard, rescued from a forest in Madhya Pradesh's Raisen district over two months back, has now been released in the Satpura Tiger Reserve in Hoshangabad district.  It was subsequently brought to Bhopal's Van Vihar National Park where it was treated by a team of veterinarians.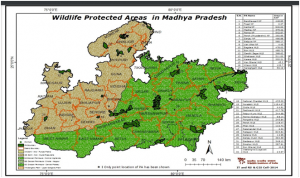 Source: ZEE
INTERNATIONAL RELATIONS
7. CHINA'S NEW LAW 'FORMALISES' ITS LAC ACTIONS
THE CONTEXT: China's legislature has adopted a new border law, to take effect on January 1, that calls on the state and military to safeguard the territory and "combat any acts" that undermine China's territorial claims.
THE EXPLANATION:
The law was first proposed in March this year, a year into tensions that erupted along the Line of Actual Control(LAC) with India after the People's Liberation Army (PLA) mobilised two divisions in forwarding areas and carried out multiple transgressions.
China has unresolved border disputes with India and Bhutan. The new law would formalise some of China's recent actions in disputed territories with both India and Bhutan, including the PLA's massing of troops in forwarding areas along the India border, multiple transgressions across the LAC, and the construction of new "frontier villages" along the border with Bhutan.
The law stipulates that the sovereignty and territorial integrity of the People's Republic of China are sacred and inviolable.
The state shall take measures to safeguard territorial integrity and land boundaries and guard against and combat any act that undermines territorial sovereignty and land boundaries.
It also calls on the state to take measures to strengthen border defence, support economic and social development as well as opening-up in border areas, improve public services and infrastructure in such areas, encourage and support people's life and work there, and promote coordination between border defence and social, economic development in border areas.
SOURCE: TH
PRELIMS PRACTICE QUESTIONS
Q1. Which of the following Tiger reserve is not located in Madhya Pradesh?
a) Satpura Tiger Reserve
b) Achanakmar Tiger Reserve
c) Bandhavgarh Tiger Reserve
d) Panna Tiger Reserve
Q2. Which community/tribe is dedicated to preserving banni breed of buffalo
a) Chenchus
b) Gaddis
c) Todas
d) Maldharis
ANSWER FOR OCTOBER 23, 2021 PRELIMS PRACTICE QUESTIONS
Answer: B
Explanation:
Statement 1 is incorrect: Loktak lake is located in Loktak Lake is the largest freshwater lake in Northeast India. Also, it is included as a wetland of international importance under the Ramsar Convention. 
Statement 2 is correct: It is famous for the phumdis(heterogeneous mass of vegetation, soil and organic matter at various stages of decomposition) floating over it.
Statement 3 is correct: KeibulLamjao National Park located on this phumdis, is the only floating national park in the world. The park is the last natural refuge of the endangered Sangai (state animal), or Manipur brown-antlered deer, one of three subspecies of Eld's deer.
Spread the Word