INDIAN POLITY, GOVERNANCE AND SOCIAL JUSTICE
1. GUIDELINES FOR PM CARES FOR CHILDREN SCHEME
THE CONTEXT: The Ministry of Women and Child Development has issued the detailed guidelines for the PM CARES for Children Scheme.
THE EXPLANATION:
Prime Minister on 29th May 2021 had announced comprehensive support for children who have lost both their parents due to COVID 19 pandemic.
The objective of the scheme is to ensure comprehensive care and protection of children who have lost their parent(s) to COVID pandemic in a sustained manner, enable their wellbeing through health insurance, empower them through education and equip them for self-sufficient existence with financial support on reaching 23 years of age.
The eligibility criterion for the scheme will cover all children who have lost i) Both parents or ii) Surviving parent or iii) legal guardian/adoptive parents/single adoptive parent due to COVID 19 pandemic, starting from 11.03.2020, the date on which WHO has declared and characterized COVID-19 as pandemic till 31.12.2021, shall be entitled to benefits under this scheme. iv) Child should not have completed 18 years of age on the date of death of parents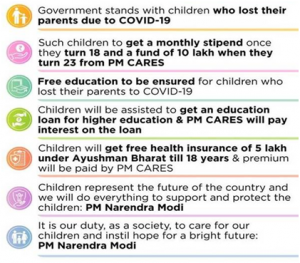 SOURCE: PIB
2. 40% OF SCHOOL CHILDREN DON'T HAVE ACCESS TO DIGITAL DEVICES
THE CONTEXT: The report, Initiatives by the School Education Sector in 2020-21, shows that the digital divide has hit some states disproportionately hard, while a few may have coped well due to adequate availability of smartphones and television sets.
THE EXPLANATION: 
40% and 70% of school-going children in seven large states – Assam, Andhra Pradesh, Bihar, Gujarat, Jharkhand, Madhya Pradesh and Uttarakhand – do not have access to digital devices,.
A report prepared by the Union Ministry of Education documents the response to challenges of the Covid-19 pandemic.
The report has been prepared based on 22 of 28 states' data and seven out of eight Union Territories.
The state-wise interventions to bridge the divide also reflect the same disparity – with some like Tamil Nadu claiming to have distributed 5.15 lakh laptops among students, as against 42 mobile phones by the Bihar government.
In absolute numbers, prepared based on surveys of various sample sizes by the states and UTs in 2020 and 2021, 29 crore students, including 14.33 crore in Bihar, were found without access to digital devices.
The 'new normal' may also have a huge impact on the learning levels for almost all children; learning loss may be a reality for many children.
Among the states to have responded, those having a very high share of students without digital access include Madhya Pradesh (70%), Bihar (58.09%), Andhra Pradesh (57%), Assam (44.24%), Jharkhand (43.42%), Uttarakhand (41.17%) and Gujarat (40%). Among the better-placed states and UTs are Delhi, with around 4% students without access, Kerala 1.63%, Tamil Nadu 14.51%.
SOURCE: IE
ENVIRONMENT, GEOGRAPHY AND AGRICULTURE
3. INDIA RECORDED THE HIGHEST LOSS IN TERRESTRIAL WATER STORAGE
THE CONTEXT: For the past 20 years, India has experienced terrestrial water storage (TWS) loss of at least 3 cm per year. In some regions, the loss has been over 4 cm per year too.
THE EXPLANATION: 
According to a new report, 2021 State of Climate Services released by the World Meteorological Organization (WMO), Terrestrial water storage (TWS) dropped at a rate of 1 cm per year in 20 years (2002-2021).
The biggest losses have occurred in Antarctica and Greenland. But many highly populated, lower latitude locations have also experienced TWS losses, according to the report.
This includes India, where the TWS has been lost at a rate of at least 3 cm per year. In some regions, the loss has been over 4 cm per year too. India has recorded the highest loss in terrestrial water storage if the loss of water storage in Antarctica and Greenland is excluded.
India is, therefore, the 'topmost hotspot of TWS loss', according to the WMO analysis. The northern part of India has experienced the maximum loss within the country.
TWS is the sum of all water on the land surface and in the subsurface, ie surface water, soil moisture, snow and ice and groundwater.
SOURCE:DTE
SCIENCE AND TECHNOLOGY
4. LASER-BASED CLAD COATING TECHNOLOGY
THE CONTEXT:  Indian Scientists have developed a unique laser-based clad coating technology (LCCT) that provides improved protection to the boiler parts in thermal power plants.
THE EXPLANATION:
Laser cladding is a technique for fusing a coating material on a substrate. It allows materials to be deposited accurately, selectively, and with minimal heat input into the underlying substrate.
This process allows for property improvements of the surface of a part, including better wear resistance, thus allowing for the repair of damaged or worn surfaces.
It can enhance the life of boiler parts by 2- 3 times compared to use surfacing technologies currently.
It has been found that this technology is suitable, not only for boiler parts of thermal power plants but also for any engineering application involving high temperature erosive and corrosive environment.
The LCCT has been developed with a meticulous fusing of a Nickel-based soft matrix with hard metallic carbide particles of (tungsten, chromium, or vanadium) on steel parts by employing a high-power laser integrated into a multi-axis robot with process monitoring and control.
The control of the microstructure of the coating with manipulation of laser-heat for precise melting of hard carbide particles in the evenly distributed soft matrix under controlled dilution enabled this unique LCCT suitable for boiler parts of the thermal power plant as well as engineering applications involving high temperature erosive and corrosive environment.
SOURCE:PIB
5. HAL DELIVERS HEAVIEST SEMI-CRYOGENIC PROPELLANT TANK TO ISRO
THE CONTEXT: The heaviest semi-cryogenic propellant tank (SC120- LOX) ever fabricated by Hindustan Aeronautics Limited (HAL) has been delivered to the Indian Space Research Organisation (ISRO).
THE EXPLANATION:
The first developmental welded hardware, the semi cryo-liquid oxygen (LOX) tank, is a part of the SC120 stage intended for payload enhancement by replacing the L110 set in the existing Mk-III launch vehicle.
HAL has delivered critical structures, tankages, satellite structures for the PSLV, GSLV-Mk II and GSLV-Mk III launch vehicles.
SOURCE:  INDIATODAY
6. ASTROSAT CATCHES NUCLEAR REACTIONS SPREADING ACROSS A NEUTRON STAR
THE CONTEXT:  Physicists have had a tough time making full sense of Neutron stars because of a gap in observations. Now, a new study indicates that India's first and only space telescope, AstroSat, could bridge this gap and lend a hand in resolving a cosmic mystery.
THE EXPLANATION:
Occasionally, the radiation emitted by neutron stars in binary increases by about 10x within a few seconds and decays sharply to the average intensity within a couple of minutes.
Scientists from IISER Mohali have shed important new light on the astrophysics of these thermonuclear bursts, using data collected by India's AstroSat space telescope.
AstroSat'sspeciality is being able to use its five instruments to observe radiation emitted by the same astronomical source in multiple frequencies
SOURCE: THE WIRE
INTERNATIONAL RELATIONS
7. EXERCISE AJEYA WARRIOR
THE CONTEXT:  The 6th Edition of India – UK Joint Company Level Military Training EXERCISE AJEYA WARRIOR has commenced at Chaubatia, Uttarakhand and will culminate on 20 Oct 2021.
THE EXPLANATION:
The exercise is part of an initiative to develop interoperability and sharing expertise with friendly foreign nations.
During this exercise, an Infantry Company from Indian Army and an equivalent strength from UK Army would share their experiences gained during various military operations in their respective countries and overseas engagements. Together, both armies stand to benefit from their varied experiences.
This joint military training will go a long way in improving bilateral relations and also will be a major step towards further strengthening the traditional bond of friendship between the two Nations.
SOURCE: PIB
8. INDIA, NEPAL TO CONDUCT JOINT PATROLS FOR CONTROLLING TRANS-BORDER CRIME
THE CONTEXT: The border guarding forces of India and Nepal will conduct regular joint patrolling along the border to control trans-border crimes, smuggling of arms, human trafficking and other areas of concern, a statement by the SashastraSeema Bal (SSB)
THE EXPLANATION:
SSB, a central armed police force, secures the Nepal and Bhutan borders.
Meeting held between heads of SashastraSeema Bal and Nepal's Armed Police Force.
The help desk established by both the APF and the SSB at transit points of the border would continue to facilitate the movement of citizens.
SOURCE: TH
MISCELLANEOUS
9. LITERATURE NOBEL GOES TO NOVELIST ABDUL RAZAK GURNAH
THE CONTEXT: Tanzanian-born novelist AbdulrazakGurnah, whose work focuses on colonialism and the trauma of the refugee experience, won the Nobel Literature Prize
THE EXPLANATION:
Based in Britain, Mr Gurnah is the first African writer to win the award since the Zimbabwean Doris Lessing in 2007, and only the second writer of colour from sub-Saharan Africa, after Nigeria's Wole Soyinka, who won in 1986.
In his 10 novels, he has consistently, and with great compassion, penetrated the effects of colonialism in East Africa and its impact on the lives of uprooted and migrating individuals.
His novels include Paradise, which is set in colonial East Africa during the First World War and was shortlisted for the Booker Prize for Fiction, and Desertion.
SOURCE:TH
PRELIMS PRACTICE QUESTIONS
Q1. Which of the following pairs about armed forces exercises between India and U.K. is/are correct?
Exercise Indradhanush – Air forces
Exercise Ajeya Warrior – Navy
Exercise Konkan – Army
Select the correct answer using the code given below:
a) 1 only
b) 1 and 2 only
c) 2 and 3 only
d) 3 only
ANSWER FOR OCTOBER 07, 2021 PRELIMS PRACTICE QUESTIONS
ANSWER: B)
Explanation
According to Tiger Conservation Plan, the State Government shall notify an area as a tiger reserve on the recommendation of the Tiger Conservation Authority.
Spread the Word