INDIAN POLITY, GOVERNANCE AND SOCIAL JUSTICE
1. SVAMITVA SCHEME
THE CONTEXT: PM will interact with the beneficiaries of the SVAMITVA scheme in Madhya Pradesh. Prime Minister will also distribute e-property cards to 1,71,000 beneficiaries under the scheme on the occasion.
ABOUT SVAMITVA SCHEME
SVAMITVA is a Central Sector Scheme of the Ministry of Panchayati Raj that aims to provide property rights to the residents of rural inhabited areas.
The scheme will pave the way for using the property as a financial asset by villagers for taking loans and other financial benefits, like in urban areas.
It aims to demarcate inhabited lands in rural areas through the latest surveying drone technology. The scheme has also provided a boost to the ecosystem of drone manufacturing in the country.
SOURCE: PIB
2. BUDDHIST TOURISM
THE CONTEXT: To tap the potential of Buddhist tourism, the Ministry of Tourism has organised a Buddhist Circuit Train FAM Tour and Conference scheduled to be held from 04th October – 08th October 2021. 
THE EXPLANATION:
The FAM tour will cover the visit of prominent Buddhist sites and conferences at Bodhgaya and Varanasi. The event is likely to be attended by around 125 delegates including tour operators, hoteliers, media and officials of the Ministry of Tourism & State Governments.
Ministry has taken a four-fold development strategy that focuses on improving the connectivity via air, rail, and roads, enhancing the tourism infrastructure and dependent services, streamlining branding and promotion and showcasing the culture and heritage.
Under Swadesh Darshan Scheme, 5 projects worth Rs325.53 crore have been sanctioned for Buddhist circuit development in the states of Madhya Pradesh, Uttar Pradesh, Bihar, Gujarat and Andhra Pradesh and those sanctioned projects are under different stages of implementation.
While works of Rs 44.19 crore on three projects have been sanctioned under PRASHAD Scheme; in Varanasi, two projects including a sound and light show at Dhamek Stupa and a Buddha Theme Park, Sarnath, are worth costing Rs 9.5 crores for the development of Buddhist structures have been completed.
India Tourism Offices in overseas markets regularly participate in a number of travel and tourism fairs as well as exhibitions wherein India's Buddhist Sites are promoted.
Ministry of Tourism organises Buddhist Conclave every alternate year with the objective of promoting India as a Buddhist Destination and major markets around the globe. The upcoming International Buddhist Conclave is scheduled from 17th to 21st November 2021.
Ministry has undertaken multiple projects under branding and promotion that is currently in the pipeline including a live virtual exhibition at the national museum, web portal, annual events calendar, social media marketing, campaigns in key source markets like Vietnam, Thailand, Japan, South Korea, Sri Lanka, etc.
The Ministry has also worked on projects for capacity building that include Linguistic Tourist Facilitator training in Thai, Japanese, Vietnamese, and Chinese languages. 525 people have been trained in these languages between 2018 to 2020, and 600 more will be trained between 2020 and 2023.
INDIA AS 'THE LAND OF BUDDHA'
Buddhism originated in ancient India more than 2500 years ago and spread through much of Asia.
With close to 500 million followers, Buddhists represent 7% of the world's total population.
The holy sites follow Buddha's life cycle with the most important ones being Buddha's birthplace Lumbini (Nepal), Bodh Gaya where he attained enlightenment, Sarnath where Buddha gave his first sermon after enlightenment also known as Dharmachakrapravartana, Kushinagar which Buddha chose for his final departure or Mahaparinirvana, Nalanda which was one of the world's first residential universities and an epicentre for learning, Rajgir where Buddha spent several months meditating and preaching at Gridhra Kuta (Hill of the Vultures), Sravasti where he taught many of his Suttas (sermons), and Vaishali where Buddha delivered his last sermon, to name a few.
In the State of Bihar and Uttar Pradesh, Ministry plans to cover and further develop the following Buddhist sites, namely, Bodh Gaya, Nalanda, Rajgir, Vaishali, Sarnath, Shravasti, Kushinagar, Kaushambi, Sankisa, and Kapilavastu.
These sites currently receive approximately 6% of nationwide foreign tourist arrivals with Sarnath and Bodh Gaya leading the pack.
SOURCE: PIB
3. HEALTH BENEFIT PACKAGE UNDER AYUSHMAN BHARAT REVISED
THE CONTEXT:   The National Health Authority (NHA), the apex body for implementing Ayushman Bharat Pradhan Mantri Jan Arogya Yojana (AB PM-JAY), has revised the Health Benefits Package (HBP) Master under the scheme.
THE EXPLANATION:
In the revised version of the Health Benefits Package (HBP 2.2), rates of some packages have been increased by 20% to 400% under the PM-JAY. Rates of around 400 procedures have been revised and one new additional medical management package related to black fungus has also been added.
The HBP 2.2 is expected to be rolled out from November this year.
HBP 2.2 would enable the empanelled hospitals to provide better services to the beneficiaries under Ayushman Bharat PM-JAY.
AYUSHMAN BHARAT
Ayushman Bharat, a flagship scheme of Government of India, was launched as recommended by the National Health Policy 2017, to achieve the vision of Universal Health Coverage (UHC).
This initiative has been designed to meet Sustainable Development Goals (SDGs) and its underlining commitment, which is to "leave no one behind."
Ayushman Bharat is an attempt to move from a sectoral and segmented approach of health service delivery to a comprehensive need-based health care service.
Ayushman Bharat adopts a continuum of care approach, comprising of two inter-related components:
Health and Wellness Centres (HWCs): Health and Wellness Centres (HWCs): In February 2018, the Government of India announced the creation of 1,50,000 Health and Wellness Centres (HWCs) by transforming the existing Sub Centres and Primary Health Centres.
Pradhan Mantri Jan Arogya Yojana (PM-JAY):

PM-JAY is the world's largest health insurance/ assurance scheme fully financed by the government.
It provides a cover of Rs. 5 lakhs per family per year for secondary and tertiary care hospitalization across public and private empanelled hospitals in India.
Over 10.74 crore poor and vulnerable entitled families (approximately 50 crore beneficiaries) are eligible for these benefits.
PM-JAY provides cashless access to health care services for the beneficiary at the point of service, (hospital).
PM-JAY envisions to help mitigate catastrophic expenditure on medical treatment which pushes nearly 6crore Indians into poverty each year.
It covers up to 3 days of pre-hospitalization and 15 days of post-hospitalization expenses such as diagnostics and medicines.
There is no restriction on the family size, age or gender.
All pre-existing conditions are covered from day one.
Benefits of the scheme are portable across the country e. a beneficiary can visit any empanelled public or private hospital in India to avail cashless treatment.
Services include approximately 1,393 procedures covering all the costs related to treatment, including but not limited to drugs, supplies, diagnostic services, physician's fees, room charges, surgeon charges, OT and ICU charges etc.
Public hospitals are reimbursed for the healthcare services at par with the private hospitals.
SOURCE: TH
ENVIRONMENT, GEOGRAPHY AND AGRICULTURE
4. NOBEL PHYSICS PRIZE GOES TO 3 FOR CLIMATE DISCOVERIES
THE CONTEXT: The Nobel Prize for physics has been awarded to scientists from Japan, Germany and Italy.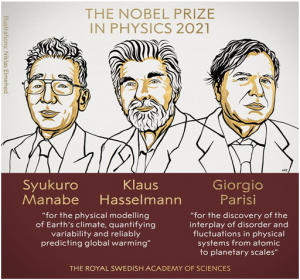 SOURCE: TH
INDIAN ECONOMY
5. RBI GRANTS LICENCE TO NARCL UNDER SARFAESI ACT
THE CONTEXT: The Reserve Bank of India (RBI) has granted the National Asset Reconstruction Company (NARCL), which is seeking to turn around bad loans worth Rs 2 trillion, the licence to register as an asset reconstruction company (ARC).
THE EXPLANATION:
The approval to the entity has been accorded under Section 3 of the Securitisation and Reconstruction of Financial Assets and Enforcement of Security Interest (SARFAESI) Act 2002.
Section 3 of the SARFAESI Act states that an entity cannot start the business of securitisation or asset reconstruction without obtaining a certificate of registration, and should have funds of at least Rs 2 crore or an amount not exceeding 15 per cent of the total financial assets acquired or to be acquired by the ARC.
State-owned lenders State Bank of India (SBI), Union Bank of India, Punjab National Bank (PNB) and Indian Bank have picked up over 12 per cent stake each in NARCL. SBI, Union Bank of India and Indian Bank have picked up 13.27 per cent stake each in NARCL, while PNB has bought 12.06 per cent.
The NARCL has been incorporated under the Companies Act, and public sector banks will hold 51 per cent in the bad bank. The remaining will be held by private banks and financial institutions.
About 16 public and private sector banks have put in Rs 5,000-6,000 crore in the bad bank. That will be utilised by it to pay 15 per cent cash to the lenders while purchasing their bad loans. The remaining 85 per cent will be paid through security receipts guaranteed by the government.
The newly formed NARCL expects to recover between Rs 50,000 crore and Rs 64,000 crore through the resolution of bad loans worth Rs 2 trillion.
SOURCE: BS
SCIENCE AND TECHNOLOGY
6. FACEBOOK, WHATSAPP AND INSTAGRAM OUTAGE
THE CONTEXT:  Facebook Inc.'s services suffered a massive outage on Monday for as long as six hours. It kept several users from accessing the company's core platforms like WhatsApp, Instagram and Messenger apps. It also disrupted businesses around the world that rely on the social network's tools and services.
THE EXPLANATION:
Networking experts are pointing to an update to Border-Gateway Protocol (BGP) as a possible cause for the outage.
To understand why this happened, one needs to know that the Internet is simply a network of networks. And all of these networks are bound together by Border-Gateway Protocol (BGP).
BGP lets one network know it is available to the others. Facebook is one such network, and it advertises its presence to other networks. This enables Internet service providers across the world to route web traffic to different networks via the BGP process.
In the case of Facebook, an update to the BGP removed its online properties from being available to the world's computers. This means the social network's Domain Name System (DNS) was not accessible to other networks, and the Internet.
Web infrastructure firm Cloudflare keeps track of BGP updates and announcements on a global scale. They have an overall view of how the Internet is connected and where the web traffic flows from. And any time a change is made to a network's BGP, be it an announcement or withdrawal, a message is sent to a router informing the update.
They noticed that the routes were withdrawn, sending Facebook's DNS servers offline. And the withdrawals meant Facebook and its websites were effectively out of sight from world's computers.
This happened because DNS is like a translation service for IP addresses. And when a DNS resolver fails to translate a domain name into an IP address, people won't be able to access that specific website. As a direct consequence, the webpage won't load.
As a work-around in such cases, a DNS resolver usually checks whether it has something in its cache and uses it to establish contact. And if that doesn't work, it tries to get a connection with the domain nameservers, one hosted by the network itself (Facebook in this case).
Both these mechanisms failed in Facebook's case as the social network stopped announcing its routes through BGP, making it impossible for everyone's DNS resolvers to connect to Facebook's nameservers.
SOURCE: TH
INTERNATIONAL RELATIONS
7. JIMEX
THE CONTEXT: The fifth edition of India – Japan Maritime Bilateral Exercise, JIMEX, between the Indian Navy (IN) and the Japan Maritime Self-Defence Force (JMSDF), will be held in the Arabian Sea from 06 to 08 October 2021.
THE EXPLANATION:
JIMEX series of exercises commenced in January 2012 with a special focus on maritime security cooperation. The last edition of JIMEX was conducted in September 2020.
JIMEX-21 aims to develop a common understanding of operational procedures and enhance inter-operability through the conduct of a multitude of advanced exercises, across the entire spectrum of maritime operations.
Multi-faceted tactical exercises involving weapon firings, cross-deck helicopter operations and complex surface, anti-submarine and air warfare drills will consolidate coordination developed by the two navies.
Naval cooperation between India and Japan has increased in scope and complexity over years. JIMEX-21 will further enhance the cooperation and mutual confidence between the two navies and fortify the long-standing bond of friendship between the two countries
SOURCE:  PIB
8. MITRA SHAKTI
THE CONTEXT: The 8th edition of India-Sri Lanka bilateral joint exercise Mitra Shakti commenced today at the Combat Training School, Ampara in Sri Lanka.
THE EXPLANATION:
The two-week-long exercise is being conducted from 04 to 15 October 2021.
The Indian Army contingent comprising of 120 personnel of Infantry Battalion Group and a similar strength from a Battalion of the Sri Lankan Army is participating in the bilateral exercise. Over the next few days, troops will train, share and rehearse tactical drills to undertake joint counter-terrorism operations in a semi-urban/rural environment under United Nations mandate.
Senior military observers and dignitaries of the Indian and the Sri Lankan Armies will be witnessing the validation phase of the exercise. The exercise provides an ideal platform for both contingents to share their operational experience and expertise while also being instrumental in broadening the inter-operability and cooperation between the Armies of India and Sri Lanka.
SOURCE:  PIB
9. BIDEN PROMISED TO DEFEND DISPUTED ISLANDS: KISHIDA
THE CONTEXT: New Japanese Prime Minister Fumio Kishida said that he received a "strong" message from President Joe Biden about the United States' commitment to defending the disputed East China Sea islets, known as the Senkaku Islands in Japan.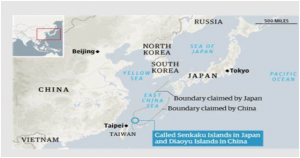 SOURCE: TH
PRELIMS PRACTICE QUESTIONS
Q1. Which of the following pairs is/are correctly matched?
Senkaku islands – South China Sea
Paracel islands – East China Sea
Diego Garcia – Indian Ocean
Select the correct answer using the code given below:
a) 1 and 2 only
b) 2 and 3 only
c) 3 only
d) 1, 2 and 3
ANSWER FOR OCTOBER 1, 2021 PRELIMS PRACTICE QUESTIONS (REFER TO  RELEVANT ARTICLE)
1. ANSWER: A
Explanation:
The Nobel Prize in Physiology or Medicine 2021 was awarded jointly to David Julius and Ardem Patapoutian "for their discoveries of receptors for temperature and touch."
Spread the Word