INDIAN POLITY, GOVERNANCE AND SOCIAL JUSTICE
1. 78% RAJYA SABHA MPS ON AN AVERAGE ATTEND SITTINGS
THE CONTEXT:The first ever quantitative analysis of the attendance of Rajya Sabha (RS) MPs has revealed that, on an average, 78% of the members were always present in the House.
THE EXPLANATION:
The analysis was done on the directions of RS Chairman M. Venkaiah Naidu.
Attendance details of members over the last seven sessions held during 2019 and till the last Monsoon session of 2021, a total of 138 sittings, were analysed.
AIADMK MP S.R. Balasubramaniam has attended all the 138 sittings that were studied by the RS team from 2019 to 2021.
BJP MP from Andhra Pradesh T.G. Venkatesh and TDP MP from Andhra Pradesh K. Ravindrakumar also had high attendance records.
The data also revealed that there were less than 2% of members who had never attended the proceedings in the 138 sittings due to illness and other reasons for which leave has been granted. The highest daily attendance of 82.57% was reported during the monsoon session.
The analysis also found that the COVID-19 pandemic did not drastically impact the attendance. Nearly 100 MPs attended the first session after the pandemic hit.
They had to observe COVID-19 protocols that imposed several restrictions, including on seating arrangements, in both Rajya Sabha and Lok Sabha chambers.
SOURCE : PIB
ENVIRONMENT, GEOGRAPHY AND AGRICULTURE
2.GOVERNMENT MOOTS EASIER CLEARANCE FOR FOREST LAND USE
THE CONTEXT:The government has proposed absolving agencies involved in national security projects and border infrastructure projects from obtaining prior forest clearance from the Centre as part of amendments to the existing Forest Conservation Act (FCA). The FCA that first came in 1980 and was amended in 1988, requires such permission.
THE EXPLANATION:
The proposed amendment is part of a larger rationalising of existing forest laws, the government has said. The document is open to public discussion for 15 days after which it could be readied for Cabinet and Parliamentary approval.
There is also a plan to exempt land acquired before 1980 — before the FCA came into effect — by public sector bodies such as the Railways.
As of today a landholding agency (Rail, NHAI, PWD, etc) is required to take approval under the Act as well as pay stipulated compensatory levies such as Net Present Value (NPV), Compensatory Afforestation (CA), etc. for use of such land which was originally been acquired for non-forest purposes.
The Environment Ministry also proposes adding a clause to make punishments under the modified Act punishable with simple imprisonment for a period which may extend to one year and make it cognisable and non-bailable.
They also propose provisions for penal compensation to make good for the damages already done to trees in forest land.
The document also proposes removing zoos, safaris, Forest Training infrastructures from the definition of "non-forestry" activities.
The current definition restricts the way money collected as part of compensatory cess can be spent towards forest conservation purposes.
SOURCE:TH
3.THE PROTOCOL ON ENVIRONMENTAL PROTECTION TO THE ANTARCTIC TREATY
THE CONTEXT: The Madrid Protocol, which confirms its commitment to preserve Antarctic environmental and dependent ecosystems, has now been signed and implemented for 30 years.
THE EXPLANATION:
India is committed to the comprehensive protection of the Antarctic environment and dependent and associated ecosystems, and the designation of Antarctica as a natural reserve devoted to peace and science. India also reaffirms its commitment to the Protocol on Environmental Protection to the Antarctic Treaty and at this moment claims to:
Implement all Decisions, Resolutions and Measures adopted at ATCM in the Indian Antarctic programme effectively.
Use green alternate energy system in both the Indian Antarctic research stations; Maitri and Bharati like solar panels and wind energy generators so compromising use of fossil fuel gradually and make station efficient with alternate green energy.
Reduce carbon footprints by using vehicles and machinery only when required at the most.
Use shared supply ship to deliver human resources, materials and machines to Antarctica.
Control the introduction of non-native species into Antarctica by any means or through vector transfer.
ABOUT THE ANTARCTIC TREATY
India signed the Antarctic Treaty on 19th August 1983 and soon thereafter received consultative status on 12th September 1983.
The Madrid Protocol was signed by India which came into force on 14th January, 1998. India is one of the 29 Consultative Parties to the Antarctic Treaty.
India is also a member of Council of Managers of National Antarctic Programme (COMNAP) and Scientific Committee of Antarctica Research (SCAR).
India has two active research stations; Maitri (commissioned in 1989) at Schirmacher Hills, and Bharati (commissioned in 2012) at Larsemann Hills in Antarctica. India has successfully launched 40 annual scientific expeditions to Antarctica till date. With Himadri station in Ny-Alesund, Svalbard, Arctic, India now belongs to the elite group of nations that have multiple research stations within the Polar Regions.
The Protocol on Environmental Protection to the Antarctic Treaty was signed in Madrid on October 4, 1991 and entered into force in 1998.
It designates Antarctica as a "natural reserve, devoted to peace and science".
SOURCE: PIB
INDIAN ECONOMY
4.SWING PRICING
THE CONTEXT: SEBI introduced a new swing pricing framework for debt mutual funds to protect retail investors in times of massive redemptions.
THE EXPLANATION:
Under swing pricing, an AMC adjusts or 'swings' by a certain percentage the net asset value (NAV) of any MF scheme facing redemption pressure.
Once swing pricing is enforced, all investors exiting or entering the scheme can transact only at the adjusted NAV — which is lower than the usual NAV.
The purpose of swing pricing is to pass on the cost of redemptions — in the form of a lower NAV — to those selling their scheme units. Incoming investors who are countering the outflow, benefit from a lower entry NAV.
Open-end mutual funds, which promise to allow investors to cash out their units on demand usually have systems in place to ensure they can smoothly handle small and phased-out redemptions.
In normal times, an AMC can meet redemption requests. However, when there are bunched-up redemptions and the fund too is unable to liquidate its holdings to meet them, then the fund may be forced to resort to distress sales of its holdings.
The most obvious costs — trading costs, the price impact of executing large trades and cost of borrowing to meet redemptions — all eat into scheme returns.
Better quality and more liquid securities tend to get sold first, leaving investors who have stayed with the scheme with lower returns and a poorer quality portfolio. Swing pricing attempts to resolve this inequity.
SOURCE:TH
5.CASES PERTAINING TO 'PANDORA PAPERS' TO BE INVESTIGATED
THE CONTEXT:  The Government has directed that, investigations in cases of Pandora Papers leaks appearing in the media will be monitored through the Multi Agency Group, headed by the Chairman, CBDT, having representatives from CBDT, ED, RBI & FIU.
THE EXPLANATION:
On 3rd October, 2021, the International Consortium of International Journalists (ICIJ) has come out with what is claimed to be a 2.94 terabyte data trove that exposes the offshore secrets of wealthy elites from more than 200 countries and territories.
The investigation is based on a leak of confidential records of 14 offshore service providers that give professional services to wealthy individuals and corporations seeking to incorporate shell companies, trusts, foundations and other entities in low or no-tax jurisdictions.
The Government has taken note of these developments. The relevant investigative agencies would undertake investigation in these cases and appropriate action would be taken in such cases as per law.
With a view to ensure effective investigation in these cases, the Government will also proactively engage with foreign jurisdictions for obtaining information in respect of relevant taxpayers/entities.
The Government of India is also part of an Inter-Governmental Group that ensures collaboration and experience sharing to effectively address tax risks associated with such leaks.
It may be noted that following earlier similar such leaks in the form of ICIJ, HSBC, Panama Papers and Paradise Papers, the Government has already enacted the Black Money (Undisclosed Foreign Income and Assets) and Imposition of Tax Act, 2015 with an aim to curb black money, or undisclosed foreign assets and income by imposing suitable tax and penalty on such income. Undisclosed credits of Rs. 20,352 crore approximately (status as on 15.09.2021) have been detected in the investigations carried out in the Panama and Paradise Papers.
Names of only a few Indians (legal entities as well as individuals) have appeared so far in the media. Even the ICIJ website (icij.org) has not yet released the names and other particulars of all the entities.
The website of ICIJ suggests that information will be released in phases and structured data connected to the Pandora Papers investigation will be released only in the days to come on its Offshore Leaks Database.
SOURCE:PIB
SCIENCE AND TECHNOLOGY
6. THE NOBEL PRIZE FOR PHYSIOLOGY
THE CONTEXT:  David Julius, ArdemPatapoutian share the Nobel Prize for physiology.David Julius and ArdemPatapoutian focused their work on the field of somatosensation that is the ability of specialised organs such as eyes, ears and skin to see, hear and feel.
THE EXPLANATION: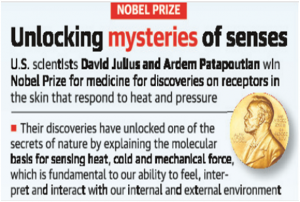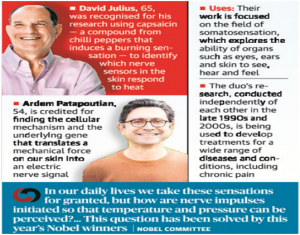 SOURCE: TH
7. DRONE-BASED VACCINE DELIVERY
THE CONTEXT:   Health Minister launched the ICMR's drone response and outreach in the north-east (iDrone).
THE EXPLANATION:
The delivery model is aimed at ensuring that life-saving vaccines reach everyone.
This is for the first time that a 'Make in India' drone has been used in South Asia to transport COVID vaccine over an aerial distance of 15 km in 12-15 minutes from the Bishnupur district hospital to Loktak lake, Karang island in Manipur for administration at the primary health centre.
Launching initiative which would facilitate vaccine delivery to tough and hard-to-reach terrains, Health Minister said incorporating such technologies into national programmes would help deliver other vaccines and medical supplies too as quickly as possible.
SOURCE: TH
8. ELECTRICITY FROM COW DUNG
THE CONTEXT:After the implementation of the scheme to purchase cow dung at Rs 2 per kg, Chhattisgarh is now moving towards generating electricity from cow dung. Chief Minister launched the power generation project on the occasion of Gandhi Jayanti.
THE EXPLANATION:              
In every village of Chhattisgarh, a unit to generate electricity from cow dung will be installed in Gauthan (place where cattle are kept).
The cow dung procured from the farmers under the GodhanNyayYojana would be used to generate electricity. This will not only benefit the environment but will also benefit the women of self-help groups doing dung procurement work.
In the first phase of the project, units of power generation from cow dung have been installed at Rakhi in Bemetara district, Sikola in Durg and Bancharoda in Raipur district.
Bio gas plants, scrubbers and gensets have been set up in Gauthans to generate electricity from cow dung.
Biogas will be produced by adding cow dung and water in the biogas tank, due to which methane gas will be available in 50 per cent quantity, from which electricity will be generated by running the genset
SOURCE : IE
INTERNATIONAL RELATIONS
9. JAPAN'S NEW PRIME MINISTER AND THE LONG SHADOW OF ABENOMICS
THE CONTEXT: Fumio Kishida's task now is to prove he is the right choice to guide the Japanese economy out of the short-term Covid-19 crisis and to prepare it for the longer-term challenges ahead.
THE EXPLANATION:
Unsurprisingly, Japan's economy has been hit hard by the pandemic. Japan finally ended a COVID-19 state of emergency that had been in place since April, allowing various businesses to fully reopen again.
The bigger question for Kishida relates to fiscal stimulus in the longer term and specifically, his attitude to so-called Abenomics, the brand of policy associated with the former Prime Minister Abe.
Kishida made it clear during the leadership contest that he would stick to the three main planks of Abenomics, namely: an aggressive monetary policy; a flexible fiscal policy; and a growth strategy which includes structural reforms.
Japan's policy of massive fiscal stimulus over the past decade does appear to have largely worked. The country has added around 5 million jobs since Abe took over in December 2012 while growth has become much healthier, following almost 20 years of moribund GDP figures. Corporate profits and share prices have also surged.
Kishida has stressed the importance of fiscal discipline though. Back in 2018, he said that the Bank of Japan's monetary easing policy "cannot last forever."
He has also distanced himself from some elements of Abenomics, in particular the idea that booming corporate profits will eventually benefit ordinary households. He has spoken disparagingly of "neoliberalism" and has talked up a new style of Japanese capitalism.
Kishida has plenty of other longer-term economic challenges which will require immediate attention.
Despite the country's reputation as a leader in digital infrastructure, Japan has struggled to bring government services away from paperwork and offices and onto the online world. According to a recent OECD survey, Japan ranks last in terms of providing digital services. The shortcomings were shown up during the pandemic, when aid was slow to reach the needy due to bureaucracy.
Kishida must also grapple with other major socioeconomic questions. Japan has the world's oldest population, putting huge pressure on the country's taxpayers. It also has a serious gender inequality problem. The World Economic Forum says Japan's gender gap is "the largest among advanced economies."
Then there is climate change and the green transition. Kishida's predecessor, Suga, announced in his first address to parliament in September 2020 that Japan would achieve net-zero carbon emissions by 2050. He also later declared that Japan would cut emissions in 2030 by 46% from 2013 levels.
That in itself was a departure from Abe, who did not focus much on climate change. Kishida has spoken of Japan's need to back nuclear power as a clean energy source, and to invest in renewables. Whether or not he will maintain Suga's targets, though, remains to be seen.
SOURCE :  IE
PRELIMS PRACTICE QUESTIONS
Q.1) 2021 Nobel Prize in Physiology or Medicine Awarded for?
a) Discoveries of receptors for temperature and touch
b) Discovery of cancer therapy by inhibition of negative immune regulation
c) Discovery of hepatitis c virus
d) Work on how cells sense and adapt to oxygen availability
ANSWER FOR OCTOBER 1, 2021 PRELIMS PRACTICE QUESTIONS (REFER  TO RELEVANT ARTICLE)
Q1. ANSWER: D
Explanation:
Jal Jeevan Mission is being implemented as a decentralized, demand-driven and community-managed programme with Gram Panchayats and/ or its sub-committees, i.e. Village Water & Sanitation Committees (VWSC)/ PaniSamitis playing a key role in planning, implementation, management, operation and maintenance of in-village water supply systems, thereby providing clean tap water to every household on regular and long-term basis.
Statement 1 is correct: The PaniSamitis/ VWSCs function as a legal entity as envisaged in the 73rd Amendment to the Constitution.
Statement 2 is correct: It consists of 10-15 members with at least 50% women members and proportionate representation from weaker sections.
Statement 3 is correct: VWSC prepared a one-time Village Action Plan (VAP), co-terminus with 15th Finance Commission period by dovetailing different resources at village level, which is to be approved in a Gram Sabha. VAP comprises of 4 key components of drinking water source augmentation, drinking water supply system, grey water treatment and its reuse, and regular operation and maintenance of in-village water supply system.
Q2. Answer: C
Explanation:
Statement 1 is correct: Nano Urea (Liquid) contains nanoscale nitrogen particles which have more surface area (10,000 times over 1 mm Urea prill) and number of particles (55,000 nitrogen particles over 1 mm Urea prill).which makes it more impactful. In comparison to Urea the uptake efficiency of Nano Urea is more than 80 %.
Statement 2 is correct: India has become the first country in the world to start commercial production of Nano Urea.  Not only has Nano Urea been produced on a large scale today, but farmers are adopting it on a large scale since the very beginning.
Spread the Word