INDIAN POLITY, GOVERNANCE AND SOCIAL JUSTICE
1. HELPLINE FOR SENIOR CITIZENS
THE CONTEXT: The Government of India has taken a monumental step towards addressing the challenges and problems they face, through the country's first Pan-India toll-free helpline – 14567 — called 'Elder Line', which provides free information and guidance on pension issues, legal issues, extends emotional support, and even intervenes on the field in cases of abuse, and rescues homeless elderly.
ANALYSIS:
The intent of 'Elder Line' is to provide all senior citizens, or their well-wishers, with ONE platform across the country to connect and share their concerns, get information and guidance on problems that they face on a day-to-day basis, without having to struggle for it.
Elder Line is a culmination of the initiative of Tata Trusts, India's oldest philanthropy, which took through its partner, Vijayavahini Charitable Foundation, in 2017, in collaboration with the Government of Telangana in Hyderabad, to help the elderlies in the city.
Tata Trusts has been and continues to be engaged in strategic philanthropy, to create an impact that is deep, wide and irreversible in millions of lives in the communities that we serve, distinguished by our scale and depth of interventions on issues of national significance.
SOURCE: PIB
ENVIRONMENT, GEOGRAPHY AND AGRICULTURE
2. CROP VARIETIES WITH SPECIAL TRAITS
THE CONTEXT: The Prime Minister dedicated to the Nation 35 crop varieties with special traits. The Prime Minister also dedicated to the nation the newly constructed campus of the National Institute of Biotic Stress Management Raipur.
ANALYSIS:
The crop varieties with special traits have been developed by the Indian Council of Agricultural Research (ICAR) to address the twin challenges of climate change and malnutrition.
Thirty-five such crop varieties with special traits like climate resilience and higher nutrient content have been developed in the year 2021.
These include a drought-tolerant variety of chickpea, wilt and sterility mosaic resistant pigeon pea, early maturing variety of soybean, disease-resistant varieties of rice and biofortified varieties of wheat, pearl millet, maize and chickpea, quinoa, buckwheat, winged bean and faba bean.
These special traits crop varieties also include those that address the anti-nutritional factors found in some crops that adversely affect human and animal health.
Examples of such varieties include Pusa Double Zero Mustard 33, the first Canola quality hybrid RCH 1 with <2% erucic acid and <30 ppm glucosinolates and a soybean variety free from two anti-nutritional factors namely Kunitz trypsin inhibitor and lipoxygenase.
Other varieties with special traits have been developed in soybean, sorghum, and baby corn, among others.
ABOUT NATIONAL INSTITUTE OF BIOTIC STRESS MANAGEMENT
The National Institute of Biotic Stress Management at Raipur has been established to take up the basic and strategic research in biotic stresses, develop human resources and provide policy support. The institute has started PG courses from the academic session 2020-21.
SOURCE: PIB
3. LOCKDOWNS SLOWED GREEN ENERGY PUSH
THE CONTEXT: The lockdowns slowed renewable energy installations in India and the pace of such installation is lagging India's 2022 target, according to a report by the Institute for Energy Economics and Financial Analysis (IEE- FA), a research think tank.
ANALYSIS:
As part of its commitment to reducing greenhouse gas emissions, India has said that it would install 175 gigawatts (GW) of green energy by 2022 and 450 GW by 2030 but only 7 GW of such capacity was added in the financial year 2020-21.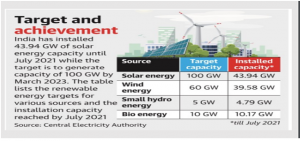 SOURCE: TH
INDIAN ECONOMY
4. ZOJILA TUNNEL
THE CONTEXT: Road works totalling Rs. 1.5 lakh crore is being undertaken in the Union Territories of J & K and Ladakh. Minister for Road Transport and Highways reviewed the construction work at the Zojila tunnel, likely to be ready by September 2026.
ANALYSIS:
The 13.5 km tunnel will be Asia's longest bi-directional tunnel and will allow all-weather connectivity between Ladakh and Srinagar, which is disrupted during the winter months.
It is located at 11,578 feet above sea level.
It takes 3.5 hours to travel between Srinagar and Ladakh. The tunnel will reduce the travel time to 15 minutes.
The Z-Morh tunnel — being developed at Sonmarg — will provide it all-weather connectivity with Srinagar allowing it to remain open to tourists all year round.
It is likely to be ready by December 2023 and is being developed at a cost of Rs 2,378 crores.
Mountain passes in India: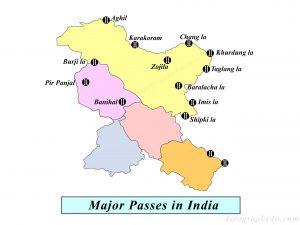 SOURCE: TH
INTERNATIONAL RELATIONS
5. 4TH INDO-US HEALTH DIALOGUE 2021
THE CONTEXT: The two-day Dialogue leveraged as a platform to deliberate upon multiple ongoing collaborations in the health sector between the two countries.
ANALYSIS:
The issues related to areas of concern pertaining to strengthening of epidemiological research and surveillance, vaccine development, One Health, zoonotic and vector-borne diseases, health systems and health policies etc. were discussed during the two-day dialogue.
MoU signed India and USA for cooperation in Health and Biomedical Sciences
MoU also signed between Indian Council of Medical Research (ICMR) & NIAID (NIH) for cooperation on International Centre for Excellence in Research (ICER)
SOURCE: PIB
PRELIMS PRACTICE QUESTIONS
Q.Which of the following pairs is/are incorrectly matched?
Nathu La – Sikkim
Lipulekh pass – Himachal Pradesh
Jelep La – Arunachal Pradesh
Select the correct answer using the code given below:
a) 1 only
b) 1 and 2 only
c) 2 and 3 only
d) 1, 2 and 3
ANSWER FOR SEPTEMBER 28, 2021 PRELIMS PRACTICE QUESTIONS (REFER TO RELEVANT ARTICLE)
ANSWER: C)
Explanation:
Statement 1 is correct: The mission will include a health ID for every citizen that will also be used as their health account. Personal health records can be linked to this account and viewed with the help of a mobile application
Statement 2 is correct: A Healthcare Professionals Registry (HPR) and Healthcare Facilities Registries (HFR) will act as a repository of all healthcare providers across both modern and traditional systems of medicine.
Spread the Word