INDIAN POLITY, GOVERNANCE AND SOCIAL JUSTICE
1. DIGITAL HEALTH ID
THE CONTEXT: The newly launched Ayushman Bharat Digital Mission will involve a unique health ID for every citizen.
WHAT IS THE UNIQUE HEALTH ID?
If a person wants to be part of the ABDM, she must create a health ID, which is a randomly generated 14-digit number. The ID will be broadly used for three purposes: unique identification, authentication, and threading of the beneficiary's health records, only with their informed consent, across multiple systems and stakeholders.
One can get a health ID by self-registration on the portal or by downloading the ABMD Health Records app on one's mobile. Additionally, one can also request the creation of a health ID at a participating health facility.
The beneficiary will also have to set up a Personal Health Records (PHR) address for consent management, and for future sharing of health records.
WHAT IS A PHR ADDRESS?
It is a simple self-declared username, which the beneficiary is required to sign into a Health Information Exchange and Consent Manager (HIE-CM).
Each health ID will require linkage to a consent manager to enable sharing of health records data.
WHAT DOES ONE NEED TO REGISTER FOR A HEALTH ID?
Currently, ABDM supports health ID creation via mobile or Aadhaar.
For health ID creation through mobile or Aadhaar, the beneficiary will be asked to share details on name, year of birth, gender, address, mobile number/Aadhaar.
Is Aadhaar is not mandatory. One can use one's mobile number for registration, without Aadhaar.
ARE PERSONAL HEALTH RECORDS SECURE?
The records are stored with healthcare information providers as per their retention policies and are shared over the ABDM network with encryption mechanism" only after the beneficiary express consent.
CAN I DELETE MY HEALTH ID AND EXIT THE PLATFORM?
Yes, the NHA says ABDM, supports such a feature. Two options are available: a user can permanently delete or temporarily deactivate her health ID.
On deletion, the unique health ID will be permanently deleted, along with all demographic details.
On deactivation, the beneficiary will lose access to all ABDM applications only for the period of deactivation. Until she reactivates her health ID, she will not be able to share the ID at any health facility or share health records over the ABDM network.
WHAT FACILITIES ARE AVAILABLE TO BENEFICIARIES?
You can access your digital health records right from admission through treatment and discharge. Second, you can access and link your personal health records with your health ID to create a longitudinal health history.
HOW DO PRIVATE PLAYERS GET ASSOCIATED WITH A GOVERNMENT DIGITAL ID?
The NHA has launched the NDHM Sandbox: a digital architecture that allows helps private players to be part of the National Digital Health Ecosystem as health information providers or health information users.
The private player sends a request to NHA to test its system with the Sandbox environment. The NHA certifies and empanels the private hospital.
WHY IS THIS INITIATIVE SIGNIFICANT?
At present, the use of digital health ID in hospitals is currently limited to only one hospital or to a single group, and is mostly concentrated in large private chains. The new initiative will bring the entire ecosystem on a single platform.
For instance, if a patient is getting treated at AIIMS, Delhi, and wants to move to another hospital in a different city, and if that hospital is also on the centralised ecosystem, the patient does not have to carry physical health records or files of several years of treatment, as the medical history is readily available.
The system also makes it easier to find doctors and specialists nearest to you. Currently, many patients rely on recommendations from family and friends for medical consultation, but now the new platform will tell the patient who to reach out to, and who is the nearest. Also, labs and drug stores will be easily identified for better tests using the new platform.
SOURCE: IE
2. CONTINUATION OF PM POSHAN IN SCHOOLS
THE CONTEXT:  The Cabinet Committee on Economic Affairs (CCEA) has approved the continuation of 'National Scheme for PM POSHAN in Schools' for the five-year period 2021-22 to 2025-26 with the financial outlay of 54061.73 crores rupees from the Central Government and 31,733.17 crore rupees from State Governments & UT administrations.
ANALYSIS:
Highlights of the decision that would improve the efficiency and effectiveness of the scheme are as below:
The scheme is proposed to be extended to students studying in pre-primary or Bal Vatikas of Government and Government-aided primary schools in addition to all the 11.80 crore children from elementary classes.
The concept of TithiBhojan will be encouraged extensively. TithiBhojan is a community participation programme in which people provide special food to children on special occasions/festivals.
The government is promoting the development of School Nutrition Gardens in schools to give children first-hand experience with nature and gardening. The harvest of these gardens is used in the scheme providing additional micronutrients. School Nutrition Gardens have already been developed in more than 3 lakh schools.
Social Audit of the scheme is made mandatory in all the districts.
Special provision is made for providing supplementary nutrition items to children in aspirational districts and districts with a high prevalence of Anemia.
Cooking competitions will be encouraged at all levels right from village level to national level to promote ethnic cuisine and innovative menus based on locally available ingredients and vegetables.
Vocal for Local for Atmanirbhar Bharat: Involvement of Farmers Producer Organizations (FPO) and Women Self Help Groups in the implementation of the scheme will be encouraged. Use of locally grown traditional food items for a fillip to local economic growth will be encouraged.
Field visits for progress monitoring and inspections will be facilitated for students of eminent Universities/Institutions and also trainee teachers of Regional Institutes of Educations (RIE) and District Institutes of Education and Training (DIET).
SOURCE: PIB
3. THE GOVERNMENT'S OBJECTIONS TO A CASTE CENSUS
THE CONTEXT: In an affidavit filed in the Supreme Court on September 23, the Union government has categorically ruled out conducting a Socio-Economic Caste Census (SECC), stating that a caste census (except that for the Scheduled Castes and Scheduled Tribes done traditionally) was unfeasible from an administrative point of view.
BACKGROUND
The government's affidavit was in response to a writ petition by the Maharashtra government seeking directions to the Central government to collect data on the Backward Class of Citizens (BCC) of rural India during the enumeration of the 2021 census. The petition also wanted the Centre to disclose the raw caste data on other backward classes (OBCs) collected during SECC-2011.
The government's affidavit covers three different aspects of the caste census issue, as reflected in the writ petition.
It first explains why it cannot make public the caste data collected under the SECC-2011 census.
Then it argues that the judiciary cannot direct the government to conduct a caste census because it is a "policy decision" not to do so, and
The judiciary cannot interfere with government policy. And finally, it elaborates on why it is neither practical nor administratively feasible to attempt a caste census.
In its affidavit, the government acknowledges that the SECC-2011's caste data of 130 crore Indians have been with the Ministry of Social Justice and Empowerment for five years. Due to flaws in the data, it was decided to form an Expert Committee headed by the then Vice-Chairman of the NITI Aayog Arvind Panagariya. But since other members of the Committee were not named, the Committee never met, and as a result, no action was taken on the raw data to collate it into publishable findings. Therefore, government do not want to make the raw data of the 2011 caste census public.
WHAT REASONS HAS THE GOVERNMENT CITED FOR NOT COUNTING CASTES ALONG WITH THE REGULAR 2021 CENSUS?
The government has cited numerous administrative, operational and logistical reasons to argue that collecting caste data during 2021
Census is unfeasible and attempting it could endanger the census exercise itself. It begins by pointing to the difference in caste categories according to different lists. While the Central list contained 2,479 OBC castes, there were 3,150 OBC castes as per the lists of all the States and Union Territories taken together.
If a caste-related question is included, it would "return thousands of castes as the people use their clan/gotra, sub-caste and caste names interchangeably". Since enumerators are part-timers with 6-7 days of training and "not an investigator or verifier", the affidavit states, "it would be difficult to meaningfully tabulate and classify caste returns".
Secondly, the preparatory work for a census starts three to four years earlier. As for the 2021 census, the questionnaires have already been finalised and field-tested. It is, therefore, not feasible to add additional questions about caste at this late stage.
Third, unlike in the case of SCs/STs, there is no Constitutional mandate for the Registrar General and Census Commissioner, India to provide the census figures of OBCs/BCCs.
It has cited the 2014 Supreme Court judgment setting aside two orders of the Madras High Court directing the Centre to conduct a caste census. As per this SC judgment, what information to collect in a census is a policy decision of the government, and while the court may find a certain policy untenable, it was "legally impermissible" for the court to dictate to the government what policy it ought to follow.
SOURCE: TH
4. TOXIC MATERIAL IN FIRECRACKERS
THE CONTEXT: The Supreme Court said a preliminary enquiry by the CBI into the firecracker industry, including in Tamil Nadu, revealed rampant violation of its ban on the use of toxic ingredients like Barium and its salts. The CBI was directed to examine the allegations of violation of the court ban in 2018.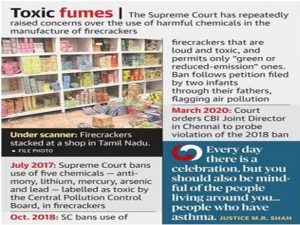 SOURCE: TH
5. HIGH LEVELS OF MATERNAL AND CHILD UNDERNUTRITION
THE CONTEXT:  According to Arjan De Wagt, Head, Nutrition, UNICEF India, COVID-19 is interacting with undernutrition and exacerbating nutritional insecurities.
ANALYSIS:
Overall, India has made impressive gains in economic and human development in recent decades. It has transitioned from being a food-deficit nation to a self-sufficient food-producing country in the last 30 years.
However, high levels of maternal and child undernutrition continue to plague the country. Large-scale surveys like the Comprehensive National Nutrition Survey (CNNS) and National Family Health Survey-4 (NFHS) show that about one-third of children under five years of age in India are stunted, a third of them are underweight and almost two out of ten children are nutritionally wasted; many of these children suffer from multiple anthropometric deficits.
The CNNS also highlight the emerging problems of overweight, obesity and micro-nutrient deficiencies.
Global research in 2020 on the effect of COVID-19 estimated about a 14.3% increase in wasting globally. No specific data are available yet on the impact of COVID-19 on the nutritional status of the Indian population. However, from global and Indian experience, it is increasingly evident how COVID-19 is interacting with undernutrition and exacerbating nutritional insecurities.
Firstly, the COVID-19 infection negatively affects the nutritional status of a child, and those with poor nutritional status are more likely to have a higher risk of morbidity and mortality.
Secondly, disruption to food systems due to reduced food availability and broken supply chains, as well as dried income sources and depleted family savings is likely to have decreased financial and physical access to healthy food.
Third, health and social services such as Anganwadi centres, nutrition rehabilitation centres, and village health sanitation and nutrition days (VHSND) were disrupted.
Fourth, COVID-19 related priorities could threaten the delivery and financing of nutrition and nutrition security responses, which we had seen in recent times, especially since the launch of the Poshan Abhiyaan.
Six areas need immediate attention.
First and foremost, strong leadership at all levels — from national to the district — is essential to bring back focus to address food, income and nutritional security.
Second, uninterrupted, universal, timely and high-quality coverage of essential evidence-based nutritional services must be ensured, with a special focus on children below two years of age, pregnant women and adolescent girls, which are the critical growth and development periods of life.
Thirdly, the pandemic calls for strategies adapting to COVID-19 guidelines and innovations in the service delivery mechanism. Urgent attention is needed to address food security, dietary diversity, micronutrient supplementation, social protection, economic support, gender, and financial inclusion. Keeping girls in school and delaying the age of marriage should be emphasised. The mid-day meal programme benefits should continue uninterrupted even when school services are disrupted.
Fourthly, adequate financing is needed to ensure the delivery of high impact interventions, and additional financing will be required for ensuring food and nutritional security, especially for the vulnerable population groups. Accelerating fund release to States and decentralised decision making are required to improve fund utilisation. The main causes of underutilisation of funds potentially available for nutrition responses must be identified and addressed.
Multisectoral interventions that directly or indirectly impact nutrition, like health, nutrition and social protection schemes need to be delivered effectively to the same household, same woman, same child. Migrant labourers and urban poor need special focus.
Finally, nutrition needs to be retained as a key indicator for development. Regular reviews aided by robust data systems are essential to help identify areas where urgent actions are needed. Data quality needs to improve for better policy and programme decisions.
SOURCE: TH
ENVIRONMENT, GEOGRAPHY AND AGRICULTURE
6. REVAMPED REC MECHANISM
THE CONTEXT: Union Minister of Power and New & Renewable Energy has given his assent to amendments in the existing Renewable Energy Certificate (REC) mechanism. The intent behind this decision is to align the 'mechanism' with the emerging changes in the power scenario and also to promote new renewable technologies.
THE SALIENT FEATURES OF CHANGES PROPOSED IN REVAMPED REC MECHANISM
Validity of REC would be perpetual i.e., till it is sold.
Floor and forbearance prices are not required to be specified.
CERC to have monitoring and the surveillance mechanism to ensure that there is no hoarding of RECs.
The RE generator who are eligible for REC will be eligible for issuance of RECs for the period of PPA as per the prevailing guidelines.  The existing RE projects that are eligible for REC would continue to get RECs for 25 years.
A technology multiplier can be introduced for the promotion of new and high priced RE technologies, which can be allocated in various baskets specific to technologies depending on maturity.
RECs can be issued to obligated entities (including DISCOMs and open access consumers) which purchase RE Power beyond their RPO compliance notified by the Central Government.
No REC to be issued to the beneficiary of subsidies/concessions or waiver of any other charges. The FOR to define concessional charges uniformly for denying the RECs.
Allowing traders and bilateral transactions in the REC mechanism.
SOURCE:  PIB
INDIAN ECONOMY
7. INDIA EXPORT INITIATIVE AND INDIAXPORTS 2021 PORTAL
THE CONTEXT: MSME Minister launched India Export Initiative and IndiaXports 2021 Portal.
ANALYSIS:
IndiaXports aims to orient MSMEs free of cost, with the objective of focussing on the untapped export potential in existing tariff lines and supporting MSMEs in order to grow the number of exporting MSMEs and increase MSME exports by 50% in 2022 and contributing to the PM's dream of the US $5 Trillion Economy.
This initiative features an Info Portal which serves as a knowledge base for exports by Indian MSMEs with the required information related to export potential for all the 456 tariff lines along with the potential markets as well as trends in exports, export procedures and lots more.
Apart from an export help desk, Instructor-led orientation will also be provided to MSMEs through a series of sessions for specific sectors highlighting the opportunities in specific products in international markets.
The initiative targets 1 lakh+ MSME desirous of knowing more about exports and hand-holding 30,000+ MSMEs to start exporting, doubling the base of active exporters.
SOURCE: PIB
8. TWO RAILWAY LINE DOUBLING PROJECTS
THE CONTEXT:  The Cabinet Committee on Economic Affairs approved the doubling of the Nimach-Ratlam (Madhya Pradesh) railway line as well as of the Rajkot-Kanalus (Gujarat) railway line, with an estimated project cost of over ₹1,000 crores each.
ANALYSIS:
The total length of doubling of the line for the Nimach-Ratlam line is 132.92 km, with an estimated project cost of Rs. 1,095.88 crores and the estimated length for the Rajkot-Kanalus railway line is 111.20 km, with an estimated cost of Rs. 1,080.58 crores. Both projects are targeted for completion by 2024-25.
While the Nimach-Ratlam project is expected to generate direct employment during construction for about 31.90 lakh man-days, the Rajkot-Kanalus project will generate direct employment for about 26.68 lakh man-days.
The main inward freight traffic carried is coal for captive power plants of cement companies, it said, adding that traffic on the section will further increase on account of new cement industries coming up due to the availability of huge deposits of cement grade limestone in the Nimach-Chittorgarh area.
SOURCE: TH
SCIENCE AND TECHNOLOGY
9. COST-EFFECTIVE PRODUCTION OF HYDROGEN
THE CONTEXT: A team of scientists have, for the first time, developed a large-scale reactor that produces a substantial amount of hydrogen using sustainable sources like sunlight and water, which is a cost-effective and sustainable process.
ANALYSIS:
Scientists from the Institute of Nano Science and Technology (INST), Mohali, an autonomous institute of the Department of Science & Technology (DST), Govt. of India have developed a prototype reactor that operates under natural sunlight to produce hydrogen at a larger scale (around 6.1 L in 8 hours). They have used an earth-abundant chemical called carbon nitrides as a catalyst for the purpose.
The INST team employed the low-cost organic semiconductor in carbon nitrides which can be prepared using cheaper precursors like urea and melamine at ease in a kilogram scale. When the sunlight falls on this semiconductor, electrons, and holes are generated.
The electrons reduced the protons to produce hydrogen, and holes are consumed by some chemical agents called sacrificial agents. If the holes are not consumed, then they will recombine with the electrons.
This work is supported by the DST Nano Mission NATDP project, and the related article has been published in the 'Journal of Cleaner Production' recently, and the team is in the process of obtaining a patent for the technology.
The team is in the process of optimising the hydrogen production with effective sunlight hours in addition to the purity of the hydrogen, moisture traps, and gas separation membranes so as to hyphenate with the fuel cells.
Hydrogen generated in this manner can be used in many forms like electricity generation through fuel cells in remote tribal areas, hydrogen stoves, and powering small gadgets, to mention a few. Eventually, they can power the transformers and e-vehicles, which are long-term research goals under progress.
SOURCE: PIB
INTERNAL SECURITY
10. DAC APPROVES PROCUREMENT WORTH RS 13,165 CRORE
THE CONTEXT: The Defence Acquisition Council Wednesday approved the purchase of helicopters, surface-to-air missiles and artillery ammunition worth Rs 13,165 crore.
ANALYSIS:
One of the key purchase approvals is for 25 advanced light Mark III helicopters from Hindustan Aeronautics Ltd. The twin-engine, multi-role helicopters, which will cost Rs 3,850 crore, are expected to help the Army strengthen its operational preparedness in remote areas. These will be made indigenously.
Of the total amount for which the 'Acceptance of Necessity was accorded, procurement worth Rs 11,486 crore will be from domestic sources.
The DAC also approved a few amendments to the Defence Acquisition Procedure (DAP) 2020 as a part of Business Process Re-engineering to ensure further ease of doing business for the industry as well as measures to enhance procurement efficiency and reducing timelines.
SOURCE: IE
PRELIMS PRACTICE QUESTIONS
Consider the following statements related to unique health ID under Cushman Bharat Digital Mission:
A user cannot permanently delete or temporarily deactivate her health ID.
Aadhaar is not mandatory for the creation of a health ID.
Select the correct answer using the code given below:
a) 1 only
b) 2 only
c) Both 1 and 2
d) Neither 1 nor 2
ANSWER FOR SEPTEMBER 28, 2021 PRELIMS PRACTICE QUESTIONS (REFER TO RELEVANT ARTICLE)
Answer: C
Explanation:
Nathu La – Sikkim
Lipulekh pass – Uttarakhand
Jelep La – SikkimRegistries (HFR) will act as a repository of all healthcare providers across both modern and traditional systems of medicine.
Spread the Word