INDIAN POLITY, GOVERNANCE AND SOCIAL JUSTICE
1. LONG WAIT FOR A DEPUTY SPEAKER FOR LOK SABHA
THE CONTEXT: With the Delhi High Court asking the Central government to explain its stand on a petition that claimed keeping the post of Deputy Speaker of the Lok Sabha vacant is a violation of Article 93 of the Constitution.
ANALYSIS:
The position had been vacant for the past 830 days.
It is a constitutional mandated position and not a ceremonial one.
The longest time that this post had remained vacant was in the 12th Lok Sabha and even then on the 59th sitting of Parliament, election to the post was held.
ABOUT DEPUTY SPEAKER OF LOK SABHA
Article 93 of the Constitution provides for the election of both the Speaker and the Deputy Speaker.
He / She acts as presiding officer in case of leave or absence caused by death or illness of the Speaker.
Usually, the Deputy Speaker is elected in the first meeting of the Lok Sabha after the General elections from amongst the members of the Lok Sabha.
By convention, position of Deputy Speaker is offered to opposition party in India.
The date of election of Deputy Speaker is fixed by Speaker.
Deputy speaker is not subordinate to the Speaker and is directly responsible to Lok Sabha.
Reference: The Hindu
2. EAT RIGHT STATION CERTIFICATION
THE CONTEXT: Indian Railways' Chandigarh Railway Station has been awarded a 5- star 'Eat Right Station' certification for providing high-quality, nutritious food to passengers. This certification is granted by FSSAI to railway stations adhering to standard food storage and hygiene practices.
ANALYSIS
The 'Eat Right Station' certification is awarded by FSSAI to railway stations that set benchmarks in providing safe and wholesome food to passengers.
The station is awarded a certificate upon a conclusion of an FSSAI-empanelled third-party audit agency with ratings from 1 to 5. The 5-star rating indicates exemplary efforts by stations to ensure safe and hygienic food is available to passengers.
The certification is part of the 'Eat Right India' movement- a large-scale effort by FSSAI to transform the country's food system to ensure safe, healthy and sustainable food for all Indians.
Eat Right India adopts a judicious mix of regulatory, capacity building, collaborative, and empowerment approaches to ensure that our food is suitable both for the people and the planet.
Chandigarh Railway Station becomes the fifth station in India to get this recognition. The other railway stations with this certification include Anand Vihar Terminal Railway Station; (Delhi), Chhatrapati Shivaji Terminus; (Mumbai), Mumbai Central Railway Station; (Mumbai) and Vadodara Railway Station.
Reference: PIB
3. PROPHYLACTIC MEDICINES
THE CONTEXT: The Ministry of Ayush launched a campaign of distributing Ayush prophylactic medicines and written guidelines on diet and lifestyle.
ANALYSIS:
In the next one year, the immunity booster medicines and the guidelines to combat Covid-19 will be distributed to 75 lakh people across the country, with special focus on geriatric (people of 60 years and above age) population and the front line workers.
The kit of Ayurveda prophylactic medicines for Covid-19 contains Sanshamani Vati, which is also known as Guduchi or Giloy Ghan Vati and Ashwagandha Ghan Vati.
The kit and the guidelines have been prepared by the Central Council for Research in Ayurvedic Medicines (CCRAS).
The drive to distribute prophylactic medicines and diet and lifestyle guidelines is a part of the ongoing 'Azadi Ka Amrit Mahotsav' campaign launched by the Government of India to commemorate 75 years of India's freedom. The year-long campaign will continue till August 2022 when India celebrates 75th anniversary of Independence.
Distribution of Ayush prophylactic medicines will help citizens to boost immunity against the corona virus. During the two waves of pandemic, people of this country showed great faith in our traditional system of medicine. Their faith has encouraged us to come up with this nationwide distribution campaign. This campaign is being carried out through the robust network of more than 86 Ayush institutions across the country.
Reference: PIB
ENVIRONMENT, GEOGRAPHY AND AGRICULTURE
4. BAGHJAN OIL WELL FIRE
THE CONTEXT: The Supreme Court formed an expert committee led by former Gauhati High Court judge, Justice B.P. Katakey, to assess the damage and the cost of reparation of the Dibru-Saikhowa National Park and surrounding ecologically fragile areas of Assam, which were damaged in the Baghjan oil well blowout in May 2020.
ANALYSIS:
Justice Katakey's committee substitutes the National Green Tribunal's 10-member committee led by the Assam Chief Secretary.
The Court directed OIL to pay for the committee's expenses.
A blowout is an uncontrolled escape of natural gas or crude oil. The spewing is akin to a volcanic eruption.
BAGHJAN WELL
It is a purely gas producing well in Tinsukia district, Assam.
It was drilled by Oil India Limited (OIL) in 2006. It produces around 80,000 standard cubic metres per day (SCMD) of gas from a depth of 3,870 metres.
It is at an aerial distance of 900 metres from the Dibru- Saikhowa National Park.
Maguri-Motapung wetland is located near well.
DIBRU SAIKHOWA NATIONAL PARK
Dibru-Saikhowa National Park is located in Dibrugarh and Tinsukia districts of Assam. • It was designated a Biosphere Reserve in July 1997.
The park is bounded by the Brahmaputra and Lohit Rivers in the north and Dibru river in the south.
The forest of Dibru-Saikhowa consists of semi-evergreen forests, deciduous, littoral and swamp forests and patches of wet evergreen forests.
Dibru Saikhowa is one of the last habitats of the deo hans, or 'spirit duck', as the critically endangered white-winged wood duck is known here, and a stronghold of the black-breasted parrotbill, one of India's rarest birds.
In its waterways that encompass a myriad wetlands like the Maguri Motapung beel, there are over 300 bird species and 80 species of fish, including the 'tiger of the river', the endangered golden mahseer.
The park is also home to other rare creatures such as Gangetic dolphins, water buffalo, black-breasted parrotbill, tiger and capped langur.
Reference: The Hindu
5. INDIAN BIOLOGIST WINS GLOBAL AWARD IN TURTLE CONSERVATION
THE CONTEXT: Indian biologist Shailendra Singh has been awarded the Behler Turtle Conservation Award for bringing three critically endangered turtle conservation species back from the brink of extinction.
ANALYSIS:
The award has been bestowed by several global bodies involved in turtle conservation such as Turtle Survival Alliance, IUCN/SSC Tortoise and Freshwater Turtle Specialist Group, Turtle Conservancy, and the Turtle Conservation Fund.
For some species, such as the red-crowned roofed turtle (Batagur kachuga), northern river terrapin (Batagur baska), and black softshell turtle (Nilssonia nigricans), Dr. Singh and his team's efforts are the last hope for their wild survival in the country.
RED-CROWNED ROOFED TURTLE OR BENGAL ROOF TURTLE (BATAGUR KACHUGA)
It is a species of freshwater turtle endemic to South Asia.
it has suffered declines in population due to being harvested for meat and shells, drowned in fishing nets, water pollution, hydro-electric schemes and habitat loss.
IUCN: Critically endangered
NORTHERN RIVER TERRAPIN (BATAGUR BASKA)
It is a species of riverine turtle native to Southeast Asia.
It prefers freshwater habitats and moves to brackish river mouths or estuaries in the breeding season.
Threats: exploitation as a food item, loss of nesting beaches and pollution
IUCN: Critically endangered
Captive breeding in Sajnekhali Forest Station in the Sunderban Tiger Reserve in India with support from Turtle Survival Alliance.
BLACK SOFTSHELL TURTLE OR BOSTAMI TURTLE (NILSSONIA NIGRICANS)
It is a species of freshwater turtle found in India (Assam) and Bangladesh.
In the 1800s it was believed these turtles were brought from Iran to Chittagong shrine pond by Hazrat Bayezid Bostami.
This turtles he had brought to this pond were treated as sacred and respected by the public.
These turtles exist in a temple's pond called the Hayagriva Madhava Temple located in Assam, India.
IUCN: Critically endangered
Reference: The Hindu
6. PILOT PROJECT TO REPLACE DIESEL WITH LNG IN DUMPERS
THE CONTEXT:  State-owned CIL said it has begun the process of retrofitting LNG kits in its dumpers — big trucks engaged in transportation of coal, a move that will help the PSU to save around crores rupees annually.
ANALYSIS:
In a big push to reduce its carbon footprint, national miner Coal India Ltd. [CIL] has initiated the process of retrofitting Liquefied Natural Gas [LNG] kits in its dumpers.
This is a significant move, as the world's largest coal miner uses over 4 lakh kilolitres of diesel per annum with an annual expense of over 3,500 crore rupees.
CIL signed a memorandum of understanding (MoU) with GAIL an BEML to get this pilot project executed.
Reference: The Hindu
INDIAN ECONOMY
7. IMF ALLOCATES $17.86 BILLION TO INDIA UNDER SDR
THE CONTEXT:  The International Monetary Fund (IMF) has made an allocation of special drawing rights (SDR) 12.57 billion (equivalent to around $17.86 billion at the latest exchange rate) to India.
ANALYSIS:
The total SDR holdings of India now stand at SDR 13.66 billion (equivalent to around $19.41 billion at the latest exchange rate). This increase in SDR holdings will be reflected in the foreign exchange reserves (FER) data that will be published for the week ended August 27, 2021, the RBI said.
SDR in the RBI's forex reserves was $1.54 billion as on August 20, 2021. With the latest SDR allocation, the forex reserves are expected to cross $630 billion.
Holdings are one of the components of the FER of a country. IMF makes the general SDR allocation to its members in proportion to their existing quotas in the IMF.
The IMF board of governors had approved a general allocation of about SDR 456 billion on August 2, (effective from August 23) of which India's share is SDR 12.57 billion.
Reference: Indian express
SCIENCE AND TECHNOLOGY
8. BLUE STRAGGLER
THE CONTEXT : Carrying out the first-ever comprehensive analysis of blue stragglers, Indian researchers found that half of the blue stragglers in their sample are formed through mass transfer from a close binary companion star, one third are likely formed through collisions of 2 stars, and the remaining are formed through interactions of more than 2 stars.
ANALYSIS:
Blue stragglers, a class of stars on open or globular clusters that stand out as they are bigger and bluer than the rest of the stars; have intrigued scientists who have for long probed their origin.
A bunch of stars born at the same time from the same cloud form a star cluster. As time passes, each star evolves differently depending on its mass. The most massive and bright stars evolve and move off the main sequence creating a bend in their track, known as the turnoff.
Stars above this bend or brighter and hotter stars are not expected in a cluster, as they leave the main sequence to become red giants. But in 1953, Allan Sandage found that some stars seem to be hotter than the turnoff of the parent cluster. Initially, these blue stars still straggling above the turnoff were not part of these clusters. However, later studies confirmed that these stars are indeed cluster members, and they were termed "Blue Stragglers".
The only probable way these stars can still be present in these clusters is if they have somehow acquired extra mass along the way while on the main sequence. Confirming the mechanisms of the mass gain required a study using a large sample of blue-straggler stars and estimates of the mass they have gained.
The study will help improve understanding of these stellar systems to uncover exciting results in studies of large stellar populations, including galaxies.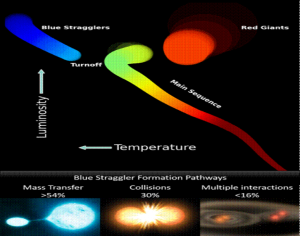 Q1. Consider the following statements about black softshell turtle:
It is lives in both freshwater and brackish water.
In India, it is found in Hayagriva Madhava Temple located in Assam, India.
It is declared as critically endangered species by IUCN.
Which of the statements given above is/are correct?
1 and 2 only
2 and 3 only
3 only
1, 2 and 3
Q2 A 5- star 'Eat Right Station' certification is granted by?
Ministry of Railways
State Government
FSSAI
United Nations World Food Programme
ANSWER FOR SEPTEMBER 02, 2021 PRELIMS PRACTICE QUESTIONS (REFER RELEVANT ARTICLE)
Answer: B
Explanation:
Statement 1 is incorrect:ZAPAD 2021 is multi-national exercise held by Russia.
Statement 2 is correct:It is held at Nizhniy, Russia.
Statement 3 is correct: The city is located on the bank of Volga river
Spread the Word