INDIAN POLITY, GOVERNANCE AND SOCIAL JUSTICE
1. SUJALAM CAMPAIGN
THE CONTEXT: The Ministry of Jal Shakti began 'SUJALAM', a '100 days campaign' as part of the 'Azadi Ka Amrit Mahotsav' celebrations to create more and more ODF Plus villages.
ANALYSIS:
The effort of the campaign would be directed towards achieving the ODF plus status for villages across the country in an accelerated manner in a short time.
The campaign will not only build the desired infrastructure i.e. soak pit for management of greywater in villages but will also aid in sustainable management of water bodies. The disposal of wastewater and clogging of water bodies in the villages or on the outskirts of the villages remain one of the major problems.
The Campaign would help in the management of the wastewater and in turn, would help to revive the water bodies.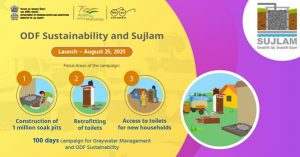 The campaign would boost the momentum of SBMG phase II activities through community participation and it will increase awareness about ODF-plus activities. Hence ensuring long term maintenance and sustainability of built infrastructure.
The Campaign would use the platform of awareness and behaviour change achieved during the first phase of the SBMG and provide a focus for sustaining the same along with achieving visual cleanliness by the way of SLW Management.
The key activities that will be organised in the villages under this campaign include:
Organizing Community consultations, Khuli Baithaks and Gram Sabha meetings to analyze the current situation
Pass resolution to maintain ODF sustainability and achieve a needed number of soak pits to manage the greywater.
Develop a 100 days' plan to undertake sustainability and soak pit construction-related activities
Construct a requisite number of soak pits
Retrofit toilets where needed through IEC and community mobilization and
Ensure all newly emerging Households in the village have access to toilets.
SOURCE:  PIB
2. SAMARTH SCHEME
THE CONTEXT: 1,565 artisans benefitted by training in 63 Samarth Training Centres.
ANALYSIS:
The Ministry of Textiles adopted 65 clusters for the overall development of artisans in a time-bound manner by ensuring self-sustainment of the artisans of these clusters.
The need-based interventions are being implemented for benefiting the artisans of these adopted clusters.
The upskilling of the handicrafts artisans in these adopted clusters are being done through providing technical and soft skill training under the SAMARTH scheme to enable sustainable livelihood either by wage or self-employment.
The first batch in each 63 training centres has been completed successfully benefitting 1,565 artisans.
The second batch will also complete during the month of August 2021 benefiting 1,421 artisans.
Additionally, 65 new handicrafts training centres are being established to scale up the training program so that the maximum number of artisans can be benefitted.
ABOUT SAMARTH SCHEME
In order to meet the skill gap in the industry, the Ministry of Textiles is implementing Samarth Scheme for Capacity Building in Textile Sector.
The objective of the scheme is to provide demand-driven, placement oriented skilling programmes to supplement the efforts of the industry in creating employment in textile and related sectors, covering the entire value chain of textiles, excluding Spinning and Weaving in the organized sector.
The government has established 65 handicrafts training centres in the adopted clusters for providing technical training in the NSQF aligned Handicrafts courses.
The attendance of the artisans is being monitored through Aadhar Authenticated Biometric Attendance System and the wage compensation to successfully trained artisans is transferred directly to their bank account.
Samarth Scheme is being implemented in association with State Government agencies, sectoral organisations of Ministry of Textiles, Manufacturing Industry, Industry Associations and MSME Associations.
The salient features of the scheme are: –
The scheme implemented through Textile Industry/ Industry Associations, State Government agencies and Sectoral Organizations of Ministry.
Formulated as per broad skilling framework adopted by Ministry of Skill Development & Entrepreneurship (MSDE).
Comprise entry-level skilling (Fresh workers) and Upskilling (existing workers).
Mandatory placement of trainees- 70% for entry-level & 90% for upskilling under organized sector.
Aadhaar Enabled Biometric Attendance System (AEBAS) and Web-based centralized Management Information System (MIS) for monitoring.
Call centre for collecting feedback and grievance redressal.
Physical verification of training centres with geo-tagging /time-stamped photographs.
SOURCE:  PIB
ENVIRONMENT, GEOGRAPHY AND AGRICULTURE
3. EMISSION REDUCTION OF 28% ALREADY ACHIEVED BY INDIA
THE CONTEXT: India has already achieved emission reduction of 28% over 2005 levels, against the target of 35% by 2030 committed in its NDC (Nationally determined contributions). This was stated by the Union Minister of Power and New & Renewable Energy in his keynote address at the 'INDIA-ISA Energy Transition Dialogue 2021' organized by the International Solar Alliance (ISA) and the Union Ministry of New and Renewable Energy (MNRE).
ANALYSIS:
This makes India among one of the few countries globally which have kept to its Paris Climate Change (COP21) commitments along with an exponential increase in renewable energy capacity.
Considering the pace of development in the energy sector, India is determined to not only achieve but exceed its NDC commitments well within the committed time frame.
The Government of India has enacted favourable policies and regulations to boost the clean energy sector. India has been aggressively pushing for energy efficiency improvements for the past two decades through a combination of innovative market mechanisms and business models, institutional strengthening and capacity building, as well as demand creation measures.
The key is to allow the regulatory and policy support to keep the sector afloat till the supply-side strengthens, technology develops, and the competitive market takes root resulting in a fall in prices, and the industry becomes self-sustainable. He said that it is anticipated that by 2050, 80-85% of India's overall power capacity will come from renewables.
India has already touched 200 GW of peak demand. The demand had crossed what it was during the pre-COVID time and it is expected that electricity demand will continue to rise. This gives us the space for adding more renewables capacity, but it will call for power system flexibility and the introduction of various storage technologies.
The Indian Power Sector to have achieved the coveted milestone of 100 GW of installed Renewable Energy Capacity. While 100 GW of capacity has been installed and operationalized, 50 GW of additional capacity is under installation and another 27 GW is under tendering process.
As of 31st July 2021, 38.5% of India's installed power generation capacity is based on clean renewable energy sources and with this pace, we will reach the target of 40% by 2023.
Presently India stands at 4th position in the world in terms of installed RE capacity 5th in Solar and 4th in Wind energy capacity.
India plans to continue this momentum in the clean energy sector by systematically scaling up its targets to install 450 GW of renewable energy capacity by 2030 from its existing target of 175 GW by 2022.
The 100 GW achievement not only marks an important milestone in India's journey towards its target of 450 GW by 2030 but also builds upon the confidence to achieve more and be among the leading countries embarking on a path towards energy transition globally.
Dedicated Green Energy Corridors initiated by the MNRE have made it easier for renewable energy developers to avail grid connectivity and evacuate up to 40,000 MW of large-scale renewable energy from renewable energy-rich parts of India.
SOURCE:    PIB
INDIAN ECONOMY
4. SAMRIDH SCHEME
THE CONTEXT: Start-up Accelerators of MeitY for pRoduct Innovation, Development and growth (SAMRIDH)" programme launched by MeitY.
ANALYSIS:
SAMRIDH programme aims to create a conducive platform for Indian Software Product start-ups to  enhance  their  products and  securing  investments  for  scaling  their
The programme is being implemented by MeitY Start-up Hub (MSH).
The SAMRIDH programme will focus on accelerating the 300 start-ups by providing customer connect, investor, connect, and international immersion in the next three years.
An investment of up to ₹ 40 lakh to the start-up based on the current valuation and growth stage of the Start-Up will be provided through selected accelerators.
It will also facilitate equal matching investment by the accelerator/investor. T
The programme aims to further the Indian start-up growth which has seen the emergence of 63 Unicorns is now the third-largest Unicorn hub globally with a total valuation of 168 Bn USD
SOURCE:  PIB
5. PSBS RECORD PROFITS AFTER 5 YEARS
THE CONTEXT: Union Minister of Finance and Corporate Affairs reviewed the performance of the Public Sector Banks (PSBs). The review noted that the Government's 4R strategy of Recognition, Resolution, Recapitalization and Reform as a response to the situation prevailing in 2014 had led to dramatic improvements at PSBs in 2020-21 on various parameters of profitability, capital adequacy, NPA reduction, checks on the occurrence of fraud and mobilisation of funds from the market.
Analysis:
Impact of 4R approach – Snapshot of Public Sector Banks in 2020-21
Net profits of Rs. 31,820 crore highest in five years
Gross NPAs at 9.1% (14.58% – March 2018)
Net NPA at 3.1% (7.97% – March 2018)
Provision Coverage Ratio at 84% (62.7% – March 2018)
04% Capital Adequacy (Prescribed minimum – 10.875%)
58,697 crore raised as debt and equity, of which Rs. 10,543 crores as equity alone
The current changing times, industries now have the option of raising funds even from outside the banking sector.
Banks themselves are raising funds through various avenues. These new aspects need to be studied to target credit where it is needed.
Banks can play a crucial role by hand-holding industries from a particular sector to enable them to become an exporter and thereby play an important role in assisting the One District One Product scheme.
The logistics and export needs of North-Eastern states need to be looked after individually.
At the PSBs review, the Finance Minister also launched the Enhanced Access and Service Excellence (EASE) 4.0 Reforms Agenda for FY2021-22 and released the Annual Report for EASE 3.0 (FY2020-21).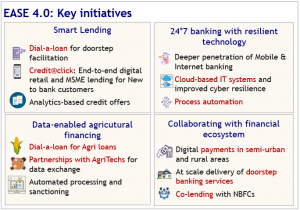 SOURCE: PIB
CCEA APPROVES THE HIGHEST-EVER FRP OF RS 290 PER QUINTAL FOR SUGARCANE FARMERS
THE CONTEXT: The Cabinet Committee on Economic Affairs (CCEA) approved fair and remunerative price (FRP) of sugarcane payable by sugar mills for the 2021-22 season.
ANALYSIS:
The cabinet has approved the highest-ever Fair and Remunerative Price of Rs 290 per quintal for sugarcane farmers for a basic recovery rate of 10 per cent.
The decision will benefit the 5 crore sugarcane farmers and their dependents, as well as the 5 lakh workers employed in the sugar mills and related ancillary activities.
The cost of production of sugarcane for the sugar season 2021-22 is Rs 155 per quintal and the FRP of Rs 290 per quintal at a recovery rate of 10 per cent is higher by 87.1 per cent over production cost, giving the farmers a return of much more than 50 over their cost.
In the current sugar season 2020-21, about 2,976 lakh tonnes of sugarcane worth Rs 91,000 crore was purchased by sugar mills, which is at an all-time high level and is the second-highest next to the procurement of paddy crop at MinimumSupport Price.
SOURCE: ANI
INTERNAL SECURITY
7. WILDLIFE BOARD NOD TO 10 ROADS NEAR INDO-CHINA BORDER
THE CONTEXT: The National Board of Wildlife (NWBL) has given its nod for clearances for the construction of 10 roads at the Indo-China border in Ladakh, citing their strategic importance.
ANALYSIS:
The road clearances were granted following requests by the Indo-Tibetan Border Police (ITBP) to construct roads inside the Changthang Wildlife Sanctuary, a 1,400 sq. km park, which is home to the Tibetan wild ass, black cranes, and other rare animal species.
These roads are strategically important for the security of the country and will be used by ITBP and military personnel for logistics and carriage of ammunition etc. to protect Indian Territory up to the international border.
The total area to be cleared for the roads amounts to over 115 hectares.
SOURCE: THE PRINT
SCIENCE AND TECHNOLOGY
8. NEW ADVANCED OXIDATION TECHNOLOGY CAN ENHANCE WASTEWATER REUSE AT A LOWER COST
THE CONTEXT: The technology which uses UV-Photocatalysis can treat municipal sewage and highly polluting industrial wastewater streams and increase its reuse as a technological option in industrial as well as municipal wastewater treatments.
ANALYSIS:
The Energy and Resources Institute, New Delhi, has developed a technology called The Advanced Oxidation Technology (TADOX) which 'can reduce less dependence and load on biological and tertiary treatment systems and help achieve Zero Liquid Discharge (ZLD).
It can bring down capital expenditure on ZLD by 25-30% and operating expense by 30-40% for industrial wastewater treatment.
The Advanced Oxidation Technology (TADOX) developed by TERI New Delhi for wastewater treatment is an effort in this direction. Department of Science and Technology (DST), GoI- Water Technology Initiative (WTI) has supported TERI to develop this technology at bench scale collaboration in tie-up with ONGC Energy Centre (OEC), Delhi.
The technology supported by the Water Technology Initiative (WTI) of the Department of Science and Technology, Govt. of India involves UV-Photocatalysis as an Advanced Oxidation Process (AOP) at the secondary treatment stage leading to oxidative degradation and mineralization of targeted pollutants.
It improves biodegradability, thereby preventing biofouling of membranes and enhancing life span and efficiency of RO systems as also overall load on evaporators like Multiple Effect Evaporators and Mechanical vapour recompression (MVR), and so on.
It can reduce Chemical Oxygen Demand (COD), Biological Oxygen Demand (BOD), dissolved organics, pathogens, Persistent Organic Pollutants (POPs), and Micropollutants.
TADOX could be integrated and retrofittable in existing treatment systems making it a viable option as a novel Decentralized Wastewater Treatment Technology (DWTT) applicable in upcoming and existing infrastructural projects, townships, commercial complexes, green buildings, and smart cities.
The technology has been adopted by an MSME Company to scale up to 10 Kilo Litre per Day continuous running plant in TERI Gurugram campus.
TADOX technology has been chosen for pilot trials and augmentation plans for identified industrial sectors under the 'Namami Gange' Programme of the Ministry of Jal Shakti, Govt. of India.
The Technology is at TRL 7 and ready for commercialization through field implementations and Technology & Trademark License Agreement from 1st April 2021.
SOURCE: PIB
INTERNATIONAL RELATIONS
9. KAZIND-21
THE CONTEXT: As part of military diplomacy and to strengthen the growing strategic relation with Kazakhstan, the 5th edition of Indo- Kazakhstan Joint Training Exercise, "KAZIND-21" will be conducted at Training Node, Aisha Bibi, Kazakhstan, from 30 August to 11 September 2021.
ANALYSIS:
The exercise is a joint training between both the Armies, which will boost the bilateral relations between India and Kazakhstan.
The Indian Army contingent represented by a battalion of The Bihar Regiment consists of a total of 90 personnel led by a Contingent Commander.
The Kazakhstan Army will be represented by a company group.
The Exercise will provide an opportunity to the Armed Forces of India & Kazakhstan to train for Counter Insurgency/ Counter-Terrorism operations in the mountainous, rural scenarios under UN mandate.
The scope of Joint Exercise includes professional exchange, planning & execution of the operation in Counterterrorism environment at sub-unit level and sharing expertise on skills at arms, combat shooting and experiences in Counter Insurgency/ Counter-Terrorism operations.
The exercise will culminate after a 48 hours long validation exercise which will involve a scenario of neutralization of terrorists in a semi-rural hideout.
The exercise will strengthen mutual confidence, interoperability and enable sharing of best practices between the Armed Forces of India and Kazakhstan.
 SOURCE: PIB
Daily Prelim Questions for August 26, 2021
Q1. Consider the following statements about Fair and remunerative price (FRP):
It is a minimum price at which sugar mills can sell the processed sugar.
It is announced by the Union government on the basis of recommendations of the Commission for Agricultural Costs and Prices.
It is applied to sugarcane producing states only.
Which of the statements given above is/are incorrect?
       a) 1 only                                           b) 1 and 2 only
       c) 1 and 3 only                                d) 3 only
Q2. 'Sujalam' campaign of central government is related to which of the following?
        a) Rain water harvesting
        b) Micro-irrigation practices
        c) Drinking water supply
        d) Greywater management
Answer for August 25, 2021
Q.1 Answer: C
Explanation:
Statement 1 is correct: Arctic Council is a high-level intergovernmental forum, set up in 1996 by the Ottawa declaration that addresses various issues including sustainable development and environmental protection in the Arctic region.
Statement 2 is incorrect: Arctic Council Secretariat is located in Tromsø, Norway.
Statement 1 is correct: India is given observer status in 2013.
Q2. Answer: A
Explanation:
The eight countries with sovereignty over the lands within the Arctic Circle constitute the members of the council: Canada, Denmark, Finland, Iceland, Norway, Russia, Sweden, and the United States.
Spread the Word