THE CONTEXT: A recent report of the Air Quality Life Index (AQLI), published by Michael Greenstone from the Energy Policy Institute of the University of Chicago (EPIC), estimated that Indians were losing 5.3 years of life expectancy on average due to the health effects of air pollution.
MORE ON THE NEWS: SITUATION OF AIR POLLUTION IN INDIA
In 2022, a list put out by IQAir, a Swiss air quality information platform, 39 out of the 50 most polluted cities were Indian.
Delhi almost features at the top or near the top of the world's most polluted cities in almost every air quality index along with Wuhan and Lahore.
SOME FINDINGS OF AIR LIFE QUALITY INDEX
India ranked second among the countries worst hit by air pollution with Bangladesh topping the list. Nepal ranked third followed by Pakistan and Mongolia.
Particulate pollution has increased 9.7 percent from 2013 to 2021 in South Asia. In India, PM2.5 levels rose 9.5 percent; in Pakistan 8.8 percent; and in Bangladesh, levels rose by 12.4 percent over this same time interval.
Pollution in India has increased from 56.2 µg/m3 in 2020 to 58.7 µg/m3 in 2021. This is more than 10 times the WHO guideline of 5 µg/m3.
AIR QUALITY LIFE INDEX (AQLI)
AQLI measures the impact of particulate pollution on life expectancy.  It is released by Energy Policy Institute at University of Chicago (EPIC).
It aims to quantify the causal relationship between long-term human exposure to air pollution and life expectancy.
NATIONAL AIR QUALITY INDEX?
It is developed in 2014 by the CPCB in consultation with IIT-Kanpur and an expert group comprising medical and air-quality professionals.
The measurement of air quality is based on eight pollutants, namely: Particulate Matter (PM10), Particulate Matter (PM2.5), Nitrogen Dioxide (NO2), Sulphur Dioxide (SO2), Carbon Monoxide (CO), Ozone (O3), Ammonia (NH3), and Lead (Pb).
AQI has six categories of air quality. These are: Good, Satisfactory, Moderately Polluted, Poor, Very Poor and Severe.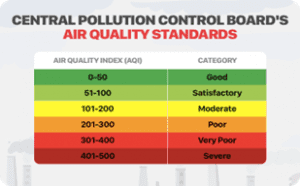 SOURCES OF AIR POLLUTION
Sources of both ambient (outdoor) and household (indoor) air pollution are well recognised.
The sources of emissions vary across different regions of India and between urban and rural areas.
Household air pollution comes from the use of biomass fuels and open fire-cooking stoves.
Diesel fuel emissions, and road and construction dust are important contributors year-round, with stubble burning as a seasonal culprit.
Particulate matter comes from
Line sources (vehicles)
Point sources (power plants, factories)
Area sources (garbage dump sites, sewage treatment plants)
Natural sources (forest fires, volcanic eruptions).
CAUSES OF AIR POLLUTION
Geographical causes: Geographically, the landlocked Indo-Gangetic plain has the highest levels of pollution as it lacks the dispersal that sea breeze brings to coastal areas.
Slow wind flow in winter: The problem is exacerbated during the harsh winter that much of this region experiences, as cold air does not flow easily to disperse pollutants.
Stubble and waste burning: Due to burning of agricultural crop residue during this period and burning of garbage by the urban poor in winters leads to very high AQI levels.
IMPACTS OF AIR POLLUTION
Impact on life expectancy: There is impact on life expectancy with early deaths due to pollution. For example, the estimate for Delhi was worse, with life lost estimated to be 11.9 years. Prolonged exposure to air pollution even at AQI levels declared as "satisfactory" will have adverse health effects.
Impact on health: Apart from the impact on early death, there are severe impacts on health:

Benzene and formaldehyde from wildfire emissions can lead to cancer. .
Fine particulate pollution refers to particles less than 2.5 microns being suspended in the air. There is growing concern about "ultra-fine particles" that are smaller than 0.1 microns in diameter and can bypass entrapment in the lungs to enter the bloodstream.
PM 2.5 can easily enter the circulatory system of humans through the nose and throat. It can cause chronic diseases such as asthma, heart attack, bronchitis and other respiratory problems.PM 2.5 has close link between exposure to fine particles and premature death from heart and lung disease.
There is an association between mothers' exposure to fine particles and birth defects. Exposure to air pollution during pregnancy increases the risk of stillbirths, neonatal deaths, low birth weight babies and birth defects.
Children chronically exposed to air pollution have repeated respiratory infections, susceptibility to asthmatic attacks, lower learning ability and impaired physical growth.
Long-term exposure to air pollution can raise blood pressure (hypertension), lead to cardiovascular, cerebrovascular and peripheral vascular disease, cause cancers. It can raise the risk of diabetes, dementia and cataracts besides the well-recognised risks of chronic lung disease and asthma.
THE WAY FORWARD:
Align to WHO Standards: India needs to change its approach and bring out effective policies in order to improve air quality and reduce pollutants to levels considered acceptable by the World Health Organisation (WHO). Presently, 22 states meet the national standards of AQI, while 15 do not. None meet the pristine WHO standards.
Rise above personal protection: Personal protection measures have only a limited impact. Severe health consequences of air pollution cannot be mitigated by personal protection measures alone. Clean, public transport and rapid transition away from fossil fuels are much needed.
Technological initiative: There is a need to bring technology to tackle pollution by adopting innovative solutions for in-situ treatment of pollution. For example, the Delhi government is also experimenting with a new organic way of decomposing stubble with Indian Agriculture Research Institute's "Pusa decomposer".
Proactive public policy: There is a need to bring efficient public policy for effective enforcement by vigilant monitoring. Also, reliable and regular data flows are needed to frame effective policies to keep our air clean.
THE CONCLUSION:
Air quality has become a serious health issue in the current situation. Hence, awareness and planning are much needed for protecting the environment and human health from the pollution. In this regard, there is a need for concerted and coordinated efforts with active involvement of all the stakeholders.
PREVIOUS YEAR QUESTIONS
Q.1 What are the key features of the National Clean Air Programme (NCAP) initiated by the Government of India? (2020)
Q.2 Describe the key points of the revised Global Air Quality Guidelines (AQGs) recently released by the World Health Organisation (WHO). How are these different from its last update in 2005? What changes in India's National Clean Air Programme are required to achieve revised standards? (2021)
MAINS PRACTICE QUESTION
Q.1 Recently, the report of the Air Quality Life Index (AQLI) was published which indicated high pollution level in India. In this respect, highlight the causes of air pollution in Indo-Gangetic plain and its impacts on human health. What measures need to be taken to address the problem of air pollution in India?
Note: Refer to mains focus article for more information: https://blog.lukmaanias.com/2023/10/27/why-mumbai-is-witnessing-more-poor-air-quality-days/
Source: https://indianexpress.com/article/opinion/columns/indians-are-choking-on-pollution-how-can-it-be-stopped-9006506/
Spread the Word