1. NUTRIENT BASED SUBSIDY (NBS)
TAG: GS 3: AGRICULTURE
THE CONTEXT: The Union Cabinet approved the proposal of the Department of Fertilizers for fixing the Nutrient Based Subsidy (NBS) rates for Rabi Season 2023-24 on Phosphatic and Potassic (P&K) fertilizers.
EXPLANATION:
The NBS rates are designed to ensure that farmers have access to affordable fertilizers, which are essential for increasing crop yields and improving farm incomes.
The NBS rates for Rabi Season 2023-24 are as follows:

Nitrogen: Rs. 47.2 per kg
Phosphorus: Rs. 20.82 per kg
Potash: Rs. 2.38 per kg
Sulphur: Rs. 1.89 per kg

In the upcoming Rabi season 2023-24, an expenditure of Rs.22,303 crore is expected on NBS.
The subsidy on P&K fertilizers will be provided based on approved rates for Rabi 2023-24 to ensure smooth availability of these fertilizers to the farmers at affordable prices.
BENEFITS:
The availability of fertilizers to farmers at subsidized, affordable and reasonable prices will be ensured.
Rationalization of subsidy on P&K fertilizers in view of recent trends in the international prices of fertilizers and inputs.
Farmers can purchase fertilizers at affordable prices, which helps to reduce their input costs.
The NBS scheme promotes the use of balanced fertilizers, which is essential for improving soil fertility and crop yields.
The NBS scheme helps to reduce the dependence of farmers on imported fertilizers.
The NBS scheme helps to increase farm incomes and improve the livelihood of farmers.
NUTRIENT BASED SUBSIDY (NBS):
The subsidy on P&K fertilizers is governed by NBS Scheme since 2010.
Under the NBS scheme, the government provides a fixed subsidy per kilogram of nutrients (N, P, K, and S) contained in fertilizers.
The subsidy rates are revised on annual basis to take into account the changes in the cost of production and import of fertilizers.
Government is making available 25 grades of P&K fertilizers to farmers at subsidized prices through fertilizer manufacturers/importers.
In accordance with its farmer friendly approach, the Government is committed to ensure the availability of P&K fertilizers to the farmers at affordable prices.
In view of the recent trends in the international prices of fertilizers & inputs i.e. Urea, DAP, MOP and Sulphur, Government has decided to approve the NBS rates for Rabi 2023-24 on Phosphatic and Potassic (P&K) fertilizers.
The subsidy would be provided to the fertilizer companies as per approved and notified rates so that fertilizers are made available to farmers at affordable prices.
RABI CROPS:
These crops are sown around the Retreating Monsoon and Northeast monsoon season, which begins in October and are called rabi or winter crops.
The harvest for these crops happens typically during April and May, during the summer season.
These crops are not much affected by the rainfall.
Major Rabi crops are wheat, gram, peas, barley etc.
A warm climate is required for seed germination and cold climate for the growth of crops.
SOURCE: https://pib.gov.in/PressReleasePage.aspx?PRID=1970773
2. ANCIENT LANDSCAPE UNDER THE ANTARCTIC ICE
TAG: GS 1: GEOGRAPHY
THE CONTEXT: A new study published in the journal Nature Geoscience has revealed the existence of an ancient landscape cut by rivers deep under the Antarctic ice.
HIGHLIGHTS OF THE STUDY:
The landscape is located in East Antarctica's Wilkes Land region bordering the Indian Ocean, covers an area roughly the size of Belgium or the U.S. state of Maryland.
It is thought to be at least 14 million years old, predating the initial growth of the East Antarctic ice around 34 million years ago.
The study used satellite observations of the ice surface and ice-penetrating radar data from a plane flying over the site.
The radar data revealed a series of valleys and ridges that are consistent with the features of a river-carved landscape.
Some previous studies similarly have revealed ancient landscapes beneath Antarctica's ice including mountains and highlands, though the landscape discovered in the new study was the first of its type.
The landscape has been modified by different processes influenced by rivers, tectonics and glaciation over a very long period of geological time.
Right before 34 million years ago, Antarctica's landscape and flora likely resembled today's cold temperate rainforests of Tasmania, New Zealand and South America's Patagonia region.
Antarctica was once part of the Gondwana supercontinent that also encompassed what is now Africa, South America, Australia, the Indian subcontinent and the Arabian Peninsula, but eventually split off and became isolated in a geological process called plate tectonics.
Researchers think that when Antarctica's climate was warmer, rivers flowed across the newly identified landscape toward a continental coastline that was created as the other land masses broke away.
When the climate cooled some small glaciers formed on hills next to the rivers, with valleys deepening amid glacial erosion.
Then the climate cooled more significantly, and an ice sheet grew which covered the whole continent, swamping any glaciers that had existed before.
When that ice growth occurred, the conditions between the base of the ice and the landscape changed to become very cold – and in this way it was no longer able to erode our landscape. Instead, the landscape got preserved, likely for 34 million years.
IMPLICATIONS FOR THE FUTURE
The discovery of this ancient landscape has a number of implications for the future.
Firstly, it shows that the Earth's climate is more dynamic than previously thought. This suggests that we need to be better prepared for the possibility of rapid climate change in the future.
Secondly, the discovery of the landscape could help us to better understand how the Antarctic ice sheet will behave in response to climate change.
This information is essential for developing strategies to mitigate the impacts of climate change.
Thirdly, the discovery of the landscape could lead to new discoveries about life in Antarctica.
The landscape could provide a habitat for microbes that have survived for millions of years beneath the ice.
The study of these microbes could provide new insights into the origins and evolution of life.
SOURCE: https://www.thehindu.com/sci-tech/science/antarctica-forests-rivers-34-million-years-ago/article67456512.ece
3. INTERNATIONAL SOLAR ALLIANCE
TAG: GS 2: INTERNATIONAL RELATIONS
THE CONTEXT: The Sixth Assembly of the International Solar Alliance is going to be held in New Delhi from October 30 – November 2, 2023.
EXPLANATION:
The International Solar Alliance (ISA), comprising 116 member countries dedicated to accelerating the adoption of solar technology globally, is set to release its first-ever "global solar stock-take report."
This report is inspired by the United Nations Conference of Parties' (COP) inaugural "Global Stocktake,". This report aims to evaluate the progress made by member countries in their transition to solar technology.
The "Global Stocktake" is part of the Paris Agreement and is conducted every five years to assess the actions taken by countries to shift away from fossil fuels and combat global warming.
ABOUT ISA:
The International Solar Alliance (ISA) is an action-oriented, member-driven, collaborative platform for increased deployment of solar energy technologies as a means for bringing energy access, ensuring energy security, and driving energy transition in its member countries.
The ISA was conceived as a joint effort by India and France to mobilize efforts against climate change through deployment of solar energy solutions.
It was conceptualized on the sidelines of the 21st Conference of Parties (COP21) to the United Nations Framework Convention on Climate Change (UNFCCC) held in Paris in 2015. With the amendment of its Framework Agreement in 2020, all member states of the United Nations are now eligible to join the ISA.
At present, 116 countries are signatories to the ISA Framework Agreement, of which 94 countries have submitted the necessary instruments of ratification to become full members of the ISA.
INVESTMENT TRENDS: 
In 2020, the global solar sector attracted approximately $300 billion in investments, and this figure increased to about $380 billion in 2022. However, manufacturing remains concentrated in China.
The stocktake aims to identify strategies for diversifying solar manufacturing and expanding it to other regions.
GLOBAL SOLAR INSTALLATIONS:
As of 2022, global solar photovoltaic installations reached 1,133 gigawatts (GW), with an addition of 191 GW in 2022.
China, although not an ISA member, accounts for approximately one-fourth of the total installations at around 350 GW. The United States, an ISA member, follows with 111 GW of solar capacity, and India ranks among the top five countries globally with 62 GW.
CONCLUSION:
The ISA's decision to compile and release a "global solar stock-take report" demonstrates its commitment to assessing the progress made in adopting solar technology by member countries.
The report aims to provide an overview of investments, manufacturing trends, and challenges in the global solar sector.
As solar energy gains prominence as a reliable and sustainable energy source, the ISA plays a pivotal role in advancing the transition to renewables and promoting solar technology on a global scale.
SOURCE: https://www.thehindu.com/sci-tech/energy-and-environment/international-solar-alliance-to-release-solar-stocktake-report/article67458458.ece/amp/
4. LAND DEGRADATION
TAG: GS 3: ECOLOGY AND ENVIRONMENT
THE CONTEXT: As per the United Nations Convention to Combat Desertification (UNCCD) data, the world lost at least 100 million hectares of healthy and productive land each year from 2015-2019.
EXPLANATION:
As per the UNCCD's first data dashboard compiling national figures from 126 countries, land degradation across all regions of the world is becoming worse at an astonishing rate.
At the planned assembly for the 21st session of the Committee for the Review of the Implementation of the Convention delegates will review global progress made towards land degradation neutrality (LDN).
Issues like enhancing drought resilience, promoting women's land rights and combating sand and dust storms will also be addressed.
The proportion of land degraded varied according to the region, UNCCD data showed.

Eastern and Central Asia, Latin America and the Caribbean regions experience the most severe degradation, affecting at least 20 per cent of their total land area.
Sub-Saharan Africa, Western and Southern Asia, Latin America and the Caribbean experienced land degradation at rates faster than the global average, the analysts observed.
Notably, in sub-Saharan Africa and Latin America and the Caribbean, 163 million hectares and 108 million hectares, respectively, succumbed to land degradation since 2015.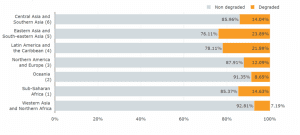 Proportion of degraded land, 2019
UNITED NATIONS CONVENTION TO COMBAT DESERTIFICATION (UNCCD):
The 1994 UNCCD is the only legally binding international agreement linking environment and development to sustainable land management.
India is a signatory to the United Nations Convention for Combating Desertification (UNCCD).
The Ministry of Environment, Forest and Climate Change (MoEFCC) is the nodal Ministry of Government of India (GoI) that oversees implementation of the Convention in the country.
The Convention addresses the arid, semi-arid and dry sub-humid areas, known as the drylands, where some of the most vulnerable ecosystems and peoples can be found.
Parties work together to improve the living conditions for people in drylands, to maintain and restore land and soil productivity, and to mitigate the effects of drought.
The UNCCD is particularly committed to a bottom-up approach, encouraging the participation of local people in combating desertification and land degradation.
The UNCCD is one of the three Rio Conventions—along with the UN Framework Convention on Climate Change (UNFCCC) and the Convention on Biological Diversity (CBD).
It was called for in Agenda 21, the programme of action adopted at the 1992 UN Conference on Environment and Development (UNCED, or Earth Summit).
SOURCE: https://www.downtoearth.org.in/news/environment/100-million-hectares-of-arable-land-lost-yearly-to-degradation-shows-un-report-92465
5. BRAZZAVILLE SUMMIT
TAG: GS 3: ENVIRONMENT AND ECOLOGY
THE CONTEXT: Tropical forests are facing threat from fossil fuel, mining and extractive industry expansion.
EXPLANATION:
Delegates of the Three Basins i.e., Amazon, Congo, Borneo-Mekong and Southeast Asia have gathered in Brazzaville, Republic of Congo to strengthen the South-South governance for these three critical ecosystems.
According to a global report called the Three Basins Threat Report, Tropical Forests in Amazon, Congo, and Borneo-Mekong Basins are facing threats from fossil fuel, mining and extractive industry expansion.
The Three Basins Summit is an unmissable opportunity to deepen collaboration between tropical forest countries and to stimulate the action and finance needed to protect and restore Earth's vital forest ecosystems.
THREATS TO TROPICAL FORESTS:
The report outlines the ongoing threats faced by these vital ecosystems, including extensive forest loss and a looming systemic breakdown.
These threats have far-reaching consequences, affecting global climate stability, biodiversity, and the livelihoods of millions of indigenous peoples and local communities.
Approximately 20% of intact tropical forests in these basins are within active and potential oil and gas concessions.
In the Amazon and Congo basins, nearly 25% of forests are within active or potential mining concessions.
In Indonesia, half of all nickel concessions overlap with natural forests, posing a fivefold risk of deforestation and degradation if these permits expand to cover the entire deposit area.
IMPACT:
Over 200 million people, including a significant proportion of indigenous and local communities, are affected by these expansions.
There will be fewer but strong tropical storms in the Ganga-Mekong basin.
One-third Lost or degradation of Amazon Forest.
SPECIFIC INFORMATION:
Amazon Basin: Almost 13% of undisturbed tropical forests overlap with existing or planned oil and gas blocks, and over 33% overlap with active and inactive mining concessions. More than 70 million hectares overlap with mining concessions, affecting the livelihoods of indigenous communities.
Congo Basin: Over 39% of undisturbed Tropical Moist Forests overlap with oil and gas blocks, and nearly 27% overlap with mining concessions. The expansion of fossil fuels and mining threatens the unique cultures and future of indigenous communities.
Southeast Asia: Nearly 20% of undisturbed Tropical Moist Forests are within oil and gas blocks designated for production or exploration. In Indonesia, 53% of natural forests are vulnerable to extractive concessions, and half of nickel mining concessions overlap with natural forests.
CALLS FOR ACTION:
The report urges world leaders to prioritize the protection of forests in these basins and emphasizes the crucial role of indigenous peoples and local communities in the proposed solutions.
It calls for an immediate moratorium on industrial activities in primary and intact forests to create space for sustainable economic development that aligns with planetary boundaries.
Indigenous countries urgently call for 80 per cent protection by 2025.
 They also emphasize the need for legal security for indigenous territories to safeguard their rights.
SOURCE: https://www.downtoearth.org.in/news/forests/brazzaville-summit-of-the-three-basins-needs-to-find-ways-to-protect-world-s-tropical-forests-92472
Spread the Word