1. CHIEF INFORMATION SECURITY OFFICERS (CISO) DEEP-DIVE TRAINING PROGRAMME
TAGS: GS 3: SECURITY
CONTEXT:  National e-Governance Division (NeGD), under its Capacity Building scheme, organised 36th CISO Deep-Dive training programme from 8th-12th May 2023 with 24 participants from Central Line Ministries and States/UTs at Indian Institute of Public Administration.
EXPLANATION:
The five-day intensive training programme is designed for designated CISOs from Central and State/UT Governments, subordinate agencies/PSUs, including public sector banks and insurance companies, technical wings of police and security forces, CTOs and members of technical/PMU teams; also, officers responsible to observe security of IT systems in their respective organisations.
It is training which aims for partnership between the Government and industry consortium under Public Private Partnership (PPP) model.
The deep-dive training specifically aims at educating and enabling CISOs to understand cyber-attacks comprehensively and thoroughly, get necessary exposure in latest technologies of safeguard, and translate the benefits of a resilient e-infrastructure to individual organisations and citizens at large.
The training also focuses on providing a holistic view of legal provisions, enabling CISOs to formulate policies in the domain of cyber security and build concrete cyber crisis management plans.
The training programme is bringing together an array of subject matter experts from the industry, the academia and the government to speak on key issues of cyber security: Governance Risk and Compliance, Landscape of Cyber Security Products in India, End Point & Digital Workplace Security, Network Security, Application and Data security.
Cyber Surakshit Bharat:
It is the initiative of Ministry of Electronics and Information Technology (MeitY), which was conceptualised with the mission to spread awareness about cyber-crime and build capacities of Chief Information Security Officers (CISOs) and frontline IT officials, across all government departments.
It is for ensuring adequate safety measures to combat the growing menace – Organisations need to defend their digital infrastructures and become future-ready in tackling cyber-attacks.
Chief Information Security Officers (CISO) roles and responsibilities:
Establishing a cyber security program and business continuity programme and for drafting of various security policies e.g., Information security policy, Data governance and classification policy, Access control policy, Acceptable use of assets and asset management, Risk assessment and risk treatment methodology, Statement of Applicability, Risk management framework including third parties, Cryptography, Communications security, Information Security awareness programs for all personnel in the organisation and Incident management.
Interacting with regulatory bodies and external agencies that could be of help to maintain information security for the organization, e.g. CERT-In
It aims to protect Critical Information Infrastructure as a computer resource, the incapacitation or destruction of which shall have debilitating impact on national security, economy, public health or safety.
2. RAISING AND ACCELERATING MSME PERFORMANCE (RAMP)
TAGS: PRELIMS PERSPECTIVE: SCHEME
CONTEXT:  The Ministry of Micro, Small and Medium Enterprises, Government of India organised the first meeting of the National MSME Council with emphasis on RAISING AND ACCELERATING MSME PERFORMANCE (RAMP).
EXPLANATION:
It is a new scheme of the Ministry of Micro, Small and Medium Enterprises (MoMSME) for addressing the generic and COVID related challenges in the MSME sector by way of impact enhancement of existing MSME schemes, especially, on the competitiveness front.
This is World Bank assisted Central Sector Scheme commenced in FY 2022-23. The total outlay for the scheme is Rs.6,062.45 crore or USD 808 Million, out of which Rs. 3750 crore or USD 500 Million would be a loan from the World Bank and the remaining Rs.2312.45 crore or USD 308 Million would be funded by the Government of India (GoI).
The programme aims at improving access to market and credit, strengthening institutions and governance at the Centre and State, improving Centre-State linkages and partnerships, addressing issues of delayed payments and greening of MSMEs.
In addition to building the MoMSME's capacity at the national level, the RAMP program will seek to scale up implementation capacity and MSME coverage in State.
Further, the programme will bolster the inadequately addressed blocks of capacity building, handholding, skill development, quality enrichment, technological upgradation, digitization, outreach and marketing promotion, amongst other things.
RAMP will complement the Atma Nirbhar Bharat mission by fostering innovation and enhancement in industry standards, practices and provide the necessary technological inputs to the MSMEs to make them competitive and self-reliant, enhancing exports, substituting imports, and promoting domestic manufacturing.
RAMP targets:
''Policy Provider'' through the enhanced capacity for evidence-based policy and program design, to enable the delivery of more effective and cost-efficient MSME interventions to improve competitiveness and business sustainability.
"Knowledge Provider" through bench-marking, sharing and demonstrating best practices/success stories by leveraging international experiences, and
"Technology Provider" providing access to high-end technology resulting in the digital and technological transformation of MSMEs through state of art Artificial Intelligence, Data Analytics, Internet of things (IoT), Machine Learning etc.
Funding
Funds would flow through RAMP into the Ministry's budget against Disbursement Linked Indicators (DLIs) to support ongoing MoMSME programmes, focusing on improving market access and competitiveness.
The disbursement of funds from World Bank towards RAMP would be made on fulfilling the following Disbursement Linked Indicators:
Implementing the National MSME Reform Agenda
Accelerating MSME Sector Centre-State collaboration
Enhancing effectiveness of Technology Upgradation Scheme (CLCS-TUS)
Strengthening Receivable Financing Market for MSMEs
Enhancing Effectiveness of Credit Guarantee Trust for Micro and Small Enterprises (CGTMSE) and "Greening and Gender" delivery
Reducing the incidence of delayed payments
Implementation Strategy
The overall monitoring and policy overview of RAMP would be done by an apex National MSME Council.
A RAMP programme committee headed by the Secretary of MoMSME to monitor the specific deliverables under RAMP.
Further, for day to day implementation there would be programme management units at the National level and in States, comprising professionals and experts competitively selected from the industry to support MoMSME and States, to implement, monitor and evaluate RAMP programme.
The National MSME Council
It is headed by Minister for MSME, including representation from various Ministries and supported by a secretariat.
It has been set up to work as an administrative and functional body to oversee inter-Central Ministerial/Departmental co-ordination, Centre State synergies and advise / monitor progress on the reforms mandated in the MSME sector including the RAMP programme.
3. POSHAN BHI, PADHAI BHI
TAGS: PRELIMS PERSPECTIVE: SCHEME
CONTEXT:  Union Minister for Women and Child Development launched the Centre's flagship programme 'Poshan Bhi, Padhai Bhi', which will focus on Early Childhood Care and Education (ECCE) at anganwadis across the country. 600 crores has been allocated for the training of anganwadi workers to implement the ECCE. The National Institute of Public Cooperation and Child Development (NIPCCD) has been roped in for the training of Anganwadi workers.
EXPLANATION:
As per the guidelines of the National Education Policy 2020, with 'Poshan bhi Padhai bhi, Government has taken up the goal of strengthening the foundations of the country's future generations.
It is not only to make anganwadi centres nutrition hubs but also education-imparting centres.
It is a pathbreaking ECCE program to ensure that India has the world's largest, universal, high-quality pre-school network and will focus on education in the mother tongue, as per the New Education Policy.
Early Childhood Care and Education (ECCE) which is an important component of Mission Saksham Anganwadi and Poshan 2.0 (Mission Poshan 2.0) and envisaged under the National Education Policy.
Government will target children's development in every domain mentioned in the National Curriculum Framework, viz., physical and motor development, cognitive development, socio-emotional-ethical development, cultural/artistic development, and the development of communication and early language, literacy, and numeracy.
All States will follow the national ECCE taskforce recommendations for a play-based, activity-based learning pedagogy, targeted specifically at developmental milestones of 0-3-year olds as well as 3-6-year olds, including special support for Divyang children.
Through ECCE policy, every child would be provided with at least two hours of high-quality pre-school instruction on a daily basis.
As stated in the NEP, Anganwadi Centres will be strengthened with high-quality infrastructure, play equipment, and well-trained Anganwadi workers/teachers.
Poshan bhi Padhai bhi will focus on promoting holistic and quality early stimulation and pre-primary education for children, ensuring the use of developmentally appropriate pedagogies and emphasizing the links with primary education as well as early childhood health and nutrition services.
Poshan Bhi, Padhai Bhi program will provide for mother tongue as primary teacher instruction medium, different types of teaching-learning material (visual aids, audio aids, audio-visual and bodily-kinesthetic aids) to Anganwadi Sewikas, and help build a Jan Andolan, to involve communities in strengthening the foundations of the country's future generation.
Saksham Anganwadi and Poshan 2.0 (Mission Poshan 2.0)
It is an Integrated Nutrition Support Programme. It seeks to address the challenges of malnutrition in children, adolescent girls, pregnant women and lactating mothers through a strategic shift in nutrition content and delivery and by creation of a convergent ecosystem to develop and promote practices that nurture health, wellness and immunity.
Poshan 2.0 shall focus on Maternal Nutrition, Infant and Young Child Feeding Norms, Treatment of MAM/SAM and Wellness through AYUSH. It will rest on the pillars of Convergence, Governance, and Capacity-building. Poshan Abhiyan will be the pillar for Outreach and will cover innovations related to nutritional support, ICT interventions, Media Advocacy and Research, Community Outreach and Jan Andolan.
With a view to address various gaps and shortcomings in the on-going nutrition programme and to improve implementation as well as to accelerate improvement in nutrition and child development outcomes, the existing scheme components have been re-organized under Poshan 2.0 into the primary verticals given below:
Nutrition Support for POSHAN through Supplementary Nutrition Programme (SNP) for children of the age group of 06 months to 6 years, pregnant women and lactating mothers (PWLM); and for Adolescent Girls in the age group of 14 to 18 years in Aspirational Districts and North Eastern Region (NER);
Early Childhood Care and Education [3-6 years] and early stimulation for (0-3 years)
Anganwadi Infrastructure including modern, upgraded Saksham Anganwadi; and
Poshan Abhiyaan
The objectives of Poshan 2.0 are as follows:
To contribute to human capital development of the country
Address challenges of malnutrition
Promote nutrition awareness and good eating habits for sustainable health and wellbeing
Address nutrition related deficiencies through key strategies.
4. PUBLIC HEALTH EMERGENCY OF INTERNATIONAL CONCERN
TAGS: GS 2: HEALTH ISSUES
CONTEXT: World Health Organisation (WHO) said that Covid-19 was no longer a Public Health Emergency of International Concern, and that the focus would now be on the long-term management of the infection.
EXPLANATION:
SARS-CoV-2 was a novel virus which discovered that the infection put the immune system into overdrive, leading to a cytokine storm when immune cells started attacking the patient's own organs. This tended to happen more in the elderly, and in those with existing comorbidities like diabetes.
COVID-19 was raised as its highest level of alert and termed as a Public Health Emergency of International Concern, a designation that remained in place for over three years.
Three conditions for declaring a disease a public health emergency:
It is spreading across several countries.
It is leading to serious illness, hospitalisations, and deaths.
Serious stress on health systems because of the disease.
Why WHO removed the designation?
Methods of transmission reduced
better, cheaper, and point-of-care diagnostics
a treatment protocol that works
medicines to prevent viral replication that can help in reducing severity of the diseases
vaccines that can prevent severe disease.
Public Health Emergency of International Concern
A PHEIC is a formal declaration by WHO of 'an extraordinary event which is determined to constitute a public health risk to other States through the international spread of disease and to potentially require a coordinated international response', formulated when a situation arises that is 'serious, sudden, unusual or unexpected', which 'carries implications for public health beyond the affected state's national border' and 'may require immediate international action'.
PHEIC are not confined to only infectious diseases and may cover events caused by chemical agents or radioactive materials. However, to date, all PHEIC declarations have been for viral emerging infectious diseases, not for bacterial diseases, nor for chemical or radioactive materials.
States have a legal duty to respond promptly to a PHEIC.
International Health Regulations (IHR) have been the governing framework for global health security since 2007. Declaring public health emergencies of international concern (PHEIC) is a cornerstone of the IHR.
Six events were declared PHEIC between 2007 and 2020: the 2009 H1N1 influenza pandemic, Ebola (West African outbreak 2013–2015, outbreak in Democratic Republic of Congo 2018–2020), poliomyelitis (2014 to present), Zika (2016) and COVID-19 (2020 to present).
The International Health Regulations (IHR):
It is governing framework for global health security for the past decade and are a nearly universally recognized World Health Organization (WHO) treaty, with 196 States Parties.
The IHR is one of the six leadership priorities of the WHO programme of work, the purpose of which is to promote health and well-being. Declaring public health emergencies of international concern (PHEIC) is a cornerstone of the IHR.
The IHR provide an overarching legal framework that defines countries' rights and obligations in handling public health events and emergencies that have the potential to cross borders.
It is legally binding on 196 countries, including the 194 WHO Member States.
5. DEEP OCEAN MISSION
TAGS: GS 1: GEOGRAPHY
CONTEXT: India has identified 11 potential sites for exploration of hydrogen sulfide and a dedicated multi-purpose vessel was being acquired to carry out detailed surveys as part of the Deep Ocean Mission. Addressing the first meeting of the Mission Steering Committee it was stated that the technologies developed under the Deep Ocean Mission would help in exploration of the oceans and possible harnessing of non-living resources such as energy, fresh water and strategic minerals.
EXPLANATION:
It is a mission mode project to support the Blue Economy Initiatives of the Government of India under Ministry of Earth Sciences (MoES) to explore deep ocean for resources and develop deep sea technologies for sustainable use of ocean resources.
The deep-sea mining industry is developing specialized underwater mining technology to harvest remotely-located mineral resource from thousands of square kilometers of seafloor, which will involve collecting the nodules at the seabed and bringing them up to a ship for transport to land.
Major Objectives of Deep Ocean Mission:
To address issues arising from long term changes in the ocean due to climate change
To develop technologies for deep-sea mission of living (biodiversity) and non-living (minerals) resources
To develop underwater vehicles and underwater robotics
To provide ocean climate change advisory services
To identify technological innovations and conservation methods for sustainable utilization of marine bioresources
To develop offshore based desalination techniques
To develop renewable energy generation techniques
To provide clean drinking water and explore the avenues of desalination of water as well as extracting minerals from the ocean belt.
Components of Deep Ocean Mission:
Development of Technologies for Deep Sea Mining, and Manned Submersible: A manned submersible will be developed to carry three people to a depth of 6000 metres in the ocean with a suite of scientific sensors and tools.
Development of Ocean Climate Change Advisory Services: A suite of observations and models will be developed to understand and provide future projections of important climate variables on seasonal to decadal time scales under this proof-of-concept component.
Create awareness amongst the public, students, academicians and user communities about the various fields of Earth system science as well as on the achievements and services rendered by MoES.
Technological innovations for exploration and conservation of deep-sea biodiversity: Bio- prospecting of deep-sea flora and fauna including microbes and studies on sustainable utilization of deep-sea bio-resources will be the main focus. This component will support the Blue Economy priority area of Marine Fisheries and allied services.
Deep Ocean Survey and Exploration: The primary objective of this component is to explore and identify potential sites of multi-metal hydrothermal sulphides mineralization along the Indian Ocean mid-oceanic ridges. This component will additionally support the Blue Economy priority area of deep-sea exploration of ocean resources.
Energy and freshwater from the Ocean: Studies and detailed engineering design for offshore Ocean Thermal Energy Conversion (OTEC) powered desalination plant are envisaged in this proof-of-concept proposal. This component will support the Blue Economy priority area of off-shore energy development.
Advanced Marine Station for Ocean Biology: This component is aimed as development of human capacity and enterprise in ocean biology and engineering. This component will support the Blue Economy priority area of Marine Biology, Blue trade and Blue manufacturing.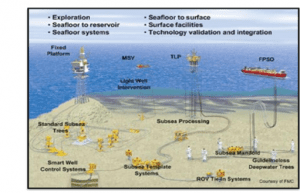 India's First and Unique Manned Ocean Mission, Samudrayan
It was launched in 2021 from Chennai. With this step India joined the elite club of nations such as USA, Russia, Japan, France and China in having such underwater vehicles for carrying out subsea activities.
The Samudrayaan Mission's manned submersible vehicle MATSYA 6000 will help conduct deep-ocean exploration for resources such as gas hydrates, polymetallic manganese nodules, hydro-thermal sulphides, and cobalt crusts, which are found at depths of 1000 to 5500 metres.
Under the Deep Ocean Mission, the National Institute of Ocean Technology (NIOT) and the Ministry of Earth Sciences (MoES) constructed the manned submersible with a depth capacity of 6000 metres.
It will facilitate MoES in carrying out deep ocean exploration of the nonliving resources such as polymetallic manganese nodules, gas hydrates, hydro-thermal sulphides and cobalt crusts, located at a depth between 1000 and 5500 metres.
What are Polymetallic nodules?
It primarily consists of precipitated iron oxyhydroxides and manganese oxides, onto which metals such as nickel, cobalt, copper, titanium and rare earth elements absorb.
Mining of polymetallic nodules has been spurred by the need for critical metals to support growing populations, urbanization, high-technology applications and the development of a green-energy economy.
These nodules are found in various deep ocean regions, including the deep Pacific and Indian Oceans.
They are used in making electronics like rechargeable batteries and touch screens, among other things.
Spread the Word