THE INDIAN POLITY AND GOVERNANCE
1.WHY DGCA AMENDED RULES FOR BOARDING SPECIALLY ABLED PEOPLE ON AIRCRAFT
THE CONTEXT: The Directorate General of Civil Aviation (DGCA) amended its rules on carriage of disabled passengers to say that airlines cannot deny boarding to specially abled people without seeking the medical opinion of a doctor at the airport on a passenger's fitness to fly.
THE EXPLANATION:
What does the new DGCA regulation say?
The DGCA said it has amended its regulations to improve accessibility of boarding and flying for the specially abled.
In its new Civil Aviation Requirement (CAR), the DGCA has said that if an airline decides to deny boarding after getting medical opinion, it will have to immediately inform the passenger in writing and mention the reasons.
The clause added to the CAR on "carriage by air – persons with disability and/or persons with reduced mobility" states: "Airline shall not refuse carriage of any person on the basis of disability. However, in case an airline perceives that the health of such a passenger may deteriorate in-flight, the said passenger will have to be examined by a doctor, who shall categorically state the medical condition and whether the passenger is fit to fly or not. After obtaining the medical opinion, the airline shall take the appropriate call".
What were the old rules?
According to the earlier rules, airlines could deny boarding to any person on the basis of disability if it opined that "transportation of such persons would or might be inimical to the safety of flight". The airlines, however, were bound to specify in writing the basis of such refusal.
Notably, IndiGo, which stood by its ground staff's decision to deny boarding saying it was done in the interest of flight safety, later said it planned to conduct an internal case study on how to better serve passengers with disabilities, especially when they are feeling distressed.
VALUE ADDITION:
About Directorate General of Civil Aviation (DGCA)
It is a statutory body of the Indian Central Government to regulate civil aviation in India.
It was Formed under the Aircraft (Amendment) Bill, 2020.
Functions: It investigates aviation accidents and incidents, maintains all regulations related to aviation and is responsible for issuance of licenses.
THE INTERNATIONAL RELATIONS
2.WHAT ARE EU'S OPTIONS IN PALM OIL ROW WITH MALAYSIA AND INDONESIA?
THE CONTEXT: The World Trade Organization (WTO) could soon rule on two cases brought against the European Union over its decision to phase-out the import of unsustainable palm oil by 2030.
THE EXPLANATION:
The complaints were filed by Indonesia and Malaysia, the world's two largest palm oil producers, who slammed Brussels' Renewable Energy Directive II as unfair and "discriminatory."
The EU has been sending mixed signals on the controversial issue. On one hand, its officials have made clear that oil production is a leading cause of deforestation and so cannot comply with renewable energy targets. There is also an issue of pollution — palm oil diesel releases up to three times as many emissions compared to traditional petroleum-based fuel.
In early July, EU lawmakers adopted draft rules for the ReFuelEU initiative, which would mean 85% of all used aviation fuel would have to be "sustainable" by 2050. Palm oil by-products would not be acceptable. There is now talk in the European Parliament of bringing forward the final phase-out date for palm oil imports, currently set at 2030.
Indonesia and Malaysia accounted for 44.6% and 25.2% of those imports, respectively. EU imports from Indonesia were up 9% last year, compared to 2020, according to Indonesian government data. The Ukraine war, which started in February this year, put additional pressure on Brussels to secure its fuel supply.
What if the WTO rules against the EU?
The WTO decision seems to be drawing near. The panel to decide Indonesia's case was formed in November 2020. A panel of the same members was formed for Malaysia's case in July 2021.
If the WTO panels were to rule against in favour of Indonesia and Malaysia, Brussels has three options, explained Stefan Mayr, a senior scientist at the Institute for Law and Governance at Vienna University of Economics and Business.
First, the EU could appeal against the panel report. But that could set back a final ruling by years, as any decision would have to come after new members are appointed to the WTO's Appellate Body. The body is currently not functioning due to the US blocking new appointees.
The second option, Mayr noted, would be for the EU to comply with the WTO ruling and adapt the environmental policies established by the Renewable Energy Directive II. Whether the EU could make cosmetic changes to its palm oil phase-out, while keeping the essence of the policy, is unclear.
Lastly, the EU could simply carry on regardless and accept any retaliatory measures imposed by Indonesia and Malaysia.
This last option, however, doesn't seem too likely. A senior EU source with knowledge of this issue, who requested anonymity, said: "we will, of course, abide by whatever the WTO decides."
Geopolitics and palm oil
If the EU was to ignore the ruling, Indonesia and Malaysia would struggle to retaliate economically, analysts reckon. According to European Commission data, Malaysia is only the EU's 20th largest trading partner in goods; Indonesia is 31st.
But another EU official, also not authorized to speak, speculated that Brussels would not want to unnecessarily frustrate two key actors in Southeast Asia, where the EU is keen on boosting its reputation and signing new free trade deals. Because of the energy crisis caused by the Ukraine war, the official also expects EU imports of palm oil to continue growing in the coming years.
POINTS TO REMEMBER
India, the world's leading vegetable oil buyer, imported 7,80,741 tonnes of palm oils in January 2021.
The country's total vegetable oil imports rose 16 per cent to 12.70 lakh tonnes in January, 2022 compared to 10.96 lakh tonnes in the year-ago period.
3.WHAT'S THE SIGNIFICANCE OF UN-BACKED GRAIN EXPORT DEAL SIGNED BY UKRAINE, RUSSIA?
THE CONTEXT: Russia and Ukraine signed separate agreements with Turkey and the U.N., clearing the way for exporting millions of tons of desperately needed Ukrainian grain — as well as Russian grain and fertilizer — ending a wartime standoff that had threatened food security around the globe.
THE EXPLANATION:
Why was the grain export deal signed?
Ukraine is one of the world's largest exporters of wheat, corn and sunflower oil, but Russia's invasion of the country and naval blockade of its ports have halted shipments. Some grain is being transported through Europe by rail, road and river, but the prices of vital commodities like wheat and barley have soared during the nearly five-month war.
Ukrainian and Russian military delegations reached a tentative agreement last week on a U.N. plan that would also allow Russia to export its grain and fertilizers.
What is the grain export deal?
The deal makes provisions for the safe passage of ships. It foresees the establishment of a control center in Istanbul, to be staffed by U.N., Turkish, Russian and Ukrainian officials, to run and coordinate the process. Ships would undergo inspections to ensure they are not carrying weapons. According to sources, no Russian ship would escort vessels and that there would be no Russian representative present at Ukrainian ports. Ukraine also plans an immediate military response "in case of provocations.
Ukraine was expected to export 22 million tons of grain and other agricultural products that have been stuck in Black Sea ports due to the war.
Why was the movement of grains halted till now?
Moscow accused Ukraine of failing to remove sea mines at the ports to allow safe shipping and insisted on its right to check incoming ships for weapons. Ukraine has argued that Russia's port blockade and launching of missiles from the Black Sea made any shipments unviable.
Ukraine has sought international guarantees that the Kremlin wouldn't use the safe corridors to attack the Black Sea port of Odesa. Ukrainian authorities have also accused Russia of stealing grain from eastern Ukraine and deliberately shelling Ukrainian fields to set them on fire.
THE ENVIRONMENT, ECOLOGY AND CLIMATE CHANGE
4.MOST NEW PASSENGER VEHICLES IN 2050 WILL BE ELECTRIC: STUDY
THE CONTEXT: Electric passenger vehicles could comprise 30%-75% of the new vehicle sales in India by 2030 and 2050 respectively, according to a study by Delhi-headquartered think tank, Council on Energy, Environment and Water (CEEW).
THE EXPLANATION:
Experts say that investments in the EV ecosystem, to enhance the charging infrastructure and expand the local supply chain development, would help convince customers to adopt EVs over traditional vehicles.
Close to half of the new two-wheelers and over a quarter of new three- and four-wheelers sold in 2030, the study projects, could be electric. Therefore, Centre and state governments would need to invest significantly more in charging infrastructure and support local supply chain development to support this rapid growth in electric vehicle sales.
CEEW's 'India Transport Energy Outlook', as the study is called, underlined that in the next three decades, ownership of four-wheelers could grow by nine times. The ownership of two-wheelers though would saturate with rising income levels. The overwhelming shift to four-wheelers, aided by rising income levels, would significantly impact the transport sector's energy demand and emissions. At present, India's transport sector accounts for around 21% of the total energy consumed and produces fewer emissions compared to developed countries.
"Energy demand from India's transport sector is set to grow manifold over the next 30 years, in line with the expected rise in the per capita income. Therefore, decarbonising the transport sector, especially the hard-to-abate aviation sector and long-distance freight transport, is crucial for India's short and long-term climate goals".
At the same time, India should also seek global partnerships to develop an ecosystem to promote research and development for green hydrogen in the transport sector."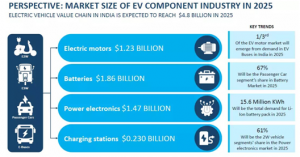 The CEEW study also highlighted that a decline in the share of public transport due to a surge in ownership of private vehicles and rapid growth in air travel would pose significant challenges to India's efforts to decarbonise the transport sector.
"India is poised to witness rapid urbanisation in the coming decades and demand for houses in the cities is likely to grow substantially by 2050. With increased pressure on land as a resource, restricting ownership and use of personal vehicles would be necessary.
To avoid a surge in energy demand and space from the transport sector, policymakers should encourage adoption of public transport, especially in major cities with high penetration of personal vehicles. Further, investments in the EV ecosystem would help convince customers to replace their traditional vehicles with EVs.
VALUE ADDITION:
Government steps:
FAME (faster adoption of electric and hybrid vehicles) scheme in its phase 2 has been going on.
EV policy – individual states are coming with EV policies. Eg. Recently the Maharashtra government came up with its policy till 2025.
Green colored number plates – the government has decided to use green colored number plates for EVs.
The Ministry of Power has issued a policy on charging infrastructure and has issued a notification clarifying that charging electric vehicles will be a service, not a sale of electricity.
Decision to promote aluminium batteries as an alternative to lithium batteries.
Electricity regulatory commissions have also brought out special tariffs for EV charging, and ARAI has introduced standards for AC & DC charging.
MoHUA has amended Building Bye-laws and Urban and Regional Development Plans Formulation and Implementation Guidelines to make charging infrastructure development as an integral part of urban planning, development and construction.
THE SCIENCE AND TECHNOLOGY
5.NEW RESEARCH: A NEW SPRAY COATING TO PROTECT SURFACES FROM VIRUSES, BACTERIA
THE CONTEXT: According to a new study in Advanced Science, At the beginning of the pandemic, before it became widely accepted that respiratory particles are the primary mode of transmission of Covid-19, the focus was on transmission via contact with surfaces. The disinfectants used to guard against that have become less effective.
THE EXPLANATION:
The study describes an alternative: a sprayable coating. This "can prevent the surface spread of infection from bacteria and viruses, including Covid-19, over a sustained period". It said the coating is also safer than existing alternatives to disinfectant, with no harmful side effects.
The study said the coatings "register an 11-fold decrease in viral contamination compared to the noncoated surfaces".
The spray works in two ways: repelling viruses and bacteria through an air-filled barrier, and killing pathogens through microscopic materials if the layer becomes damaged or submerged for extended periods. It uses a combination of plastics.
"The coating provides a reliable alternative to standard disinfectants, which are becoming less effective and require regular reapplication, and is the only permanent surface layer proven to protect surfaces from contamination by viruses.
The coating can be applied to surfaces in public settings such as lift buttons, stair rails, surfaces in hospitals, nursing homes, schools and restaurants.
THE PRELIMS PRACTICE QUESTIONS
ANSWER FOR 22ND JULY 2022
ANSWER: B
EXPLANATION:
MURBURG VIRAL DISEASE
According to WHO, Marburg virus disease (MVD), is a severe, often fatal hemorrhagic fever.
It was earlier known as Marburg haemorrhagic fever.
Marburg, like Ebola, is a filovirus; and both diseases are clinically similar.
This outbreak is only the second time that the disease has been detected in West Africa.
It was first detected in 1967 after simultaneous outbreaks in Marburg and Frankfurt in Germany; and in Belgrade, Serbia.
Spread the Word