THE GEOGRAPHY: CLIMATOLOGY
EXPLAINED: WHAT ARE CLOUDBURSTS, AND WHY DO THEY OCCUR MORE IN PLACES LIKE AMARNATH
THE CONTEXT: In highly-localised rains in Amarnath, Jammu and Kashmir caused flooding and led to the deaths of at least 16 people and injuries to more than 20 others. Those who died were at a camp near the cave, a site of pilgrimage. However, the Indian Meteorological Department (IMD) later said that a cloudburst may not have actually occurred.
THE EXPLANATION:
What is a cloudburst?
A cloudburst refers to an extreme amount of rain that happens in a short period, sometimes accompanied by hail and thunder, and this has a precise definition. The India Meteorological Department (IMD) defines it as unexpected precipitation exceeding 100mm (or 10 cm) per hour over a geographical region of approximately 20 to 30 square km. Significant amounts of rainfall such as this can result in floods.
Basically, all instances of cloudbursts involve heavy rain in a short period, but all instances of heavy rain in a short period are not cloudbursts if they do not fit this criterion.
What can be the impact of a Cloudburst?
A cloudburst can have a devastating impact triggering flash floods. These floods can cause the uprooting of trees and movement of boulders and other debris. On its way down, the water gathers speed and force and can sweep aside structures in the way. Cloudbursts can also cause landslides in hilly areas while in the plains, it can lead to rapid flooding.
Why do cloudbursts occur in hilly areas like Amarnath?
Experts have said it is difficult to predict when exactly a cloudburst will occur, and there is little definitive data on the exact number of cloudbursts that occur in India. Due to their definition dealing with a very small area, it is difficult to accurately predict and identify cloudbursts immediately. However, they are more likely to occur in mountainous zones mainly because of terrain and elevation.
This is because, in hilly areas, sometimes saturated clouds ready to condense into rain cannot produce rain, due to the upward movement of the very warm current of air. Instead of falling downwards, raindrops are carried upwards by the air current. New drops are formed and existing raindrops increase in size. After a point, the raindrops become too heavy for the cloud to hold on to, and they drop down together in a quick flash.
A study published in 2020 examined the meteorological factors behind the cloudburst over the Kedarnath region, where a cloudburst aided the devastating 2013 floods. It found that during a cloudburst, the relative humidity and cloud cover was at the maximum level with low temperature and slow winds. "It is expected that because of this situation a high amount of clouds may get condensed at a very rapid rate and result in a cloudburst".
THE HEALTH ISSUES
EXPLAINED: IMPACT OF DIABETES MEDICINE SITAGLIPTIN GOING OUT OF PATENT
THE CONTEXT: According to industry experts, with the diabetes medicine sitagliptin going out of patent, many pharmaceutical companies have jumped on the chance to market generic versions of the drug–a move likely to bring down the price of the medicine by at least a third, With sitagliptin not prone to causing low blood sugar episodes and being backed by robust data, doctors believe many diabetics might switch over to it if it becomes cheaper.
THE EXPLANATION:
What is sitagliptin and how does it work?
Sitagliptin is a blood sugar-lowering drug. It was first in the category called gliptins, where a protein called DPP-4 is restrained by it, and this impacts the metabolic system so that the pancreas is prompted to increase insulin secretion and regulate sugar in the blood. Another medicine from the same category developed by the pharmaceutical company Novartis, called Vildagliptin, also went off patent late last year, resulting in a subsequent price drop.
Does it have any benefit over other categories of oral drugs?
It was the drug of choice for treating type-2 diabetes where the body cannot regulate the blood sugar levels because it either does not produce enough insulin or resists its impact. It was toppled by a new class of drugs called SGLT-2 inhibitors, also known as gliflozins, which prevent the re-absorption of glucose from the blood when it is filtered by the kidneys, thereby reducing the blood glucose levels.
It was the blockbuster drug for diabetes till another type of drug came and overshadowed it. A new category of drugs, called SGLT-2 inhibitors, came in some years ago and it had a better effect on the heart and hence, is now used more frequently.
The second thing that happened was teneligliptin (a drug from the same category) became available at a very low price. That is why the sitagliptin market was eaten up by the SGLT-2 inhibitors and teneligliptin".
"Another benefit is that it has almost no side effects. Some have a problem with hypoglycaemia (sugar level dropping too low), metformin has a major problem with gastro-intestinal side-effects, the new SGLT-2 inhibitors have a problem as far as urinary infections are concerned".
VALUE ADDITION:
Diabetes Prevalence in India
There are about 1.3 billion people in India — roughly four times the population of the United States. However, 72.9 million people in India had diabetes as of 2017, which rose from 40.9 million in 2007.
Most of this increase is in cases of type 2 diabetes, which is caused by insulin resistance and the pancreas slowly losing the ability to make insulin. A complex set of factors can contribute to the development of type 2 diabetes, including:
genes
environment
lifestyle
Type 1 diabetes is an autoimmune condition that results from your body attacking beta cells in the pancreas that makes insulin.
Type 1 diabetes has increased by about 3 to 5 percent Trusted Source each year in India, according to 2015 research. Research from 2016 found that type 2 diabetes increased by an average of almost 8 percent per year in urban areas in Tamil Nadu, India since 2006.
These numbers are expected to rise, too. It's estimated that there will be 134 million people living with diabetes in India by 2045.
THE INTERNATIONAL RELATIONS
EXPLAINED: WHAT IS CAATSA, THE US LAW TO SANCTION TRANSACTIONS WITH RUSSIA, AND HOW IS INDIA IMPACTED?
THE CONTEXT: Recently, US Democratic Representative said the US government must not impose sanctions on India under the Countering America's Adversaries through Sanctions Act (CAATSA) for its purchase of S-400 missile weapons system from Russia.
THE EXPLANATION:
In the past, other American lawmakers have demanded India should not be sanctioned. In April 2021, Republican Senator, a member of the Senate Foreign Relations Committee, wrote that if the Joe Biden administration imposes sanctions on India, it would undermine their relations and also affect the Quadrilateral Security Dialogue (QUAD), the strategic security grouping of the US, Japan, Australia, and India that is billed as a network of democracies in the Indo-Pacific region.
The Biden administration has not yet issued a clear statement on whether India might be subjected to sanctions under CAATSA, even as India began receiving the weapons from Russia in late 2021.
What is the CAATSA, and could it apply to India?
COUNTERING AMERICA'S ADVERSARIES THROUGH SANCTIONS ACT (CAATSA)
CAATSA is a law that came into effect in the US in 2017, meant to punish countries having deep engagements with Russia, North Korea, and Iran using economic sanctions. It said countries having a "significant transaction" with Russian intelligence and military agents will be subject to at least five kinds of sanctions.
Ordinary transactions will not invite sanctions, and the decision of who has sanctions imposed on them comes down to the interpretation of "significant transaction". This is one of the various waivers or exemptions mentioned, such as the transaction not affecting US strategic interests, not endangering the alliances it is a part of, etc.
Section 231 of the law notifies 39 Russian entities, including all the major defence companies like Rosoboronexport, Sukhoi Aviation, Russian Aircraft Corporation MiG, transactions with whom could invite sanctions. Almaz-Antey Air and Space Defence Corporation JSC, who have made the S-400 system, are in this list.
India has purchased the S-400 Triumf missile systems, which have advanced capabilities to judge the distance from a target and launch a surface-to-air missile attack. Five such systems were bought by India in 2018 for US$ 5.5 billion and in November last year, their delivery began. They were deployed in Punjab.
However, the application of CAATSA is not limited to the S-400 and may include other joint ventures for manufacturing or developing weapons in the future, or any other kinds of major deals with Russia.
Why did the US enact a law like CAATSA?
The US flagged issues of Russia's alleged interference in the 2016 Presidential elections, and its role in the Syrian war as some of the reasons for punishing engagement with it. Former US President Donald Trump, who was accused of "colluding" with Russia in the elections and during whose term it came into effect, called the Act "seriously flawed".
EU countries such as France and Germany that had even more significant ties with Russia for oil and gas supply before the Ukraine-Russia conflict in 2022, had also criticised CAATSA.
In 2020, Turkey was sanctioned for its purchase of the S-400 system.
So why has India not faced CAATSA sanctions yet?
The US has never categorically stated whether CAATSA would apply to India. In March 2022, it was reported that President Biden was yet to decide on the matter.
With the ongoing conflict in Ukraine and the US hardening its stance against Russia, India has continued its neutrality and not joined any of the sanctions against Russia imposed by Western countries. India has mentioned the need for the S-400 missiles for its border defence several times in the past.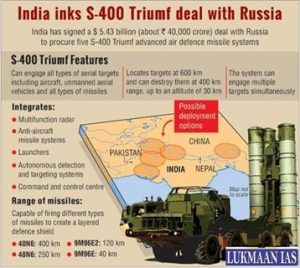 VALUE ADDITION:
ABOUT S-400
India had bought five units of the system in 2018 and had made the first tranche of the payment, $800 million, a year later.
The S-400 is among the most advanced air-defence systems in the world, with a range of around 400 km. It is capable of protecting its air defence bubble against rockets, missiles, cruise missiles and even aircraft.
The system is already available with China, which has deployed it along the Line of Actual Control (LAC) in eastern Ladakh amid the 18-month military standoff.
Significance of S-400
The S-400 is considered the most advanced air-defence system worldwide. The missile is capable of protecting its air defence bubble against missiles, rockets, cruise missiles and aircraft. This system is available with China, which was deployed along the Line of Actual Control (LAC) in Ladakh, amid a military standoff with India.
About S-400 Triumf
S-400 Triumf is a mobile, surface-to-air missile (SAM) system. It was developed by Almaz Central Design Bureau for Marine Engineering in the 1990s, as an upgrade to the S-300 family.
The first battalion of the newest surface-to-air missile systems assumed duty on August 6, 2007. China was the first foreign buyer of the missile, in 2014.
Since then, countries like Saudi Arabia, Turkey, Belarus and India have all acquired or expressed interest in the system. S-400 missile systems are organized across the 30K6E administration system. It is having a range of 400kms.
EXPLAINED: WHY SRI LANKA'S ECONOMY COLLAPSED, AND WHAT'S NEXT FOR THE ISLAND NATION?
THE CONTEXT: Amid the economic crisis, both PM Wickremesinghe and President Gotabaya Rajapaksa agreed to resign amid mounting pressure from protesters who stormed both their residences and set fire to one of them.
THE EXPLANATION:
Sri Lankans are skipping meals as they endure shortages and lining up for hours to try to buy scarce fuel. It's a harsh reality for a country whose economy had been growing quickly, with a growing and comfortable middle class, until the latest crisis deepened.
How serious is this crisis?
The government owes $51 billion and is unable to make interest payments on its loans, let alone put a dent in the amount borrowed. Tourism, an important engine of economic growth, has sputtered because of the pandemic and concerns about safety after terror attacks in 2019. And its currency has collapsed by 80 per cent, making imports more expensive and worsening inflation that is already out of control, with food costs rising 57 per cent.
The result is a country hurtling towards bankruptcy, with hardly any money to import gasoline, milk, cooking gas and toilet paper.
Political corruption is also a problem; not only did it play a role in the country squandering its wealth, but it also complicates any financial rescue for Sri Lanka.
How is it affecting real people?
Tropical Sri Lanka normally is not lacking for food, but people are going hungry. The UN World Food Program says nearly nine of 10 families are skipping meals or otherwise skimping to stretch out their food, while 3 million are receiving emergency humanitarian aid.
Doctors have resorted to social media to try to get critical supplies of equipment and medicine. Growing numbers of Sri Lankans are seeking passports to go overseas in search of work. Government workers have been given an extra day off for three months to allow them time to grow their own food.
In short, people are suffering and desperate for things to improve.
What is the government doing about the crisis?
So far Sri Lanka has been muddling through, mainly supported by $4 billion in credit lines from India. An Indian delegation came to the capital, Colombo, in June for talks on more assistance, but Wickremesinghe warned against expecting India to keep Sri Lanka afloat for long.
Sri Lanka has also sought more help from China. Other governments like the US, Japan and Australia have provided a few hundred million dollars in support.
Earlier in June, the United Nations launched a worldwide public appeal for assistance. So far, projected funding barely scratches the surface of the $6 billion the country needs to stay afloat over the next six months.
THE ENVIRONMENT, ECOLOGY AND CLIMATE CHANGE
SUSTAINABLE USE OF WILD SPECIES CAN MEET NEEDS OF BILLIONS: IPBES 9 REPORT
THE CONTEXT: A report released by the Intergovernmental Science-Policy Platform on Biodiversity and Ecosystem Services (IPBES) has stated that about 50,000 wild species globally can meet the needs of billions of people.
THE EXPLANATION:
HIGHLIGHTS OF THE REPORT:
The report was released, after delegates from 140 countries came together to discuss and reach an outcome on the sustainable use of wildlife. The report is the first of its kind and has been conceived after a period of four years.
With about 50,000 wild species used through different practices, including more than 10,000 wild species harvested directly for human food, rural people in developing countries are most at risk from unsustainable use, with lack of complementary alternatives often forcing them to further exploit wild species already at risk.
"One out of five source their food from wild plants, algae and fungi, while 2.4 billion depend on firewood for cooking and around 90 per cent of the 120 million population pursuing fisheries rely on small-scale fishing,"
The use of wild species defines identities and livelihoods and also holds cultural significance, according to the report. Certain species have cultural importance as they offer multiple benefits that define tangible and intangible features of people's cultural heritage.
Helping indigenous and local communities maintain their ability to use wild species sustainably and protecting their cultural practices associated with them would ensure their survival. The use of wild species is also a source of culturally meaningful employment for such communities and they have engaged in the trade of wild species and materials since millennia.
The report noted that indigenous people and local communities used local knowledge, practices and spirituality for the sustainable use of wild species. They respected nature and only took what they needed. This ensured that healthy populations of wild species were maintained.
The assessment shortlisted five categories of practices used for wild species — fishing, gathering, logging, terrestrial animal harvesting which includes hunting and non-extractive practices such as observing.
The report examined specific uses for each category regarding food, materials, medical benefits, energy, recreational and ceremonial purposes and decorations over the past two decades.
It indicated the increasing use of wild species but added that its sustained use has been varied.
Fromentin cited an example of fisheries. "Recent global estimates confirm that about 34 per cent of marine wild fish stocks are overfished and 66 per cent are fished within biologically sustainable levels. But within this global picture, there are significant local and contextual variations".
Countries with robust fisheries management had seen stocks increasing in abundance. "The Atlantic bluefin tuna population, for instance, has been rebuilt and is now fished within sustainable levels".
The report also presented concerns of effective regulations without which the unsustainable use and trade would increase, leading to population collapse. It also cited illegal use and illegal trade in wild species which is estimated to be about $199 billion (Rs 150,000,000 lakh).
The report further found that characteristics like integration of diverse value systems, equitable distribution of costs and benefits, changes in cultural norms and social values and effective institutions and governance systems would facilitate the sustainable use of wild species in future.
It stressed that the sustainable use of wild species needed "constant negotiation and adaptive management" along with a common understanding of "sustainable use".
About IPBES
Established in 2012, the Intergovernmental Platform on Biodiversity and Ecosystem Services (IPBES) is an international organization committed to strengthening the role of science in public decision-making on biodiversity and ecosystem services.
To achieve this, IPBES will:
respond to government requests for information on biodiversity and ecosystem services;
identify and prioritize key scientific information needed for policymakers;
perform regular and timely, scientifically credible, independent, and peer-reviewed assessments of knowledge on biodiversity and ecosystem services on a comprehensive global, regional, and sub-regional scale;
support policy formation and implementation by identifying relevant tools and methodologies;
identify and create key capacity-building tools to support the use of science in policy.
EXPLAINED: HEALTHY STOCK IN RESERVOIRS
THE CONTEXT: According to Central Water Commission, despite a poor pre-monsoon season, especially during March and April (2022) when the all-India rainfall was 32% short of normal, reservoirs in the country have accumulated reasonably healthy stock overall in July so far. This is because surplus rainfall during the northeast monsoon of 2021 kept stocks replenished through the summer of 2022.
THE EXPLANATION:
The Central Water Commission (CWC) monitors the water status of 143 reservoirs. As on July 7, the collective stock was 53.649 billion cubic metres (BCM), compared to 56.253 BCM at the same time last year. In other words, the present stock amounts to 95% of the live storage available this time last year. And in half these reservoirs, the water stock is higher than it was in July last year (2021).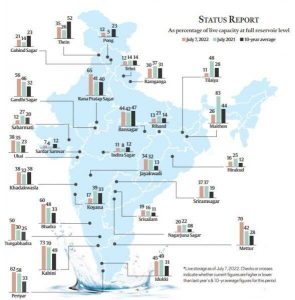 Region by region
Ten dams in the Northern Region — in Himachal Pradesh, Punjab and Rajasthan — have 24% of their total live storage capacity, or 4.79 BCM. At this time last year, the stock was 18%. For comparison, the ten-year average is 33% of the live storage capacity in these 10 reservoirs.
In the 21 reservoirs of the Eastern Region (Jharkhand, Odisha, West Bengal, Tripura, Nagaland and Bihar), whose total live storage capacity is 20.09 BCM, the available live storage on July 7 was 3.66 BCM (18%) — less than in July 2021 (32%) and less than the ten-year average (24%).
In the Western Region (Gujarat and Maharashtra), which have 46 reservoirs monitored by the CWC, the current storage is at 26% of total live capacity (9.36 BCM available out of 36.41 BCM total capacity), which is less than the 29% of July 2021.
In the Central Region (Uttar Pradesh, Uttarakhand, Madhya Pradesh and Chhattisgarh), the 26 reservoirs together have 14.57 BCM or 30% of the total live storage capacity, which is higher than in July 2021 and the ten-year average of 26%.
The Southern Region (Andhra Pradesh, Telangana, Kerala, Tamil Nadu and Karnataka) has 40 reservoirs. Their combined stock is 40% of their total live storage capacity, compared to 41% in July last year, but much higher than the ten-year average of 23%.
With the southwest monsoon in the active phase since June 30, and widespread rainfall forecast during the next five days over most regions of the country, reservoir stocks are set to get further replenished. In the last one week itself, many dams in Kerala, Karnataka, Maharashtra have seen their stocks rise significantly.
Southwest monsoon rainfall has been below normal so far from East Uttar Pradesh (–48%), Gangetic West Bengal (–46%), Jharkhand (–43%), Kerala (–35%), Madhya Maharashtra (–24%), Odisha (–22%), Gujarat (–21%). Good rain spells will need to continue to make up for deficit stocks in dams along some of these states such as Maharashtra, Gujarat, Uttar Pradesh and West Bengal. On the other hand, larger states like Madhya Pradesh, Andhra Pradesh, Tamil Nadu, Rajasthan, as well as Himachal Pradesh, Punjab, Nagaland, have better stocks than last year.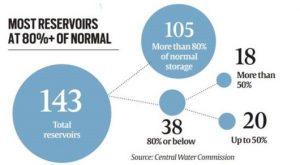 VALUE ADDITION:
Significance of Dams
Source of Clean Energy: Dams are the sources of clean power. Many countries have embraced dams as a way to reduce reliance on expensive fossil fuels.
Irrigation: Dams and waterways store and provide water for irrigation so farmers can use the water for growing crops.

In areas where water and rain are not abundant (like the desert), irrigation canals from rivers and dams are used to carry water.

Prevent Flooding: Dams, if planned well, help in preventing floods. They catch extra water so that it doesn't run wild downstream.
Source of Drinking Water: Since the water stored in dams is freshwater, it can also be used as drinking water.
About CWC:
·         Central Water Commission is a premier Technical Organization of India in the field of Water Resources and is presently functioning as an attached office of the Ministry of Water Resources, River Development and Ganga Rejuvenation, Government of India.
·         Functions: The Commission is entrusted with the general responsibilities of initiating, coordinating and furthering in consultation of the State Governments concerned, schemes for control, conservation and utilization of water resources throughout the country, for purpose of Flood Control, Irrigation, Navigation, Drinking Water Supply and Water Power Development. It also undertakes the investigations, construction and execution of any such schemes as required.
THE PRELIMS PRACTICE QUESTIONS
QUESTION OF THE DAY
Consider the following statements about Countering America's Adversaries Through Sanctions Act (CAATSA):
CAATSA meant to punish countries having deep engagements with Russia, North Korea, and Iran using economic sanctions.
India has purchased the S-400 Triumf missile systems, However, the application of CAATSA is not limited to the S-400.
Which of the above statements is/are incorrect?
a) 1 only
b) 2 only
c) Both 1 and 2
d) Neither 1 nor 2
ANSWER FOR 9TH JULY 2022
ANSWER: B
EXPLANATION:
What is a derecho?
A derecho, according to the US's National Weather Service is "a widespread, long-lived, straight-line windstorm" that is associated with a "band of rapidly moving showers or thunderstorms". The name comes from the Spanish word 'la derecha' which means 'straight'. Straight-line storms are those in which thunderstorm winds have no rotation unlike a tornado. These storms travel hundreds of miles and cover a vast area.
Being a warm-weather phenomenon, a derecho generally – not always – occurs during summertime beginning in May, with most hitting in June and July. However, they are a rare occurrence as compared to other storm systems like tornadoes or hurricanes.
For a storm to be classified as a derecho it must have wind gusts of at least 93 km per hour; a wind damage swath extends more than 400 km. According to University of Oklahama's School of Meteorology, the time gap between successive wind damage events should not be more than three hours.
Spread the Word