INDIAN POLITY, GOVERNANCE AND SOCIAL JUSTICE
1. GOVERNMENT SAYS DATA IN GLOBAL HUNGER INDEX INFLATED
THE CONTEXT: According to the government, the value of a key indicator used in the Global Hunger Index is 'inflated' as there are only 3.9% of Anganwadi children found to be undernourished.
THE EXPLANATION: 
The real-time data of beneficiaries registered on the Anganwadi platform include 7.79 crore children aged between 6 months to 6 years as per real-time Poshan Tracker data [as of 16-10-2021]. The corresponding number of undernourished children reported on Poshan Tracker is 30.27 lakh which comes to only 3.9%.
The GHI 2021 ranked India at 101 positions out of 116 countries. The index is based on four indicators — under-nourishment, wasting, stunting and under-five mortality. Of these, India's performance is shown to deteriorate only for undernourishment, which is what the Government has challenged.
According to FAO's data, which is used in the Index, the prevalence of undernourishment in India rose from 14% in 2017-2019 to 15.3% in 2018-2020 which the Government has called exaggerated.
The Government has also alleged that there has been a selective approach adopted by the publishing agencies to deliberately lower India's rank on the GHI 2021 by relying on higher values of indicators such as stunting and wasting from different datasets available.
The Government also maintains that it is not possible to evaluate the extent of malnutrition for the period before 2018 as there were no growth monitoring devices available at anganwadis until they were introduced under the PoshanAbhiyaan.
SOURCE: TH
2. FOOD TECH SUMMIT 2021
THE CONTEXT: To commemorate World Food Day, the Ministry of Food Processing Industries, under the Pradhan MantriFormalisation of Micro food processing Enterprises (PMFME) Scheme, organised the Food Tech Summit on 16th October 2021.
THE EXPLANATION: 
The Food Tech Summit 2021 aimed at setting the stage for all food-tech stakeholders to impart, discuss and acquaint micro enterprises on the new emerging trends in food processing and technological innovation.
ABOUT THE PMFME SCHEME
Launched under the Aatmanirbhar Bharat Abhiyan, the Pradhan MantriFormalisation of Micro food processing Enterprises (PMFME) Scheme is a centrally sponsored scheme that aims to enhance the competitiveness of existing individual micro-enterprises in the unorganized segment of the food processing industry and to promote formalization of the sector and provide support to Farmer Producer Organizations, Self Help Groups, and Producers Cooperatives along their entire value chain.
With an outlay of Rs. 10,000 crores over a period of five years from 2020-21 to 2024-25, the scheme envisions to directly assist the 2,00,000 micro food processing units for providing financial, technical, and business support for up-gradation of existing micro food processing enterprises.
SOURCE: PIB
3. INDIA TO ACHIEVE 100-CRORE VACCINATION MARK
THE CONTEXT:  In a couple of days or so from now, the number of Covid-19 vaccine doses administered in India will have crossed 100 crores, or 1 billion. Already, India has administered more vaccine doses than any other country in the world apart from China.
THE EXPLANATION: 
Still, for a country that faced huge supply bottlenecks, and a fair amount of vaccine hesitancy, at least in the initial period, reaching the 100-crore milestone is no small achievement. Transportation, distribution and storage of vaccines at specific low temperatures posed huge additional hurdles in a country lacking in an elaborate cold-chain network.
The 100-crore milestone is being achieved in about 275 days — the first vaccine doses were administered on January 16 — which means that, on average, 27 lakh doses have been given every day through this ten-month period.
There have, of course, been wide variations in the daily number of doses administered. On six days, more than 1 crore doses were administered, with a record of 2.18 crore being achieved on September 17.
On the other hand, in the initial few days in January and a couple of days in February, less than 50,000 doses were administered.
States with smaller populations have much better coverage of coverage of Covid-19 vaccination. But some of the larger states, with much larger populations, such as Gujarat, Kerala, Delhi, Madhya Pradesh and Uttarakhand have also managed to vaccinate over 90% of their adult population with at least one dose.
On the other hand, some low-population northeastern states — Manipur, Meghalaya and Nagaland – and also Puducherry are lagging behind, with less than 60% of their people having been vaccinated with even a single dose.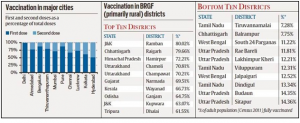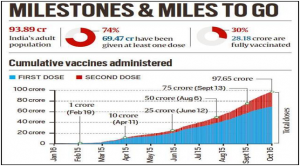 SOURCE:  IE
ENVIRONMENT, GEOGRAPHY AND AGRICULTURE
4. COP26 CLIMATE CONFERENCE
THE CONTEXT: The UK will host the COP 26 UN Climate Change Conference from October 31 to November 12. The event will see leaders from more than 190 countries, thousands of negotiators, researchers and citizens coming together to strengthen a global response to the threat of climate change. It is a pivotal movement for the world to come together and accelerate the climate action plan. This year marks the 26th Conference of Parties and will be held in the Scottish Event Campus in Glasgow.
FORMATION OF COP
The Conference of Parties comes under the United Nations Climate Change Framework Convention (UNFCCC) which was formed in 1994. The UNFCCC was established to work towards the stabilisation of greenhouse gas concentrations in the atmosphere.
It laid out a list of responsibilities for the member states which included:
Formulating measures to mitigate climate change
Cooperating in preparing for adaptation to the impact of climate change
Promoting education, training and public awareness related to climate change
COP1 to COP25
COP members have been meeting every year since 1995. The UNFCCC has 198 parties including India, China and the USA.
The first conference (COP1) was held in 1995 in Berlin. At COP3 held in Kyoto, Japan, in 1997, the famous Kyoto Protocol was adopted. It commits the member states to pursue limitation or reduction of greenhouse gas emissions. It entered into force on 16 February 2005 and there are 192 Parties in the Kyoto Protocol.
India hosted the eighth COP from October 23 to November 1, 2002, in New Delhi. The conference laid out seven measures.
One of the most important conferences, COP21 2015, in Paris, France. Member countries agreed to work together to 'limit global warming to well below 2, preferably to 1.5 degrees Celsius, compared to pre-industrial levels.'
COP26 GOALS
According to the UNFCCC, COP26 will work towards four goals:
Secure global net-zero by mid-century and keep 1.5 degrees within reach
Adapt to protect communities and natural habitats
Mobilise finance
Work together to deliver
SOURCE:IE
5. GREEN CRACKERS
THE CONTEXT: In view of the coronavirus disease (Covid-19) related situation and concerns surrounding the rising level of pollution due to firecrackers during the festive season, several states have imposed certain rules on fireworks this year. These vary from either a complete or a partial ban on firecracker sales in these respective states to permitting the sale of 'green crackers' instead.
THE EXPLANATION:
In July 2021, the Supreme Court dismissed a plea challenging the National Green Tribunal's order for the imposition of a complete ban on the sale and use of all firecrackers during the Covid-19 pandemic in cities and said that no further clarification or deliberation was required.
The apex court said that the authorities may permit the sale and use of firecrackers as per the category of AQI in the cities.
The bench said that manufacturing or production of firecrackers was allowed and those who wanted to use firecrackers could do so with permission depending upon the category of AQI.
It clarified that the ban is in places where air quality is poor and there is no ban on the manufacture.
Tamil Nadu chief minister MK Stalin has urged his Delhi, Rajasthan, Haryana, and Odisha counterparts to seriously consider the sale of green crackers in their respective territories.
WHAT ARE GREEN CRACKERS?
'Green crackers' are low-emission fireworks permitted by the Supreme Court for celebrations to a moderate degree during festivals, relaxing the 'complete ban on fireworks previously imposed in 2017.
These green crackers, researched and developed by experts at the CSIR-NEERI (Council of Scientific & Industrial Research – National Environmental Engineering Research Institute).
These green crackers are produced with less harmful raw materials, in accordance with instructions issued by the Supreme court, and are made in a way that suppresses the dust when they are burnt – thus reducing emissions.
They also do not contain harmful chemicals such as lithium, arsenic, barium, and lead and instead release water vapour that does not allow the dust to rise.
Although still impactful on the climate to an extent, these green crackers are believed to cause 30 per cent less particulate matter pollution than traditional crackers and are thus considered generally less harmful than their conventional alternatives.
SOURCE:  HT
INTERNATIONAL RELATIONS
6. EX YUDH ABHYAS 21
THE CONTEXT: The 17th Edition of Indo – US joint training exercise "EX YUDH ABHYAS 21" commenced at Joint Base Elmendorf Richardson, Alaska (USA) on 15 October 2021.
THE EXPLANATION:
The joint exercise will facilitate both Armies to know each other better, share their wide experiences and enhance their situational awareness through information exchange.
This will help them in undertaking joint operations at the Battalion level in mountainous terrain with cold climatic conditions under the ambit of the United Nations.
SOURCE: PIB
7. NEW DELHI TO HOST NSAS ON AFGHANISTAN ISSUE
THE CONTEXT:  New Delhi is planning to engage regional powers on the future of Afghanistan. It is sending an official team to attend the Moscow process of talks on October 20 that will include the Taliban government's, Deputy Prime Minister. New Delhi has also invited regional National Security Advisers to Delhi for a meeting in November.
THE EXPLANATION:
New Delhi has reached out to countries that participated in the Iran-plus six-nation "Regional Security Dialogue" in Tehran- Iran, Russia, China, Pakistan, Tajikistan, and Uzbekistan for the meeting to be chaired by National Security Advisor Ajit Doval.
A Pakistani official confirmed receiving the invitation but said a decision on participation was yet to be taken.
Although no foreign government has recognised the Taliban as the official government, several, including India are in talks with them, mainly through their political office in Doha, while at least six nations, including Russia, China, Iran, Pakistan, Turkey and Qatar maintain embassies in Kabul.
SOURCE: TH
PRELIMS PRACTICE QUESTIONS
Q1. Consider the following pairs of armed forces exercises between India and the U.S.
YudhAbhyas – Army
Cope India – Tri-service
Malabar – Navy
Tiger Triumph – Air force
Which of the pairs given above are correctly matched?
a) 1 and 2 only
b) 1 and 3 only
c0 1, 2 and 3 only
d) 1, 2, 3 and 4
ANSWER FOR OCTOBER 16, 2021 PRELIMS PRACTICE QUESTIONS
ANSWER: D
Explanation:
Statement 1 is correct: Convertibility refers to the ability to convert domestic currency into foreign ones and vice versa to make payments for the balance of payments transactions.
Statement 2 is correct: Current account convertibility is the ability or freedom to convert domestic currency for current account transactions
Statement 3 is correct: Capital account convertibility is the ability or freedom to convert domestic currency for capital account transactions.
Spread the Word