INDIAN POLITY, GOVERNANCE AND SOCIAL JUSTICE
1. TRIFED IS WORKING TO GET GI TAG FOR TRIBAL PRODUCTS
THE CONTEXT: The GI initiative taken up by TRIFED aims at protecting and reviving the traditional mastery that the Indian tribal folks possess, in producing some of the most exotic products.
THE EXPLANATION: 
TRIFED, through marketing GI, tagged products of tribal origin or source, is working extensively towards realizing the importance of protecting and promoting agricultural, natural or manufactured goods with specific geographical characteristics thereby contributing in the preservation ofinvaluable treasures of Incredible India.
The 'Atmanirbhar Bharat' corner in the High Commissions is being set up as part of a global initiative, in collaboration with TRIFED, to promote products that tribal groups across India have been creating for centuries.
TRIFED's GI intervention and setting up of Atmanirbhar corner in Indian Missions abroad aims at:
To safeguard the interests of the original producers as well as that of the product and ensure that the producer avails optimum cost for their premium goods even in the highly competitive market scenario.
To ensure recognition of indigenous products both in India and the global market.
To revive diminishing art and craft from a Tribal specific geographical location.
At present, TRIFED markets 56 GI tagged products, owing to their tribal origin/involvement, from among the 300+ registered Indian GIs through its well-established network of 141 Tribes India retail outlets and various E-Commerce platforms.
It has facilitated authorized user-ship for 94 artisans to date and is persevering to increase the authorized user base to 500 in the near future.
In addition to marketing 56 GI products, TRIFED is also working to get GI tag for the 177 potential products that have been identified from the states under operational areas of our Regional Offices across the country namely North-East(88), Uttarakhand(14), Jharkhand(11), Madhya Pradesh(11), Maharashtra(10) Odisha(6), West Bengal(9), Gujarat(7), Chhattisgarh(7), Andhra Pradesh(4), Rajasthan(4), South(3) and North(3).
Also, GI registration of 21 potential products from the states of Gujarat, Assam, Uttarakhand and Jharkhand has already been initiated under the mentorship of Padma Shree Dr. RajnikantDwivedi. This will increase the number of GI products marketed by TRIFED to 77 GI products which it sources from empanelled Tribal suppliers.
SOURCE: PIB
ENVIRONMENT, GEOGRAPHY AND AGRICULTURE
2. GOVERNMENT PROPOSES TO REDEFINE FORESTS
THE CONTEXT: The Ministry for Environment, Forests and Climate Change (MoEFCC) published proposed amendments to the Forest Conservation Act, 1980, easing diversion of forests and exempting certain categories of development from the need to take clearance from the Ministry.
WHAT ARE THE PROPOSED AMENDMENTS?
The Ministry has proposed that all land acquired by the Railways and Roads Ministries prior to 1980 be exempted from the Act. It says these lands had been acquired for expansion, but subsequently, forests have grown in these areas, and the government is no longer able to use the land for expansion. If the amendment is brought in, these Ministries will no longer need clearance for their projects, nor pay compensatory levies to build there.
For individuals whose lands fall within a state-specific Private Forests Act or come within the dictionary meaning of forest as specified in the 1996 Supreme Court order, the government proposes to allow "construction of structures for bona fide purposes'' including residential units up to 250 sq m as a one-time relaxation.
Defence projects near international borders will be exempted from forest clearance.
Oil and natural gas extraction from forested lands will be permitted, but only if technologies such as Extended Reach Drilling are used.
The Ministry has proposed doing away with levies for non-forestry purposes during the renewal of a lease, saying the double levy at the time of awarding of the lease and the renewal is "not rational".
Strip plantations alongside roads that would fall under the Act will be exempted.
WHAT ARE THE CONCERNS?
Activists and opposition leaders say the relaxation of forest rules will facilitate corporate ownership and the disappearance of large tracts of forests.
About the exemption of forests on private land, even former forest officials said many forests will disappear. For instance, 4% of land in Uttarakhand falls under private forests.
the amendments do not address the issue of tribals and forest-dwelling communities
Environmentalists say exemption for Roads and Railways on forest land acquired prior to 1980 will be detrimental to forests as well as wildlife – especially elephants, tigers and leopards.
Environmentalists say a one-time exemption for private residences on the private forests will lead to fragmentation of forests and open areas such as the Aravalli Mountains to real estate.
DO ENVIRONMENTAL GROUPS NOTE ANY POSITIVES?
They have welcomed the fact that the consultation paper has been public, and the decision to make changes through an amendment using the parliamentary process. Environmental groups have also acknowledged that:
The MoEFCC has pointed out where the pressure for forest land diversion has been coming from — Ministries such as Rail and Roads — and allowed a public debate on it.
It has proposed making forest laws more stringent for notified forests, making offences non-bailable with increased penalties including imprisonment of up to one year.
It has disallowed any kind of diversion in certain forests.
It has attempt to define and identify forests once and for all — something that has been often ambiguous.
SOURCE: IE
INDIAN ECONOMY
3. GATI SHAKTI
THE CONTEXT:Prime Minister launched the Gati Shakti – National Master Plan for Multi-modal Connectivity.   Gati Shakti — a digital platform — will bring 16 Ministries including Railways and Roadways together for integrated planning and coordinated implementation of infrastructure connectivity projects.
THE EXPLANATION:
It will incorporate the infrastructure schemes of various Ministries and State Governments like Bharatmala, Sagarmala, inland waterways, dry/land ports, UDAN etc. Economic Zones like textile clusters, pharmaceutical clusters, defence corridors, electronic parks, industrial corridors, fishing clusters, Agri zones will be covered to improve connectivity & make Indian businesses more competitive.
It will also leverage technology extensively including spatial planning tools with ISRO imagery developed by BiSAG-N (Bhaskaracharya National Institute for Space Applications and Geoinformatics).
The multi-modal connectivity will provide integrated and seamless connectivity for the movement of people, goods and services from one mode of transport to another. It will facilitate the last mile connectivity of infrastructure and also reduce travel time for people.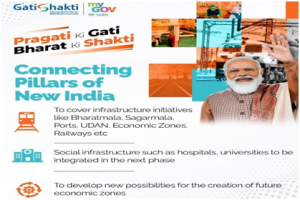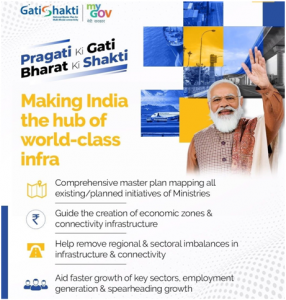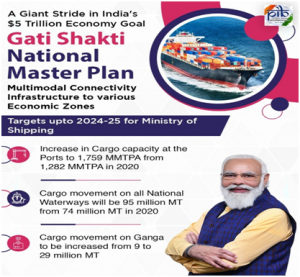 SOURCE: PIB
4. INDIA'S TRADE WITH CHINA SET TO CROSS $100 BILLION IN 2021
THE CONTEXT: India's trade with China is set to cross the $100 billion mark for the first time in 2021.
THE EXPLANATION:
Figures released by China's General Administration of Customs (GAC) showed that two-way trade after nine months reached $90.37 billion, up 49.3% year-on-year. India's imports from China reached $68.4 billion, up 51.7% year-on-year, while India's exports amounted to $21. 9 billion, up 42.5%.
Two-way trade was substantially higher than pre-pandemic levels, with bilateral trade up 29.7% compared to the same period in 2019, with India's imports up 21.5% and exports to China up 64.5%.
India's biggest exports to China annually are iron ore, cotton, and other raw material-based commodities. India imports mechanical and electrical machinery in large quantities from China, while imports of medical supplies have soared in the past two years.
Chinese trade officials attributed China's overall trade performance after three quarters to the country's economic recovery as well stronger global demand.
Figures with India were among the fastest-growing for China's major trading partners. China's total trade was up 22.7% year-on-year, while bilateral figures with the three biggest trading partners, ASEAN, the EU and the U.S., were up 21.1%, 20.5%, and 24.9% respectively.
The GAC said Chinese exports of mechanical and electrical products, as well as medicine and medicinal materials, grew particularly robustly. Medicine and medicinal material exports were up 108%.
SOURCE: TH
5. GOVERNMENT SCRAPS BASIC CUSTOM DUTY AND CUTS AGRICULTURE CESS
THE CONTEXT: The government scrapped basic customs duty as well as slashed Agri cess on crude varieties of palm, soya bean and sunflower oil till March 2022, a move that will help cool prices and increase domestic availability in the festive season.
THE EXPLANATION:
Crude palm oil will now attract Agri infrastructure development cess (AIDC) of 7.5 per cent, while the rate will be 5 per cent for crude soyabean oil and crude sunflower oil.
Post reduction, the effective customs duty on crude varieties of palm, soya bean and sunflower oil will be 8.25 per cent, 5.5 per cent and 5.5 per cent respectively.
Besides, the basic customs duty on refined varieties of sunflower, soybean, palmolein and palm oil has been slashed to 17.5 per cent each from 32.5 per cent at present.
SOURCE: THEPRINT
6. INVESTMENT ACTIVITY REBOUNDED
THE CONTEXT: As per Projects Today's latest survey on fresh investments, investment activity rebounded sharply between July and September after a dip in the COVID-hit first quarter of the year, lifting fresh investment commitments in the first half of 2021-22 by 13.5% over pre-pandemic levels.
THE EXPLANATION:
Investments had declined sequentially by 18% between April and June as the second COVID wave triggered lockdown across States, but the lifting of restrictions as the wave ebbed has enabled the resumption of Capex activities across the country.
While investment plans recovered, two critical indicators of actual capital spending — project tendering and project contracts — registered impressive growth in Q2, rising by 52.7% and 19.33%, respectively, over the previous quarter.
Manufacturing leads the charge, but irrigation and infra are still a concern
SOURCE: TH
7. RBI BANNED CHARTERED ACCOUNTANT FIRM
THE CONTEXT: In an unprecedented move, the Reserve Bank of India on Tuesday banned one of the country's top chartered accountant firms Haribhakti& Co LLP from undertaking any type of audit assignments for regulated entities for a period of two years starting April 1, 2022.
THE EXPLANATION:
Haribhakti& Co LLP was the auditor of Srei Infrastructure Finance Limited (SIFL), whose board was superseded by the RBI and insolvency proceedings were initiated last week.
The banking sector regulator has taken this action against the firm for failure to comply with a specific direction issued by the RBI with respect to its statutory audit of a Systemically Important Non-Banking Financial Company (NBFC).
This is the first time that the RBI has taken such action against an auditor of any systemically important NBFC.
SOURCE: THEPRINT
INTERNATIONAL RELATIONS
8. INDIA, IRAN DISCUSS WAYS TO FIGHT DRUG TRAFFICKING FROM AFGHANISTAN
THE CONTEXT: Indian and Iranian officials held a virtual meeting following the largest seizure of heroin (3000kg) at the Mundra port in Gujarat on September 15.
THE EXPLANATION:
Initial reports had indicated that the containers carrying the substance originated from the Iranian port of Bandar Abbas.
The drug haul also impacted Iran's trade as the Adani Group declared that containers from Iran, Pakistan and Afghanistan will not be handled at the port from November 15.
Both discussed and examined ways and means of mutual cooperation in fighting drug trafficking which accordingly resulted in some positive outcomes.
It is for many decades that narcotic drugs production and organised drug trafficking from Afghanistan has posed a major threat to Iran, our region and to the world.
SOURCE: TH
PRELIMS PRACTICE QUESTIONS
Q1.  Recently launched the Gati Shakti is National Master plan for?
a) Multi-Modal connectivity
b) Defence Equipments
c) Vaccine for children
d) Tribal Development
ANSWER FOR OCTOBER 13, 2021 PRELIMS PRACTICE QUESTIONS
Answer: c)
Explanation:
Statement1 is correct: Kunming biodiversity fund was announced by China during the UN conservation summit.
Statement 2 is incorrect: It is an independent fund and not part of the United Nations' Global Environment Facility.
Statement 3 is correct: It will be used to protect biodiversity in developing countries.
Spread the Word