INDIAN POLITY, GOVERNANCE AND SOCIAL JUSTICE
SANSAD TV
THE CONTEXT: Sansad TV, a news channel combining Lok Sabha TV and Rajya Sabha TV, was launched by the PM.
ANALYSIS:
A single channel for Parliament had become a reality after careful consideration of the recommendations of a committee set up in November 2019.
The LSTV, which was the brainchild of former Speaker Somnath Chatterjee, has been functioning for 15 years and the RSTV for 10 years.
When Parliament is in session, both channels will continue to operate as before bringing in the live telecast. But when it is in recess, only Sansad TV will be telecast.
ABOUT LOK SABHA TV
Lok Sabha TV is the first parliamentary channel of India launched in July 2006.
It is dedicated to the Lower House of the Parliament.
It is owned and operated by Lok Sabha Secretariat.
It has a mandate to telecast uninterrupted live proceedings of the Lok Sabha.
ABOUT RAJYA SABHA TV
It was started in 2011.
Rajya Sabha TV is owned and operated by the upper house of Indian Parliament.
Apart from telecasting live coverage of Rajya Sabha proceedings, RSTV also brings incisive analysis of parliamentary affairs.
SOURCE: TH
SHOONYA CAMPAIGN
THE CONTEXT: NITI Aayog, with RMI and RMI India's support, launched Shoonya—an initiative to promote zero-pollution delivery vehicles by working with consumers and industry. The campaign aims to accelerate the adoption of electric vehicles (EVs) in the urban deliveries segment and create consumer awareness about the benefits of zero-pollution delivery.
ANALYSIS:
Over 30 e-commerce, OEMs, fleet aggregators, charging infrastructure companies join hands to deliver green as part of the campaign to clean up final-mile deliveries.
As part of the campaign, a corporate branding and certification programme is being launched to recognise and promote the industry's efforts towards transitioning to EVs for final-mile deliveries.
An online tracking platform will share the campaign's impact through data such as vehicle kilometres electrified, carbon savings, criteria pollutant savings and other benefits from clean delivery vehicles.
Urban freight vehicles account for 10 per cent of freight transportation-related CO2 emissions in India, and these emissions are expected to grow by 114 per cent by 2030. EVs emit no tailpipe emissions, which can contribute immensely to improved air quality.
Even when accounting for their manufacture, they emit 15-40 per cent less CO2 compared to their internal combustion engine counterparts and have lower operational costs.
The central and the state governments have introduced policies to provide upfront incentives for EVs, which will lower the capital cost by a high margin.
SOURCE:  PIB
ENVIRONMENT, GEOGRAPHY AND AGRICULTURE
ASSAM WETLAND NEIGHBOURS OPPOSE RAILWAY TRACK REALIGNMENT
THE CONTEXT: Villagers living near Deepar Beel (Assam), a Ramsar Site wetland and Important Bird Area under stress, have opposed the proposed realignment of a railway track skirting its southern edge.
ANALYSIS:
The project would be catastrophic for the ecology of the Rani-Garbhanga Reserve Forest, affect a prime elephant corridor and uproot the indigenous people, they say.
The issue of the garbage dumping ground on the edge of Deepar Beel was also taken up. Seepages from the dump and sewers from Guwahati have made the Deepar Beel toxic, threatening aquatic life and waterfowls.
On August 25, 2021, the Ministry of Environment, Forest and Climate Change notified the ecosensitive zone of Deepar Beel Wildlife Sanctuary on the southwestern edge of Guwahati.
Deepar Beel is one of the largest freshwater lakes in Assam and the State's only Ramsar Site (declared in 2002), besides being an Important Bird Area.
SOURCE:  TH
INDIAN ECONOMY
INDIA EXPECTED TO GROW AT 7.2% IN 2021: UN REPORT
THE CONTEXT: India is expected to grow at 7.2 per cent in 2021 but economic growth could decelerate next year, according to a United Nations report which said the recovery in the country is constrained by the ongoing human and economic cost of the COVID-19 pandemic and the negative impact of food price inflation on private consumption.
ANALYSIS:
The UNCTAD Trade and Development Report 2021, released here on Wednesday, sounded a cautiously optimistic note to say that the global economy is set for a strong recovery in 2021, albeit with a good deal of uncertainty clouding the details at the regional and country levels over the second half of the year.
After a 3.5 per cent fall in 2020, the United Nations Conference on Trade and Development (UNCTAD) expects world output to grow 5.3 per cent this year, partially recovering the ground lost in 2020.
The report said that India "suffered a contraction" of 7 per cent in 2020 and is expected to grow 7.2 per cent in 2021.
The report projects that India will clock an economic growth of 6.7 per cent in 2022, slower than the country's expected 2021 growth rate.
However, even with a slower growth rate of 6.7 per cent, India will still be the fastest-growing major economy in the world next year.
SOURCE: TH
CABINET APPROVES MAJOR REFORMS IN TELECOM SECTOR
THE CONTEXT: The Union Cabinet approved a number of structural and process reforms in the Telecom sector. These are expected to protect and generate employment opportunities, promote healthy competition, protect the interests of consumers, infuse liquidity, encourage investment and reduce the regulatory burden on Telecom Service Providers (TSPs).
ANALYSIS: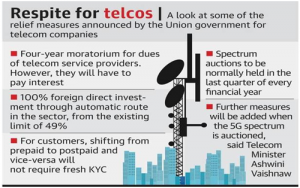 STRUCTURAL REFORMS
Rationalization of Adjusted Gross Revenue:  Non-telecom revenue will be excluded on a prospective basis from the definition of AGR.
Bank Guarantees (BGs) rationalized: Huge reduction in BG requirements (80%) against License Fee (LF) and other similar Levies. No requirements for multiple BGs in different Licenced Service Areas (LSAs) regions in the country. Instead, One BG will be enough.
Interest rates rationalized/ Penalties removed: From 1st October 2021, Delayed payments of License Fee (LF)/Spectrum Usage Charge (SUC) will attract an interest rate of SBI's MCLR plus 2% instead of MCLR plus 4%; interest compounded annually instead of monthly; penalty and interest on penalty removed.
For Auctions held henceforth, no BGs will be required to secure instalment payments. The industry has matured and the past practice of BG is no longer required.
Spectrum Tenure: In future Auctions, the tenure of spectrum increased from 20 to 30 years.
Surrender of the spectrum will be permitted after 10 years for spectrum acquired in future auctions.
No Spectrum Usage Charge (SUC) for spectrum acquired in future spectrum auctions.
Spectrum sharing encouraged- additional SUC of 0.5% for spectrum sharing removed.
To encourage investment, 100% Foreign Direct Investment (FDI) under automatic route permitted in Telecom Sector. All safeguards will apply.
PROCEDURAL REFORMS
Auction calendar fixed – Spectrum auctions are to be normally held in the last quarter of every financial year.
Ease of doing business promoted – a cumbersome requirement of licenses under 1953 Customs Notification for wireless equipment removed. Replaced with self-declaration.
Know Your Customers (KYC) reforms: Self-KYC (App based) permitted. E-KYC rate revised to only One Rupee. Shifting from Prepaid to Post-paid and vice-versa will not require fresh KYC.
Paper Customer Acquisition Forms (CAF) will be replaced by digital storage of data. Nearly 300-400 crore paper CAFs lying in various warehouses of TSPs will not be required. Warehouse audit of CAF will not be required.
SACFA clearance for telecom towers eased. DOT will accept data on a portal based on a self-declaration basis. Portals of other Agencies (such as Civil Aviation) will be linked with DOT Portal.
ADDRESSING LIQUIDITY REQUIREMENTS OF TELECOM SERVICE PROVIDERS
Moratorium/Deferment of up to four years in annual payments of dues arising out of the AGR judgement, with, however, by protecting the Net Present Value (NPV) of the due amounts being protected.
Moratorium/Deferment on due payments of spectrum purchased in past auctions (excluding the auction of 2021) for up to four years with NPV protected at the interest rate stipulated in the respective auctions.
Option to the TSPs to pay the interest amount arising due to the said deferment of payment by way of equity.
At the option of the Government, to convert the due amount pertaining to the said deferred payment by way of equity at the end of the Moratorium/Deferment period, guidelines for which will be finalized by the Ministry of Finance.
The above will be applicable for all TSPs and will provide relief by easing liquidity and cash flow. This will also help various banks having substantial exposure to the Telecom sector.
GOVERNMENT APPROVES PLI SCHEME FOR DRONES AND DRONE COMPONENTS
THE CONTEXT: The Central Government has approved the Production-Linked Incentive (PLI) scheme for drones and drone components.
SALIENT FEATURES OF THE PLI SCHEME FOR DRONES
The total amount allocated for the PLI scheme for drones and drone components is INR 120 crore spread over three financial years.  This amount is nearly double the combined turnover of all domestic drone manufacturers in FY 2020-21.
The incentive for a manufacturer of drones and drone components shall be as high as 20% of the value addition made by her.
The value addition shall be calculated as the annual sales revenue from drones and drone components (net of GST) minus the purchase cost (net of GST) of drone and drone components.
The Government has agreed to keep the PLI rate constant at 20%for all three years, an exceptional treatment given only to the drone industry.  In PLI schemes for other sectors, the PLI rate reduces every year.
The proposed tenure of the PLI scheme is three years starting in FY 2021-22.  The PLI scheme will be extended or redrafted after studying its impact in consultation with the industry.
The Government has agreed to fix the minimum value addition norm at 40% of net sales for drones and drone components instead of 50%, another exceptional treatment given to the drone industry.  This will allow widening the number of beneficiaries.
The PLI scheme covers a wide variety of drone components:
Airframe, propulsion systems (engine and electric), power systems, batteries and associated components, launch and recovery systems;
Inertial Measurement Unit, Inertial Navigation System, flight control module, ground control station and associated components;
Communications systems (radiofrequency, transponders, satellite-based etc.)
Cameras, sensors, spraying systems and related payload etc.;
'Detect and Avoid' system, emergency recovery system, trackers etc. and other components critical for safety and security.
The list of eligible components may be expanded by the Government from time to time, as drone technology evolves.
The Government has agreed to widen the coverage of the incentive scheme to include developers of drone-related IT products
The Government has kept the eligibility norm for MSME and startups in terms of annual sales turnover at a nominal level – INR 2 cr (for drones) and INR 50 lakhs (for drone components).  This will allow widening the number of beneficiaries.
The eligibility norm for non-MSME companies in terms of annual sales turnover has been kept at INR 4 crore (for drones) and INR 1 crore (for drone components).
The incentive payable to a manufacturer of drones and drone components shall be simply one-fifth of her value addition.
PLI for a manufacturer shall be capped at 25% of the total annual outlay. This will allow widening the number of beneficiaries.
In case a manufacturer fails to meet the threshold for the eligible value addition for a particular financial year, she will be allowed to claim the lost incentive in the subsequent year if she makes up the shortfall in the subsequent year.
SOURCE : PIB
INTERNATIONAL RELATIONS
U.S., U.K. AND AUSTRALIA FORM NEW PARTNERSHIP
THE CONTEXT: A week before a meeting of Quad leaders in Washington DC, the Biden administration, announced a new trilateral security partnership for the Indo-Pacific between Australia, the U.K. and the U.S. (AUKUS).
ANALYSIS:
A trilateral grouping that was security-focused, suggesting it was different from — but complementary to — arrangements such as the Quad.
A central feature of the partnership would involve a tri-lateral 18-month effort to help Australia acquire nuclear-powered submarines which are quieter, more capable (than their conventional counterparts) and can be deployed for longer periods, needing to surface less frequently.
SOURCE:  TH
PRELIMS PRACTICE QUESTIONS:
Q1. A new trilateral security partnership 'AUKUS' has been recently announced between which of the following three countries?
a) Argentina, U.K. and U.S.
b) Australia, U.K. and U.S.
c) Australia, the Kingdom of Saudi Arabia and the U.S.
d) Australia, South Korea and the U.S.
Q2.  "Shoonya Campaign" launched by Niti Aayog is related to:
a) Improving learning abilities among primary school students.
b) Electric vehicles
c) Women empowerment
d) Culture and history
ANSWER FOR SEPTEMBER 15, 2021 PRELIMS PRACTICE QUESTIONS (REFER TO RELEVANT ARTICLE)
Answer: D
Explanation:
Statement 1 is incorrect: WPI is compiled by the Office of economic adviser, ministry of commerce & industry.
Statement 2 is incorrect: It calculates the changes in prices of only goods (not services) at the producer level.
Spread the Word