INDIAN POLITY, GOVERNANCE AND SOCIAL JUSTICE
1. VACCINE PASSPORTS
THE CONTEXT: As the Covid-19 vaccination drive is gaining momentum, the focus is now to the opening up of the economy including sectors like travel and hospitality. Vaccine passports, one of the tools to smoothen the passage on this re-opening, need to be standardised to rejuvenate such industries.
WHAT IS IT?
Vaccine passport is a certification of the Covid-19 health status of a citizen, approved by inter-governmental bodies, that can be carried physically or digitally.
Covid-19 vaccine passports usually refer to a person's vaccination status, recent infection record or a recent RT-PCR test result that shows no infection.
Most international agencies prefer a digital version of Vaccine Passports for easy scan and retrieval of data for verification.
Apart from movement across international borders, such certification can also be the ticket to one's attending indoor events or restaurants in countries with high rates of vaccination, to promote mobility within their economies.
A version of the certification adopted by international airline trade body IATA is being rolled out by all major international carriers. IndiGo and SpiceJet are also testing the same on their international routes.
WHY IS IT IMPORTANT?
Free movement of people across borders without mandatory quarantines is critical to get the economic engine chugging. Countries whose economies rely on tourism can look forward to improved tourist flow if there can be international standards evolved on vaccine passports.
The WHO, in its July 2021 policy recommendation, had suggested that proof of vaccination not be required for movement. But on presenting such proof, nations could relax measures relating to testing and quarantine for such travellers.
This can benefit travellers who are fully vaccinated two weeks prior by approved vaccines. Even in regional/domestic economies, non-travel related activities which rely on physical presence can restart, with such passports.
WHY SHOULD I CARE?
India has expressed reservations over a vaccine passport system.
Its concern is that low rates of inoculation achieved in developing countries will put travellers from these regions at a disadvantage. India is also concerned over passports being granted only to 'approved' vaccines.
The European green pass for instance has proposed to be issued when a person has taken one of the four vaccines approved — BioNTech/Pfizer, Moderna, AstraZeneca/Oxford and Johnson & Johnson. Individual member countries can still approve vaccines that have WHO's emergency use authorization (EUA).
This offers room for Astra Zeneca's Covishield to make it to the passport, but leaves out the significant proportion of Indians vaccinated with Covaxin, on which WHO's EUA decision is pending.
Even amongst European economies which have implemented the system, concerns that the passport system will creates a divide between vaccinated-passport holders and unvaccinated-reluctant populations are growing, as nations report that the young, the poor, and ethnic minorities are often excluded from vaccination drives.
SOURCE : TH
ENVIRONMENT, GEOGRAPHY AND AGRICULTURE
2.SUKHET MODEL FOR LPG REFILL
THE CONTEXT: Case study of Sukhet village in Jhanjharpur block of Madhubani district in Bihar. 
ANALYSIS:
In the last six months, the lives of these rural women has changed dramatically with the Sukhet model that allows them to get their LPG cylinders refilled every two months in exchange for cow dung and the farmyard waste.
The unique programme, offers four-fold benefit to the villagers:
It ensures a pollution-free environment at home
Waste disposal
Monetary assistance for LPG cylinders
Availability of organic fertiliser to the local farmers
The only problem is that only those households who have cattle to give us cow dung are able to benefit from the Sukhet model.
SOURCE : TH
               3.MANDA BUFFALO GETS 'UNIQUE BREED' TAG
THE CONTEXT: The National Bureau of Animal Genetic Resources (NBAGR) has recognised the Manda buffalo as the 19th unique breed of buffaloes found in India.
ANALYSIS:
It is found in the Eastern Ghats and plateau of Koraput region of Odisha.
It is resistant to parasitic infections, less prone to diseases and can thrive on modest resources.
Four breeds of cattle — Binjharpuri, Motu, Ghumusari and Khariar — and two breeds of buffalo— Chilika and Kalahandi — and one breed of sheep, Kendrapada, have already received NBAGR recognition.
SOURCE : TH
4. CONSERVATION RESERVE FOR SEA COWS
THE CONTEXT: The Tamil Nadu government has announced India's first conservation reserve for Dugongs, also known as sea cows. The reserve will cover over 500 km in Palk Bay.
ABOUT DUGONGS
Dugong is a sea mammal and the only living species of the order Sirenia. It is restricted to coastal habitat due to sea grass, which forms major part of its diet.
Dugongs have a distinct dolphin-like tail, a different skull form, and teeth pattern. Its closest relative, Steller's Sea cow, was hunted to extinction in eighteenth century.
An estimated 200 individuals of dugongs are believed to live in the area which would largely benefit from Tamil Nadu government's recent decision to establish conservation reserve.
Dugong or sea cowis an endangered marine mammal that is facing extinction due to habitat loss, sea pollution, and loss of seagrass.
In Tamil Nadu, dugong is found in Gulf of Mannar, which is a shallow bay area between south eastern tip of Tamil Nadu and western part of Sri Lanka, and at Palk Bay, a semi enclosed shallow area in the same region.
SOURCE : INDIA TODAY
5. GREECE CREATES CLIMATE CRISIS MINISTRY
THE CONTEXT:  Greece's government has created a new ministry to address the impact of climate change and named former European Union commissioner Christos Stylianides as minister.
Analysis:
Stylianides, 63, who served as commissioner for humanitarian aid and crisis management between 2014 and 2019, was appointed in the wake of massive wildfires that burned more than 1,000 square kilometers (385 square miles) of forest on the island of Evia and in southern Greece.
As minister of climate crisis and civil protection, Stylianides will head firefighting, disaster relief and policies to adapt to rising temperatures resulting from climate change.
SOURCE : IE
INDIAN ECONOMY
6. NALCO NAMASYA MOBILE APP
THE CONTEXT: National Auminium Company Ltd (NALCO), a Navratna CPSE under the Ministry of Mines, has been playing a key role in empowering the Micro and Small Enterprises (MSEs) through providing a modern & innovative platform 'NALCO Micro And Small enterprise Yogayog Application' (NAMASYA), a bi-lingual App developed exclusively for the benefit of the Company's MSE Vendors.
ANALYSIS:  
The NAMASYA App provides a platform to highlight the Company's efforts towards development of MSEs. The App empowers MSEs with required information about vendor registration process, items which can be supplied by them with technical specification, vendor development and training programmes of NALCO.
As a responsible Corporate and India's leading producer and exporter of alumina and aluminium, the Company has taken several initiatives towards easing the process of doing business, especially for the MSE sector involved in mining and metal business, and furthering inclusive growth and sustainable development in its ecosystem.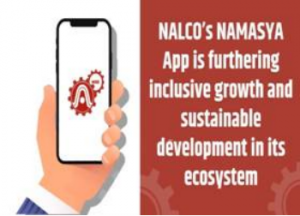 SOURCE : PIB
SCIENCE AND TECHNOLOGY
7. CHANDIGARH'S FIRST POLLEN CALENDAR
THE CONTEXT: Chandigarh now has its first pollen calendar, which can identify potential allergy triggers and provide a clear understanding for clinicians as well as allergy sufferers about their causes to help limit their exposure during high pollen loads.
ANALYSIS:
About 20-30% of the population suffers from allergic rhinitis/hay fever in India, and approximately 15% develop asthma.
Pollens are considered major outdoor airborne allergens responsible for allergic rhinitis, asthma, and atopic dermatitis in humans.
Pollen calendars represent the time dynamics of airborne pollen taxa in graphical form in a particular geographical area.
They yield readily accessible visual details about various airborne pollen taxa present throughout the year, with their seasonality in a single picture. Pollen calendars are location-specific, with concentrations closely related to locally distributed flora.
 SOURCE: PIB 
INTERNATIONAL RELATIONS
8. PM MODI TO ATTEND BRICS, SCO, and QUAD MEETS IN SEPTEMBER
THE CONTEXT:  PM Modi to attend BRICS, SCO, and Quad meets in September. Afghan situation likely to dominate agenda amid growing polarization between the Russia-China bloc, and U.S. and its allies
ANALYSIS:
BRICS Summit:Prime Minister will chair a meeting of BRICS leaders on September 9. The meeting will be held in virtual format due to COVID-19 restrictions.
SCO Summit:The PM will attend via video conference the Shanghai Cooperation Organisation (SCO) Heads of Government meeting being held in Dushanbe (Tajikistan) on September 16 and 17. India would be represented on the ground in Dushanbe by External Affairs Minister S. Jaishankar. The meeting will see a much greater focus on Afghanistan.
PM visit to U.S.:PM is expected to travel later this month to the U.S. The PM's visit, only his second visit abroad during the coronavirus pandemic, is expected to include meetings in Washington with Mr. Biden, a possible Quad summit on September 23 and 24, and his address to the UN General Assembly on September 25.
SOURCE:  TH
9.AUSINDEX
THE CONTEXT:  Indian Navy Task Group comprising IN Ships Shivalik and Kadmatt, under the Command of Flag Officer Commanding, Eastern Fleet, Rear Admiral Tarun Sobti, VSM is participating in the 4th edition of AUSINDEX from 06 to 10 Sep 21.
ANALYSIS:
This edition of AUSINDEX includes complex surface, sub-surface and air operations between ships, submarines, helicopters and Long Range Maritime Patrol Aircraft of the participating Navies.
The participating Indian Naval Ships Shivalik and Kadmatt are the latest indigenously designed and built Guided Missile Stealth Frigate and Anti-Submarine Corvette respectively. They form part of the Indian Navy's Eastern Fleet based at Visakhapatnam under the Eastern Naval Command.
Commenced in 2015 as a bilateral IN-RAN maritime exercise, AUSINDEX has grown in complexity over the years and the 3rd edition of the exercise, held in 2019 in the Bay of Bengal, included anti-submarine drills for the first time.
In the Fourth Edition, the surface units of both the countries will be exercising with HMAS Rankin, a Collins Class Australian Submarine, Royal Australian Air Force P-8A and F-18A aircraft, along with integral helicopters of both the Navies.
The exercise will provide an opportunity for both Navies to further bolster inter-operability, gain from best practices and develop a common understanding of procedures for Maritime Security Operations.
SOURCE: PIB
Q1.  Consider the following statements about Manda Buffalo:
It is unique breed of buffalo found in Nilgiri hills of Western Ghats.
It is resistant to parasitic infections and requires less resource.
Which of the statements given above is/are correct?
1 only
2 only
Both 1 and 2
Neither 1 nor 2
ANSWER FOR SEPTEMBER 04, 2021 PRELIMS PRACTICE QUESTIONS (REFER RELEVANT ARTICLE)
ANSWER: A
Explanation:
Statement 1 is correct: It is the global standard for assessing species recovery and measuring conservation impacts.
Statement 2 is incorrect: It is launched by IUCN.
Spread the Word