ART AND CULTURE
1. 79TH ANNIVERSARY OF QUIT INDIA MOVEMENT
THE CONTEXT: As part of Azadi Ka Amrit Mahotsav being celebrated to mark 75 years of Independence, National Archives of India is organizing an exhibition on the Quit India Movement on its 79th anniversary.

ABOUT QUIT INDIA MOVEMENT
CAUSES
SUCCESSES
FAILURE
 Involvement of India in World War II without prior consultation with the leaders
 Failure of Cripps Mission
 Shortage of essential commodities
 Prevalence of anti-British sentiment
 Centralisation of many small movements.
 Women empowerment
 Rise of future leaders
 Rise of nationalism.

 The movement did not have the support of many organisations of the country itself.
 The Britishers were supported by the Princely States, British Indian Army, Indian Civil Services, Viceroy's Council (which had Indians in the majority), All India Muslim League, and Indian Imperial Police.
 The Hindu Mahasabha, RSS & Muslim League also opposed the Quit India Movement.
 Many Congress members like C Rajagopalachari resigned from the provincial legislature as they did not favour Mahatma Gandhi's idea.

KEY EVENTS OF QUIT INDIA MOVEMENT
Quit India Movement, or 'Bharat Chhodo Aandolan', began on August 8, 1942, with its foundations being laid back in 1939 when the Governor-general of India was Lord Lilingthow.
In 1942, Sir Staford Cripps was sent to India by the British Establishment to negotiate with the leaders of the All India Congress Committee for gaining their support in exchange for their freedom.
In July the Quit India Movement Resolution was passed at the Wardha Conference of All India Congress Committee.
Mahatma Gandhi delivered his speech at Mumbai's Gowalia Tank Maidan, also called August Kranti Maidan, on 08th August 1942. The movement also came to be known as the August Kranti or India August Movement.
Mahatma Gandhi was arrested and jailed at Pune's Aga Khan Palace.
Many other senior members of the Indian National Congress were also arrested.
The British Government banned the Congress Committee declaring it an unlawful association.
Aruna Asaf Ali, popularly known as the 'Grand Old Lady' of the Independence Movement, hoisted the National Flag at Mumbai's Gowalia Tank Maidan.
This event was followed by an uproar among the people and the emergence of several young leaders such as Ram Manohar Lohia, Jai Prakash Narayan, SM Joshi etc.
PHASES OF QUIT INDIA MOVEMENT
First phase: The first phase or the inception of the movement had no violence. It began with civil disobedience, boycotts, strikes that the British Government quickly suppressed.
Second phase: In its second phase, the movement shifted to the countryside. The second phase of the movement took a violent and aggressive turn. Any building or offices which were the symbol of the colonial authority was attacked and distracted. Communication systems, railway stations & tracks, telegraph poles and wires were also targeted.
Third and last phase: In the last phase of the movement, there was the formation of many independent national or parallel governments in the isolated pockets of the country, such as Ballia, Satara, Tamluk, etc.
SOURCE: NEWSONAIR
INDIAN POLITY, GOVERNANCE AND SOCIAL JUSTICE
2. PM-DAKSH PORTAL AND MOBILE APP
THE CONTEXT: Government launched PM-DAKSH Portal and PM-DAKSH Mobile App. Through these portal and app the youth of the target groups will now be able to avail the benefits of skill development training programmes more easily.
ABOUT PM-DAKSH
The Pradhan Mantri Dakshta Aur Kushalta Sampann Hitgrahi (PM-DAKSH) Yojana is being implemented by the Ministry of Social Justice and Empowerment from the year 2020-21.
Under this Yojana, eligible target group are being provided skill development training programmes on (i) Up-skilling/Re-skilling (ii) Short Term Training Programme (iii) Long Term Training Programme and (iv) Entrepreneurship Development Program (EDP).
These training programs are being implemented through Government Training Institutes, Sector Skill Councils constituted by the Ministry of Skill Development and Entrepreneurship and other credible institutions.
Some of the features of this portal are as follows:
Availability of all information related to skill development at one place for Scheduled Castes, Backward Classes and Safai Karamcharis.
Facility to register for the training institute and program of their interest.
Facility to upload desired documents related to personal information.
Facility to register the attendance of the trainees through face and eye scanning during the training period.
Monitoring facility through photo and video clip during training etc.
Under Ministry of Social Justice and Empowerment, three Apex Corporations – National Scheduled Castes Finance and Development Corporation, National Backward Classes Finance and Development Corporation and National Safai Karamcharis Finance and Development Corporation- are functioning. These Corporations are providing loans at concessional interest rates to the target groups of backward classes, scheduled castes and Safai Karamcharis for self-employment. Besides, they are also providing free training for skill development of the target groups.
SOURCE: PIB
3. OVER 5 CR BENEFICIARIES ENROLLED UNDER PMGDISHA
THE CONTEXT: The Government said that approximately five crore beneficiaries have been enrolled and more than four crores have been trained under the Pradhan Mantri Gramin Digital Saksharta Abhiyan Scheme till the 2nd of August.
ABOUT PMGDISHA
The Pradhan Mantri Gramin Digital Saksharta Abhiyan (PMGDISHA) being initiated under Digital India Programme would cover 6 crore households in rural areas to make them digitally literate.
Digital Literacy is the ability of individuals and communities to understand and use digital technologies for meaningful actions within life situations. Digitally literate persons would be able to operate computers/digital access devices (like tablets, smart phones, etc.), send and receive emails, browse internet, access Government Services, search for information, undertaking cashless transactions, etc. and hence use IT to actively participate in the process of nation building.
The Scheme is applicable only for rural areas of the country.
Eligible Household:A household is defined as a unit comprising of Head of family, spouse, children and parents. All such households where none of the family member is digitally literate will be considered as eligible household under the Scheme.
Entry criteria

The beneficiary should be Digitally Illiterate
Only one person per eligible household would be considered for training
Age Group: 14 – 60 years

Priority would be given to

Non-smartphone users, Antyodaya households, college drop-outs, Participants of the adult literacy mission
Digitally illiterate school students from class 9th to 12th, provided facility of Computer/ICT Training is not available in their schools

Preference would be given to SC, ST, BPL, women, differently-abled persons and minorities
The duration of the training program is for 20 hours which has to be completed in a minimum of 10 days and maximum of 30 days.
SOURCE: NEWSONAIR
4. PM TO LAUNCH UJJWALA 2.0 ON 10TH AUGUST
THE CONTEXT: Prime Minister will launch Ujjwala 2.0 (Pradhan Mantri Ujjwala Yojana – PMUY) by handing over LPG connections, at Mahoba Uttar Pradesh.
THE JOURNEY FROM UJJWALA 1.0 TO UJJWALA 2.0
During Ujjwala 1.0 launched in 2016, a target was set to provide LPG connections to 5 crore women members of BPL households.
Subsequently, the scheme was expanded in April 2018 to include women beneficiaries from seven more categories (SC/ST, PMAY, AAY, Most backward classes, tea garden, forest dwellers, Islands). Also, the target was revised to 8 Crore LPG connections. This target was achieved in August 2019, seven months ahead of the target date.
In the Union budget for FY 21-22, provision for an additional one crore LPG connection under the PMUY scheme was announced. These one crore additional PMUY connections (under Ujjwala 2.0) aim to provide deposit-free LPG connections to those low-income families who could not be covered under the earlier phase of PMUY.
Along with a deposit free LPG connection, Ujjwala 2.0 will provide first refill and hotplate free of cost to the beneficiaries. Also, the enrollment procedure will require minimum paperwork.
In Ujjwala 2.0, migrants will not be required to submit ration cards or address proof.
A self-declaration for both 'family declaration' and as a 'proof of address' will suffice.
Ujjwala 2.0 will help achieve the Prime Minister's vision of universal access to LPG.
SOURCE: PIB
ENVIRONMENT, GEOGRAPHY AND AGRICULTURE
5. WILDFIRES RAVAGE GREEK ISLAND
THE CONTEXT: Hundreds of Greek firefighters fought desperately on Sunday to control wildfires on the island of Evia that have charred vast areas of pine forest, destroyed homes and forced tourists and locals to flee.
Analysis:
Evia lies just northeast of the capital Athens. To the southwest is the Peloponnese region where Hardalias said the situation was stable. Fires in a northern suburb of Athens have subsided.
Greece and Turkey have been battling devastating fires for nearly two weeks as the region suffered its worst heatwave in decades, which experts have linked to climate change. So far, the fires have killed two people in Greece and eight in neighbouring Turkey, with dozens more hospitalised.
SOURCE: TH
INDIAN ECONOMY
6. INDIA'S IMPORTS FROM CHINA RISE
THE CONTEXT: There has been a surge in China's share in India's trade basket by almost 3 percentage points for imports and 2 percentage points for exports.
ANALYSIS:
China's share in India's export and import basket has surged over a year after calls emerged for boycott of Chinese goods in the aftermath of the India-China standoff and the 'Atmanirbharta' (self-sufficiency) push.
But experts say that this surge may be short-lived, pointing to the impending opening up of factories around the world.
According to the ministry of commerce, the fifteen largest trading partners of India represent 60% of the total trade by India. These include US, China, United Arab Emirates, Hong Kong, Singapore, United Kingdom, Bangladesh, Germany, Netherlands, Nepal, Belgium, Vietnam, Malaysia, Italy, and Saudi Arabia.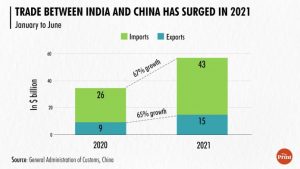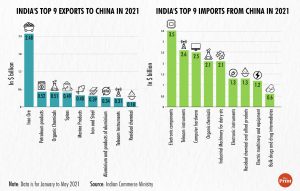 SOURCE: THE PRINT
SCIENCE AND TECHNOLOGY
7. J&J'S SINGLE-DOSE COVID VACCINE GETS APPROVAL
THE CONTEXT: Johnson & Johnson's single dose coronavirus vaccine was granted Emergency Use Authorization, making it the fourth vaccine to be approved by the Indian government.
Analysis:
The single dose shot offered 91 per cent to 96.2 per cent protection against death, while offering 67 per cent protection against hospitalisation when the Beta coronavirus variant dominates and about 71 per cent protection against hospitalisation when the Delta variant dominates.
So far, India has been administering Serum Institute of India's Covishield, Bharat Biotech's Covaxin, and the Russian Sputnik V vaccines. The Moderna vaccine had earlier received EUA, but will not be available in India till next year.
A recent trial conducted in South Africa found that the J&J vaccine offered protection against severe disease and death.
The the country had administered over 50 crore vaccines so far.
SOURCE: IE
8. ICMR: COVISHIELD – COVAXIN MIXGIVES BETTER PROTECTION
THE CONTEXT: The Indian Council of Medical Research (ICMR) said  that a combination of Covishield and Covaxin vaccines elicits better immunogenicity than two doses of the same vaccine.
ANALYSIS:
Previously the World Health Organisation had warned against mixing of vaccines, saying there was very little information on the mix-and-match of vaccines.
It advised against people mixing and matching vaccines from different manufacturers, calling it a "dangerous trend" since there was little data available about the health impact.
The Council admitted that there are few limitations to their study.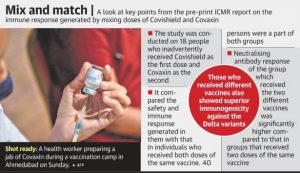 Source: TH
August 08 & 09, 2021 Prelim Practice Questions
Q 1. Who is popularly known as the 'Grand Old Lady' of the Independence Movement?
a) Madam Bhikaiji Cama
b) Sarojini Naidu
c) Aruna Asaf Ali
d) Kamaladevi Chattopadhyay
Q2. The PM-DAKSH Yojana is being implemented by
a) The Ministry of Social Justice and Empowerment
b) The Ministry of Skill Development and Entrepreneurship
c) The Ministry of Electronics and IT
d) The Ministry of Finance
Answer for August 07, 2021 Prelims Practice Questions
Q1: Answer: d)
Explanation:
Statement 1 is correct: UN Security Council has total 15 members (5 permanent and 10 non-permanent members).
Statement 2 is correct: India is a non-permanent member of UNSC at present elected for two year term 2021-22.
Statement 3 is correct: Coffee club is group of countries which opposes UNSC expansion.
Q2: ANSWER a)
Explanation:
POSHAN Abhiyaan aims to reduce malnutrition in the country in a phased manner, through a life cycle approach, by adopting a synergised and result oriented approach.
The Programme strives to induce behavioural change through nutrition centric Jan Andolans in the form of Poshan Pakhwadas and Poshan Maahs. The target for reducing the prevalence of-
Statement 1 is correct: stunting among children under 5 years is by 2% per annum and Statement 2 is incorrect: anemia among children under 5 years is by 3% per annum.
Spread the Word