CONTEXT: The Ministry of Agriculture & Farmers' Welfare is funding various projects for Crop Production Forecasting, which includes FASAL Scheme (Forecasting Agricultural output using Space, Agro-meteorology and Land based observations) and CHAMAN (Coordinated Horticulture Assessment and Management using geo-informatics).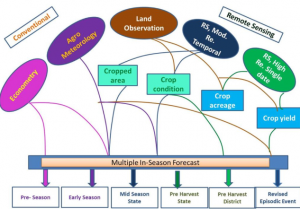 Analysis:
FASAL is used for crop production forecasting of field crops while CHAMAN is for horticulture crops.
In both the projects, Indian Space Research Organization (ISRO) has played a major role in developing methodologies.
However, currently the programmes are being operationalized by Mahalanobis National Crop Forecast Centre (MNCFC) of Department of Agriculture & Farmers' Welfare, with technology support from ISRO.
Nine crops which are assessed under FASAL are Rice, Wheat, Tur, Rabi Pulses, Rapeseed & Mustard, Rabi Jowar, Cotton, Jute and Sugarcane. The seven crops which are being assessed under CHAMAN project are Potato, Onion, Tomato, Chilli, Mango, Banana and Citrus.
The Government is using satellite based estimates for planning and decision making purposes with respect to storage, pricing and import/export.
In addition to this satellite based indices are used for drought assessment and satellite data is also being used for various applications under Pradhan Mantri Fasal Bima Yojana (PMFBY), Crop Intensification in Rice fallow areas and horticulture expansion in North-eastern States.
The Government has identified various advanced technologies which includes Space and Geo-spatial technology as one of the major technologies.
Reference: PIB 
Spread the Word