1. EXTINCTION OF THE SPECIES
TAG: GS 3: ENVIRONMENT AND ECOLOGY
THE CONTEXT: Recently, a study published in journal PNAS stated that between 1500 and 2022 AD, 73 genera of vertebrates (excluding fish) went extinct.
EXPLANATION:
To gain insights into patterns of extinction beyond the species level, researchers from the United States and Mexico studied how the current extinction crisis is impacting land vertebrates at the generic level.
The team first gathered information on species' conservation statuses from the International Union for the Conservation of Nature, Birdlife International and other databases.
Overall, they examined 5,400 genera of land-dwelling vertebrate animals and as per their analysis 73 genera of land-dwelling vertebrates have vanished since 1500 AD.
HIGHLIGHTS OF THE REPORT:
As per the study, human actions are compounding the severity of the ongoing sixth mass extinction. Humans are putting a big dent in the evolution of life on the planet in the long term.
Humans have fuelled a surge of genus extinctions in the last five decades, which otherwise would have taken 18,000 years to occur.
The current rate at which entire genus of vertebrates, or animals with spinal cords, are going extinct is 35 times greater than the last million years.
A genus is a group of animals or plants which share some common characteristics.
For example, dogs and wolves are in the same genus, Canis.
Previous studies have focused on the extinction of species and found thousands of species and myriad populations have vanished.
For example, around 10,000,000 African elephants roamed Earth at the beginning of the 20th century. Now, only about 450,000 remain.
It was found that from 1500 AD the birds have suffered the heaviest losses with 44 genus extinctions, followed by mammals (21 genus extinctions), amphibians (five extinctions) and reptiles (three extinctions).
Most extinctions were recent. The years between 1800 and 2022 saw 55 total extinctions.
Birds ranked the highest with 36 extinctions, followed by mammals (12), amphibians (five) and reptiles (two).
Without humans, the researchers estimated that Earth would likely have lost only two genera between 1500-2022.
WHAT ARE IMPACTS OF THE EXTINCTION?
This mass extinction is transforming the whole biosphere, possibly into a state in which it may be impossible for our current civilisation to persist.
Losing a genus could impact the functioning of an entire ecosystem.
For example, when the passenger pigeons went extinct, it narrowed human diets in northeastern North America and altered ecosystem structure over wide areas. It also triggered population declines of cougars and wolves, leading to shifts in rodent communities.
According to the study, the region became more conducive to outbreaks of infectious diseases that jump from animals to humans.
An example is Lyme disease, a bacterial infection spread to humans by infected ticks.
Then, there is impact on climate change also.
Climate disruption is accelerating extinction and extinction is interacting with the climate.
Because the nature of the plants, animals, and microbes on the planet is one of the big determinants of what kind of climate we have.
WHAT IS MASS EXTINCTION?
A mass extinction event is when species vanish much faster than they are replaced. This is usually defined as about 75% of the world's species being lost in a short period of geological time – less than 2.8 million years.
It's difficult to identify when a mass extinction may have started and ended.
However, there are five big events that we know of, where extinction was much higher than normal background rate, and these are often used to decide whether we are going through a sixth one now.
SOURCE: https://www.downtoearth.org.in/news/wildlife-biodiversity/sixth-mass-extinction-more-severe-than-estimated-73-genera-vanished-since-1500-study-91820
2. THE GLOBAL BIOFUEL ALLIANCE (GBA)
TAG: GS 3: ECONOMY
THE CONTEXT: Prime Minister of India along with the leaders of Singapore, Bangladesh, Italy, USA, Brazil, Argentina, Mauritius and UAE, launched the Global Biofuel Alliance on 9 September 2023, on the sidelines of the G20 Summit in New Delhi.
GLOBAL BIOFUEL ALLIANCE (GBA):
The Global Biofuel Alliance (GBA) is an initiative by India as the G20 Chair.
The Alliance intends to expedite the global uptake of biofuels through:
facilitating technology advancements,
intensifying utilization of sustainable biofuels,
shaping robust standard setting and
certification through the participation of a wide spectrum of stakeholders.
The alliance will also act as a central repository of knowledge and an expert hub.
To ensure energy security, affordability, and accessibility for the future, the GBA will facilitate global collaboration, supporting the development and deployment of sustainable biofuels.
It will help raise awareness of biofuels' vital role in greenhouse gas reduction.
According to G20 Biofuels Study report, biofuels account for 0 to 7 per cent of G20 country's energy mix.
It drives global sustainable biofuel development, aids national programs, shares policy insights, builds capacity, reshapes perception, and boosts global trade.
It will help promote best practices for efficient, cost-effective, and sustainable feedstock use.
It will ensure a stable supply of eco-fuels and create a virtual marketplace connecting industries, countries, and tech providers, enhancing demand-supply mapping.
OBJECTIVES:
GBA aims to serve as a catalytic platform, fostering global collaboration for the advancement and widespread adoption of biofuels.
It brings together biofuel producers and consumers with the intent to strengthen global biofuels trade for a greener sustainable future.
It is also expected to contribute to job creation and economic growth.
COUNTRIES PART OF THIS PROJECT:
Nineteen countries and 12 international organisations have already agreed to join the GBA.
Seven G20 member countries supporting GBA are: Argentina, Brazil, Canada, India, Italy, South Africa, and the USA have joined. Four G20 invitee countries, Bangladesh, Singapore, Mauritius, and UAE also support it.
Eight non-G20 countries are also supporting GBA. Iceland, Kenya, Guyana, Paraguay, Seychelles, Sri Lanka, Uganda, and Finland are the countries.
12 international organisations such as World Bank, Asian Development Bank, World Economic Forum, World LPG Organization, UN Energy for All, UNIDO, Biofutures Platform, International Civil Aviation Organization, International Energy Agency, International Energy Forum, International Renewable Energy Agency, World Biogas Association are supporting.
GBA Members constitute major producers and consumers of biofuels, such as the USA (52 per cent), Brazil (30 per cent) and India (3 per cent), contributing about 85 per cent share in production and about 81 per cent in consumption of ethanol.
HOW WILL THIS ALLIANCE HELP INDIA IN ACHIEVING ITS TARGET?
This will help India become the voice of the global south by getting countries which are still to start their biofuels programme.
For India, it will provide additional opportunities to its industries by exporting technology and equipment.
It will help accelerate India's existing biofuel programmes such as – PM-JIVANYojna, SATAT, and GOBARdhan scheme — thereby contributing to increased farmers' income, creating jobs and overall development of the Indian eco-system.
SOURCE: https://www.thehindubusinessline.com/blexplainer/bl-explainer-what-is-the-global-biofuel-alliance-all-about/article67320708.ece
3. SANTINIKETAN AND HOYSALA TEMPLES
TAG: GS 1: ART AND CULTURE
THE CONTEXT: Santiniketan, the university town in West Bengal's Birbhum district, has been inscribed on the United Nations Educational, Scientific and Cultural Organization (UNESCO) World Heritage List. Hoysala Temples of Belur, Halebid, and Somnathapura in Karnataka are also added to UNESCO World Heritage list.
SANTINIKETAN:
It has been inscribed on the UNESCO's World Heritage List in 2023.
This was announced by the international agency on 17th Sep, 2023 in Riyadh, Saudi Arabia, where the 45th session of the World Heritage Committee is being held till September 25.
Santiniketan becomes the 41st UNESCO World Heritage Site in India and the third in West Bengal, after the Sundarbans National Park and the Darjeeling Mountain Railways.
It was established in rural West Bengal in 1901 by the renowned poet and philosopher Rabindranath Tagore.
It was a residential school and centre for art based on ancient Indian traditions and a vision of the unity of humanity transcending religious and cultural boundaries.
A 'world university' was established at Santiniketan in 1921, recognizing the unity of humanity or "Visva Bharati".
Distinct from the prevailing British colonial architectural orientations of the early 20th century and of European modernism, Santiniketan represents approaches toward a pan-Asian modernity, drawing on ancient, medieval and folk traditions from across the region.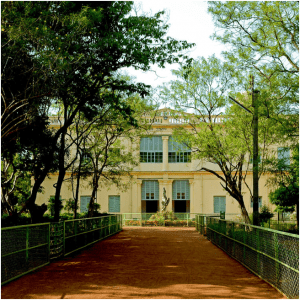 HOYSALA TEMPLES:
Date of Inscription: 2023
The Sacred Ensembles of the Hoysala — the famed Hoysala temples of Belur, Halebid and Somananthpura in Karnataka have been added to the UNESCO World Heritage list.
This inclusion marks the 42nd UNESCO World Heritage Site in India and comes just a day after Rabindranath Tagore's Santiniketan also received this distinguished recognition.
This serial property encompasses the three most representative examples of Hoysala-style temple complexes in southern India, dating from the 12th to 13th centuries.
The Hoysala style was created through careful selection of contemporary temple features and those from the past to create a different identity from neighbouring kingdoms.
The shrines are characterized by hyper-real sculptures and stone carvings that cover the entire architectural surface, a circumambulatory platform, a large-scale sculptural gallery, a multi-tiered frieze, and sculptures of the Sala legend.
The excellence of the sculptural art underpins the artistic achievement of these temple complexes, which represent a significant stage in the historical development of Hindu temple architecture.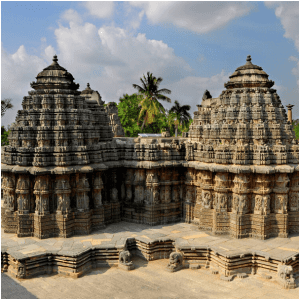 UNESCO WORLD HERITAGE SITE:
The United Nations Educational, Scientific and Cultural Organization (UNESCO) seeks to encourage the identification, protection and preservation of cultural and natural heritage around the world considered to be of outstanding value to humanity.
This is embodied in an international treaty called the Convention concerning the Protection of the World Cultural and Natural Heritage, adopted by UNESCO in 1972.
UNESCO's World Heritage mission is to:
Encourage countries to sign the World Heritage Convention and to ensure the protection of their natural and cultural heritage.
Encourage States Parties to establish management plans and set up reporting systems on the state of conservation of their World Heritage sites.
Provide emergency assistance for World Heritage sites in immediate danger.
Support States Parties' public awareness-building activities for World Heritage conservation.
Encourage international cooperation in the conservation of our world's cultural and natural heritage.
SOURCE: https://indianexpress.com/article/india/santiniketan-makes-it-to-unescos-8944445/
4. THE OLD PARLIAMENT INSPIRATION
TAG: GS 1: ART AND CULTURE
THE CONTEXT: The old Parliament will be turned into a museum as from September 19, 2023, the ongoing special House session moved to the new Parliament building.
EXPLANATION:
The circular, colonnaded Parliament building has for long been a symbol of India's democracy, its graceful, dignified architecture enshrining the jostling aspirations of a billion people.
A similar, round, and pillared structure in India pre-dates the Parliament by several centuries, and many believe it inspired the 20th century building. This structure is the Chausath Yogini temple in Mitaoli, Madhya Pradesh.
THE OLD PARLIAMENT AND ITS INSPIRATIONS:
The old parliament was designed by British architects Edwin Lutyens and Herbert Baker when the British decided to move their capital to New Delhi.
After Independence, it served as the Constituent Assembly of India, and once the Constitution was adopted and India became a republic, as the Parliament of India, housing the Lok Sabha and the Rajya Sabha.
When New Delhi was being planned, the then Viceroy, Lord Hardinge, was quite clear that the buildings should have Indian elements and not look like foreign structures transplanted on Indian soil.
Even though Lutyens was quite convinced of the superiority of Western architecture.
However, Hardinge made Lutyens and Baker visit most of the ancient and medieval sites of northern and central India for inspiration, like Mandu, Lahore, Lucknow, Kanpur, and Indore.
Thus, the Parliament, the Rashtrapati Bhavan, and other buildings are a mix of Indian and Western-style architecture.
THE CHAUSATH YOGINI TEMPLE AND ITS MYSTERIES:
The grand Chausath Yogini temple stands atop a hillock in Mitaoli, about 40 kilometres from Gwalior, in the Morena district of Madhya Pradesh.
It was built around 1323 by King Devapala of the Kachchhapaghata dynasty.
Dedicated to the 64 (chaunsath) yoginis, its architecture is different from the temples dedicated to one deity.
The 64 yoginis are believed to be powerful warriors and sorceresses.
The Mitaoli temple is circular, with 64 chambers dedicated to the 64 yoginis, and a central shrine dedicated to Shiva.
While most Hindu temples have a shikhara, or projecting dome, the Mitaoli temple, like other Chausath Yogini temples, is hypaethral, which means it has no roof.
The Parliament-like pillars are on the inside of the stone temple complex.
The central shrine has a slab with perforations, for excess rainwater to drain off. According to an article on the Madhya Pradesh government's tourism portal, the temple has a diameter of 125 feet.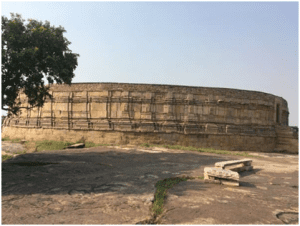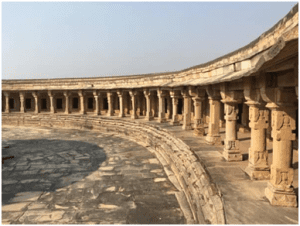 DID THE CHAUSATH YOGINI TEMPLE INSPIRE THE PARLIAMENT?
Though there is no evidence Lutyens or Baker ever visited it, but locals in the area say so.
However, the Chausath Yogini Temple is in a Seismic Zone 3 area.
Since its construction in the 1300s, the temple has withstood many an earthquake with almost no visible damage. One theory suggests that this could be the reason why Lutyens may have sought reference or inspiration from a building of such an unusual shape.
One of the historians says that Lutyens and Baker were sent off on this tour to look at examples of Indian architecture. They also might have seen photographs collected by the Archaeological Survey of India. So even though there is no proof of them emulating Indian monuments, it is not inconceivable that they might have done so.
SOURCE: https://indianexpress.com/article/explained/explained-culture/old-parliament-madhya-pradesh-temple-8945663/
5. DISQUALIFICATION OF MLAs IN MAHARASHTRA
TAG: GS 2: POLITY
THE CONTEXT: The Supreme Court directed Maharashtra Assembly Speaker to not delay hearing of disqualification petitions against 56 Maharashtra MLAs and decide within one week of time period.
EXPLANATION:
Mr Thackeray, an MLA of Maharashtra urged the Deputy Speaker to initiate disqualification proceedings against the rebel Shiv Sena MLAs who distanced themselves from the coalition government of Maharashtra and showed faith in a new leader, Mr Eknath Shinde.
Later the Thackery faction approached the Supreme Court regarding the disqualification of the MLAs.
The Supreme Court referred the matter to the Constitution bench.
The Speaker must decide on disqualification petitions within a reasonable period and the Supreme Court cannot ordinarily adjudicate petitions for disqualification under the Tenth Schedule of the Constitution of India in the first instance.
A three-judge bench presided by Chief Justice of India recalled that the Supreme Court's May 11, 2023 judgment in the Maharashtra political crisis matter had asked the Speaker to decide the petitions "within a reasonable period".
Because of inaction of the speaker regarding the disqualification proceedings against MLAs, supreme court on 18th Sep, 2023 directed the Speaker to fix the time schedule for adjudicating the petitions within "no later than one week".
ABOUT ANTI – DEFECTION LAW:
The Tenth Schedule – popularly known as the Anti-Defection Act – was included in the Constitution via the 52nd Amendment Act, of 1985. This was done to bring stability to governments by discouraging legislators from changing parties.
The decisions on questions as to disqualification on the ground of defection are referred to the Speaker/Chairman of the House, which is subject to 'Judicial review'.
However, the law does not provide a timeframe within which the presiding officer has to decide a defection case.
The 91st Constitutional Amendment Act, 2003, changed the initially envisaged 1/3rd to now at least two-thirds of the members of a party must be in favour of a "merger" for it to have validity in the eyes of the law.
THE GROUNDS OF DISQUALIFICATION UNDER ANTI DEFECTION LAW:
The Tenth Schedule of the Constitution deals with the grounds for disqualification of legislators on account of defection. These are:
If an elected member voluntarily gives up his membership in a political party.
If he votes or abstains from voting in such House contrary to any direction issued by his political party or anyone authorized to do so, without obtaining prior permission.
As a pre-condition for his disqualification, his abstention from voting should not be condoned by his party or the authorized person within 15 days of such an incident.
If any independently elected member joins any political party.
If any nominated member joins any political party after the expiry of six months.
SOURCE: https://indianexpress.com/article/india/sc-maha-speaker-timeline-disqualification-cm-shinde-others-8945504/
Spread the Word