1. SEXUAL HARASSMENT OF WOMEN AT WORKPLACE (PREVENTION, PROHIBITION AND REDRESSAL) ACT, 2013 (POSH)
TAGS: GS 1: SOCIETY
THE CONTEXT: Ten years after the Sexual Harassment of Women at Workplace (Prevention, Prohibition and Redressal) Act, 2013 (PoSH) came into force, the Supreme Court Bench of India has said there are "serious lapses" and "uncertainty" regarding its implementation, issuing directions to the Union, States, and Union Territories to verify if all government bodies had formed Internal Complaint Committees and to ensure that the composition of such panels is in strict adherence with the Act.
EXPLANATION:
How was the PoSH Act formed?
Supreme Court noting the absence of any law "enacted to provide for effective enforcement of the basic human right of gender equality" guarantee against "sexual harassment at workplaces", laid down a set of guidelines in 1997, christened the Vishakha Guidelines, to fill the statutory vacuum till a law could be enacted.
These were to be "strictly observed in all workplaces" and were binding and enforceable in law.
The Court drew its strength from several provisions of the Constitution including Article 15 (against discrimination on grounds only of religion, race, caste, sex, and place of birth), also drawing from relevant International Conventions and norms such as the General Recommendations of the Convention on the Elimination of All Forms of Discrimination Against Women (CEDAW), which India ratified in 1993.
National Commission for Women submitted drafts of a Code of Conduct for the Workplace in 2000, 2003, 2004, 2006 and 2010.
After this, the Protection of Women against Sexual Harassment at Workplace Bill was introduced by then Women and Child Development Minister in 2007. The amended Bill came into force on December 9, 2013, as the Sexual Harassment of Women at Workplace (Prevention, Prohibition and Redressal) or PoSh Act.
How are sexual harassment, the workplace, and an employee defined under the PoSh Act?
The PoSH Act defines sexual harassment to include unwelcome acts such as physical contact and sexual advances, a demand or request for sexual favours, making sexually coloured remarks, showing pornography, and any other unwelcome physical, verbal, or non-verbal conduct of a sexual nature.
It also lists down five circumstances that would constitute sexual harassment if they are connected to the above-mentioned acts- (i) Implied or explicit promise of preferential treatment in employment (ii) Implied or explicit threat of detrimental treatment in employment (iii) Implied or explicit threat about present or future employment status (iv) Interference with work or creating an intimidating or offensive or hostile work environment and (v) Humiliating treatment likely to affect health or safety.
Under the Act, an employee is defined not just in accordance with the company law. All women employees, whether employed regularly, temporarily, contractually, on an ad hoc or daily wage basis, as apprentices or interns or even employed without the knowledge of the principal employer, can seek redressal to sexual harassment in the workplace.
The law expands the definition of 'workplace' beyond traditional offices to include all kinds of organisations across sectors, even non-traditional workplaces (for example those that involve telecommuting) and places visited by employees for work. It applies to all public and private sector organisations throughout India.
Internal Complaints Committee (ICC):
The law requires any employer with more than 10 employees to form an Internal Complaints Committee (ICC) which can be approached by any woman employee to file a formal sexual harassment complaint.
It has to be headed by a woman, have at least two women employees, another employee, and, to pre-empt any undue pressure from senior levels, to include a third party such as an NGO worker with five years of experience, familiar with the challenges of sexual harassment.
Besides, the Act mandates every district in the country to create a local committee (LC) to receive complaints from women working in firms with less than 10 employees and from the informal sector, including domestic workers, home-based workers, voluntary government social workers and so on.
These two bodies have to conduct inquiries in line with the POSH Act and comply with the "principles of natural justice" stated in the Rules of the Act.
A woman can file a written complaint either to the internal or local complaints committee within three to six months of the sexual harassment incident.
There are two ways to resolve the issue by the committee- "through conciliation" between the complainant and the respondent (which cannot be a financial settlement), or committees could initiate an inquiry, taking appropriate action based on what it finds.
The employer has to file an annual audit report with the district officer about the number of sexual harassment complaints filed and actions taken at the end of the year. It also makes the employer duty-bound to organise regular workshops and awareness programmes to educate employees about the Act, and conduct orientation and programmes for ICC members. If the employer fails to constitute an ICC or does not abide by any other provision, they must pay a fine of up to ₹50,000, which increases for a repeat offence.
2. INDO-PACIFIC ECONOMIC FRAMEWORK FOR PROSPERITY (IPEF)
TAGS: GS 2: INTERNATIONAL RELATION
THE CONTEXT: In November 2019, India walked out from the trade pact called the Regional Comprehensive Economic Partnership (RCEP). Fast forward to 2023, and now India along with many of the same countries, but with China replaced by the United States, is getting into the U.S.-driven Indo-Pacific Economic Framework for Prosperity (IPEF).
EXPLANATION:
Indo-Pacific Economic Framework for Prosperity (IPEF):
It is launched by United States in May 2022.
IPEF is about developing a strategic-economic bloc an integrated economic system centered on the U.S., and, as importantly, excluding China.
Members: India, USA, Australia, Brunei Darussalam, Fiji, Indonesia, Japan, the Republic of Korea, Malaysia, New Zealand, Philippines, Singapore, Thailand, and Vietnam.
This framework will offer tangible benefits that fuel economic activity and investment, promote sustainable and inclusive economic growth, and benefit workers and consumers across the region.
The 14 IPEF partners represent 40 percent of global GDP and 28 percent of global goods and services trade.
The IPEF is designed to be flexible, meaning that IPEF partners are not required to join all four pillars.
Aim: Its purpose is to "advance resilience, sustainability, inclusiveness, economic growth, fairness, and competitiveness for our economies. Through this initiative, we aim to contribute to cooperation, stability, prosperity, development, and peace within the region".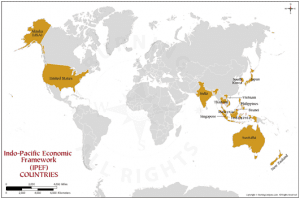 What is different in IPEF from other trade deals?
Traditionally, trade deals used to be mostly about tariffs. The U.S.'s IPEF completely removes the tariff element of typical trade deals.
IPEF is not a Free Trade Agreement (FTA) like the Regional Comprehensive Economic Partnership (RCEP) and Comprehensive and Progressive Transpacific Partnership (CPTPP).
IPEF as "a 21st century economic arrangement designed to tackle 21st century economic challenges, ranging from setting the rules of the road for the digital economy; to ensuring secure and resilient supply chains; to helping make the kind of major investments necessary in clean energy infrastructure and the clean energy transition; to raising standards for transparency, fair taxation, and anti-corruption".
It also seeks commitments to labour and environmental standards, which are highly unpopular in the region.
Unlike other regional FTAs such as the RCEP or CPTPP, the IPEF does not offer increased market access (especially to the US market) through tariff liberalisation and non-tariff concessions.
The IPEF consists of the following four negotiating pillars:
Trade: The IPEF seeks to build "high-standard, inclusive, free, and fair trade commitments and develop new and creative approaches in trade and technology policy that advance a broad set of objectives that fuels economic activity and investment, promotes sustainable and inclusive economic growth, and benefits workers and consumers".
Supply Chains:The IPEF will seek "first-of-their-kind supply chain commitments that better anticipate and prevent disruptions in supply chains to create a more resilient economy". It also intends to establish an early warning system and coordinate crisis response actions.
Clean Energy, Decarbonisation, and Infrastructure: The framework will seek first-of-their-kind commitments on clean energy, decarbonisation, and infrastructure that promote good-paying jobs.
Tax and Anti-Corruption:The IPEF will seek new commitments to enact and enforce effective and robust tax, anti-money laundering, and anti-bribery regimes in line with existing multilateral obligations, standards, and agreements to curb tax evasion and corruption in the Indo-Pacific region.
India's Stand:
India has joined the other three pillars of supply chains, clean economy, and fair economy but not trade. But there is great pressure on it to join trade too. Joining the trade pillar is the worst, but the other pillars too contribute to developing hard new economic architectures and structures that are not tariff-based.
The rise of the 'Indo-Pacific':
With the shift of the centre of gravity from the Atlantic to Asia, the new concept of the 'Indo-Pacific' has entered the geopolitical discourse, replacing the hitherto dominant 'Asia-Pacific' construct, even though its geographic boundaries are not well defined.
Based on maritime geography, the Indo-Pacific refers to a contiguous zone encompassing the Pacific and Indian Oceans. The geographic boundaries of the Indo-Pacific could stretch from East Africa to the west coast of the US and encompass a large number of countries at varying stages of development, with distinct policy agendas and divergent interests.
Bringing together highly heterogeneous countries with high-standard commitments on the digital economy, green infrastructure, clean energy, and social and environmental standards under the rubric of IPEF is a herculean effort.
In the economic realm, the Indo-Pacific is one of the world's most dynamic regions. The region accounts for more than 60% of the global GDP, and almost 50% of the global merchandise trade passes through its waters.
The region includes the world's four big economies: the USA, China, Japan, and India. With the engine of global economic growth shifting eastwards, the Indo-Pacific region will gain greater importance in coming years.
3. ARTIFICIAL INTELLIGENCE AND FACIAL RECOGNITION POWERED SOLUTION FOR TELECOM SIM SUBSCRIBER VERIFICATION (ASTR)
TAGS: GS 3: SCIENCE AND TECHNOLOGY
THE CONTEXT: The Department of Telecommunications (DoT) has developed an artificial-intelligence-based facial recognition tool that it claims has the capability of running checks on subscriber databases of telecom operators to deduce whether it contains multiple connections associated with the same person.
EXPLANATION:
Origin of ASTR:
In 2012, DoT had issued an order to all telecom operators that they would have to share their subscriber database including users' pictures with the department.
These images constitute the core database on which authorities are running their facial recognition algorithm using ASTR.
The ASTR project was conceptualised and designed between April 2021 and July 2021 by the DoT's unit in Haryana.
How ASTR works:
Human faces in subscribers' images are encoded using convolutional neural network (CNN) models in order to account for the tilt and angle of the face, opaqueness and dark colour of the images.
After that, a face comparison is carried out for each face against all faces in the database, and similar faces are grouped under one directory. Two faces are concluded to be identical by ASTR if they match to the extent of at least 97.5 per cent.
Once the faces are matched, ASTR's algorithm uses what it describes as "fuzzy logic" to find similarity or approximate matches for the subscriber names.
Benefits of ASTR:
It can potentially bring down cyber frauds by detecting and blocking possible fraudulent mobile connections.
ASTR is capable of detecting all SIMs against a suspected face in less than 10 seconds from a database of 1 crore images.
It also accounts for any typographical errors that might have occurred while the subscriber acquisition form was being filled.
Convolutional neural network (CNN) model:
It is a type of Deep Learning neural network architecture commonly used in Computer Vision. Computer vision is a field of Artificial Intelligence that enables a computer to understand and interpret the image or visual data.
In a regular Neural Network there are three types of layers:
Input Layers: It's the layer in which we give input to our model. The number of neurons in this layer is equal to the total number of features in our data (number of pixels in the case of an image).
Hidden Layer: The input from the Input layer is then feed into the hidden layer. There can be many hidden layers depending upon our model and data size.
Output Layer: The output from the hidden layer is then fed into a logistic function like sigmoid or softmax which converts the output of each class into the probability score of each class.
Artificial Intelligence (AI):
Artificial Intelligence(AI) is a vast subset of computer science revolving around the development of smart machines that can perform tasks that typically need some semblance of human intelligence.
It is a multi-faceted, interdisciplinary science, but modern advancements in deep learning and machine learning are bringing it into nearly every area of the tech industry.
Facial recognition:
Facial recognition is a category of biometricsoftware that maps an individual's facial features mathematically and stores the data as a faceprint. The software uses deep learning algorithms to compare a live capture or digital image to the stored faceprint in order to verify an individual's identity.
AI face recognition software has the following advantages:
Real-time identification
Anti-spoofing measures
Lessened racial or gender bias due to model training across millions of faces
Can be used across multiple cameras.
4. 4th POSITIVE INDIGENISATION LIST
TAGS: GS 3: SECURITY
THE CONTEXT: Defence Ministry Releases Fourth Positive Indigenisation List under make in India to reduce dependence on foreign weapon suppliers.
EXPLANATION:
Positive Indigenisation List:
In pursuit of atmanirbhartain defence, the Ministry of Defence has approved a "positive-indigenisation list" (PIL) of 928 items which will reduce imports worth Rs 715 crore.
The list ranges from line replacement units (LRUs) and subsystems to components, high-end materials, and spares.
The aim of the move is in sync with the government's overall aim to promote 'Aatmanirbharta' (self-reliance) in defence production and to minimise imports by the defence public sector undertakings (DPSUs).
Gaining self-sufficiency in Defence production would not only guarantee long-term security of our country but also give significant boost to the domestic industry engaged in design, development and manufacturing of weapons and platforms.
This will also augment the design capabilities of the domestic defence industry by involving academia and research institutions.
4th Positive Indigenisation List:
It is the fourth such "positive indigenisation list (PIL)" comprising line replacement units, sub-systems and components used for various military platforms, equipment and weapons.
4th Positive Indigenisation List released during Def Expo 2022 and This list is in continuation to the three similar PILs that were brought out in December 2021, March 2022 and August 2022.
101 more Defence Items will now be procured from indigenous sources. Highly complex systems, sensors, weapons and ammunitions have been included in this list.
As per preliminary estimates, more than 1,75,000 Cr worth orders would be placed on Indian Industry in the next 5-10 years.
This would further stimulate the potential of Domestic Research & Development by attracting fresh investment into technology and manufacturing capabilities.
The items which were already indigenised comprised 262 from the first PIL, 11 from the second list and 37 from the third PIL.
The ministry said DPSUs will soon initiate procurement action for these notified items.
How will this take place?
The defence ministry has set specific timelines for import ban of the items, spanning the period from December 2023 to December 2028.
The DPSUs will undertake indigenisation of these items through different routes under 'Make' category and in-house development through the capabilities of MSMEs and private Indian industry, thereby providing impetus to the growth in economy, enhanced investment in defence and reduction in import dependence of DPSUs.
In addition, this will augment the design capabilities of the domestic defence industry by involving academia and research institutions.
These lists contain 2,500 items which are already indigenised and 1,238 (351+107+780) items which will be indigenised within the given timelines.
Reasons for the move:
India is one of the largest importers of arms globally.
According to estimates, Indian armed forces are projected to spend around USD 130 billion in capital procurement over the next five years.
This will reduce dependence on imported military platforms and has decided to support domestic defence manufacturing.
5. DATA GOVERNANCE QUALITY INDEX (DGQI)
TAGS: PRELIMS PERSPECTIVE
THE CONTEXT: The Ministry of Ports, Shipping and Waterways (MoPSW) has been ranked second among 66 ministries in the Data Governance Quality Index (DGQI) assessment for the December quarter (Q3) of FY23.
EXPLANATION:
It is conducted by the Development Monitoring and Evaluation Office (DMEO), NITI Aayog
It aims to measure the maturity level of administrative data systems and their use in decision-making of various ministries and departments on the implementation of central sector schemes and centrally-sponsored schemes.
It also identifies reforms to reach the frontier of seamless data exchange and its synergistic use within the ministry, while defining clear pathways to achieve these goals.
Under the realm of the overall approach, six key themes have been identified under data systems pillar covered by the Data Governance Quality Index:
Data Generation: Data generation measures the ability of the respective ministries/departments to efficiently generate useful data in the course of their programme implementation. It covers areas related to the level of digitization, frequency and granularity of data generation. It also assesses if mobile phones, location tracking and GIS mapping is used to authenticate the generated data.
Data Quality:Data Quality covers processes of scientifically and statistically evaluating data in order to determine whether they meet quality benchmarks. The key areas covered under this theme relate to profiling of data, data quality assessment processes (for e.g. data pipeline design, well defined data schema etc.), data cleaning, use of latest technologies and mobile phones in the process.
Use of Technology:This theme assesses if emerging technologies are being utilized to improve data robustness. It assesses if MIS of ministries/departments have linkages with PFMS for ensuring transparency and Jan-Dhan, Aadhar and Mobile [JAM-trinity (if applicable)] for delivering last mile services. It also measures if emerging technologies like block chain, big data analytics, machine learning, artificial intelligence, IoT are being used to collect data or to draw analytical insights from it.
Data Analysis, Use and Dissemination:One of the core themes, it covers if the collected data is being analyzed and used for evidence creation and decision making. It gauges whether ministries/departments are undertaking basic cross-sectional analyses only or regression and predictive analysis as well.
Data Security and HR Capacity:While data security requires an in-depth analysis in itself, the same is briefly captured in the index also to reflect its importance. These were identified to be the minimum requirements expected to be met and are not meant to be exhaustive in nature.
Several existing data maturity models were studied to develop DGQI's methodology. Three key steps of data preparedness were identified:
(a)Data Strategy to lay down systemic guidelines
(b) Data Systems to ensure smooth processes of data generation, management and its use
(c) Data driven Outcomes where data is utilized and widely shared by institutions to drive decision making.
The objectives are as follows:
To enable review and assessment of data preparedness of the data/ MIS systems of the Ministries/Departments on objective parameters of a standardized framework.
To prepare a self-assessment diagnostic tool that will enable the M/Ds to internally contemplate the need for improving data systems.
To enable the commissioning agencies to conduct a comparative assessment of data preparedness and source best practices in IT systems which can enable improved cross-learning between the participating agencies.
It iwill help in laying the foundation of more integrated monitoring systems, for e.g., a single, online, API-integrable 'Overarching Dashboard' kind of monitoring system of all the CS/ CSS schemes of all M/Ds, ultimately leading to a state-of-the-art data-driven decision making.
Spread the Word