POLITY AND GOVERNANCE
1. MHA RECOMMENDS CBI PROBE AGAINST OXFAM INDIA FOR FCRA VIOLATIONS
TAGS: GS-II & III- GOVERNANCE AND ECONOMY
THE CONTEXT: The Union Home Ministry recommended an investigation by the Central Bureau of Investigation (CBI) into the alleged violation of FCRA provisions by Oxfam India, one of the largest NGOs working on food, shelter and education of vulnerable groups.
THE EXPLANATION:
According to Government Officials, that the NGO was registered under the FCRA for undertaking "social" activities and its registration was valid till December 31, 2021.
The official said that Oxfam continued to transfer foreign funds to various other entities even after the Foreign Contribution (Regulation) Amendment Act, 2020, which prohibits such transfers, came into force. "The amendment came in force on September 29, 2020. The Oxfam India transferred funds to other NGOs, violating provisions of the FCRA".
The recommendation for a CBI investigation comes after Income Tax authorities on September 7, 2022 searched the offices of Oxfam India and Centre for Policy Research (CPR), one of the leading public policy think tanks.
Foreign Contribution (Regulation) Act:
It is an act of Parliament enacted in 1976 and amended in 2010. It was to regulate foreign donations and to ensure that such contributions do not adversely affect internal security.
Coverage: It is applicable to all associations, groups, and NGOs which intend to receive foreign donations.
Registration: It is mandatory for all such NGOs to register themselves under the FCRA. The registration is initially valid for five years. Further, it can be renewed subsequently if they comply with all norms.
Registered NGOs can receive foreign contributions for five purposes — social, educational, religious, economic, and cultural. There are 22,591 FCRA registered NGOs.
Foreign Contribution Regulation (Amendment) Rules 2020:
New rules require any organization that wants to register itself under the FCRA to have existed for at least three years. Further, it should have spent a minimum of Rs. 15 lakh on its core activities during the last three financial years for the benefit of society.
Office bearers of the NGOs seeking registration under the Foreign Contribution (Regulation) Act must submit a specific commitment letter from the donor. It should indicate the amount of foreign contribution and the purpose for which it is proposed to be given.
Any NGO or person making an application for obtaining prior permission to receive foreign funds shall have an FCRA Account.
2. CENTRE NOTIFIES CHANGES TO IT RULES, 2021
TAGS: GS-II-GOVERNANCE
THE CONTEXT:The Union Ministry of Electronics and Information Technology (Meity) notified amendments to the contentious IT rules, 2021 inserting a clause that will need intermediaries — social media companies such as Twitter and Facebook — to ensure users do not post content about the Union government that has been "fact checked" by an approved body.
THE EXPLANATION:
While the Government said the measure on fact-checking was meant to combat misinformation, experts raised concerns about the government assuming a role in doing this. Recently, the Supreme Court, as it struck down a ban on a media channel, said restrictions to free speech cannot be applied to criticism of government policy. "Criticism of governmental policy can by no stretch of imagination be brought within the fold of any of the grounds stipulated in Article 19(2)".
Section 79 of the IT Act gives social media companies legal immunity from liability of what their users post as long as they carry out the necessary due diligence outlined by the government.
In an earlier version, the rules put the onus on intermediaries to ensure users do not "host, display, upload, modify, publish, transmit, store, update or share any information" that "is identified as fake or false by the fact check unit at the Press Information Bureau of the Ministry of Information and Broadcasting or other agency authorised by the central government."
The latest version does not mention the PIB fact-check unit. "There is a possibility that the organisation will be the Press Information Bureau fact-check unit, so that it is notified under the government's rules so that they can use the power of the IT rules".
PIB on several occasions has sought to rebut media reporting with its fact-check. When the first version of the rules were released, experts said it fell afoul of Article 19(2) of the Constitution, which deals with reasonable restrictions on free speech.
ENVIRONMENT AND ECOLOGY
3. SEA LAMPREY: A GREAT LAKES INVADER
TAGS:GS-III- ENVIRONMENT-SPECIES IN NEWS- PRELIMS
THE CONTEXT: Recently, a parasitic Sea Lamprey, believed to have gone extinct, spotted on Netherlands beach, which is infamous for sucking and consuming the blood of its prey.
THE EXPLANATION: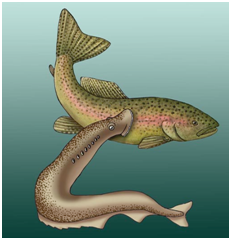 The sea lamprey—an ancient Atlantic fish that wreaked havoc on the Great Lakes—may be America's first destructive invasive species.
They are unique from many other fish species in that they do not have jaws or other bony structures. Instead, they possess a cartilaginous skeleton and a large oral disk filled with sharp, horn-shaped teeth that surround a toothed tongue.
They have remained largely unchanged for more than 340 million years, since the Paleozoic Era, and survived through at least four major extinction events, as noted by the Great Lakes Fishery Commission in 2021.
Sea lampreys have had an enormous, negative impact on the Great Lakes fishery, inflicting considerable damage.
Before the sea lamprey invasion, Canada and the United States harvested about 15 million pounds of lake trout in the upper Great Lakes each year. By the late 1940s, sea lamprey populations had exploded.
During the time of highest sea lamprey abundance, up to 85% of fish that were not killed by sea lampreys were marked with sea lamprey attack wounds.
IUCN Status: Least Concern.
4. CHONDROSTEREUM PURPUREUM
AGS:GS-III- ENVIRONMENT-SPECIES IN NEWS- PRELIMS
THE CONTEXT: A recent case report published in Medical Mycology Case Reports revealed that a man in Kolkata, was infected with Chondrostereum purpureum, a plant fungus. This discovery has raised concerns about the potential risks of fungal infections in humans, especially in the context of global warming.
THE EXPLANATION: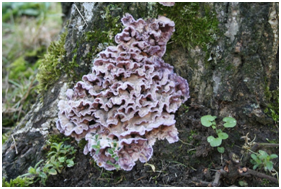 The Case of Chondrostereum Purpureum Infection in a Man
The infected man exhibited symptoms such as hoarse voice, cough, fatigue, and difficulties swallowing. These symptoms were caused by the fungus invading the man's larynx, which made it difficult for him to speak and swallow.
The doctors who treated the patient noted that this was a rare case and that there are only a few fungal species that cause infections in humans.
Chondrostereum Purpureum and Silver Leaf Disease in Plants
Chondrostereum purpureum is a fungus that causes silver leaf disease in plants, especially in species of rose families. The fungus enters the plant through a wound and then colonizes the xylem tissue, leading to leaf discoloration and leaf death.
The silver leaf disease can be detrimental to the growth and health of plants, and can also cause economic losses for farmers.
The Vulnerability of Humans to Fungal Infections
Human beings having compromised immune system are most susceptible to fungal infection. Fungal infections can also occur in healthy individuals, but they are generally less severe.
The recent case of Chondrostereum purpureum infection in a man highlights the potential risks of fungal infections in humans, especially in the context of rising atmospheric temperature.
Global Warming and Fungal Infections
Global warming is expected to increase the prevalence of fungal diseases in humans. Most fungi thrive in a temperature range of 12°C to 30°C, and rising temperatures can change the distribution of heat-tolerant and susceptible species by favouring those that are more thermotolerant.
This narrowing of the thermal difference between the human body and its surroundings increases the chance of the prevalence of fungal diseases.
MISCELLANEOUS
5. WORLD HEALTH DAY 2023
TAGS: MISCELLANEOUS- PRELIMS
THE CONTEXT: World Health Day is celebrated on the 7th of April every year to raise awareness about global health and work towards improving it. It is an opportunity to focus on a specific health issue that affects people worldwide.
THE EXPLANATION:
This year, 7 April marks the 75th anniversary of the founding of WHO. In 1948, countries of the world came together to establish the United Nations specialized agency to promote health, keep the world safe and serve the vulnerable – so that everyone, everywhere can attain the highest level of health and well-being.
World Health Day 2023: Theme of the day
The World Health Organisation also shared some ideas to mark this day. WHO said that people around the world could organize a World Health Day event for their communities.
"Work with health champions and influencers to mobilize your community to demand your right to access quality health service without falling into financial hardship".
Collaborating with artists, musicians, influencers, social workers, celebrities and other influencing personalities around the world to spread the message behind "Health For All" was also an idea given by WHO to mark the day.
Schools, colleges and other educational institutions can also organise activities to educate students about healthy practices that can be followed on a daily basis.
Spread the Word