HEALTH ISSUES
1. RADHUNI OR WILD CELERY (TRACHYSPERMUM ROXBURGHIANUM)
TAGS: GS-II- HEALTH ISSUES- PRELIMS
THE CONTEXT: Recent studies show that radhuni seeds can relax the gut and airways and improve digestion.
THE EXPLANATION:
About Radhuni or wild celery (Trachyspermum roxburghianum):-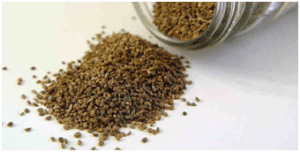 Radhuni is a popular spice in Bengali cuisine used abundantly in West Bengal.
Its scientific name is Trachyspermum roxburghianum.
It is not a plant seed but rather dried fruits.
It is called ajmod in Hindi, asamtavomam in Tamil and ayamodakam in Malayalam.
It belongs to the family of cumin and fennel fruits, known as
Distribution: South Asia, South East Asia, and Indonesia.
In some nations, these are employed as herbal medicines.
It is usually consumed as part of panch phoron, a blend of five tempering spices traditionally used in Eastern Indian cuisine.
Health benefits of Radhuni masala:-
This spice is supposed to aid in our bodies' detoxification.
Menstrual cramp reduction is another benefit.
It is also traditionally used to treat coughs and colds, asthma, digestive issues, etc.
It also aids in the management of inflammation and pain.
Use of radhuni masala:-
In Bengal, radhuni is a widely used
It is employed to temper dal.
The lentil dish masoor dal with radhuni phoron , Shukto in bengal is prepared using radhuni masala.
SCIENCE AND TECHNOLOGY
2. LIGO-INDIA PROJECT
TAGS: GS-III-SCIENCE AND TECHNOLOGY- PRELIMS
THE CONTEXT: Recently, the government has given the final go-ahead to India's Laser Interferometer Gravitational-Wave Observatory, or LIGO, project.
THE EXPLANATION:
LIGO India, project:-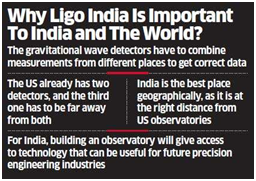 LIGO is an international network of laboratories.
It aims to detect the ripples in spacetime produced by the movement of large celestial objects.
LIGO-India is a collaborative project between a consortium of Indian research institutions and the LIGO Laboratory in the USA, along with its international partners.
It will be located in the Hingoli district of Maharashtra.
It was built by the Department of Atomic Energy and the Department of Science and Technology with an MoU with the S. National Science Foundation
Objective: To detect and study gravitational waves.
LIGOs are designed to measure changes in distance that are several orders of magnitude smaller than the length of the proton.
Significance: This project will see India join the global effort to detect and study gravitational waves, which were first theorized in Albert Einstein's General Theory of Relativity.
Gravitational waves are extremely weak and difficult to detect.
They were first directly detected by the Laser Interferometer Gravitational-Wave Observatory (LIGO) in 2015.
LIGO-India is set to become the country's largest scientific facility after the government gave the final green light for its construction.
LIGO-India is intrinsically a multidisciplinary mega-science project that requires expertise from a variety of fields (e.g., laser, vacuum, optics, computer, etc., and of course Physics) and provides cutting-edge research opportunities.
3. INDIA'S FIRST 3D-PRINTED POST OFFICE
TAGS: GS-III-SCIENCE AND TECHNOLOGY- PRELIMS
THE CONTEXT: As per recent announcements, Bengaluru will soon have India's first post office constructed using 3D printing technology.
THE EXPLANATION:
About India's first 3D-printed post office:-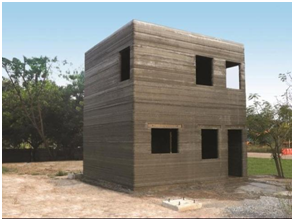 India's first 3D-printed post office would be located in Cambridge Layout in Ulsoor, Bangalore.
The project is being implemented by Larsen & Toubro, which has experience in constructing 3D-printed buildings.
It is a 1,100 sq ft building which is expected to cost 30-40 per cent less than conventional buildings because of the technological intervention.
About 3D printing:-
3D printing is a process of making three-dimensional solid objects from a digital file.
It is achieved using additive processes.
In an additive process, an object is created by laying down successive layers of material until the object is created.
Each of these layers can be seen as a thinly sliced cross section of the object.
3D printing enables you to produce complex shapes using less material than traditional manufacturing methods.
4. NATIONAL MISSION IN INTERDISCIPLINARY CYBER PHYSICAL SYSTEMS (NM-ICPS)
TAGS: GS-III-SCIENCE AND TECHNOLOGY- PRELIMS
THE CONTEXT: In recent deliberations the experts emphasized on ways to strengthen the National Mission in Interdisciplinary Cyber Physical Systems (NM-ICPS).
THE EXPLANATION:
About National Mission in Interdisciplinary Cyber Physical Systems (NM-ICPS):-
National Mission in Interdisciplinary Cyber Physical Systems (NM-ICPS) is a comprehensive mission which would address technology development, application development, human resource development, skill enhancement, entrepreneurship and start-up development in Cyber-Physical Systems and associated technologies.
It aims at establishment of 15 numbers of Technology Innovation Hubs, six numbers of Application Innovation Hubs and four numbers of Technology Translation Research Parks (TTRP).
These Hubs & TTRPs will connect to Academics, Industry, Central Ministries and State Government in developing solutions at reputed academic, R&D and other organizations across the country in a hub and spoke model.
They mainly focus on four areas:
Technology Development,
HRD & Skill Development,
Innovation,
Entrepreneurship & Start-ups Ecosystem Development and International Collaborations.
Cyber-physical systems:-
They integrate sensing, computation, control and networking into physical objects and infrastructure, connecting them to the Internet and to each other.
Potential applications:-
Driverless cars that communicate securely with each other on smart roads
Sensors in the home to detect changing health conditions
Improving agricultural practices
Enabling scientists to address issues arising out of climate change,etc.
PRELIMS PERSPECTIVE
5. EXERCISE KAVACH
TAGS: PRELIMS PERSPECTIVE
THE CONTEXT: Indian Armed Force's only tri-service command, Andaman and Nicobar Command recently concluded Exercise KAVACH, a large-scale joint military exercise. The exercise, with the participation of assets from all three services and the Indian Coast Guard.
About the KAVACH Exercise:
The joint-military exercise aimed at finetuning joint war-fighting capabilities and standard operating procedures besides enhancing interoperability and operational synergy.
During the exercise, soldiers performed multiple activities such as amphibious landing, air landing operations, heliborne operations, and swift insertion of special forces commandos.
The exercise also focused on joint activities for intelligence, surveillance, and reconnaissance. And also aimed to validate India's ability to safeguard its island territories and perform joint operations with synergy during real war scenarios.
The exercise is crucial for India, considering the current global situation and the country's neighbours on the northern and western borders.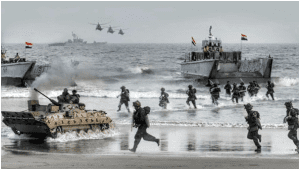 Spread the Word